Filipinos based in Bahrain, it is crucial to keep your OWWA membership active to avail of the benefits and programs for you as an OFW. Here we share details on what are the requirements and steps to renew your OWWA account at the Philippine Embassy in Bahrain located in Manama.
Overseas Filipino Workers (OFWs) who are members of the Overseas Workers Welfare Administration (OWWA) should understand the value of their membership. It's important to renew your OWWA membership before it expires and becomes invalid. It not only assists you in obtaining OWWA benefits but also ensures your safety as an OFW in the event that you require assistance from the Philippine government.
With the current health situation, it's important to maintain social distance when going to OWWA-Bahrain Office and to always wear your face mask to keep you and others safe. Please check the steps below on the OWWA renewal process in Manama, Bahrain.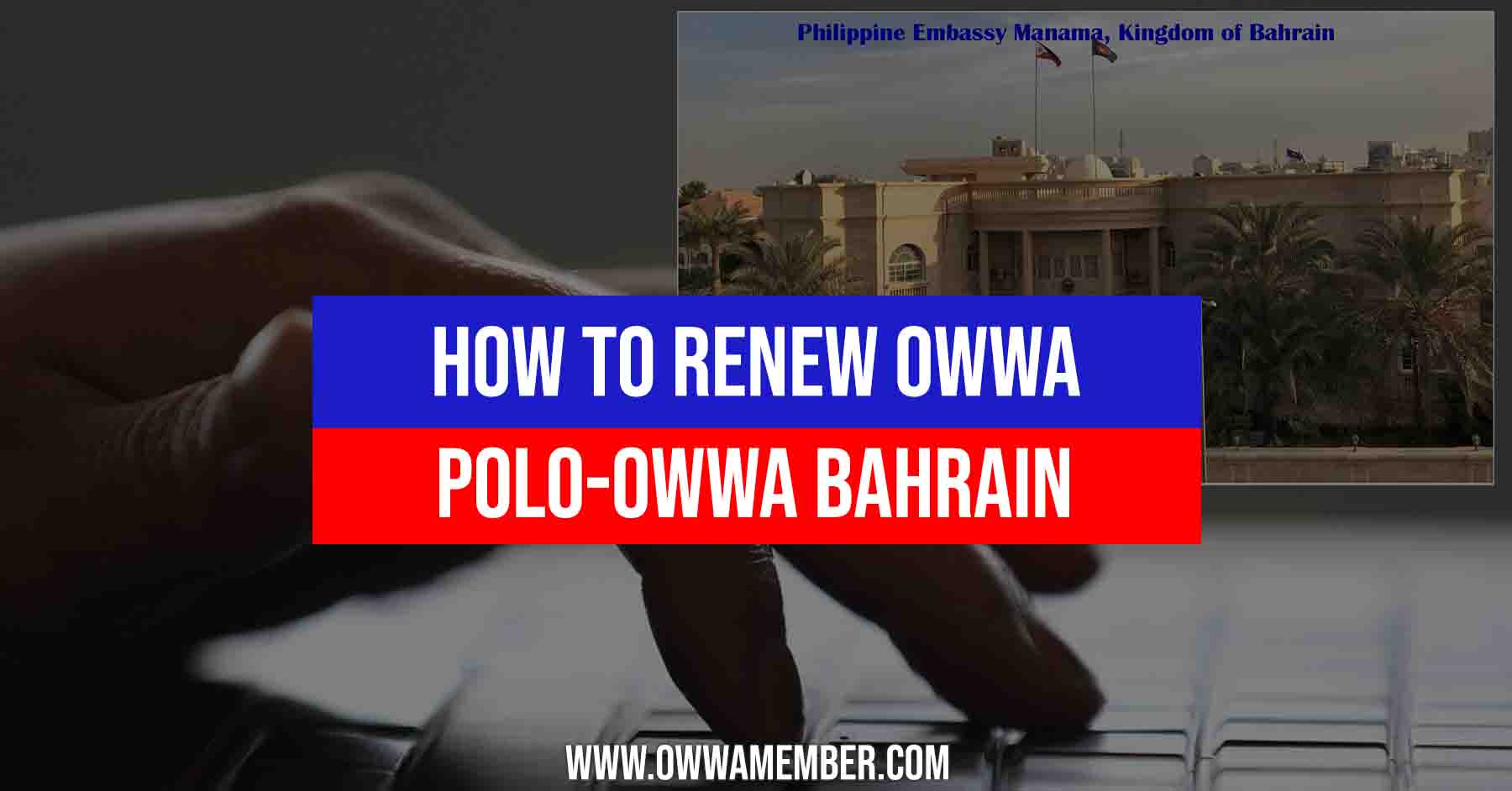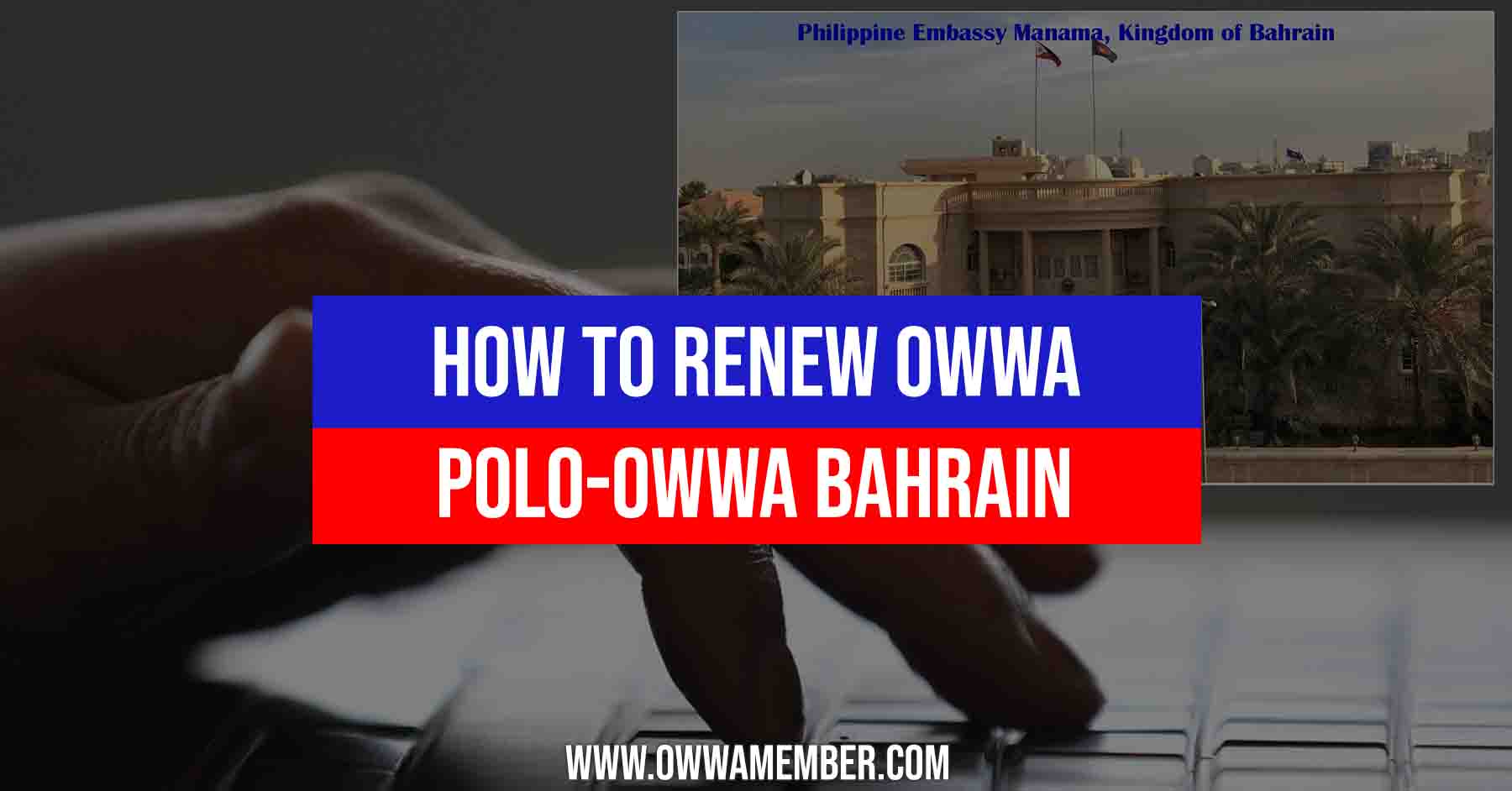 OWWA  Amount of Contribution
The OWWA membership contribution shall be Eleven and Twenty-Three Bahraini Dinar (11.23 BHD).
Membership Validity
Membership is valid for two (2) years for each contribution, regardless of contract length, change of employer, job site, or recruitment agency. Following that, OWWA membership must be renewed if proof of active employment is presented.
OWWA Bahrain Membership/Renewal Requirements
Please be guided on the documents and information that you need to renew your OWWA account:
OFW Information Sheet – Membership Form
Original Passport
Certificate of Employment/Contract Verification (2 copies)
OFW must produce a certificate from the company / employer verifying that they are not on the list of employees due for termination/ termination/ cancelled/ resigned.
Membership Fee (ranging from Php1,000- Php1,500 or 11.23 BHD)
Steps to Renew OWWA Membership in Manama, Bahrain
Here are the steps in order for you to renew your OWWA in POLO-OWWA Bahrain:
Step 1: Download and print the OWWA membership form here – https://manamape.dfa.gov.ph/images/2021/POLO-OWWA/OWWA_OFW_Information_Sheet_FM-MPC-OIS-D01.pdf
Step 2: Complete the first section of the membership application.
OR Number
OR Date
Validity
Date
Step 3: Fill out all the required information in the "Personal Data" portion.
Last Name
First Name
Middle Name
Philippine Address
Contact Number
Birthdate
Highest Educational Attainment
Course
Step 4: Fill out the "Contract Particulars" section after completing the "Personal Data" portion.
Name of the Company/Employer
Address
Telephone Number
Jobsite/Country
Position
Monthly Salary/Currency
Contract Duration
Name of Agency (if applicable)
Step 5: After completing the "Contract Particulars" proceed to the "Legal Beneficiaries/Qualified Dependents" portion.
Name
Relationship
Date of Birth
Address
Contact No./Email Address
Step 6: Sign the OFW Information Sheet after completing all the information required. Bring 2 copies.
Step 7: Go to the POLO-OWWA Bahrain office When you visit the OWWA-Bahrain office.
Step 8: Present the other requirements. Incomplete documents will not be processed.
Step 9: Pay the OWWA membership fee and take your receipt.
Important Reminders at POLO-OWWA Bahrain
Please check out some important things to know when you visit the POLO-OWWA Bahrain office at the Philippine Embassy in Manama:
Please double-check that your requirements are accurate and complete. Requirements that are not complete will not be handled.
The OWWA membership receipt is issued on the same day as the application.
Wear appropriate attire when going to the office.
Face masks must be worn at all times, and individuals must maintain a two-meter physical distance from one another.
Filipinos in Bahrain are responsible for maintaining the Embassy's safety and order at all times.
For more information, see the PH Embassy in Bahrain's updated posts – https://www.facebook.com/PHLinBahrain/
How to Book OWWA Appointment at POLO Bahrain
Based on the latest news and posts, there is no online appointment booking for the OWWA membership renewal at the POLO Bahrain office in Manama. It means that the only option to pay for the membership is to walk in at the office and wait in line for your turn.
However, stay tuned for the announcement from the Philippine Embassy in case there are updates or changes in the system. But for now, you can just go straight to the POLO-OWWA office to register for your OWWA membership.
Frequently Asked Questions
Please do follow these important guidelines and reminders when you visit the POLO-Bahrain office when you renew your membership:
1. Can I directly go to the OWWA-Bahrain Office?
Yes, you can go straight to the Office-Bahrain Office; just remember to maintain social distance and wear your mask at all times.
2. How much does the OWWA membership fee cost?
The OWWA membership contribution shall be Eleven and Twenty-Three Bahraini Dinar (11.23 BHD).
4. Is there anything more I need to pay at the Philippine Embassy in Bahrain?
You have the option of paying your SSS and PAG-IBIG contribution yourself. You may also need to pay for your Employment Contract Verification.
5. How to Book OWWA Appointment in POLO Bahrain?
Currently, there are no appointments being done for the OWWA renewal. The booking appointment available at the Philippine Embassy office is for passport appointments. So this means you can just go to the OWWA office and then queue for your turn to keep your OWWA account active.
Summary
So this is the process of OWWA payment in Bahrain and how to renew your account. Please do not forget to keep it active in order to take advantage of the benefits and projects available especially in these challenging times.
There are many new OWWA programs being launched to help Filipino overseas workers abroad. If you need welfare assistance from OWWA, you can simply visit the Bahrain office for help. Please don't forget to practice social distancing rules when you visit the embassy.
Contact Information
POLO-OWWA Bahrain
Main Address: Villa No. 939, Road No. 3220, Block 332, Bu Asheerah, Kingdom of Bahrain
Website: manamape.dfa.gov.ph
Email: bahrain@owwa.gov.ph, owwamanama2012@gmail.com
OWWA Bahrain Hotline: OWWA: +973 17721908, POLO: +973 17740951
Fax Number/s: +973 17740829
Facebook Page: https://www.facebook.com/PHLinBahrain/
Opening Hours: 8am to 3pm, Sundays to Thursdays
POLO Bahrain Hotline: 38072476
OWWA Bahrain Hotline: +973 34673268; +973 37258755; +9713 38270741 (24/7)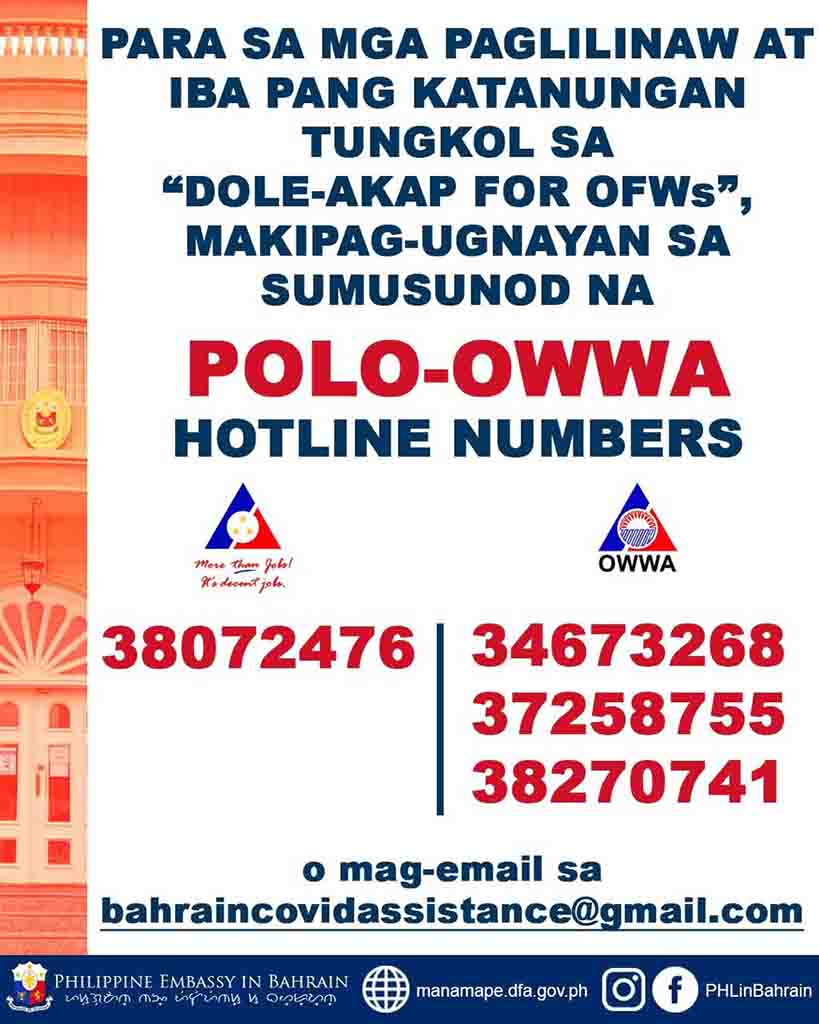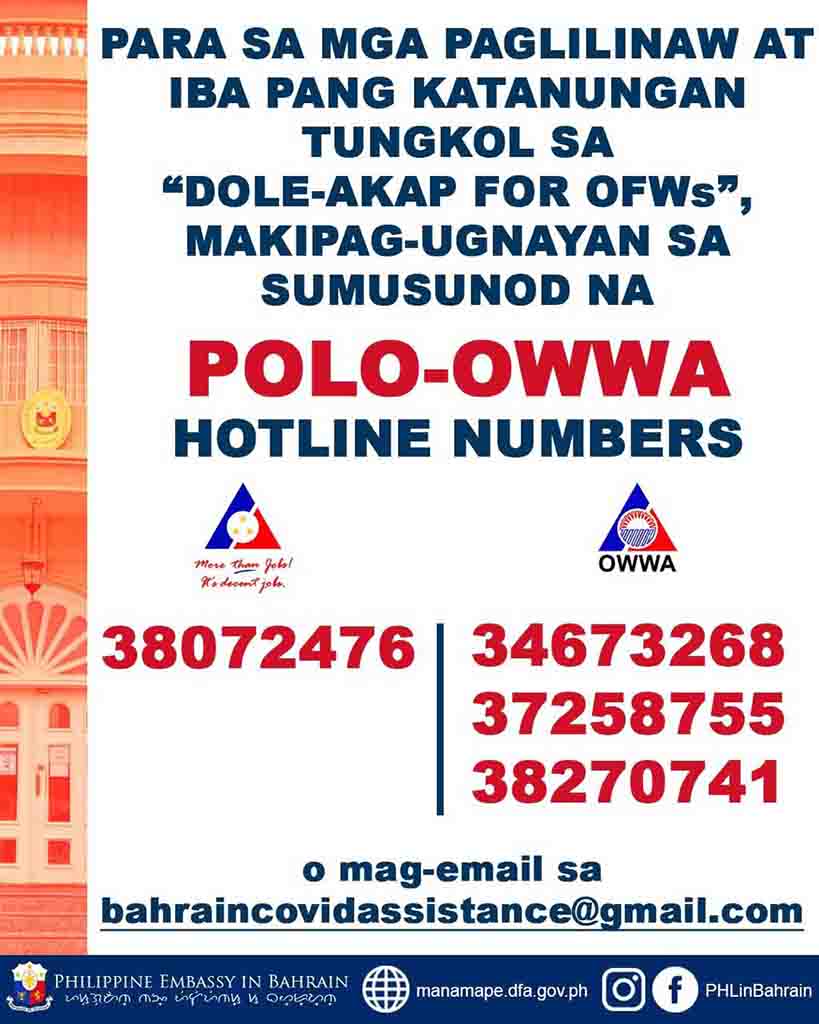 For Overseas Employment Certificate (OEC) Inquiries – 17740951 , 38072476
Address: Villa No. 939, Road No. 3220, Block 332, Bu Asheerah, Kingdom of Bahrain
Postal Address: P.O. Box 26681, Manama, Kingdom of Bahrain
Telephone Number:  +973 17721234 (4 Lines)
Office of the Ambassador:  +973 17820507
Fax Number :  +973 17720827
Duty Officer (24/7) :  +973 39953235
Website:  manamape.dfa.gov.ph
Email Address: manama.pe@dfa.gov.ph
Google Map Location
Below is a map guide to the location of the Philippine Embassy in Bahrain where the POLO-OWWA office is also located. The office is located behind the Embassy of Brunei and just beside the Abu Asheerah Garden.