On September 9, 2021, the official Facebook Page of the Overseas Workers Welfare Administration posted a statement regarding the sudden passing of OWWA Deputy Administrator for Reintegration Faustino "Bubsie" Sabarez III. He succumbed to COVID-19 sickness.
Also Read: OWWA at Your Service Episodes with DA Bubsie and DA Mocha
This is sad news as OWWA has been very active in promoting the programs and services to all OFWs affected by the pandemic. DA Bubsie reached out to OFWs around the Philippines to inform its members that the Philippine government is there to assist OFWs in these times of crisis.
RIP to DA Bubsie.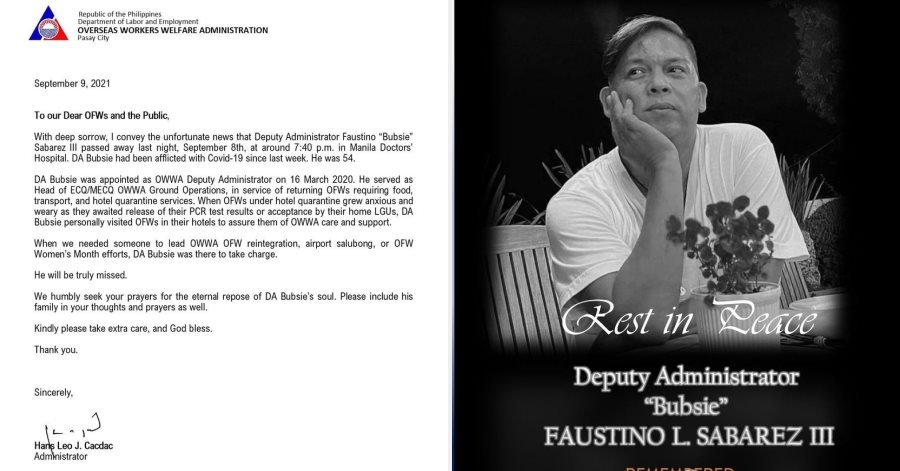 Below is a post from OWWA Regional Welfare Office regarding this incident:
————–
Statement on the passing of OWWA Deputy Administrator for Reintegration Faustino "Bubsie" Sabarez III.
September 9, 2021
To our Dear OFWs and the Public,
With deep sorrow, I convey the unfortunate news that Deputy Administrator Faustino "Bubsie" Sabarez III passed away last night, September 8th, at around 7:40 pm in Manila Doctor's Hospital. DA Bubsie had been afflicted with COVID-19 since last week. He was 54.
DA Bubsie was appointed as OWWA Deputy Administrator on 16 March 2020. He served as head of ECQ/MECQ OWWA Ground Operations, in service of returning OFWs requiring food, transport, and hotel quarantine services. When OFWs under hotel quarantine grew anxious and weary as they awaited release of their PCR test results or acceptance by their home LGYs, DA Bubsie personally visited OFWs in their hotels to assure them of OWWA care and support.
When we needed someone to lead OWWA OFW reintegration, airport salubong, or OFW Women's Month efforts, DA Bubsie was there to take charge.
He will be truly missed.
We humbly seek your prayers for the eternal repose of DA Bubsie's soul. Please include his family in your thoughts and prayers as well.
Kindly please take extra care, and God bless.
Thank you.
Sincerely,
Hans Leo J. Cacdac
OWWA Administrator