There are many scholarship programs offered by the Overseas Filipino Workers Association (OWWA) which are designed to upgrade the education and training of overseas Filipino workers and their dependents. One of them is the Skills for Employment Scholarship Program (SESP) scholarship which provides grants and educational opportunities for both OWWA members and their families for TESDA-accredited vocational courses.
The Skills for Employment Scholarship Program (SESP) is one of the education and training projects of OWWA that aims to make a paradigm shift in technical-vocational (Te-voc) training by focusing on the growth of highly skilled and employable employees through career-enhancing courses for overall economic benefit.
Also Read: List of OWWA Programs and Services for OFWs
The Technical Education and Skills Development Authority (TESDA) coordinated with the SESP. This scholarship program follows the standard school year schedule and provides six-month vocational and one-year technical courses.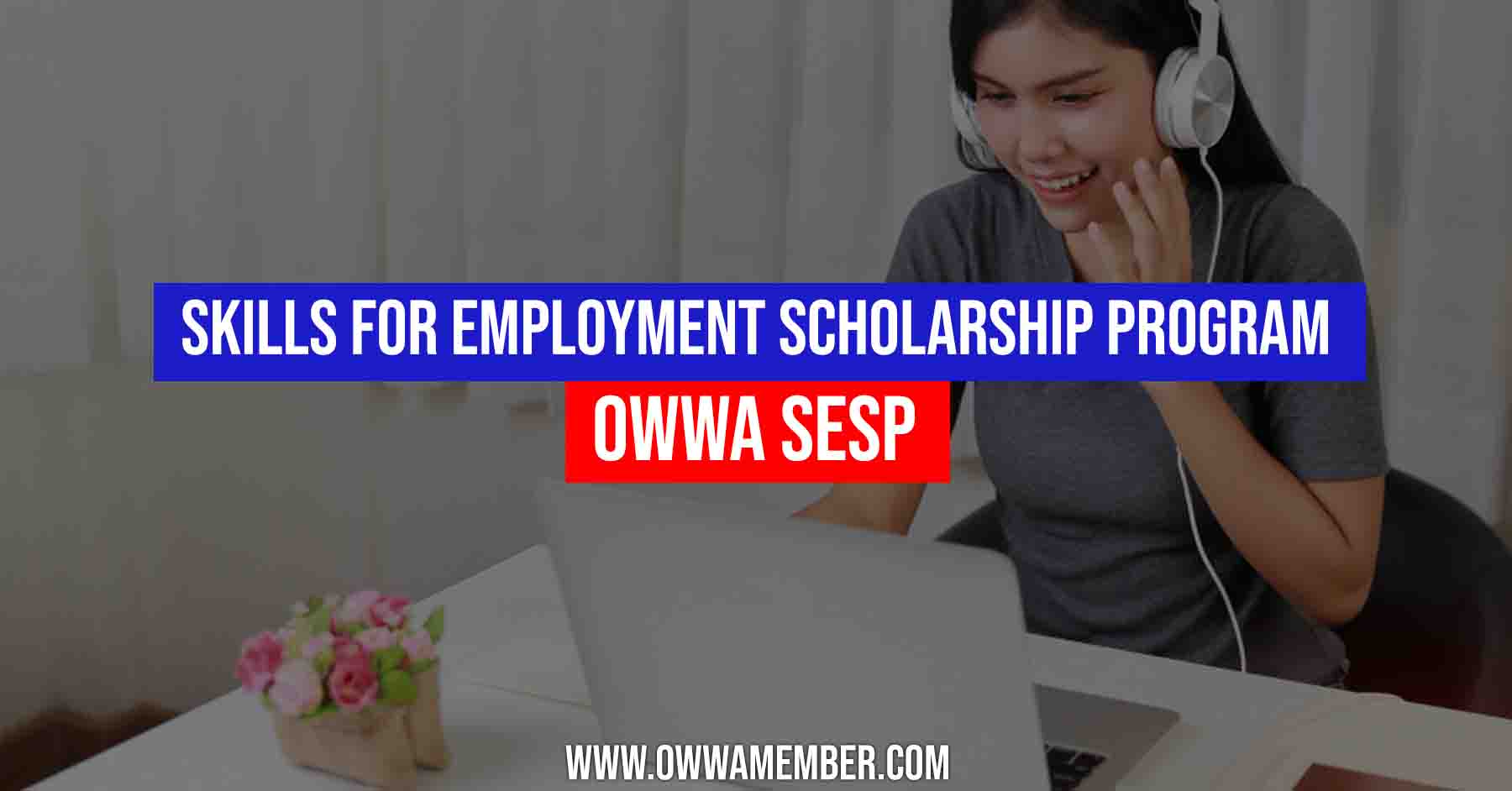 What is OWWA SESP Program?
This program is for OFWs and their dependents who choose to enroll in technical vocational courses. The Technical Education and Skills Development Authority (TESDA) collaborated to make the OWWA Skills for Employment Scholarship Program possible. It is available to OFWs who are active OWWA participants, as well as their dependents, to cover the costs of enrolling in TESDA-accredited tech-voc courses in any training course within their respective regions.
The scholarship provides the applicant with the total cost of tuition, up to P14,500.00 per course, regardless of the length of the training program. If the training fee for the applicant's chosen course exceeds the stated amount, the applicant is responsible for the difference.
The service has also extended the availability period for OWWA members and their dependents for up to six (6) months after their membership coverage has expired. Furthermore, the dependent-availability age limit has been raised from twenty-one (21) to twenty-four (24) years old, given that the dependent is single.
Why should you enroll in the SESP program?
The benefit of the SESP program is a FREE scholarship up to PHP 14,500 per course.
Taking additional courses will help you extend your knowledge and expertise in areas where you want to learn more. Aside from that, you should take advantage of this chance. A National Certificate II (NC I or NC II) is a standard prerequisite for skill-oriented local and international jobs after completion of any TESDA-accredited short-term course. These qualifications will help you get a better job or apply for a promotion.
SESP Courses Offered
All OFW members and their dependents are welcome to participate in any of the TESDA-accredited courses we offer, including:
Agriculture and Fishery
Decorative Crafts and Ceramics
Processed Food and Beverages
Gifts, Toys, and Housewares
Tourism (Hotel and Restaurant)
Jewelry
Metals and Engineering
Furniture and Fixtures
Garments
Construction
Communication, Electronics & Information Technology
Maritime Land Transport
Health, Social Services and Other Community
Social and Personal Services
Most of the scholars enrolled in tech-voc courses in welding, caregiving, safety standards training, cookery, and computer-related courses under your guidance. Massage therapy, welding, and wellness-oriented courses are among the most common tech-voc courses.
Who Can Apply OWWA SESP?
OWWA members what are eligible for the SESP include:
Vacationing OFWs or (land-based and sea-based)
Completed contract staff who are now OWWA members
Qualifications for OWWA SESP Program
An OWWA member in good standing or a dependent/beneficiary of an OWWA member in good standing. The number of dependents/beneficiaries of a member-OFW is limited to: spouse, children, and parents. Child under the age of 20 (not currently enrolled), Sister or brother of a single OFW under the age of 20 (not currently enrolled), A resident of the Philippines, At least a high school diploma.
Must pass the TESDA qualifying assessment or the Multiple Aptitude Battery Test (MABT) on the program of choice – This is normally done in the school of your choice. Following an inquiry, the applicant will be given a TESDA admission/assessment test. This is also free of charge. If you want to participate in the program or learn more about it, visit one of the OWWA Regional Welfare Offices near you.
Have at least one (1) membership contribution on file.
Note: For subsequent availment, three (3) additional membership contributions are needed. After completing the course, you must apply for TESDA's or an accredited testing center's competency evaluation and certification.
How to Apply for the OWWA SESP scholarship?
1. First step in applying the scholarship you need to download the form and fill out the scholarship application form in the link below. Make sure that there's no information left behind.
Download the SESP Application Form here – https://owwa.gov.ph/images/downloads/Application%20Form%20Evaluation%20and%20Other%20Forms.pdf
2. After filling the form you can now proceed on gathering the other requirements below.
3. Go to the nearest OWWA Regional Office center to apply and submit your application.
Document Requirements
Application Form duly filled out
1'X1" ID Picture (2 copies)
Proof of OWWA Membership ( i.e. Official Receipt of OWWA contribution, E-Card, Seaman's Book, POEA authenticated Contract)
Form 137 / H.S. Report Card or Transcript of Records General Wt. Average in 4th HS
Proof of relationship to OWWA-Member / OFW:
Copy of Birth Certificate (duly certified by the LRC)of applicant if child of OFW
Valid OWWA Membership of the OFW
Photocopy of OFWs PASSPORT
High school or college diploma
Birth certificate or any proof of relationship with the OFW
For Single Applicants
Along with the above-mentioned criteria, a Certificate of No Marriage approved by the Local Civil Registrar or PSA is required.
Please carry the above-mentioned specifications to your nearest OWWA office to apply for the SESP scholarship. Please visit the OWWA website at www.owwa.gov.ph for more information. 
Video: OWWA Scholarship SESP
Here's a video which provides information on this program by OWWA. Please be guided accordingly:
Summary
So these are the benefits, requirements, qualifications, and application process in order to avail the SESP OWWA scholarship program. We hope you are guided accordingly and you get to take advantage of these projects so you can upgrade your skills for FREE.
You can also use the skills and training programs for your future work abroad or should you decide to come home to the Philippines for good. The skills and training can help you in possible future livelihood projects such as businesses or even simply for self-development.
It is never too late to learn something new to always keep moving forward with our skills and training. So let's maximize these projects and put them to good use. Happy learning!