As an Overseas Filipino Worker in Abu Dhabi, UAE, you may be aware that possessing an Overseas Employment Certificate, or OEC, is important. This document is as essential as your passport, as this is what you will present to the Immigration counter at the Philippine airport when you travel back to your work country. Here we share the details on the requirements, application process, and how to book an OEC appointment online at the Philippine Overseas Labor Office in Abu Dhabi (POLO-Abu Dhabi).
For OFWs based in Dubai and Northern Emirates and need to apply for OEC, please follow this guide here – How to Get OEC: POLO-Dubai Online Appointment
Please see the details below to guide you through the process of applying for OEC in Abu Dhabi. If you are part of the Filipino workers community living in the emirate, this one's for you.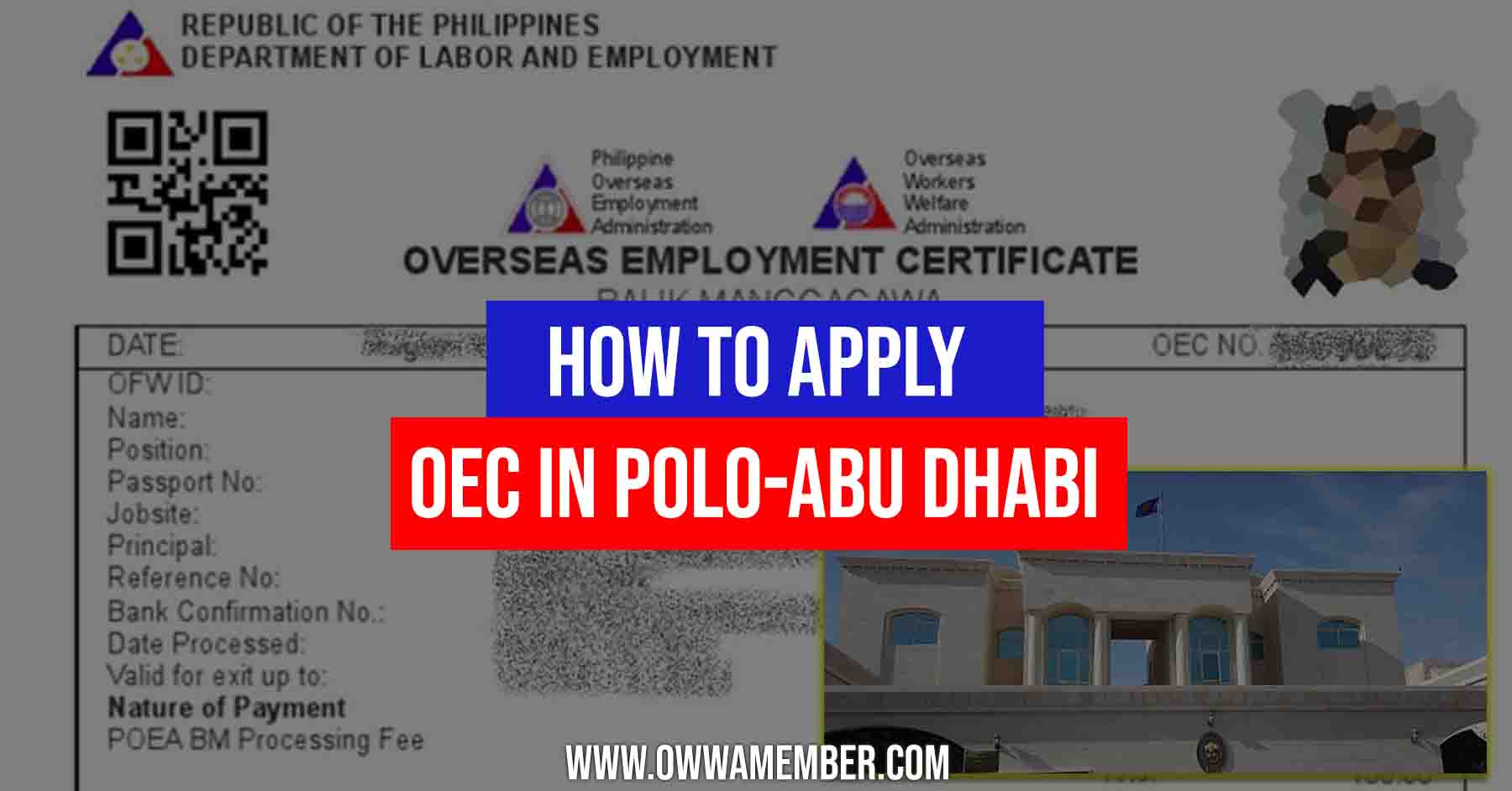 What is OEC and why is it important to Filipino Workers abroad?
Overseas Employment Certificate or also known as OEC is given in accordance with the Philippine Overseas Employment Administration's (POEA) rules to guarantee that Overseas Filipino Workers (OFW)/Balik Manggagawa (BM) Workers are properly secured and documented. All Filipinos working abroad are granted this document as an exit clearance/pass to go out of the Philippines.
In order to work abroad, you must register with the POEA and get an OEC (Overseas Employment Certificate). Overseas Filipino workers who come to the Philippines for a brief visit or vacation and expect to return to their jobs thereafter are likewise covered by this rule. It is possible that those who do not have an OEC will be prohibited from leaving the country. There are also privileges for OFWs, including a reduction in travel tax for your spouse or dependents, as well as an exemption from airport terminal fees.
All Filipino workers must have their valid OEC before leaving since it is valid only for 60 days from the issuance date.
Requirements
What are the requirements for getting OEC in POLO-Abu Dhabi? Now that we've established what an OEC is, let's look at how to acquire one in Abu Dhabi.
As proportional to the database of the official website of POLO – Abu Dhabi, you need to follow and consider this information:
To acquire a POLO Verified Contract, you must go to the Philippines Overseas Labor Office in Abu Dhabi with the mentioned documents below:
Requirements for Domestic Workers in UAE
For those Private Nurse, Private Driver/Driver, Housemaid, Nanny/Babysitter, Cook, Servant aka Household Services Workers/Domestic Workers please provide the following requirements:
One (1) copy of the Original and one (1) photocopy of the completed MOHRE ( Ministry Of Human Resources and Emiratisation ) Contract (with DW code 25 to 20)
Additional to the UAE Domestic Worker Contract, it should be signed by the Employer/Sponsor and Domestic Worker
The signature of the First Party (Sponsor/Employer) inscribed to the Contract shall be the same as the signature on the Passport and/or the Emirates ID.
Valid Residence Visa – two (2) copies
Original and two (2) photocopies of Original Passport
Personal appearance of the worker – proxy will not be entertained.
Also, consider these documents needed from the Employer/Sponsor:
Valid Passport – two (2) copies
Emirates ID – two (2) copies
Valid Visa (for Expat Employer/Sponsor only) – two (2) copies
Take note that if the Employer/Sponsor's passport or Emirates ID are both not signed, the employer/sponsor shall give an appearance to the POLO for his signature and/or thumbmark. You can just show a video clip of signing if the employer/sponsor is very old or sick.
And if the worker's visa is not from Abu Dhabi yet he or she is working in Abu Dhabi, the worker must show documentation that the sponsor/employer lives/works in Abu Dhabi, such as a tenancy contract, a billing statement such as a water/electric bill/Dewa, and a telephone bill.
What if the worker is already in the Philippines? Just provide all the requirements above except your original passport and provide the following:
Copy of Philippine Immigration Arrival Stamp/Sticker (Entry/Date of Arrival in the Philippines)/Copy of UAE Departure Boarding Pass
Authorization Letter from the Sponsor/Employer to the Person who will submit Documents as the proxy of the worker or Personal Appearance of the Sponsor
Authorized person's valid ID photocopy
Cost of OEC in POLO-Abu Dhabi
How much does it cost to get an OEC from POLO-Abu Dhabi? The fee for getting your OEC from POLO-Abu Dhabi is AED 10 per every 3-receipt.
You might also pay to renew your OWWA membership fee of USD 25 or the equivalent of AED 92.
How to Schedule OEC online appointment in POLO-Abu Dhabi for Contract Verification
Just like in other POLO branches around the world, the first step to get your OEC is to book an appointment online for contract verification. You can follow these steps for an easier online application. Here is a guide how you can get an appointment in POLO-Abu Dhabi office.
Applying for Balik Manggagawa OEC Online
If you don't have an account with the new POEA Online Processing System for Balik-Manggagawa (POPS-BaM), follow these steps:
Go to your browser and type https://onlineservices.dmw.gov.ph/OnlineServices/POEAOnline.aspx in the URL
Click on Let's Go
Click on "Register" for new users ( just log in if you already have an account )
Then click "I accept the terms of use."
Fill out the required information and then click register. (a message will display indicating that your registration was "Successful")
Log in to the email address you provided when you registered (there is a message containing your "temporary password")
Return to the link provided in Step 1 and log in using the registered email address, then click "next."
Use the temporary password sent to your email, then click "log in."
Set the password you want
Update your profile by clicking "My Profile," after completing your profile, click "Update Profile" on the upper right side of the page
Add your Identification and Beneficiary
Attach profile picture and passport
If you are already registered, you may use your log in credentials to log in back to the system. Here's the step-by-step guide.
Log in to your POPS-BaM account (onlineservices.dmw.gov.ph/OnlineServices/POEAOnline.aspx )
Click "Balik-Manggagawa," located at your top right-hand side.
Input your next flight date, then click "next."
You will be asked if you are returning BM to the same employer (if yes, you can print your OEC, if no, proceed to step 5)
Accomplish your contact details with true and correct information to the best of your knowledge.
After clicking "Submit," you can select your Process Location.
Then choose an available Appointment Schedule.
You now have an Appointment with POLO. You can print or cancel your appointment.
How to get OEC at POLO Abu Dhabi?
Once you are registered with POEA's new system for Balik Manggagawa members, the application itself for the OEC gets easy. You need to verify your contract first. You can get this in just three steps.
Step 1: Go to the office of POLO Abu-Dhabi with all your requirements. Make sure that you go to the office during your booked schedule. Currently, walking in to get your documents is not the preferred process of the government. Even if you go to the office without a scheduled appointment, you will likely go back home to book an online appointment first.
Step 2: Fall in line and submit your documents. The process is pretty straightforward. Once you arrive at the POLO office in Abu Dhabi, you will be assisted by the staff there. More often than not, there will be windows for the submission of the documents and payment.
Step 3: Pay the required fees and wait for the approval and release of your documents.
How to Get OEC Exemption in Abu Dhabi
You can avail of the OEC exemption of BM GBR NO. 12, S 2016 if you are an OFW with:
An employment Visa or Working permit (POLO will not issue OEC to workers who arrived in the UAE on a visitor/tourist visa and later converted to a work visa)
A valid employment contract or POLO verified contract
Returning work to the same employer and in the same workplace is recorded in the POEA database record.
If you think you are qualified to avail the OEC exemption, you can now go to BM online processing system or log in or register to https://onlineservices.poea.gov.ph//OnlineServices/POEAOnline.aspx to set an appointment in POLO Abu Dhabi.
After setting an appointment to POLO Abu Dhabi, these are the documents you need to bring before going to the Philippine Embassy:
Original Passport
BM Online appointment/information sheet – three (3) printed copies
Airline ticket or other papers that includes your flight details
POLO Verified Contract
Video: Applying for an OEC in Philippine Embassy in Abu-Dhabi
Please check out the video below as this Filipina OFW shares a tutorial on how she was able to verify her employment contract and also process an overseas employment certificate in Abu Dhabi. Take note that this process is only for Filipinos who have employment contracts in the emirate of Abu Dhabi. If you are based in Dubai or the other Northern Emirates, you have to process the OEC in POLO-Dubai.
Check out this other vlog below where the OFW shares the process of the verification of contract and getting an OEC in UAE.
Take note that this video was taken last 2020 before safety restrictions were set in place. The process is more or less the same, but you need to have an appointment first before you can enter PH Embassy in UAE office and POLO-Abu Dhabi office. Please be informed about this to avoid wasting time.
Frequently Asked Questions
Please check out these frequently asked questions and answers about the process of getting the overseas employment certificate if you are based in Abu Dhabi, UAE
1. How can I get the travel tax and terminal fee exemption now that I am not required to get an OEC?
Because it is a web-based software, you may access your account in the BM Online System at any time and from any location as long as you have an internet connection. Following that, submit the necessary information until the system validates your exemption from obtaining an OEC. Directly proceed to the immigration counter and the airline counter for final departure procedures.
2. Do I need to sign up at the BM online system every time I visit the Philippines on vacation?
Yes, based on the POEA database, the BM Online System assesses if you are exempt from acquiring an OEC. The system would also send your information to the Bureau of Immigration, indicating that you are exempt from obtaining an OEC. As a result, you must sign up or log in to the system before returning to your worksite.
3. Should I still visit the POEA labor assistance center (LAC) to have my OEC exemption re-validated?
No, your information is electronically transferred to the Bureau of Immigration (BI), the bureau will use it to validate your exemption at the time of your departure.
4. What will I do if didn't log in on BM online and I am already in front of the immigration counter for departure?
For help, the Immigration Officer will direct you to the Labor Assistance Center (LAC). The LAC officer will encrypt your data in order to ease your leaving and will advise you to visit the Immigration Officer for your final departure.
However, on your next vacation, you should register in the BM Online System.
Summary
We hope the information above will help you in acquiring your OEC and prevent you from taxes and other charges. It is mandatory to all OFWs to obtain their OEC that will serve as an exit pass if they are about to leave the Philippines. Follow the steps above for a seamless application process.
Contact Information
To OFWs in Abu Dhabi can reach Philippine Overseas Labor Office in Abu Dhabi with the following info:
POLO-Abu Dhabi
Address: W-48, Street No. 8, Sector 2-23, Plot 51, Al Qubaisat, Abu Dhabi, United Arab Emirates
Tel. Nos.:  +971 56 270 9157 / +971 56 947 4771
Email: poloabudhabi@yahoo.com
Website: www.poloabudhabi.weebly.com
Google Map Location
OFWs in Abu Dhabi can visit the Philippine Overseas Labor Office in Abu Dhabi located at the PH Embassy of UAE in Al Mushrif. Here is a map location to the POLO Abu Dhabi office for your reference:
Disclaimer: Information shared here is only a guide and may change without prior notice. Please visit the official website of POLO-Abu Dhabi should you require further assistance.