Filipinos who are based in Abu Dhabi, United Arab Emirates, and need to visit the POLO-OWWA office, whether to inquire about OWWA programs and services or to renew their OWWA membership, it is important to schedule an appointment beforehand. Here are the steps below on how to book an appointment at the Philippine Overseas Labor Office (POLO) located in Al Qubaisat, Abu Dhabi.
For those based in Dubai and the Northern Emirates, here's a guide for OWWA appointments in this location – How to Book OWWA Appointment & Renewal in Dubai, UAE
Be advised that it is important to make a booking as you might not be allowed to enter the POLO-OWWA office if you do not have an appointment confirmation.
The Overseas Workers Welfare Administration (OWWA) is a federal government agency tasked with creating and administering welfare programs and services to meet the requirements of overseas workers and their families. So OFWs need to keep their membership active to get the maximum benefits available in times of need.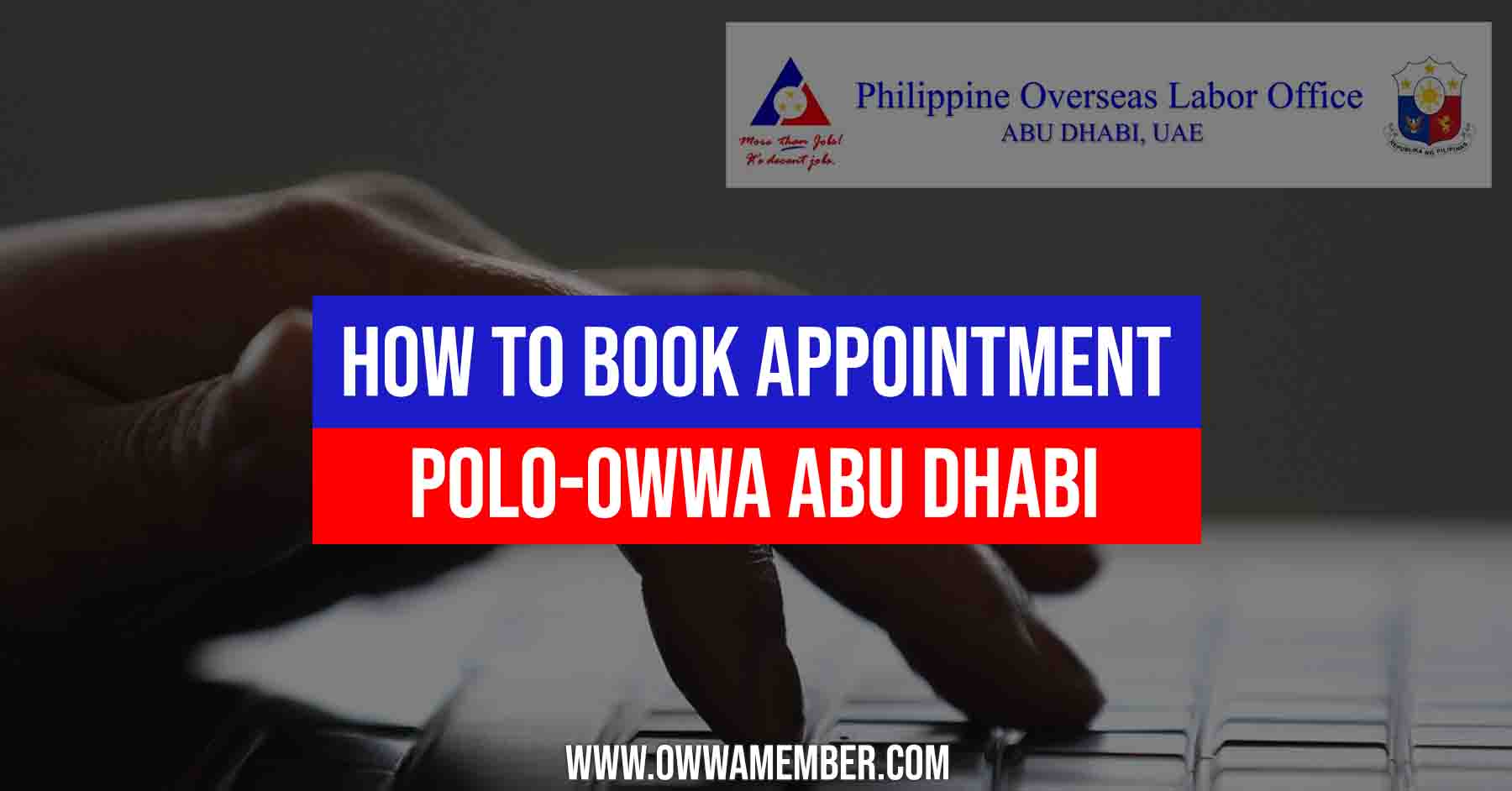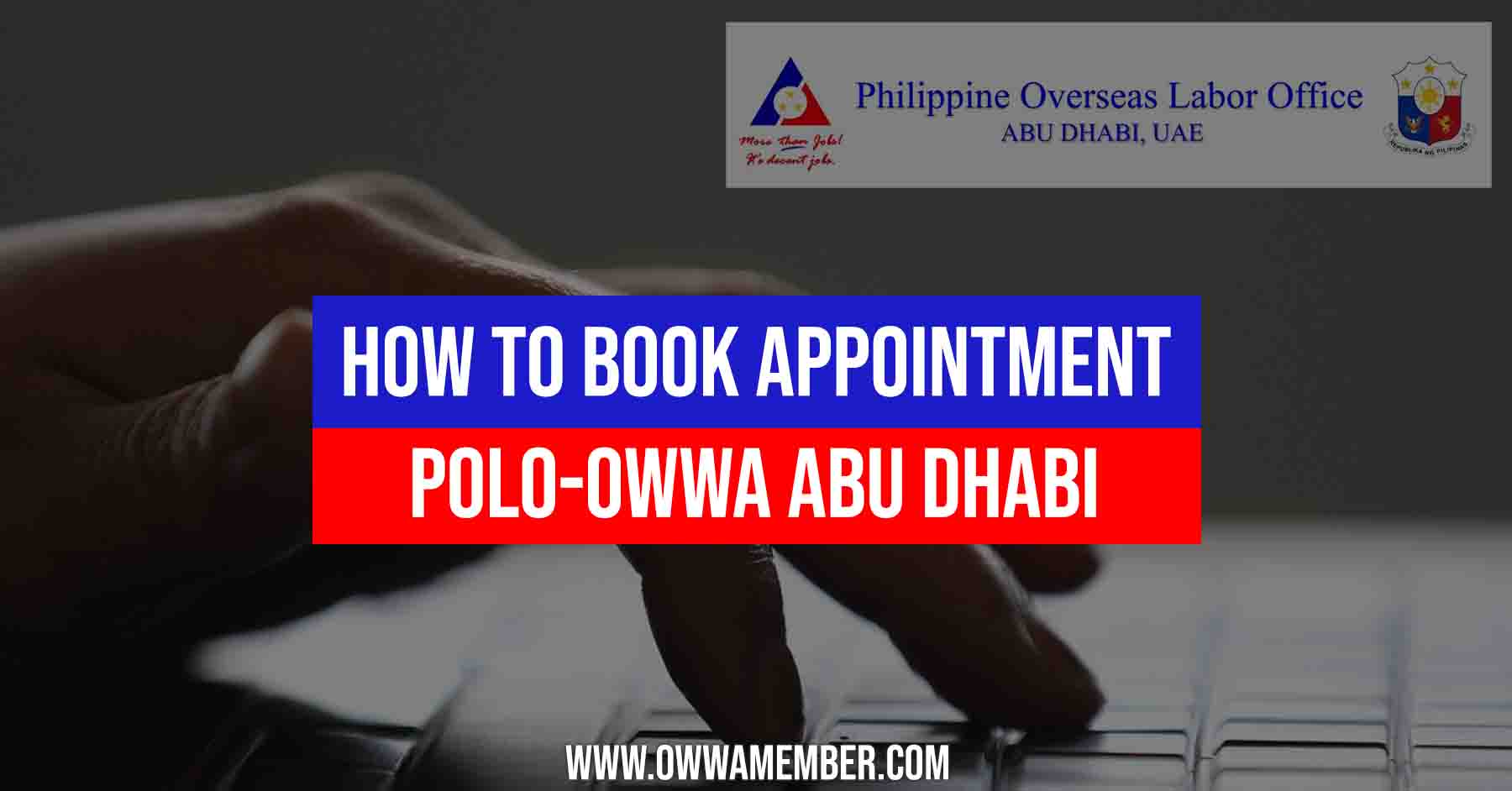 Amount of Contribution
The OWWA membership contribution costs an equivalent of USD 25 or around Ninety-Two United Arab Emirates Dirham (AED 92).
Membership Validity
Membership is valid for two (2) years for each contribution, regardless of contract length, change of employer, job site, or recruitment agency. Following that, OWWA membership must be renewed if proof of active employment is presented.
Membership/Renewal Requirements for OWWA
Here are the important documents and requirements you need to secure during your appointment for renewal:
Original Passport
Valid Visa – The validity of the visa should be more than 90 days, and the OFW must be working actively and continuously.
Accomplished OFW Information Sheet
Certificate of Employment (MoHRE) – OFW must produce a certificate from the company/employer verifying that they are not on the list of employees due for termination/ termination/canceled/ resigned.
Membership Fee of AED 92
Contract Verification Fee of AED 40 (only for those new contracts, or changing employers)
MoHRE Employment Contract verified by POLO (only for workers who are New or processing Change Employer status)
Steps on How to Schedule POLO OWWA Abu Dhabi Appointment Online
If you want to renew and apply for your OWWA membership while working (on your days off), you can go to the Philippine Overseas Labor Office in Abu Dhabi. Below is the procedure on how to book an appointment online.
STEP 1: Open the link to book an appointment for contract verification here – https://poloabudhabi.weebly.com/
STEP 2: Click the "Labor and Services" portion and choose "Contract Verification" option.


STEP 3: After clicking the "Contract Verification" option scroll down a bit and click "Apply or Renew OWWA Membership" button.


STEP 4: Scroll to the bottom of the page and click the "Schedule an Appointment" button.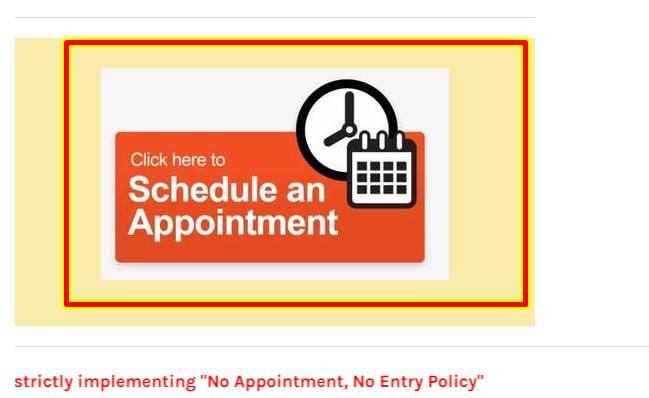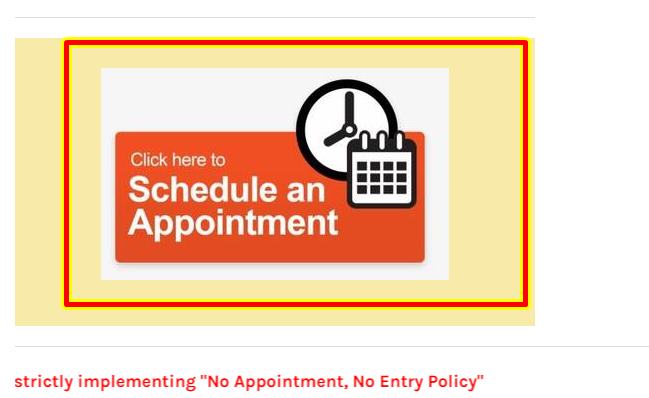 STEP 5: Scroll to the bottom of the page and select the "For OWWA Membership/Contract Verification Personal Appearance" button.


STEP 6: Choose your preferred date and time, then click "Confirm."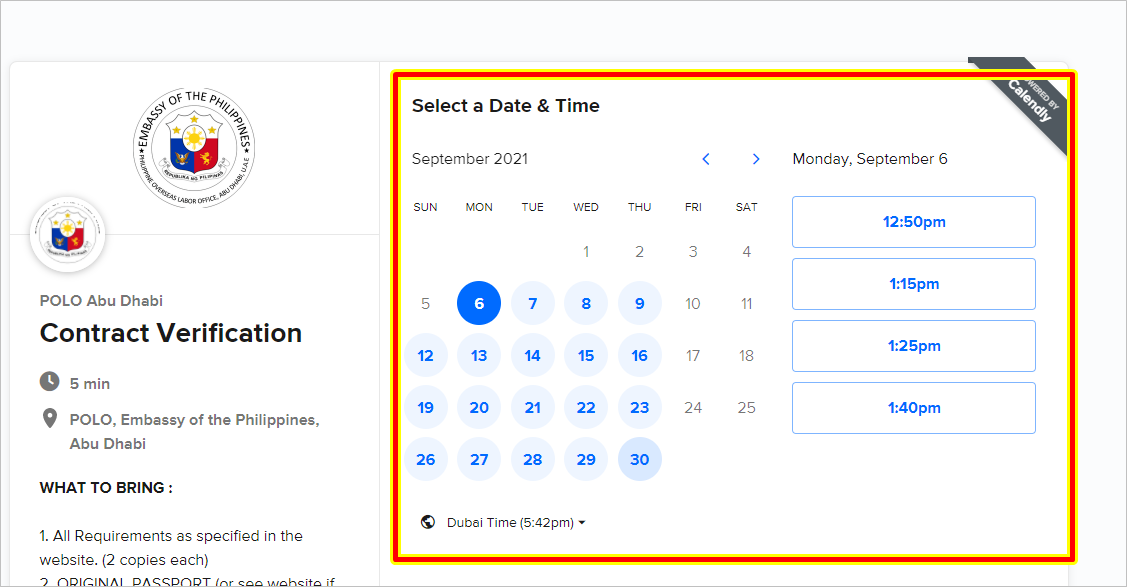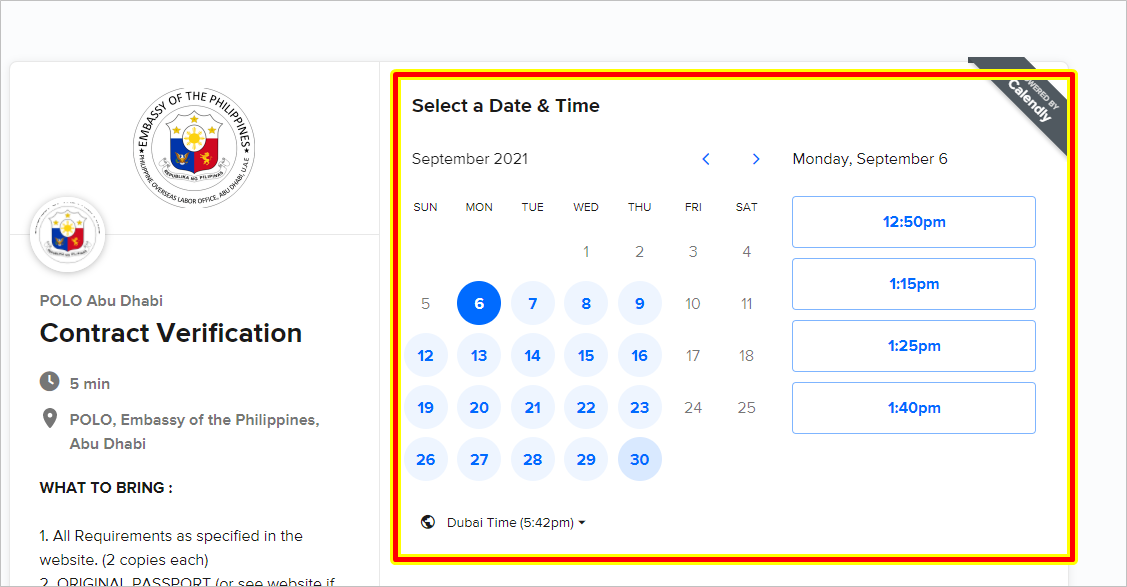 STEP 7: Complete all required information and click the "Schedule Event" button.
• First Name
• Last Name
• E-mail
• Mobile Number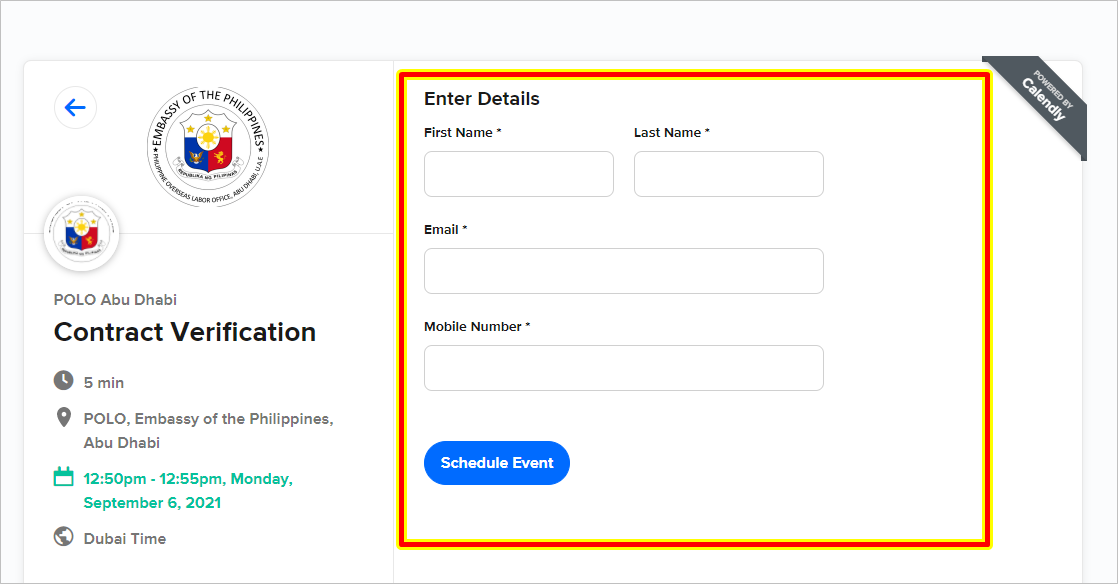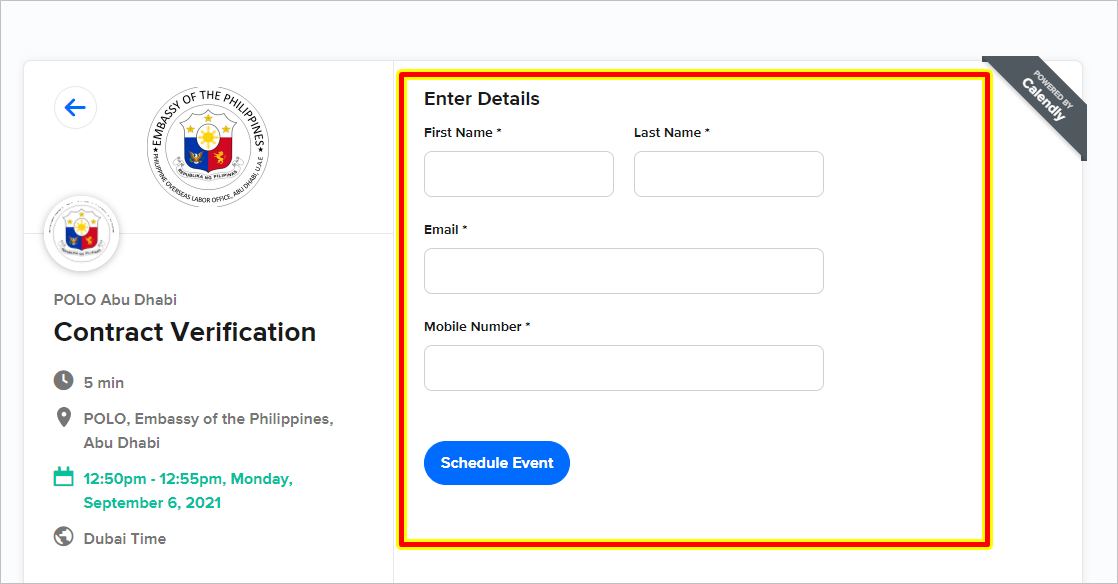 So that's it. This is the process of how you can get an appearance/appointment at this particular OWWA office.
How to Renew OWWA Membership and Contract Verification at POLO Abu Dhabi
In case you are wondering what you are going to do during the day of your appearance at the POLO office, here are the following steps to renew your OWWA membership and make a payment:
Step 1. Arrive at POLO Abu Dhabi on your appointment date and show your schedule confirmation to the guard on duty.
Step 2. Go to the assigned Officer on Duty for further instructions and to check your documents if complete.
Step 3. Proceed to Receiving Counter for the evaluation of documents.
Step 4. Once all documents are complete and verified, you pay the contract verification fee of AED 40. There is also a fee to renew your OWWA membership of AED 92.
Step 5. Print the receipt/stamp with approval.
Note: If the documents are not complete, you will need to come back to POLO Abu Dhabi. You will not be required to rebook an appointment. Instead, you can just walk into the office and present the initial appointment confirmation and bring the completed documents.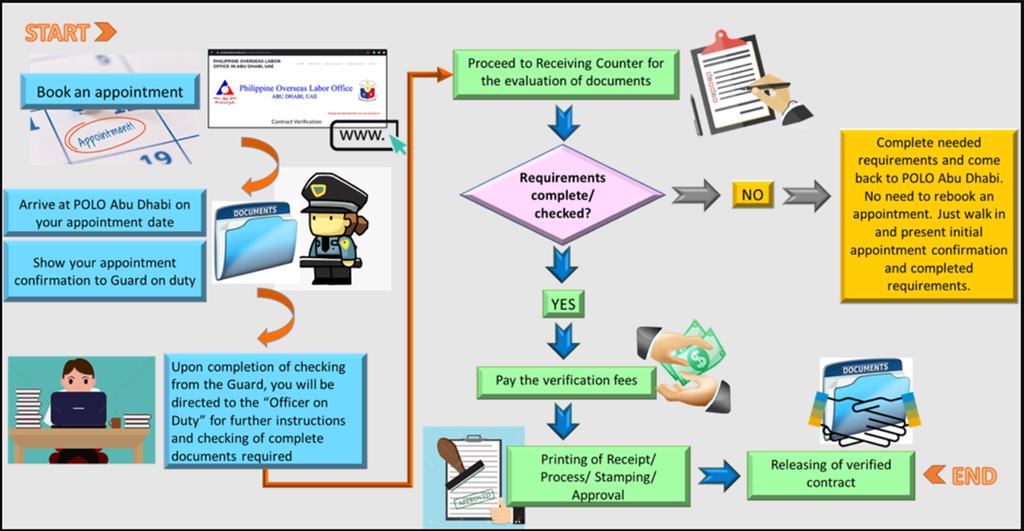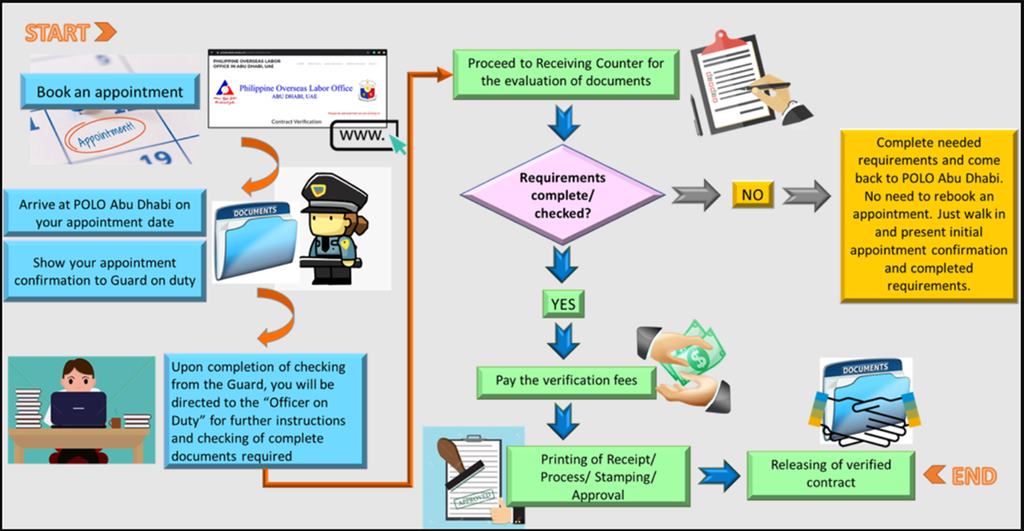 Important Reminders for OWWA Membership Appointment and OWWA Renewal Abu Dhabi
Here are some important reminders about making an appointment in POLO-OWWA Abu Dhabi
Please double-check that your requirements are accurate and complete. Requirements that are not complete will not be handled.
The contract verification is only a process for Filipinos who are new UAE workers, workers who have changed employers, or those who need to change the name of their employers. Contract verification for domestic workers is advised every 2 years. There will be no additional fees if you do NOT verify your contract by POLO.
Wear proper attire when you go to the government office. Sandos, sleeveless, short skirts, strapless, slippers, etc. are prohibited. Please wear appropriate attire.
For Pinoy OFWs who are based in Dubai and the Northern Emirates such as Fujairah, Ajman, Sharjah, Umm Al Quwain, Fujairah, and Ras Al Khaimah, you may set up an OWWA appointment in the POLO-Dubai site. Here's a guide on how to book and renew OWWA in Dubai.
You can call the OWWA Hotline in Abu Dhabi for further information – +971 54 557 2121 / +971  58 594 3131
Frequently Asked Questions
Below are some common questions and answers you may find about the process of scheduling an appointment when you visit the POLO-OWWA office in this location:
1. Is it possible to schedule an appointment online when I'm working?
Yes, you can book an appointment via POLO-Abu Dhabi website link: https://poloabudhabi.weebly.com/
2. How much does the OWWA membership fee cost?
The OWWA membership contribution shall be Ninety-two United Arab Emirates Dirham (AED 92).
3. Where is the POLO-OWWA office in Abu Dhabi located?
The address of Abu Dhabi POLO-OWWA is at W-48, Street No. 8, Sector 2-23, Plot 51, Al Qubaisat. Be advised that this is also where the Philippine Embassy in UAE is also located.
4. Can I walk in at the POLO Abu Dhabi Office?
Based on their website, they only accept those with confirmed appointments. Given the current health restrictions, those allowed to enter are those who have confirmed bookings. Walk-ins are only allowed for those who had previous appointments who need to return to bring their complete documents.
Please check with the POLO-OWWA office if walk-ins are allowed. It is best to contact their hotline for more information.
5. I am working for the same employer, do I need to verify my employment contract?
No, if you are working for the same employer after your OWWA membership account has expired (2 years), you do NOT need to process a contract verification. You can simply go ahead and pay the OWWA renewal fee of AED 92 to renew your OWWA. The contract verification is only applicable for workers who are changing employers in the UAE.
Video: UAE Philippine Embassy Abu Dhabi – OWWA Renewal
Check out this video by Pinay Abroad Vlogs where she shares the reason why you should keep your OWWA active, and the step-by-step process of getting an MOHRE employment certificate and pay for the OWWA membership fee. She also advises the step to get an OWWA appointment as the NO appointment, NO entry is being strictly followed when you go the to the POLO-OWWA office.
Here's another video showing the renewal of OWWA process at the PH Embassy of UAE in Abu Dhabi. As we would like to remind everyone, the OWWA office in the emirate of Abu Dhabi is located at the Philippine Embassy in UAE, along with other PH government agencies. Check out the clip below:
Summary
So this is the overall procedure in getting an appointment and renewing your OWWA membership at the POLO-OWWA office in Abu Dhabi. Please follow the guidelines to ensure a smooth process of OWWA renewal. Remember that a Contract Verification is required for those who are changing employers or for new applicants.
We hope this guide has helped provide valuable information and steps for your reference. Please do not forget to keep your OWWA membership active. You may also choose to register in the OWWA mobile app and have your family / relatives in the Philippines pay for the OWWA membership. This is more convenient for everyone.
Remember that some of the benefits of OWWA include scholarship assistance for your dependents, livelihood assistance programs, welfare programs, and other special projects especially in these times. The other special programs currently operating are the PHP 10,000 DOLE-AKAP assistance, Tabang OFW, and Project EASE.
Did you also know that OFWs will get FREE hotel quarantine provided by OWWA when they return to the Philippines? These are all existing projects for members so take note of the reason why your account needs to be active.
After all, we do not know what the future holds. It is good that we have some form of insurance and assistance from the Philippine government especially in times of crisis which is quite prevalent at these challenging times. You may check the list of OWWA projects and benefits for OFWs here.
Contact Information
POLO-OWWA Abu Dhabi
Office Hours: 9:00 AM to 3:00 PM Sunday to Thursday
Address: W-48, Street No. 8, Sector 2-23, Plot 51, Al Qubaisat – Abu Dhabi
Website: https://poloabudhabi.weebly.com/
Email: poloabudhabi@yahoo.com / ​abudhabi@owwa.gov.ph
Hotline Telephone Number/s: +971 54 557 2121 / +971  58 594 3131
OWWA Abu Dhabi Hotline: +971 56 270 9157
Facebook Page: https://www.facebook.com/poloabudhabi2019/
Google Map Location
Here is a map guide to the location of the POLO-OWWA Abu Dhabi office for your reference. POLO is just located at the PH Embassy in UAE.