OWWA has been associated with OFW assistance as this agency offers a form of insurance for OWWA members especially in times of crisis. In this article, we will be discussing the various financial assistance services that OWWA provides to OFWs and their dependents. Among these are calamity assistance, medical assistance, scholarship programs, special projects in times of the current pandemic situation, and much, much more.
Since the late 1970s, the Overseas Workers Welfare Administration (OWWA) has come to the aid of overseas Filipino workers (OFWs) and their families. Back then, it was known as the "Welfare and Training Fund for Overseas Workers." Today, the agency is present in 31 overseas posts, which are located in 27 countries worldwide.
Notably, OWWA provides assistance to OFWs throughout all stages: pre-departure, overseas deployment, and reintegration. It provides orientation and basic language training before OFWs leave the country. Likewise, OWWA's overseas posts assist Filipinos during their stay abroad. Finally, when OFWs return to the Philippines, OWWA offers livelihood programs, training, and other services.
It's important to be aware of the benefits and financial aids made available to OWWA members. If this is your first time learning about these projects, please take note of them as we talk more about them one by one.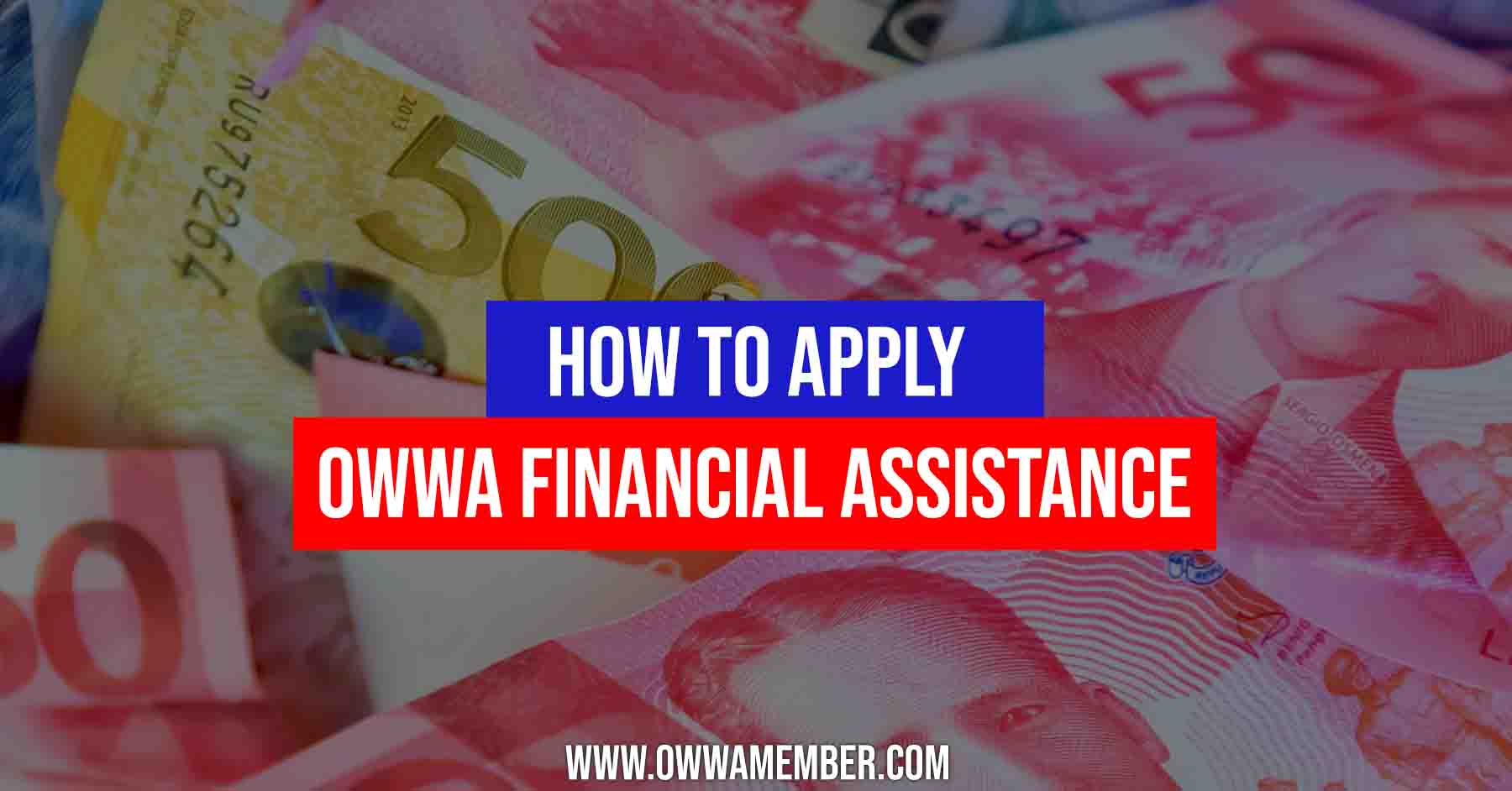 OWWA Cash Assistance Programs for OFWs and Seafarers
There are many regular programs offered by OWWA in times of need, and even more, projects are being launched for OFWs and seafarers in these challenging times. The list we've shared below includes cash assistance for OWWA members and their dependents.
It is good to keep in mind that the programs below are NOT loan projects that you borrow money from and you have to pay back. Given that these are cash aids, it is all the more reason for you to make sure to keep your OWWA account valid. The cost of OWWA membership is only USD 25 every 2 years.
Please check out this list of OWWA cash assistance programs available and do take advantage of them, whether you are a land-based OFW or a seaman:
1. Calamity Assistance
In the event of natural calamities such as earthquakes, flooding, and typhoons, OWWA extends Calamity Assistance to its members and their families. Qualified beneficiaries are given a one-time grant amounting to PHP 3,000 each.
2. Death and Burial Benefits
Active members of OWWA are entitled to a Death Benefit amounting to PHP 100,000 for deaths due to natural causes, and PHP 200,000 for deaths due to accidents.
Aside from the Death Benefits, the deceased's family will also receive an additional PHP 20,000 to help cover burial/funeral expenses. This is a very significant amount that will help your families in this unfortunate time. This financial assistance also applies to COVID-19 deaths.
3. Disability Benefits
OWWA members are entitled to disability benefits amounting to PHP 100,000 in cases of total permanent disability, and PHP 50,000 in cases of partial disability.
4. MEDPLUS Program
Also known as the Supplemental Medical Assistance for OFWs, this MEDPLUS program offers supplemental medical relief to OFWs who are afflicted with dreaded diseases. It applies to those who are active members of OWWA as well as the Philippine Health Insurance Corporation (PhilHealth), and they may be situated abroad or in the Philippines.
Notably, the medical assistance is equal to PhilHealth benefits based on the agency's case rate system, although it should not go over PHP 50,000 per member.
5. Tulong PUSO Program
The Tulong Pangkabuhayan sa Pag-unlad ng Samahang OFWs (Tulong PUSO) program seeks to help develop, enhance, or restore the livelihood projects of OFW organizations. It includes a one-time grant that comes in the form of raw materials, tools, equipment, support services, and other livelihood-related inputs. The amount may reach up to PHP 1 million for OFW organizations with over 51 members, depending on their project requirements.
6. Balik Pinas Program
The "Balik Pinas! Balik Hanapbuhay!" program provides livelihood assistance to returning OFWs who are distressed or displaced. It amounts to as much as PHP 20,000, which can be used as additional or start-up capital for livelihood projects. Many OFWs have availed of this program to start their small business.
7. Balik Pinay Program
Not to be confused with the previous program, the "Balik Pinay! Balik Hanapbuhay!" program focuses on helping distressed or displaced women OFWs. It provides livelihood assistance amounting to PHP 10,000, along with starter kits and livelihood skills training. The main aim of this program is to help Filipino women establish their own businesses.
8. Education and Livelihood Assistance Program (ELAP)
This Educational and Livelihood Assistance Program (ELAP) a program that aims to help the children and spouse of a deceased OFW. It provides educational assistance worth PHP 5,000 for elementary, PHP 8,000 for high school, and PHP 10,000 for college students. Furthermore, it grants livelihood assistance worth PHP 15,000 to the surviving spouse.
9. Skills for Employment Scholarship Program (SESP)
As the name suggests, the Skills for Employment Scholarship Program (SESP) offers educational training assistance for OFWs or their dependents. The scholarship assistance amounts to as much as PHP 14,500 per course in any school accredited by the Technical Education and Skills Development Authority (TESDA). It seeks to help enhance the technical and vocational skills of OFWs and their dependents.
10. OFW Dependents Scholarship Program (ODSP)
This OFW Dependents Scholarship Program (ODSP) is specifically designed for the dependents of OFWs whose salary is not more than USD 600 a month. It comes in the form of educational assistance amounting to a maximum of PHP 20,000 per school year. Through this program, students can finish an associate or baccalaureate degree in a state college or university.
Who can apply for this program? If the OFW is married, his/her children may qualify for the scholarship. If the OFW is single, his/her sibling may be eligible. Applicants who are incoming freshmen must not be more than 21 years old, while those who are already enrolled or continuing their college education must not be more than 30 years old.
11. Education for Development Scholarship Program (EDSP)
This Education for Development Scholarship Program (EDSP) is another scholarship project offered by OWWA to dependents of OFWs. It includes educational assistance amounting to a maximum of PHP 60,000 per school year for a 4- or 5-year baccalaureate course in any college or university.
The OFW dependents must not be more than 21 years old at the time of application. They must also have an average grade of at least 80%, belong to the upper 20% of the graduation class, pass the qualifying exam conducted by the Department of Science and Technology (DOST), and belong to the top 400 examination passers.
Meanwhile, applicants who are already enrolled in college (2nd to 5th year) must not be more than 30 years old at the time of application. Furthermore, his/her General Weighted Average (GWA) should not be lower than B or 85% in all subjects (academic and non-academic) during the last school year that he/she attended.
12. Seafarer's Upgrading Program (SUP)
The Seafarer's Upgrading Program is basically a scholarship grant for seafarers. The program aims to help develop and "upgrade" the skills of Filipino seafarers. It consists of training assistance amounting to a maximum of PHP 7,500 during the first availment. It may be availed again after the seafarer's three (3) recorded memberships with OWWA.
13. Mariner's Dugtong Aral (MDA) Program
As the name suggests, this is a "dugtong" (bridging) program for prospective seafarers. It comes in the form of a scholarship grant for graduates of BS Electrical Engineering (BSEE) and BS Mechanical Engineering (BSME) who would like to pursue the BS Marine Engineering (BSMarE) course.
To qualify for this program, applicants are considered based on the following order of priority: (a) seafarers who are active OWWA members; (b) immediate dependents of OFWs (land-based or sea-based) who are active or former OWWA members; and (c) next-of-kin of OFWs, up to the first degree of consanguinity.
14. DOLE-AKAP Cash Assistance
The DOLE-AKAP program was introduced by the Department of Labor and Employment (DOLE) to help OFWs who have lost their jobs or have not received their wages due to the COVID-19 pandemic. It includes one-time financial assistance of PHP 10,000 or USD 200 each.
As part of the program requirements, the OFWs must:
have lost their jobs as a result of the pandemic;
be on the job site abroad, or in the Philippines and unable to return abroad, or repatriated to the Philippines due to COVID-19;
have not accepted wages or financial benefits from their employer, or was unable to receive assistance from the host country's government because of the pandemic; and
have not received OWWA financial assistance after having tested positive for COVID-19.
15. Project EASE Scholarship
Project EASE stands for "Educational Assistance through Scholarship in Emergencies." Basically, it offers educational assistance to qualified college-level students of OFWs who are distressed, has been displaced, or have lost their jobs due to the COVID-19 pandemic.
The educational assistance amounts to PHP 10,000 per year for a maximum of 4 years. For their dependents to qualify, the OFWs must have an active membership status with OWWA during the time of their repatriation to the Philippines since the outbreak last February 2020.
16. Tabang OFW Scholarship
Tabang OFW program is an educational assistance program of the Commission on Higher Education (CHED) and the Unified Financial Assistance System for Tertiary Education Act (UNIFAST), in partnership with OWWA and DOLE. The project offers a one-time grant of PHP 30,000 to college-level dependents of OFWs who have lost their jobs, have been repatriated, or have passed away due to the COVID-19 pandemic.
What is the OWWA Financial Assistance for Seafarers?
Seafarers or sea-based OFWs may apply for any of the programs mentioned above. The available financial assistance programs for seaman (or seawoman) are also the same programs available for land-based OFWs.
Of course, they should also take advantage of the projects that are specifically designed for seafarers, namely the Seafarer's Upgrading Program (SUP) and the Mariner's Dugtong Aral (MDA) program.
How Do I Appy for Cash Assistance from OWWA?
If you think you qualify for any of these programs, simply head to the nearest OWWA office in the Philippines and submit an application. If you are an OFW working abroad, you may also ask about these programs and services by visiting the nearest POLO-OWWA office. Be sure to call them first to inquire about the requirements and set an online appointment if necessary.
Rules and policies in terms of entry to the office have changed given that there are safety guidelines being implemented. Each office in your region may have its own way of dealing with inquiries and appointments.
Video: OWWA Cash Benefits and Programs
The aim of OWWA is to help OFWs all around the globe. The current administration is serious about reaching out to Filipino workers wherever they may be and provide OWWA at Your Service to its members.
If you wish to learn more about these financial programs as well as other assistance projects, do check out this video below. It features OWWA Deputy Administrator, Mocha Uson, as she talks about the agency's programs and services:
Summary
Whether you're a land-based or sea-based OFW, there's an OWWA program that you can apply for, especially during these times of need. These programs include livelihood assistance, educational assistance, medical support, and other benefits for you and your family.
Moreover, keep in mind that these programs are NOT loans; they are cash aids or grants, so you do not need to pay anything back. As long as you remain an active member of OWWA, and renew your membership every two (2) years for just PHP 1250 or USD 25, you can expect to enjoy these benefits. If you wish to avail of OWWA loans, you may check this article guide here – How to Apply OWWA Loan – OFW and Seaman Loan
Please do make sure that when you apply for these OWWA cash assistance projects, make sure that you meet the qualifications and requirements. Sign up to become an OWWA member online or register via the OWWA mobile app to keep your account active.
Disclaimer: Info presented here may change without prior notice. Let this act as a guide for reference. For more information about the agency's financial assistance programs, please visit the official website of OWWA at https://owwa.gov.ph/. You can also follow their official Facebook page at https://www.facebook.com/OWWAofficial/ for the latest updates.