OFWs in Bahrain who need to acquire an OEC or have an OEC exemption, please follow the guidelines we've outlined below. The OEC or Overseas Employment Certificate for Balik Manggagawa is a required document whenever you travel back to your work country. Here we share the requirements, qualifications, application process at POLO-Bahrain.
Also Read: How to Renew OWWA Membership in Manama, Bahrain
The Philippine government has allocated a lot of time and resources to cater to the needs of OFWs abroad. Being a member of OWWA opens a lot of opportunities and privileges for them. If you are someone working abroad or about to work abroad, you will see how important it is to obtain your legal papers, especially the ones proving that you are a legal overseas worker from the Philippines.
One important document you have to obtain if you are planning to work abroad is your OEC or the overseas employment certificate. Let's take a look at the procedures, requirements, and/or fees that may occur while obtaining your OEC if you are already in Bahrain.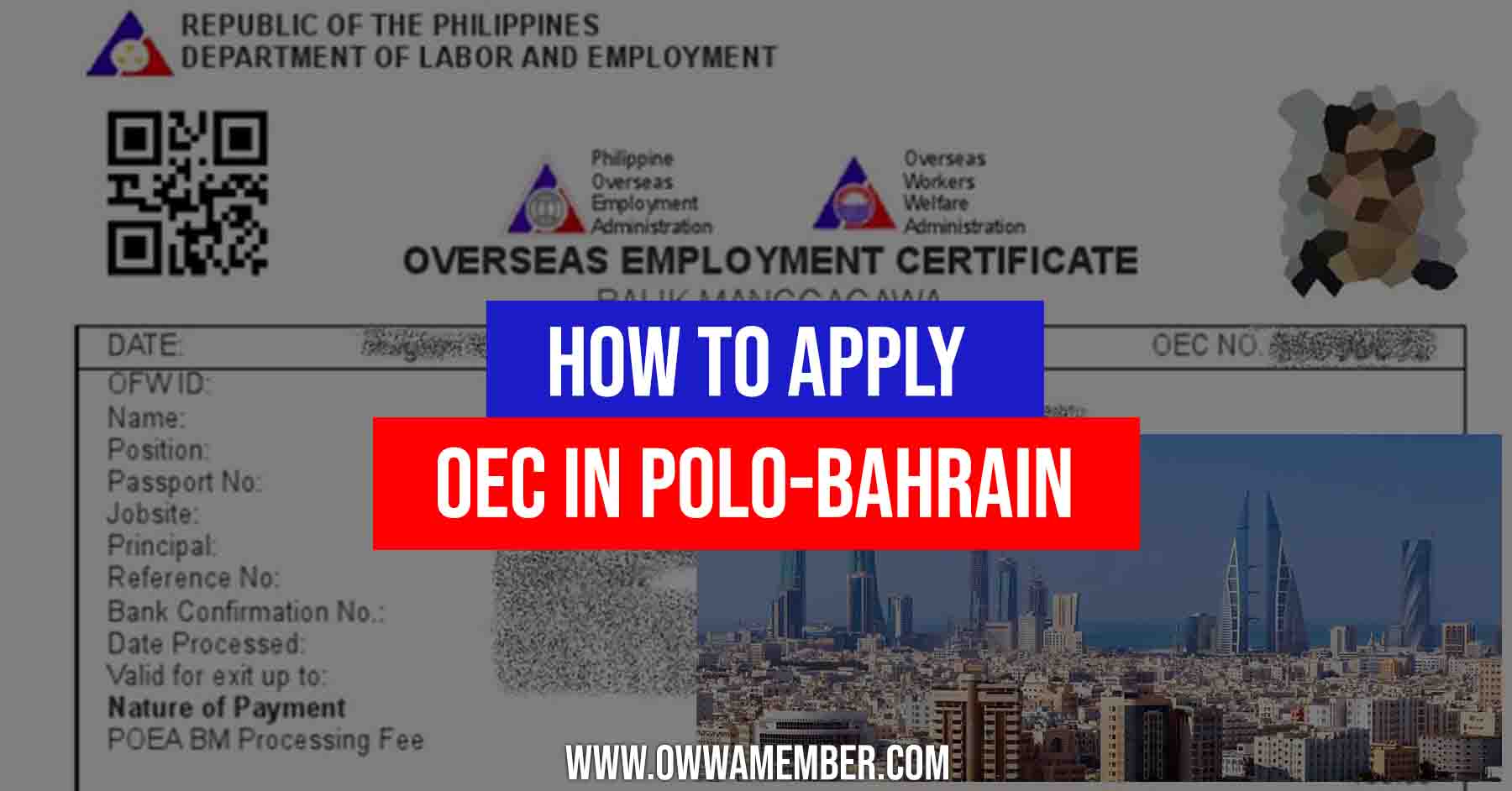 What is OEC BM (Balik Manggagawa)?
Overseas Employment Certificate or OEC is a travel departure clearance granted to OFWs with working visas and contracts to work overseas. The OEC serves as documentation and includes OFWs in the government's database of Filipino workers abroad.
OFWs who have their OECs are free from paying travel taxes and airport terminal fees. They also enjoy faster entry in a special lane designated for OFWs and are covered by government protection and benefits.
Requirements
For the said requirements, according to the Philippine Embassy in Bahrain, it is required to present the following documents with valid and correct information of the applicant.
OFWs applying OEC for the first time must possess:
Original Passport
Valid Residence Permit
Flight Documents such as Plane Ticket
OEC Appointment slip
Verified Employment Contract
OFWs with expired employment contracts, transferred employment, and/or changed visas to work visas are required to submit the following in the office:
Two (2) copies of the Employment Contract
Copies of Commercial Registration for the Company/Employer
Certificate of Employment (COE) – in firm letterhead with stamp and signature of employer/authorized signatory
Contingency Plan – in firm letterhead with stamp and signature of employer/authorized signatory
Copies CPRs (Client Profile Registration) of the owner / Authorized Signatories of the Company in the OEC and EC
Original Passport of the Employee
Residence permit of the Employee
CPRs of the Employee
Flight details such as Plane Ticket
Undertaking Affidavit for Drivers only
Qualifications
What are the qualifications, and who are required to get an OEC in Bahrain? OFWs in Bahrain shall get an OEC if they are in one of the following conditions:
A return of an OFW with a working visa or employment contract to the same workplace after a leave of absence or holiday
The join/return of an OFW to the same employer who has moved to a different work within the nation.
Tourists, dependents, students, and people in business were undocumented but subsequently received employment and work visas.
How much does it cost to obtain OEC in POLO Bahrain?
OFWs must consider some fees in obtaining an OEC in Bahrain. The fees and inclusions are:
OEC fee – BD 1
Contract Verification fee – BD 4
OWWA Membership fee – BD 9.5
Note: POLO Bahrain will only verify employment contracts that comply with the minimum labor standards.
How to schedule an OEC online appointment in Bahrain?
Follow these easy steps to register via POEA Online Processing System for Balik-Manggagawa (POPS-BaM):
Go to POEA Online Processing System for Balik-Manggagawa website or type https://onlineservices.dmw.gov.ph/OnlineServices/POEAOnline.aspx in the URL box of your browser.
Click "Let" s Go."
Click "Register"
Click "I Accept Terms of Use"
Fill out all needed information, then click "Register" (a message notification should appear saying your registration was "Successful")
Open the email used in registration (look for the email containing your "Temporary Password")
Go back to the homepage and log in using the registered email.
Use the temporary password.
Set password
Update your profile (click "Update Profile," which can find on the upper right side of the page)
Add Identification and Beneficiary
Upload Profile Picture and Passport
OFWs will need to register via POPS-BaM and request an appointment for OEC issuance at the POEA office in Bahrain/POLO-Bahrain upon the verification of documents.
POLO-Bahrain will assist OFWs in getting access to the new POEA Online Processing System for Balik-Manggagawa or POPS-BaM, including instructional sessions for OFWs in registration of an account, getting an online appointment for the examination of the worker's employment documentation, and printing the original OEC. 
How to Set an Appointment at POLO-Bahrain
This may help you to set an appointment with POLO Bahrain.
Go to the POPS-BaM website and log in.
Click "Balik-Manggagawa" on the upper right side of the page.
Fill out the next flight date, click "next."
Returning Balik-Manggagawa to the same employer and workplace should click "yes" and print our OEC; if not, go to step 5.
Complete the information with correct details
Click "Submit"
Choose POLO Middle East, then Qatar, Doha and select the available slot for the Appointment Schedule.
Print out (you can also cancel your appointment)
How to Apply for OEC at POLO Bahrain
To get your OEC from the POLO office in Bahrain, follow the instructions below.
Pass all necessary documents that the Reception Officer will ask at POLO Bahrain. Accomplish all forms that needed to be filled out. The officer will instruct you on the next procedure.
Documents provided are submitted and evaluated to be approved by the Labor Attache.
Pay all the fees and get your OEC.
Note that if an OFW entered Bahrain on a tourist visa or left the Philippines through another country, OFWs can get their OECs at any POEA offices in Manila, Philippines.
When those steps are concluded, OFWs can get a vacation and/or go back to Bahrain by presenting their OEC and exit the Philippines.
How to get OEC Exemption in Bahrain?
OEC exemption is often applied online via the POPS-BM system. If you think you are qualified to avail of this exemption, there is no need for you to go to Bahrain. You can just log on to https://onlineservices.dmw.gov.ph/OnlineServices/POEAOnline.aspx and check whether all the qualifications and requirements are met. If you are not qualified, you need to apply for an OEC to validate your stay abroad.
Frequently Asked Questions
Please check out these frequently asked questions and answers about the process of getting the overseas employment certificate if you are based in Bahrain:
1. How long is the validity of OEC?
AWhen issued, OECs are good for sixty (60) days. On or before the expiration of the OEC, OFW must set their flight on before the expiration date.
2. Can an OFW/BM apply for a replacement if the OEC is lost?
No need to apply for a new one. Just re-print the OEC using POPS-BaM.
3. An OEC that hasn't been used yet may be used on a future flight?
Yes, as long as it is valid and not over the expiration date of the OEC. But expired OEC cannot be used in a future flight. A new one requires to be re-secured.
 4. Is it possible for OFWs to acquire numerous trip exit clearances or OECs?
POEA Online Processing System for Balik-Manggagawa only gives one OEC at a time.
Video: Applying for an OEC in Bahrain
Please check out this tutorial video about the POEA BM Online processing system on getting an OEC online:
Summary
If you are an OFW who works in Bahrain, hopefully, this blog gives you information on how to get OEC at POLO Bahrain and enjoys the exemption of travel and airport terminal fees. Enjoy the benefits while having a vacation in the Philippines and the hustle-free departure when going back to Bahrain.
Contact Information
These pieces of information can help you to reach out to POLO Bahrain. You can contact or email them or go to their physical office at:
Address: Villa 939 Road 3220, Blk 332, Mahooz Area, PO Box 26681 Kingdom of Bahrain
Telephone: +973 17740951
Fax: +973 17740829
Hotline (Duty Officer) (24/7): 38072476
Email Address: polobahrain@yahoo.com
Facebook Page: https://www.facebook.com/PHLinBahrain/
Google Map Location
If you need help with the directions when going to the Philippine Embassy in Bahrain, you can use the map below: