Filipinos based in Jeddah and the Western Region of Saudi Arabia can head to the Philippine Overseas Labor Office in order to renew their OWWA membership. But before bringing all your document requirements and paying for the activation of your OWWA account, you need to schedule an appointment first. Here we share the steps and process of booking an OWWA appointment in POLO-OWWA Jeddah, and also how to pay your OWWA during your day of appearance.
The POLO Jeddah office is located right at the Philippine Consulate General office at Al Rehab District 6. Be advised that if you do not have an appointment, you will not be allowed entry into the office.
Overseas Filipino Workers (OFWs) should be aware of the significance of their membership in the Overseas Workers Welfare Administration (OWWA). Before your OWWA membership expires and becomes invalid, it's important to renew it. It not only helps you get OWWA compensation in times of crisis, but you can also get some great programs and benefits at only a minimal fee.
With the pandemic, it's important to schedule an appointment online. Maintain social distance when you arrive at the OWWA-Jeddah office and always wear your face mask to keep yourself and others safe.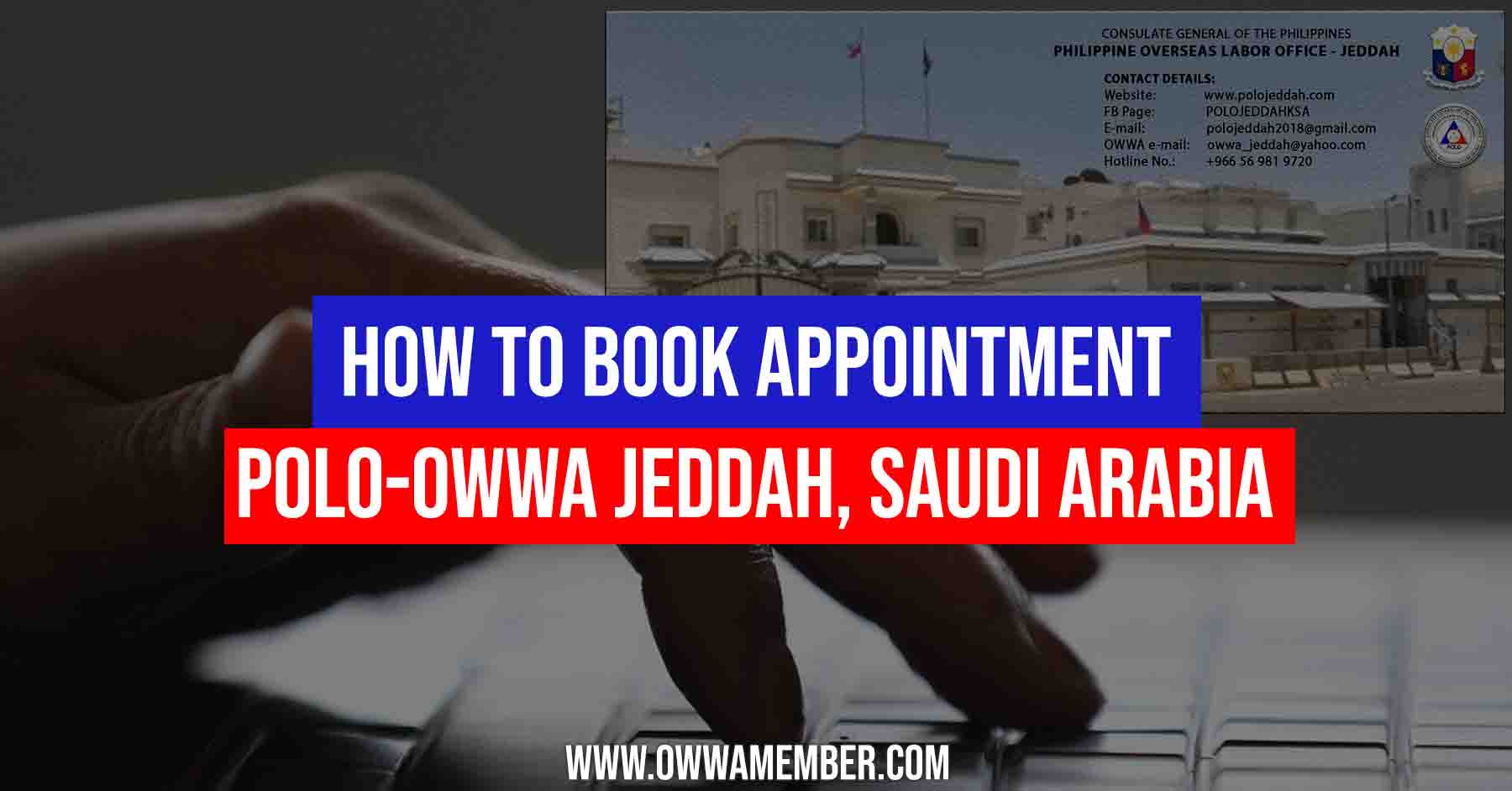 Amount of Contribution
The OWWA membership contribution shall be Ninety Four Saudi Riyal (94 SAR).
Membership Validity
For each contribution, membership is valid for two (2) years, regardless of contract term, change of employer, jobsite, or recruitment agency. Following that, if proof of active work is shown, OWWA membership must be renewed.
POLO Jeddah OWWA Membership/Renewal Requirements
Here's a list of OWWA membership requirements in Jeddah:
Original Passport
OFW Information Sheet / OWWA Membership Form
Membership Fee (ranging from Php1,000- Php1,500 or 112.11SAR)
Certificate of Employment/Contract Verification (2 copies)
Requirements for Returning Household Service Workers
Standard Employment Contract
Photocopy of Household Service Worker Exit / Re-Entry Visa (if applicable for those going home to the Philippines)
Passport copy of the worker
Iqama copy of the worker
Photocopy of National ID / Iqama of Employer
National Address of Employer
How to Schedule an Appointment in OWWA Jeddah & Western Region
If you want to renew your OWWA membership you can go to POLO-OWWA Jeddah on your days off. But first, here are the steps for making an appointment online:
Step 1: Visit the official website of the POLO in Jeddah, Saudi Arabia at https://sites.google.com/view/polo-jeddah/
Step 2: At the above portion of the website click the "Portal Page".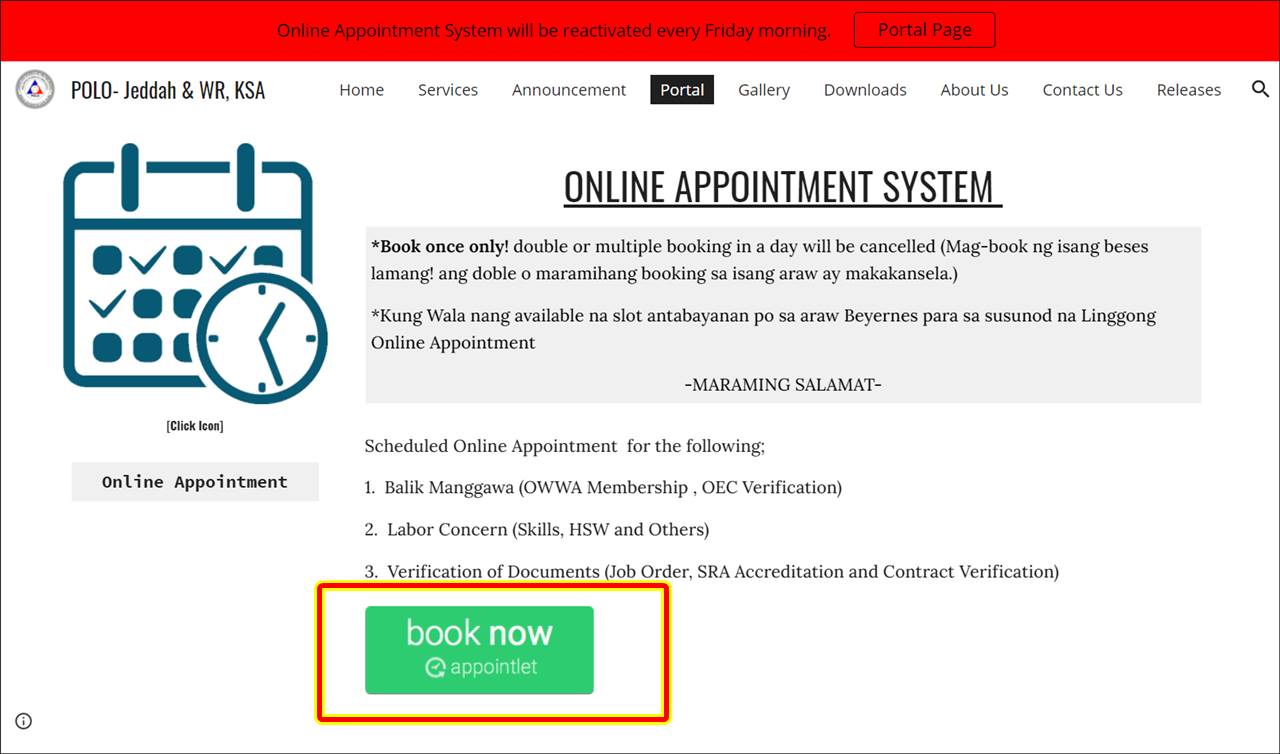 Step 3: After clicking the "Portal Page" click the "Online Appointment System"
Step 4: Select your time zone. If a calendar appears, select the date and time you want. Return to the Portal on Friday if the calendar hasn't been displayed.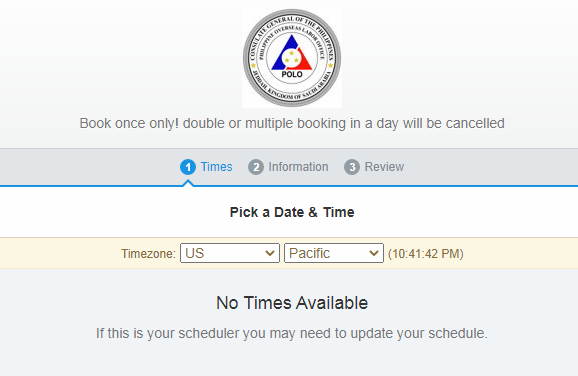 Step 5: Complete all required information.
Step 6: After you've entered all of the required information, review it and click the "submit" button.
Step 7: Wait for the confirmation e-mail.
Step 8: Bring a copy of your confirmed appointment to the OWWA-Jeddah office.
How to Renew OWWA Membership in Jeddah
After you have made your appointment, the membership payment renewal is done when you visit the POLO-Jeddah office. Please be guided on the steps below on the process during your scheduled appearance:
Step 1: Go to the POLO-Jeddah gate at the Philippine Consulate General office in Jeddah.
Step 2: Bring a printed copy of your OWWA appointment so you can enter the office. You need to provide this as you will not be allowed entry if you do not have a confirmed appointment proof.
Step 3: Present your document requirements.
Step 4: Pay the OWWA renewal fee of SAR 94. Please note that you may need to pay other fees such as POLO contract verification as applicable.
Step 5: After paying all the fees for your OWWA membership renewal you can now get your receipt after the payment.
Important Reminders at POLO Office in Jeddah
Here are some important tips and reminders during the appointment or appearance date:
The only book once! Multiple bookings in a single day will be canceled.
If there are no more open slots, the next Online Appointment will be held on Friday.
Please double-check that your requirements are accurate and complete. Requirements that are not complete will not be handled.
The OWWA membership receipt is issued on the same day as the application.
Face masks must be worn at all times, and individuals must maintain a two-meter physical distance from one another.
The OWWA office is located in Building 5.
For more information, see the Jeddah POLO FB Page –
The Online appointment system is refreshed every Friday morning and is intended for the following services:

Balik Manggagawa (OWWA Membership, OEC Verification)
Labor Concerns (Skills, Household Service Workers, and others)
Verification of Documents (Job Order, SRA Accreditation, and Contract Verification.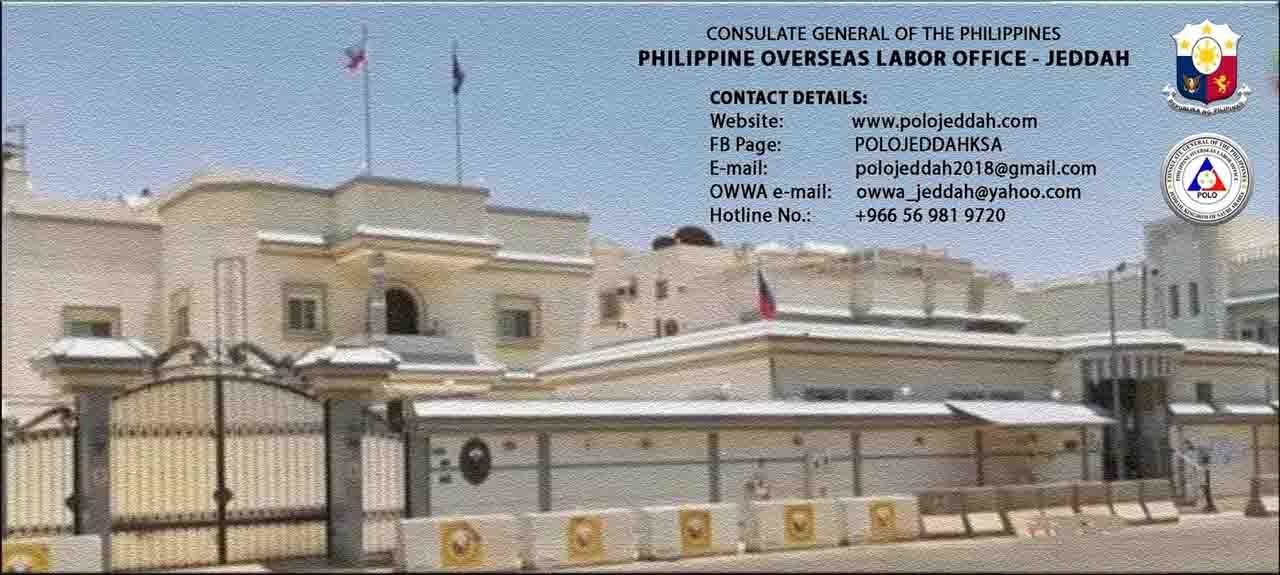 Frequently Asked Questions
Here are some common questions and answers about the POLO-Jeddah process of renewal of your OWWA membership and making a schedule:
1. Can I directly go to the OWWA-Jeddah Office?
No, you cannot walk into the OWWA-Jeddah office without a scheduled appointment.
2. How much does the OWWA membership fee cost?
The OWWA membership contribution shall be Niney Four Saudi Riyal (94 SAR).
3. Is it okay if I bring a companion during my appointment?
No, you are not permitted to bring a companion to the office. Only those with a scheduled appointment are permitted to enter the OWWA office. So please plan your appearance during the day of your appointment.
4. I do not have time to visit the POLO Jeddah, are there other methods to pay my OWWA?
Yes, you can still renew your membership by downloading the OWWA mobile app, then you can have your family/relatives in the Philippines pay for the fee via accredited payment centers or by visiting the OWWA regional welfare office.
Video: OWWA Membership Renewal at POLO Jeddah
Here is a video below showcasing a Pinoy who has an expired contract and he needs to renew his OWWA and also verify his status. Please check his guide as he shares his personal experience of renewing his employment contract and paying for his OWWA account activation.
Contact Information

POLO-OWWA Jeddah, Saudi Arabia
Main Address: 4663 Fajr Street Al Rehab District 6 Jeddah, Saudi Arabia 21412
Website: http://www.polojeddah.com/
OWWA Jeddah Hotline: +966 56 981 9720, +966 56129 7677
Emails: owwa_jeddah@yahoo.com, polojeddah2018@gmail.com
Facebook Page: https://www.facebook.com/POLOJEDDAHKSA/
Google Map Location
Below is a map guide to the location of the POLO-OWWA office in Jeddah. The POLO office is located at the Philippine Consulate General office in Jeddah.