For those Filipino expats working in Canada, you need to acquire an Overseas Employment Certificate (OEC) if you plan to go for a vacation in the Philippines and return to work in Canada. Overseas Filipino Workers (OFW), without this certificate, will not be authorized to enter the Philippines. OFWs must present this certificate before their flight abroad.
Also Read:
– How to Renew OWWA Membership in Calgary, Canada
– How to Renew OWWA Membership in Vancouver, Canada
– How to Renew OWWA Membership in Toronto, Canada
As an OFW, you must know the importance of securing this document. Though the OEC is already known by a lot of OFWs, there might be some who still don't know how essential this document is. In this post, you will learn the step-by-step guide on how to apply for your OEC if you are an OFW from Canada. Keep this information in mind as you will need this every time you go home to the Philippines for a vacation.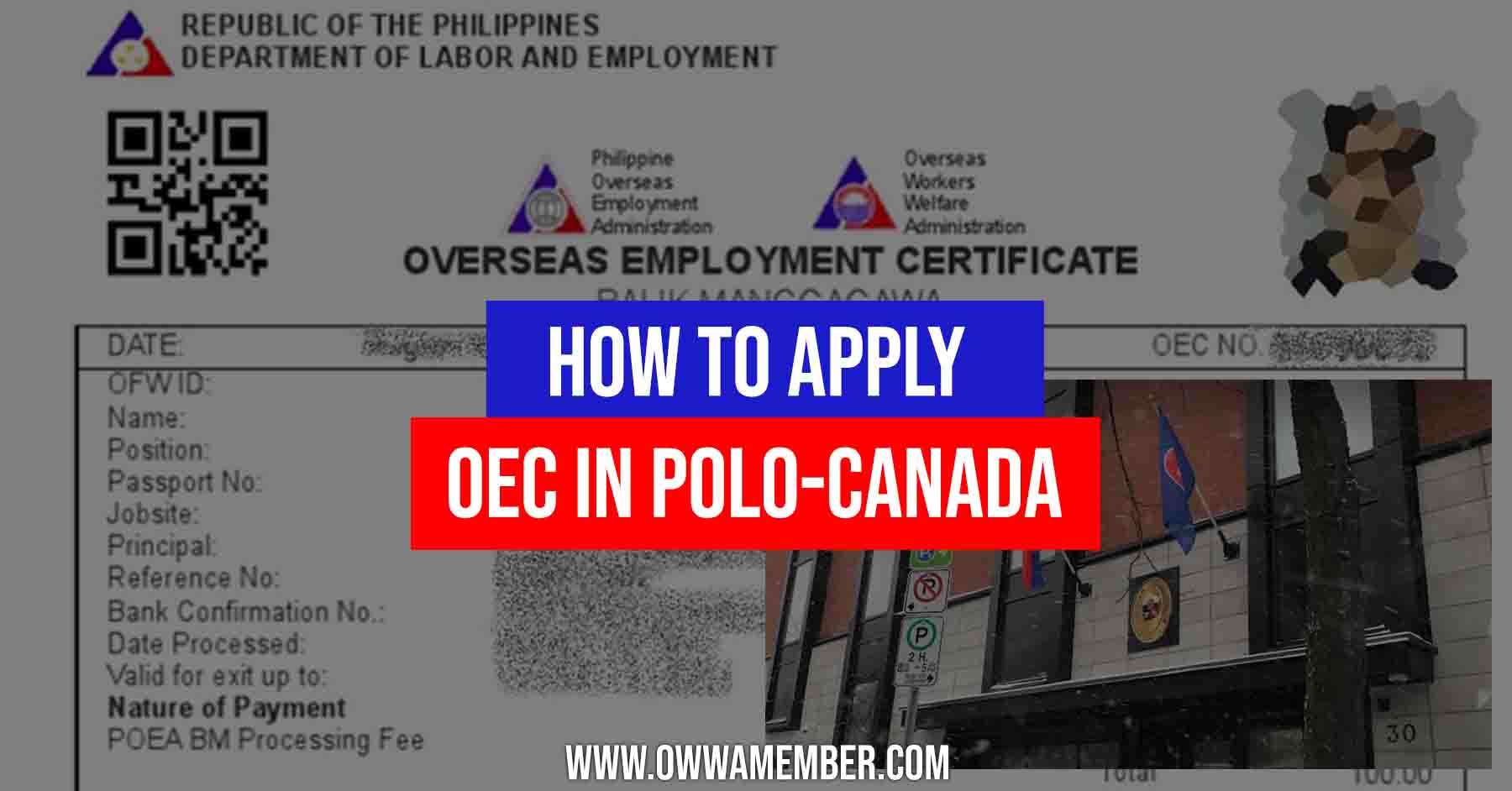 What is OEC, and why is it important to Filipino Workers abroad?
All Overseas Filipino Workers (OFWs) are obliged to acquire an Overseas Employment Certificate (OEC) when travelling for or to return to their employment overseas, according to the laws and regulations of the Philippine Overseas Employment Administration (POEA). The OEC, also known as an exit clearance/pass, is a document that certifies the regularity of an overseas Filipino worker's (OFW) recruitment and documentation, as well as proof of his/her registration with the POEA.
The OEC must be presented to the Bureau of Immigration (BI) officer by the OFW at the airport in the Philippines before flight abroad. The BI officer may stop a Filipino worker from leaving the Philippines if he or she does not have OEC.
An OFW with an OEC has the following benefits:
No travel tax
No airport terminal fee
Reduced travel for spouse and dependents
What are the requirements for getting OEC in Polo?
According to the official website of POLO in Canada, Filipino workers who are planning for a vacation in the Philippines and return to Canada for the same work must possess an OEC. You need to provide the original and copy of the following documents:
Online Appointment Sheet
Employment contract verified by the POLO
Philippine Passport
Re-entry Visa
Work Permit
Letter Of Guarantee from the Employer
If there is no verified contract yet, please bring the following documents for employment contract verification.
Employment Contract
Addendum
Photocopy of the visa, passport, work permit, LMIA
Employer's Profile
Copy of the Employer's ID
Affidavit of Undertaking
Sinumpaang Salaysay
Additional requirements under the following situation:
A worker who has recorded with the POEA and returning to the same employer but in a different country must also bring:

Letter from the Employer confirming the transfer of the job site of the worker

A worker who has recorded with POEA but changed employer in Canada must also bring:

Employment Agreement (for open work permit holders)

The valid photo-bearing ID of the Employer
Worker's Sworn Statement stating how the new employer hired him/her

A worker who has no record with the POEA and worker who were hired by Third Countries like New Zealand / Hongkong / Taiwan / Dubai/ Greece / Abu Dhabi / Oman / China / Japan / Kuwait / Saudi Arabia / Singapore and who have not yet POLO verified contract must also bring:

Employment Contract or proof of Employment Contract

The valid photo-bearing ID of the Employer or an authorized representative.
Worker's Sworn Statement stating how the new employer hired him/her
What are the qualifications, and who are required to get an OEC in Polo Canada?
OECs are given to newly hired Filipino workers before their deployment abroad and to Filipino workers or Balik-Manggawa on leave and return to work abroad.
POEA Memorandum Circular No. 2, Series of 2019, produces the guidelines on applying and issuing OEC to returning Filipino workers.
The following are qualified and required to get their OEC before working/returning in Canada:
Returning Overseas Filipino Workers (OFW) with record – workers with an existing POEA record who vacation in the Philippines for the first time and return to the same job in Canada.
Filipino Workers who are not previously registered with POEA – workers without deployment record at the POEA or the POLO
Filipino Workers who changed employment on Job site – workers having an existing POEA record who transferred or signed a new employment contract on site
The guidelines apply to all Filipino workers with a Work Permit in Canada and who are currently on leave in the Philippines.
How much does it cost to get an OEC from POLO Canada?
These are the fees you need to consider and determine how much they cost while at POLO so that they will not become a burden while you are processing your OEC.
POLO Verification Fee = $11.50
OEC Fee = 2.75
OWWA Fee = 32.00
PCG Toronto Authentication Fee = $33.75 for returning workers in a different country; changed employer on-site; no record with POEA and hired by third countries.
How to schedule OEC online appointment in POLO Canada?
Vacationing workers can make an appointment online with the POLO to process their exit clearance or Overseas Employment Certificate (OEC). Workers can apply for their OEC at any time, on any day, and at any convenient location.
To schedule an appointment at POLO, the worker can use the online facility or the POEA Online Processing System for Balik-Manggagawa (POPS-BaM).
Steps for OEC registration:
Go to your browser and type https://onlineservices.poea.gov.ph/OnlineServices/POEAOnline.aspxin the URL
Click on Let's Go
Click on "Register" for new users ( just log in if you already have an account )
Then click "I accept the terms of use."
Fill out the required information and then click register. (a message will display indicating that your registration was "Successful")
Log in to the email address you provided when you registered (there is a message containing your "temporary password")
Return to the link provided in Step 1 and login using the registered email address, then click "next."
Use the temporary password sent to your email, then click "log in."
Set the password you want
Update your profile by clicking "My Profile," after completing your profile, click "Update Profile" on the upper right side of the page
Add your Identification and Beneficiary
Attach profile picture and passport
To set an appointment at POLO:
Log in to your POPS-BaM account (onlineservices.poea.gov.ph/OnlineServices/POEAOnline.aspx)
Click "Balik-Manggagawa," located at your top right-hand side.
Input your next flight date, and then click "next."
You will be asked if you are returning BM to the same employer (if yes, you can print your OEC, if no, proceed to step 5)
Accomplish your contact details with true and correct information to the best of your knowledge.
After clicking "Submit," select POLO location near your workplace.
Then, choose an available Appointment Schedule.
You now have an Appointment with POLO. You can print or cancel your appointment.
How to get OEC at POLO Canada?
Come to POLO on the date and time of appointment and bring the said requirements.
Fill up the OFW Information Sheet given by the POLO reception officer.
Submit the OFW Information Sheet and the said requirements to the reception officer to be evaluated.
Pay for the necessary fees.
Through the advice of the OEC processor, print OEC by logging into the POPS-BaM account under the "My Transactions" OEC Tab.
Note that every POLO branch now has different guidelines when it comes to getting an OEC. It will help if you will look into the current reminders posted on the official website of POLO Canada to ensure that you are on the right track. In most cases, OECs can be obtained online if you have an account with POEA. If you are one of the employers under the qualified section, you will likely need to go to POLO to get your OEC certificate.
How to get OEC Exemption in Canada?
To qualify for an OEC Exemption, the worker must be an OFW with a record in the POEA database and that he is returning to the same employer and job site in Canada.
The worker is required to log in to his or her POPS-BaM account before his or her flight to return to the same employer overseas. The system would inform the BM worker if he or she is eligible for an OEC exemption.
If qualified, the BM worker is exempt from obtaining an OEC at any POEA office and is not required to pay the OEC processing fee.
Furthermore, when leaving the Philippines for the purpose of work, the BM worker should show or present the OEC exemption number to Bureau of Immigration personnel at the airport and prevent him or her from paying for the cost of travel tax and airport terminal fees.
Frequently Asked Questions
Below are some commonly asked questions and answers regarding the POLO-Canada office for OEC Balik Manggagawa application:
1. How long does OEC expire?
Sixty (60) days from the date of issuance.
2. Can OFW exit the Philippines without OEC?
No. The OEC must present to the Bureau of Immigration officer at the Philippine airport before departure. Otherwise, the OFW will not be able to take the flight.
3. How much is the fee for OEC in the Philippines?
The OEC processing fee is PHP 100.00 in the Philippines. In addition, a valid work visa, OWWA membership fee official receipt, and a copy of their verified employment contract are needed for processing the OEC.
4, Can I leave Canada without OEC?
You only need OEC before returning to Canada for work purposes. You can still process your OEC at the POEA offices in the Philippines.
Summary
Hopefully, this article helps you in securing your OEC in POLO Canada. If you meet the qualifications mentioned above and have your requirements with you, you are eligible to get your OEC. You should give yourself time to process the document to avoid hassle later on.
Contact Information
The Philippine Overseas Labor Office (POLO) in Canada is located and can contact at the following information:
POLO OWWA Toronto
Address: 160 Eglinton Ave. East, Suite 200, Toronto, Ontario M4P 3B5
Telephone Number/s: Contact No. (416) 975-8252, OFW Hotline No. : (647) 992-7656
Website: http://polotoronto.dole.gov.ph/, https://www.philcongen-toronto.com/
Email: OWWA: toronto@owwa.gov.ph, POLO: 2019@gmail.com
Facebook Pages: https://www.facebook.com/Polotoronto/
POLO Toronto is open Monday to Friday, 9:00 a.m. to 6:00 p.m. closed on Philippine and Canadian holidays.
POLO OWWA Vancouver
Address: World Trade Center Office Complex, Suite 601, 999 Canada Place, Vancouver, BC, V6C3E1
Telephone Number/s: OWWA – (+1) 604 641 1234, POLO – (+1) 604 767 3354
Email: OWWA: vancouver@owwa.gov.ph, POLO: polo.vancouver@yahoo.ca
Website: https://vancouverpcg.dfa.gov.ph/
Facebook Page: https://www.facebook.com/POLOinVancouver/
The POLO Vancouver is open from Monday to Friday, 9:00 a.m. to 5:00 p.m. and 9:00 a.m. to 6:00 p.m. every last Friday of the month closed on Philippine and Canadian holidays.
Google Map Location
Here's a map of POLO-Vancouver.
Here's a map of POLO-Toronto