To OFWs based in Calgary and are wondering how they can renew their OWWA membership and keep their account active, please be guided on the following guide based on the requirements, fee, and step-by-step procedure for Temporary Foreign Workers in the country. The Philippine Overseas Labor Office that handles OWWA membership in Calgary is the POLO-Vancouver office. This means that Filipinos should follow the same process outlined which is by sending their documents via email.
The OWWA membership fee is only 30 Canadian Dollars (USD 25) and it is valid for 2 years. Make sure to take advantage of the benefits and projects offered by OWWA for its members.
Also Read:
– How to Renew OWWA Membership in Toronto, Canada
– How to Renew OWWA Membership in Vancouver, Canada
Overseas Filipino Workers (OFWs) should understand the value of their membership in the OWWA. It's important that you renew your OWWA membership before it expires and becomes invalid. It not only assists you in obtaining OWWA compensation, but also ensures your safety as an OFW in the case that you require assistance. It is important to perform transactions online due to the pandemic.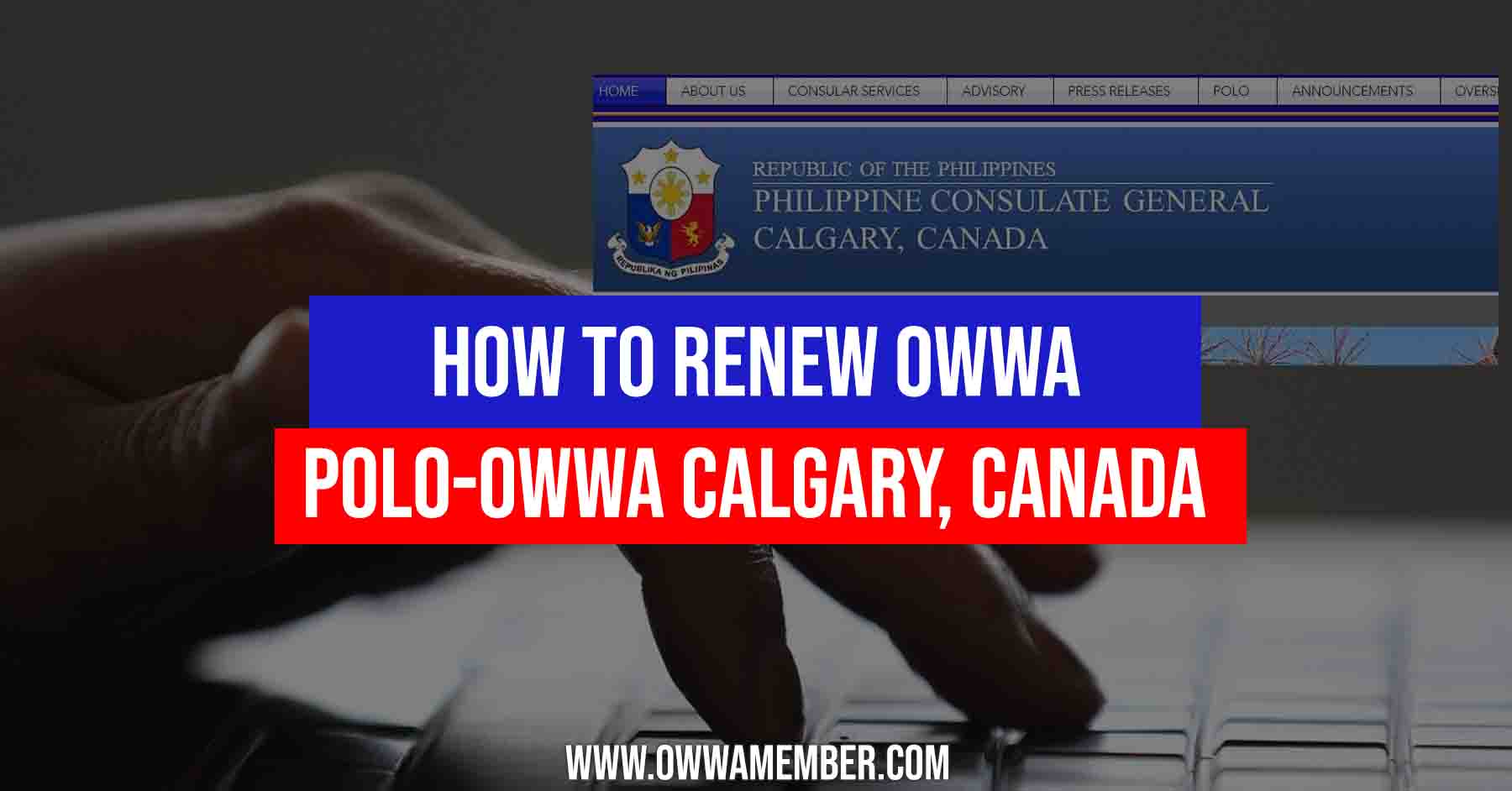 Amount of Contribution
The OWWA membership contribution shall be Twenty-Five US Canadian Dollars (USD 25.00).
Membership Validity
Membership is valid for two (2) years for each contribution, regardless of contract term, change of employer, jobsite, or recruitment agency. After that, OWWA membership must be renewed if proof of active labor is supplied.
Membership/Renewal Requirements for the OWWA:
Copy of a VALID employment contract
A copy of the passport page with the photo and personal data
A copy of your current work permit and visa
OWWA OFW Information Sheet completed
Reminder: OWWA Vancouver, Canada manages the renewal of membership for Filipinos in Calgary, Alberta, Saskwatchewan.
How to Apply for OWWA Membership in Calgary, Canada
Here are the steps to keep your OWWA membership active in Calgary, as shared by POLO Vancouver.
Step 1: Email your OFW Information Sheet and documentary requirements to vancouver@owwa.gov.ph
Step 2: For evaluation, the worker will receive a video call through their social media account.
Step 3: If the worker qualifies, they will be given advice on how to pay their OWWA membership fee, which is USD 25 in Canadian Dollars.
Step 4: The e-receipt will be sent to the applicants' e-mail addresses.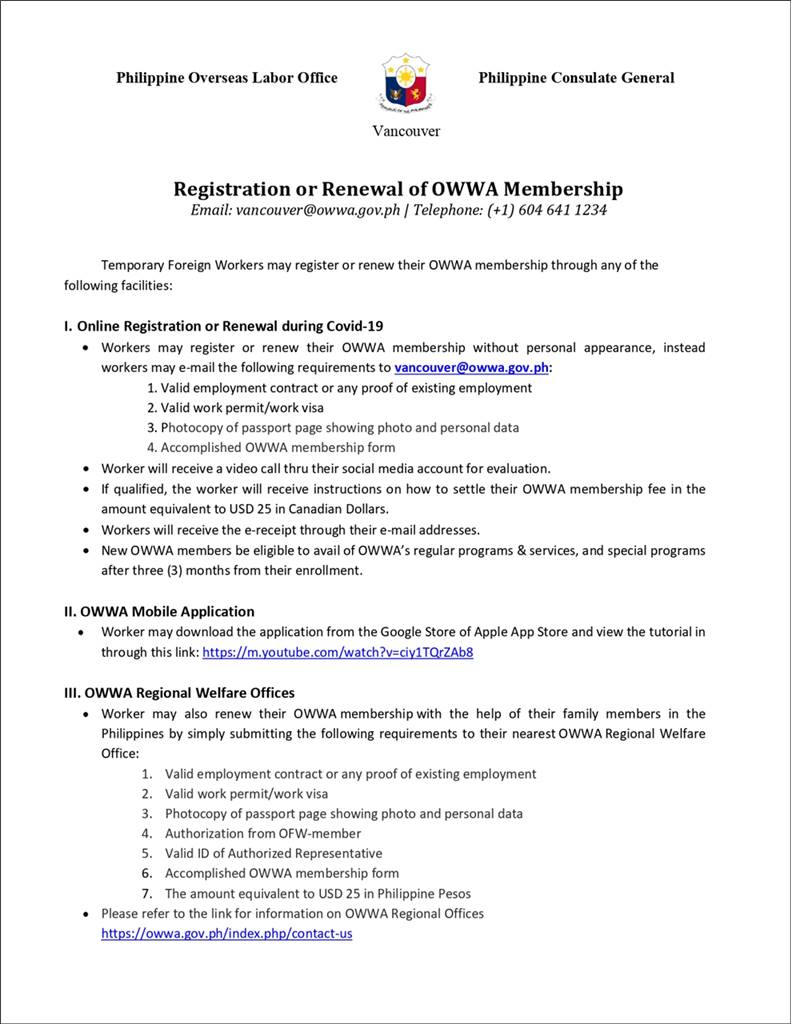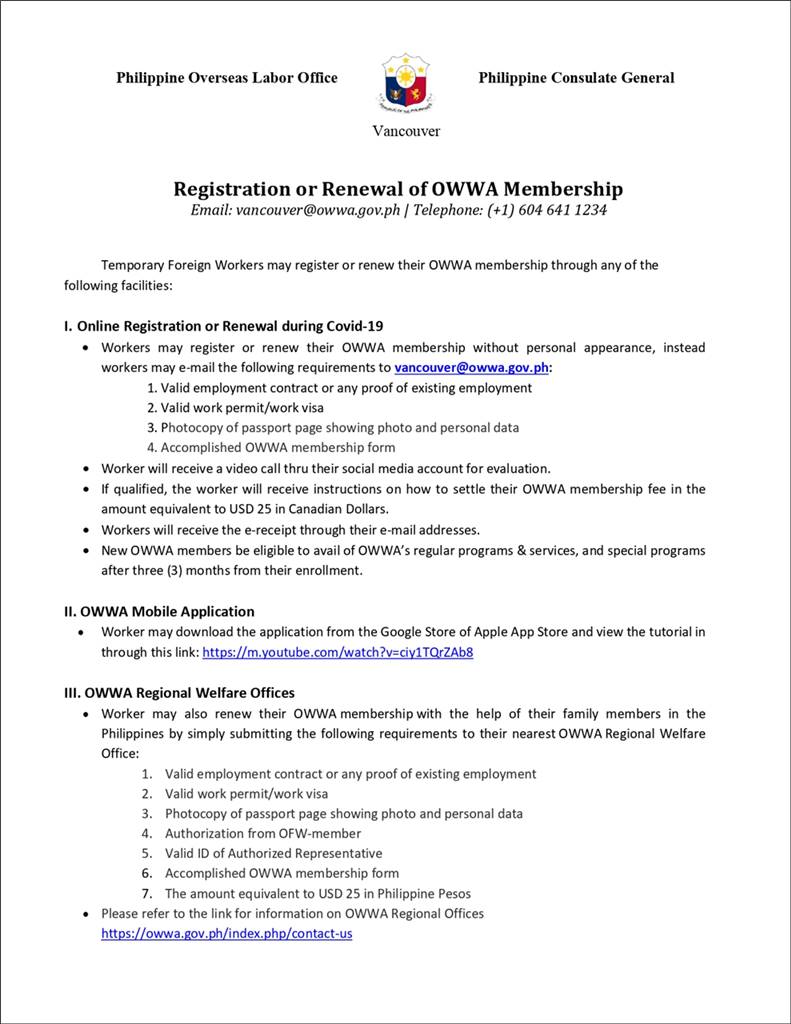 Take note that the details above outlines the process of OWWA registration/renewal. The process may change in time if the current situation will be eased and people will be able to go out. But the best bet for you is to go through the procedure via email for your safety as well as everyone else's safety.
Important Reminders
Here are some important tips and reminders about the OWWA application.
Please double-check that your requirements are accurate and full. Requirements that are not full will not be handled.
For more information, see PCG Calgary page – https://www.facebook.com/PHinCalgary
After three (3) months of membership, new OWWA members are entitled to participate in OWWA's regular activities and services, as well as special programs.
Check out this vlog of a Filipina caregiver based in Canada on how she set up her OWWA membership. Please be advised that she also mentions her pathway to becoming a caregiver, getting her OEC as well as other procedures on how she landed a job in Canada. Check out the OWWA process at the 7:05 minute mark:
Frequently Asked Questions
Here are some common questions and answers when you process your OWWA account membership at POLO-Vancouver.
1. Can I directly go to the OWWA-Vancouver, Canada Office?
No, walk-ins are not allowed in Vancouver, Canada. You can send an email to vancouver@owwa.gov.ph to make a transaction.
2. How much does the OWWA membership fee cost?
The OWWA membership contribution is CAD 30.00.
3. I work as an OFW in Canada, but outside of Calgary. How can I renew my OWWA membership?
You may print the application form from this URL (http://philcongen-toronto.com/consular/docs/ofwinformationsheet.pdf) and mail it to vancouver@owwa.gov.ph with the documentary requirements and payment.
The Vancouver-based POLO and OWWA offices cover the provinces of Alberta and Saskatchewan, which are under the jurisdiction of Philippine Consulate General in Calgary.
4. My application and documents were returned with compliance and deficiency notes attached. What does this mean?
This indicates if there are deficiencies in your previously submitted documents that need to be corrected or clarified. A compliance/deficiency letter is provided, which indicates the areas where the company should take action.
Please write COMPLIANCE in bold letters outside the letter pack and attach the compliance/deficiency note when resubmitting the compliance documents to ensure that they go straight to the Processing Officer in charge.
Summary
As you might notice, the OWWA office in Vancouver is where you need to process the OWWA membership if you are based in Alberta and Saskatchewan, which are under the jurisdiction of the Philippine Consulate General in Calgary.
While the office handling the membership renewal is a different office, the process to renew your OWWA is still the same which is handled by POLO-Vancouver.
If you do not want to renew your OWWA via POLO office, you can register in the OWWA mobile app for a more convenient procedure. You can also ask your relatives back in the Philippines to visit the nearest OWWA regional welfare office in order to renew your membership for you.
Whatever is the procedure your choose, it is important that you pay for your OWWA every 2 years to maintain the benefits and services available to you as an OFW.
Contact Information
PCG Calgary
Main Address: 1001 1 St SE Suite 100, Calgary, AB T2G 5G3, Canada
Telephone Number/s: 403.455.9457, 587.577.1524
Website: https://www.philcongencalgary.org/
Facebook Page: https://www.facebook.com/PHinCalgary/
Emails:
Google Map Location
OFWs in Calgary can visit the Philippine Consulate General office for Consular services. You may find the map guide location below:
Here is the contact information of POLO Vancouver since this is the office that handles the OWWA programs and services.
POLO-OWWA Vancouver, Canada
Main Address: 999 Canada Pl #660, Vancouver, BC V6C 3E1, Canada
Website: https://vancouverpcg.dfa.gov.ph/
Email: OWWA: vancouver@owwa.gov.ph, POLO: polo.vancouver@yahoo.ca
Telephone Number/s: OWWA: (+1) 604 641 1234, POLO: (+1) 604 767 3354
Facebook Pages: https://www.facebook.com/POLOinVancouver/
Below is the map guide location of the POLO-OWWA office in Vancouver for your reference. This is also the location of the PCG Consulate Vancouver. But be advised again that the set-up for POLO renewal is via email transaction.