Overseas Filipino Workers in Cyprus who wish to visit the Philippines for a vacation must obtain an Overseas Employment Certificate (OEC). Before going to Cyprus, OFWs need to present the OEC to the airport when they are flying from. Without this document, they won't be permitted to leave the Philippines and go back to work in Cyprus.
Also Read: How to Renew OWWA Membership in Greece and Cyprus
In this article, we will assist you in securing your OEC if you're planning a vacation in your home country and then returning to Cyprus to resume your work. It would be wise to know the whole process, including the requirements, in order to avoid the hassle later on.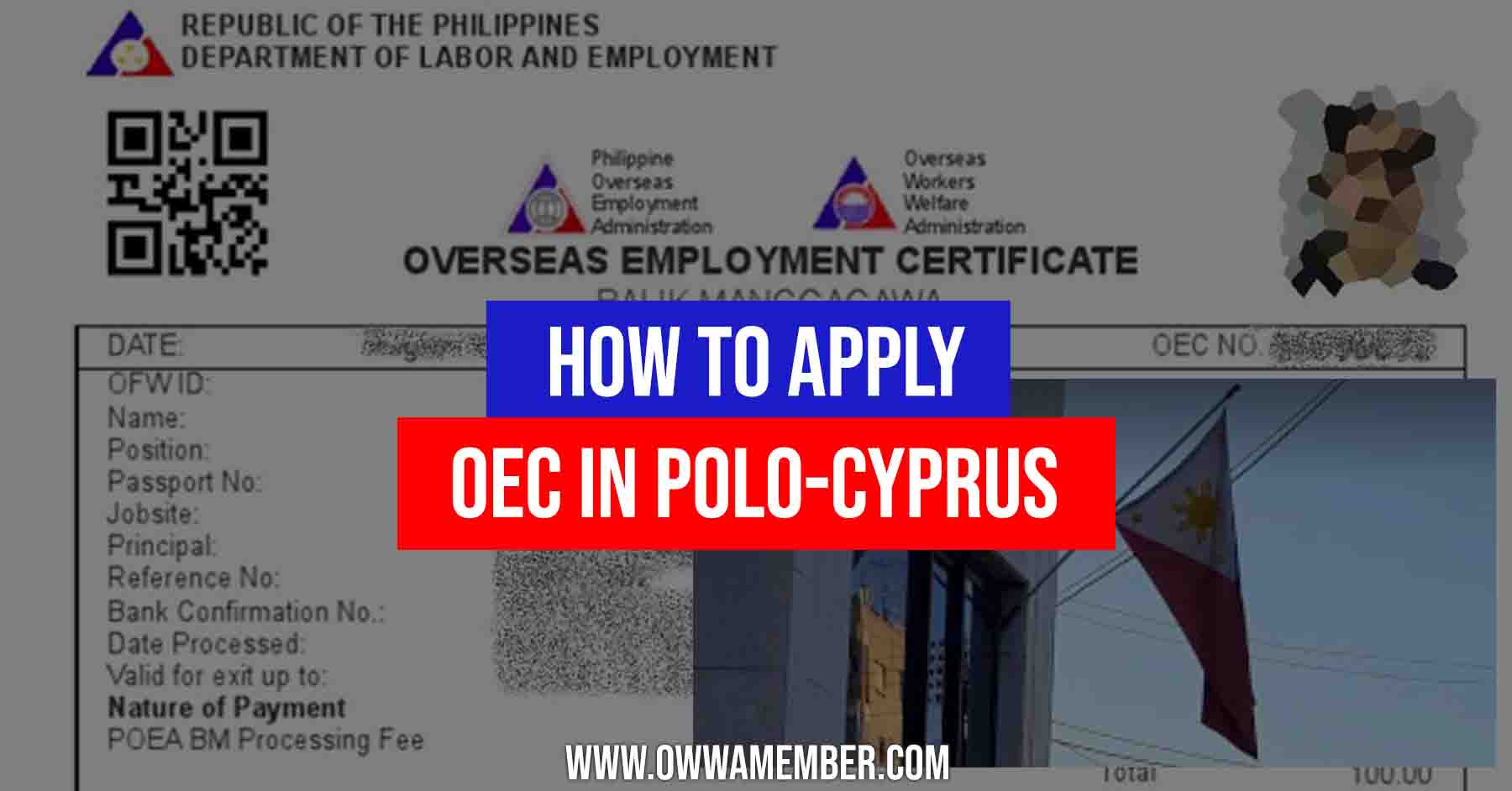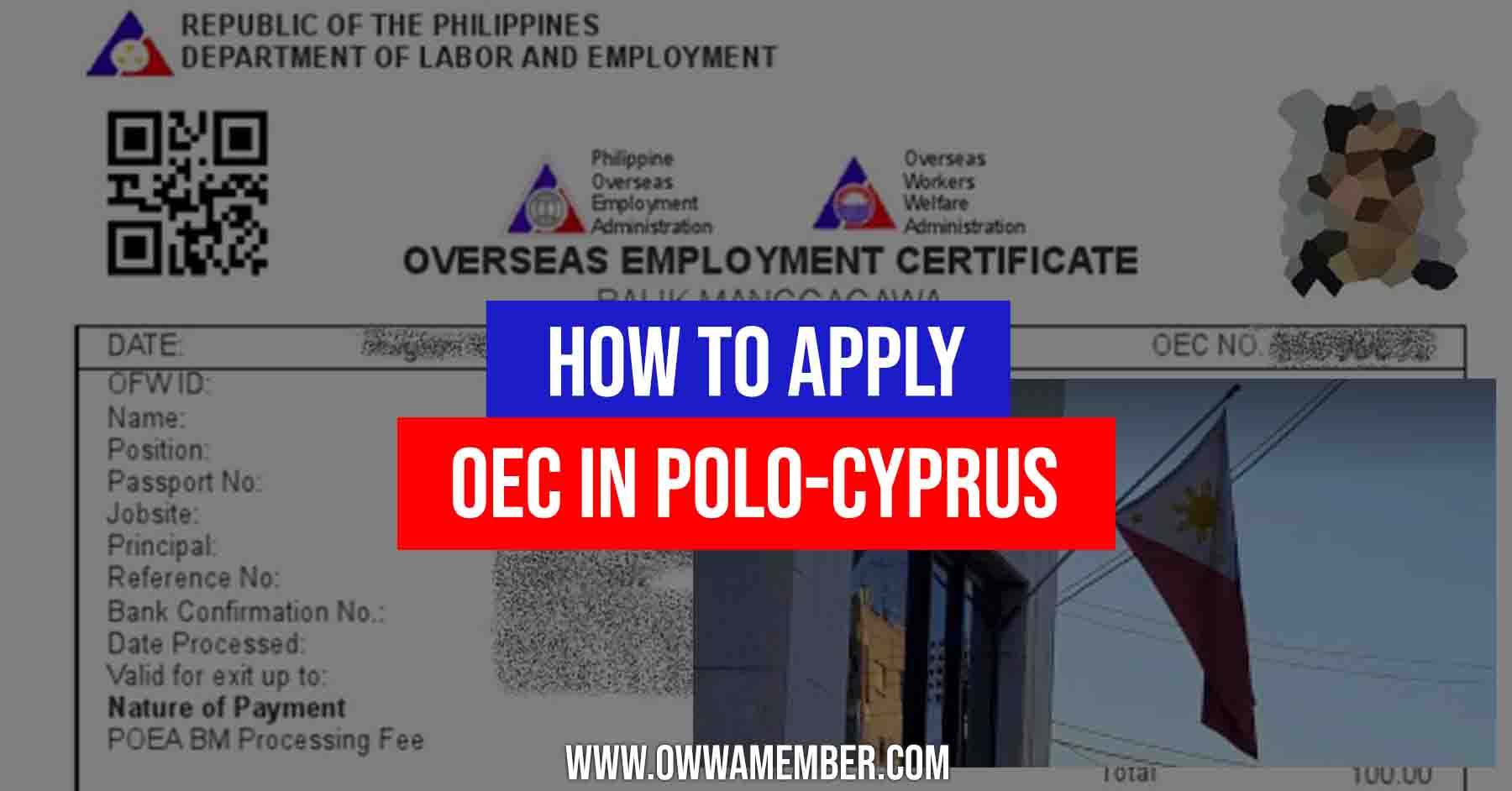 What is an OEC (Balik Manggagawa) in Cyprus?
All departing OFWs, whether new workers or Balik Manggagawa, are required to obtain an Overseas Employment Certificate (OEC) or exit clearance.
Under the Philippine Overseas Employment Administration's (POEA) rules, the Overseas Employment Certificate (OEC) certifies the Overseas Filipino Worker (OFW) to work with proper documents abroad. Without the OEC, the worker will not be approved to exit the Philippines as the Bureau of Immigration (BI) at the Philippine airport terminal needs to assess all the required documents. The OEC is one of the requirements to be presented for evaluation.
The OEC has several benefits, such as giving the OFW the opportunity to not pay the travel taxes and airport terminal fees. Since the OEC has 60 days of validity, the OFW is given enough time to process the document.
What are the requirements for getting OEC in Cyprus?
The required information that you should keep in mind, according to POEA's official website, are:
Your original Passport
Accomplished Printed BM Online Appointment / Information Sheet must be duplicated at least three (3) times.
POLO Verified Contract (relevant to those who do not record with the POEA or who move their jobs within the UAE)
Your return airline ticket, as well as any other flight documents, must be brought with you.
If you did not acquire OEC exemption and are returning to the same employer, a copy of your previous OEC or your present and previous visas
According to POEA's official website, workers who arrived in the country on a visitor/tourist visa and then moved to an employment visa will not be issued an OEC. However, as a legal norm to securing OEC in the Philippines, the agency can only certify the labor contract (POEA).
The OEC EXEMPTION is available to returning OFWs who have a record with the POPS-BaM and will return to their former job and workplace.
Qualifications
The following are the set guidelines to qualify for an OEC:
Employees who have a POEA record, going on their first vacation, and returning to the same company and workplace to keep or renew their present employment contract.
Employees with a POEA record who return to the same job but in a different workplace or country.
Employees who have no past record with the POEA or who switch employers while on-site.
Cost of OEC in Cyprus
The processing fee for the OEC is PHP 100.00 or its equivalent in Euro.
Also, if you haven't updated your OWWA and PAG-IBIG membership payments, you may be charged additional costs.
How to Schedule OEC Online Appointment in Cyprus
In general, all OFWs who do not yet have a POEA record will be required to register at the POEA Online Processing System for Balik-Manggagawa, or POPS-BaM. After that, you need to schedule a one-time appointment to get your OECs.
OECs can be processed at the POLO offices that are closest to you. OFWs who have already acquired their OEC processed at POLO may apply online for OECs or OEC exemption for their next scheduled vacation without having to go through the process again.
Follow the provided steps below for registration for those OFW who do not yet have a POPS-BaM record.
Go to your browser and type https://onlineservices.dmw.gov.ph/OnlineServices/POEAOnline.aspx in the URL
Click on "Let's Go"
Click on "Register" for new users (log in if you already have an account )
Then click "I accept the terms of use."
Fill out the required information and then click register. (a message will display indicating that your registration was "Successful").
Log in to the email address you provided when you registered (there is a message containing your "temporary password" ")
Return to the link provided in Step 1 and login using the registered email address, then click "next."
Use the temporary password sent to your email, then click "log in."
Set the password you want.
Update your profile by clicking "My Profile," after completing your profile, click "Update Profile" on the upper right side of the page
Add your Identification and Beneficiary
Attach profile picture and passport
After registration, the following steps explain how to schedule an OEC appointment at POLO using the POPS-BaM website.
Log in to your POPS-BaM account (onlineservices.dmw.gov.ph/OnlineServices/POEAOnline.aspx)
Click "Balik-Manggagawa," located at your top right-hand side.
Input your next flight date, then click "next."
You will be asked if you are returning BM to the same employer (if yes, you can print your OEC, if no, proceed to step 5)
Accomplish your contact details with true and correct information to the best of your knowledge.
After clicking "Submit," you can select your desired POLO location near your place.
Then choose an available Appointment Schedule.
You now have an Appointment with POLO. You can print or cancel your appointment.
How to Get OEC Certificate in POLO Cyprus
Go to POLO at the chosen date and time of your scheduled appointment.
Don't forget to bring the listed important documents above and directly present them to the reception desk of POLO.
After that, the reception officer will evaluate the documents and will give you forms to accomplish and guide you to the next procedure.
Pay all the fees and wait for the confirmation of your OEC that can be printed out online using POPS-BaM.
You may regularly visit the official website of POLO Cyprus so you can get new updates regarding the processing of OEC.
How to Apply for OEC Exemption in Cyprus
A worker who qualified for OEC Exemption is exempt from obtaining an OEC in the country where they are employed. Instead, he/she can simply print out the OEC exemption number and submit it to a Bureau of Immigration staff at the Philippine airport. When exempted, you can skip paying the OEC processing fee, airport terminal fees, and travel taxes.
The BM employee must connect into their POPS-BaM account at least 24 hours before the scheduled return date to the employer. Once this is determined, the system checks whether or not the employee has been exempt from getting OEC.
The OEC exemption is not intended for first-time visitors to the Philippines who wish to have a holiday. Balik-Manggawa employees who have previously obtained an OEC and who want to return to the same workplace and employer are eligible for this OEC Exemption. If you are vacationing in the Philippines for the first time, an OEC exemption is not possible.
Frequently Asked Questions
Below are some commonly asked questions and answers regarding the POLO office for OEC Balik Manggagawa application:
1. Is it possible to visit any POLO branches without making an online appointment?
Yes, however, the POLO will only advise you to create an account online or log in to your current account at POPS-BaM to set up an appointment. After that, you will return to POLO at the time and date specified in the appointment schedule.
2. Is it possible for me to get my OEC in the Philippines and return to Cyprus?
Yes, POEA offices in the Philippines will ask you to provide proof of your work contract verified by the POLO in your work country with the above-listed requirements.
3, What is an exemption from the OEC?
OFWs who are qualified to get an OEC exemption will not pay for the POEA OEC processing fee.
4. How do I obtain an exemption from the OEC?
If you previously received an OEC and have a record in the database of POEA, you must log in to your POPS-BaM account and select the OEC exemption option. The system will then determine whether you are exempt or not.
Summary
Every OFW all over the world needs to secure an OEC. The document serves as proof that the OFW is legally recorded, which is some kind of protection in case something comes up while he/she is working abroad.
If you need a guide to walk you through the process, the above information can help you. Just follow the flow and you will have your OEC in a few hours. The online system of POEA makes everything so much easier.
Contact Information
Philippine Consulate General – Cyprus (Nicosia)
Address: Flat 13 4th floor, 26 Grivas Digenis Ave., 1066 Nicosia, Cyprus
Contact Number: POLO (00357) 22106995
Telefax: (00357) 22106996
Email: polocyprus2016@yahoo.com
Philippine Consulate General – Cyprus (Larnaca)
Address: Archiepiskopou Makariou III 21b, Larnaca 6017, Cyprus