Filipinos who are based in Greece and Cyprus can renew their OWWA membership by making a transaction at the Philippine Overseas Labor Office (POLO) Greece office. Based on an update, Filipinos can send an email with the document requirements and payment to POLO Greece in order to submit their OWWA application. Filipinos may also walk-in at the Athens office from 9am to 3pm (Monday to Friday).
The Overseas Workers Welfare Administration (OWWA) was created to protect and promote the welfare of Filipino workers and their families working in other countries. In addition to the advantages mentioned in the job contract, it provides additional perks. The membership fee is €21, and the membership must be renewed every two years.
Overseas Filipino Workers (OFW) members should maintain their membership. To avoid losing your OWWA benefits, renew your membership as soon as possible. Having this insurance policy as an OFW not only helps in getting a form of insurance in times of challenges. Due to the pandemic, all financial transactions must be carried out online via email.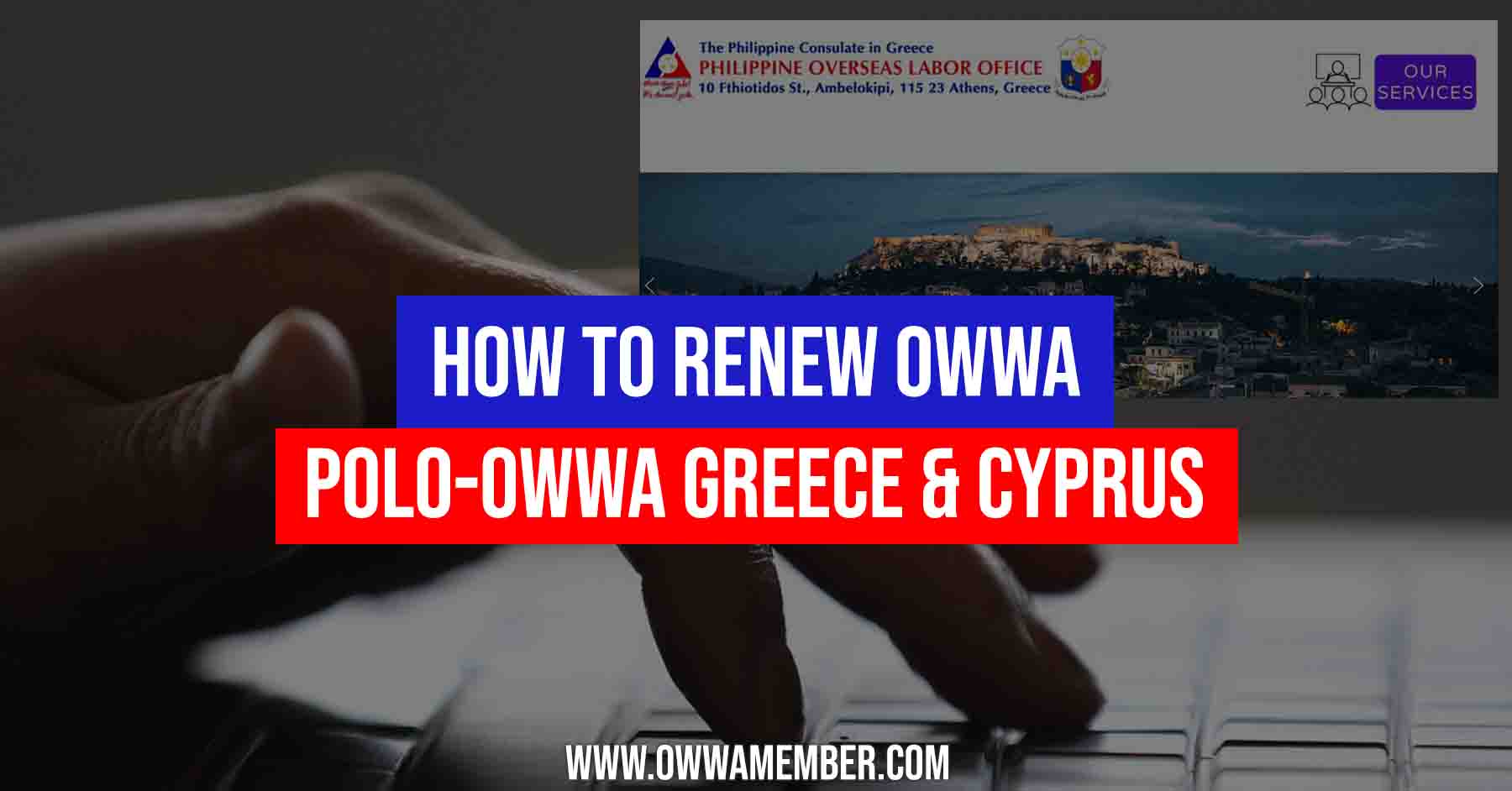 Amount of Contribution
The OWWA membership contribution shall be Twenty-One Euros (€ 21).
Membership Validity
Membership is valid for two (2) years for each contribution, regardless of the length of the contract, the change in employer, location of employment, or recruitment agency. If proof of employment is presented, OWWA membership will need to be renewed after that.
Membership/Renewal Requirements in POLO Greece
Please be guided on the document requirements listed below on how you can renew and register in OWWA in Greece:
Completed OWWA OFW information sheet with signature.
Photocopy of valid Philippine passport showing photo and personal data.
A valid employment contract or any proof of active employment.
Valid work permit or work visa.
How to Pay OWWA in POLO Athens, Greece via Walk-in
Residents of Greece and Cyprus can renew their OWWA membership by following the steps below. Here are the steps on how to keep your OWWA account active by renewing it at the POLO-Athens office:
Step 1: Bring all the required documents at the POLO Athens office.
Step 2: Walk in at the POLO-Athens office
Step 3: Pay the OWWA membership fee of EURO 21
Step 4: Collect your OWWA receipt.
Below is the FB post from OWWA Cares – Athens about the renewal process.
How to Pay OWWA in POLO Athens, Greece via Email
Step 1: Download the OWWA/OFW Information Sheet and fill it out.
Step 2: Scan your completed requirements. Double-check that the scanned documents are clear.
Step 3: Send these document requirements to greece@owwa.gov.ph and owwagreece.online@gmail.com.
Step 4: Pay the OWWA fee. Send a screenshot of the payment receipt to OWWA's email.
Step 5: Once they have received a copy of your payment screenshot, your Official Receipt will be forwarded to you.
Step 6: The original OWWA Official Receipt is kept at the Philippine Embassy in Greece.  Simply notify the OWWA ahead of time so that you can schedule an appointment.
Note: There may be Consular Outreach services every now and then so it is advised that you follow the FB page of POLO Greece in order to see what are the activities available. These Outreach programs enable OWWA members to go on-site or at the actual outreach location to personally inquire about OWWA services and even update their accounts.
Here is  a sample OWWA Outreach activity post conducted in Crete, Greece:
Important Reminders
If the POLO office in Greece is open, and if there is available On-site processing, please check the following procedure to register in OWWA on-site.
Please double-check that your requirements are accurate and complete. Requirements that are not full will not be processed.
For more information, see the Athens, Greece POLO and Embassy Facebook Page
New OWWA members are eligible to engage in OWWA's regular activities and services, as well as special programs, after three (3) months of membership.
Frequently Asked Questions
Here are some common questions and answers when you process your OWWA account membership at POLO-Athens.
1. How much does the OWWA membership fee cost?
The OWWA membership contribution is EURO 21.
2. My OWWA application was not approved, what should I do?
If there are any incomplete requirements, the POLO-OWWA office will advise you what you need to do in order to correct them. POLO Greece will reply and explain to you what should be done to properly renew your OWWA. So please follow their advice.
3. Who should I contact if I have other inquiries about OWWA services?
Concerns can be sent directly to the OWWA-Athens, Greece Office via email.
4. Can I directly go to the OWWA-Athens, Greece Office?
Based on their FB post, you can walk in at the POLO-Athens office in order to renew your OWWA membership. They are open from 9am to 3pm every Monday to Friday (except Holidays). Aside from this, you can also send them an email to process the OWWA.
Video: POLO Cyprus E-Transactions for Greece
Please check out the video below which showcases the POLO-OWWA e-services available. Please go to the 13:25 minute mark in order to see the online transactions OFWs in Cyprus and Greece can process at the POLO Greece office. The video mentions that you should send an email address to
for POLO transactions such as Contract Verification, Overseas Employment Certificate, DOLE-AKAP application, OWWA membership, etc.
Video: POLO Cyprus and Greece OWWA Information
Recently an Overseas Filipina worker uploaded a video about her experience with the process of OWWA in POLO Athens. Please check out Lilibeth's video below for her tutorial and may this guide you on how you can apply for OWWA membership in this side of the region:
Summary
So these are the steps for you to renew your OWWA membership if you are based in Greece or if you are based in Cyprus. While the email is a convenient way to process the OWWA activation, please be guided that there is also an OWWA Mobile App that you can download and register online. You can access other services and see the status of your OWWA account through the app.
Lastly, OFWs can also their membership by having their family members in the Philippines submit the document requirements to the nearest OWWA Regional Welfare office.
Keep your account certified so you can avail of the OWWA services and get maximum coverage for you and your families in times of crisis.
Contact Information
OWWA Athens, Greece
Main Address: 10 Fthiotidos St., Ambelokipi, 115 23 Athens, Greece
Telephone Number/s: POLO: +30 210 698 3335, OWWA: +30 210 698 2871, Pag-IBIG: +30 210 698 3265
Email: POLO: pologreece@yahoo.com, OWWA: greece@owwa.gov.ph, Pag-IBIG: popgreece@yahoo.com
Website: https://pologreece.dole.gov.ph/
Facebook Page: https://facebook.com/PHLinGreece/, https://www.facebook.com/owwa.cares.77
Google Map Location
Below is the map guide location of the POLO-OWWA office in Athens, Greece. This POLO-OWWA office is also where you can inquire about Pag-IBIG services.