Filipino overseas workers in Germany can go to the Philippine Overseas Labour Office (POLO) – Berlin to process their Overseas Employment Certificates (OEC). Overseas Filipino Workers (OFW) on leave or vacation should comply with the OEC requirement if they want to go back to Germany for work.
OFWs should also know the importance of securing an OEC. It is better to get an OEC before your scheduled flight or return flight to Germany to avoid the hassle of getting stuck in the airport. Plus, having your OEC gives you several benefits.
Also Read: How to Renew OWWA Membership in Berlin, Germany
In this post, we will serve you a guide on obtaining OEC or OEC Exemption through the POLO – Berlin process.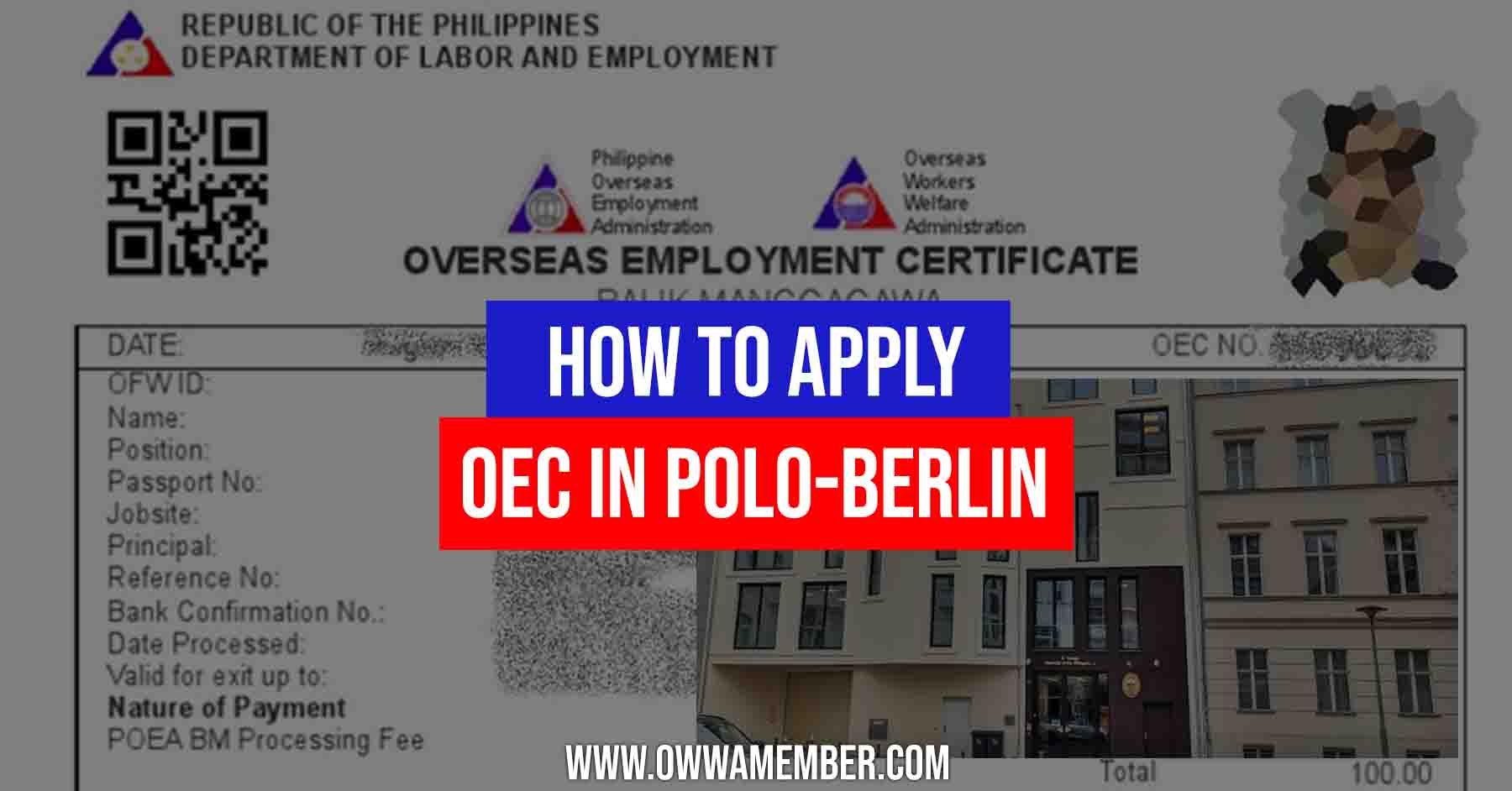 What is OEC and why is it important to Filipino workers abroad?
An OFW must produce proof that he or she is fully documented to work in another country. The Overseas Employment Certificate or OEC is the said proof given by Philippine Overseas Employment Administration (POEA) to work legally abroad. The OEC is issued to all OFWs or Balik Manggagawa workers that are on vacation leave or having a visit to the Philippines and returning abroad to continue their work.
The OEC is the exit clearance that must be presented at the Bureau of Immigration counter in the Philippines hours before the flight returning to the employer overseas. With OEC, the Filipino worker will not pay for the travel tax and airport terminal fee. The OEC is 60 days valid from the date it is secured.
Requirements
Here is the list of requirements that needs to be presented at POLO – Berlin for Filipino workers to apply for the first time for an OEC:
Passport valid with at least six (6) months from departure date
Scanned copy of English-translated addendum (both signed by employer and worker)
Valid work permit, work visa, or another equivalent document
Verified Employment Contract or Offer Of Employment
Balik-Manggagawa/OFW Information Sheet – can obtain online at POPS-BaM
For Filipino workers returning to the same employer but changing the job site or workplace, please provide a letter from your employer stating the worker's transfer of the job site or workplace.
For Filipino workers who have no record on POEA or change employer on-site, please provide a sworn statement explaining how the current employer has hired the worker.
Note: A verified employment contract is required to get an OEC.
Qualifications
According to POEA Governing Board Resolution No. 4, Series of 2018 amending Section 112 of the revised POEA Rules and Regulations Governing the Recruitment and Employment of Land-based Overseas Filipino Workers of 2016, the following are the qualifications for the processing of OEC for Balik Manggagawa or returning workers:
Returning documented OFW – workers with a record on POEA and returning to the same employer and job site;
Filipino Workers not previously recorded with the POEA – workers without an existing record of deployment with the POLO or POEA; and
Filipino Workers who changed employer on-site – workers who entered or transferred to new contract or employment from one employer to another.
All Filipino workers covered by these qualifications are required to set an online appointment or register thru the POEA Online Processing System for Balik Manggawa (POPS-BaM) at their convenience at any of POLO or POEA offices.
Cost of OEC in POLO-Berlin
The cost of the OEC processing fee is € 9.00.
How to Schedule OEC Online appointment in POLO-Berlin?
To use the scheduling system and get BM Information Sheet, you must first register online thru POPS-BaM.
You can follow these steps to create an account.
Go to your browser and type https://onlineservices.dmw.gov.ph/OnlineServices/POEAOnline.aspx in the URL
Click on Let's Go
Click on "Register" for new users ( just log in if you already have an account )
Then click "I accept the terms of use."
Fill out the required information and then click register. (a message will display indicating that your registration was "Successful")
Log in to the email address you provided when you registered (there is a message containing your "temporary password")
Return to the link provided in Step 1 and log in using the registered email address, then click "next."
Use the temporary password sent to your email, then click "log in."
Set the password you want
Update your profile by clicking "My Profile," after completing your profile, click "Update Profile" on the upper right side of the page
Add your Identification and Beneficiary
Attach profile picture and passport
To get an appointment or schedule.
Log in to your POPS-BaM account (onlineservices.dmw.gov.ph/OnlineServices/POEAOnline.aspx)
Click "Balik-Manggagawa," located at your top right-hand side.
Input your next flight date, and then click "next."
You will be asked if you are returning BM to the same employer (if yes, you can print your OEC, if no, proceed to step 5)
Accomplish your contact details with true and correct information to the best of your knowledge.
After clicking "Submit," select POLO location near your workplace.
Then, choose an available Appointment Schedule.
You now have an Appointment with POLO. You can print or cancel your appointment.
How to Get OEC (Balik Manggagawa) Certificate in POLO Berlin?
Appointment online is important before going to POLO to process your OEC. After printing your BM appointment/information sheet, please follow the steps below:
Go to POLO – Berlin at the scheduled time and date that you have chosen.
2. Bring and submit to POLO your documents and two copies of the completed BM Information Sheet.
3. After the POLO has approved your application, pay the required fees and wait for your new OEC.
4. The process is quite fast. Just provide the complete requirements to avoid unnecessary conflict while processing your OEC.
How to get OEC Exemption
Only OFWs returning to the same employer or workplace with a record in the POEA database are qualified for obtaining an OEC Exemption.
Log in to your POPS-BaM account before your scheduled return to your job to request an OEC exemption. Then, select "Acquire OEC or Exemption." The system will send you a confirmation message with your BM Exemption number and advice on what documents to bring to the airport if you're exempt.
Video: How to get your OEC Certificate
Here's a helpful video where you can get tips on how to get your OEC while working abroad as shared by an overseas Filipina worker based on her experience.
Frequently Asked Questions
Below are some commonly asked questions and answers regarding the POLO-Berlin office for OEC Balik Manggagawa application:
1. Why is it important to have employment contract verification?
Verification is a process used by the Labor Attaché in Philippine Overseas Labor Offices (POLOs) to guarantee that all Filipino workers' employment rights, perks, and welfare are properly protected while on the job. Through verification, the Labor Attaché ensures that the Filipino workers' employment contracts and other employment documents comply with the current employment laws, standards, and practices in both the Philippines and the host country, as well the POEA's documentary requirements for overseas employment.
2. Is it necessary for the Philippine Embassy to verify my employment contract?
A verified employment contract is the most important requirement for the issuance of an OEC. Only the POLO, not the Embassy, can provide verification services. Your first goal should be to have your employment contract confirmed by POLO Berlin.
If, in addition to having your employment contract verified by POLO, you are required by POEA to have your contract legalized by a Philippine Embassy or Consulate, the contract will only be acknowledged by a Philippine Embassy or Consulate (including Honorary Consuls) if it is executed and signed in person at the Embassy or Consulate by all parties.
If your contract was not signed at an embassy or consulate, it must be notarized by a notary public and then apostilled by the Competent Authority of the country where it was signed. (The Competent Authority is the Apostille-issuing offices.) They differ by country but typically include the Ministry of Foreign Affairs, Ministry of Justice, or Board of Notaries.) For example, if the contract was performed in Poland, the Polish Ministry of Foreign Affairs must affix an Apostille to the contract as the Competent Authority.
It is not necessary to submit the apostilled contract to the Philippine Embassy/Consulate for legalization or authentication after it has been apostilled. The Apostille has superseded the Certificates of Authentication in the Philippines after the Apostille Convention took effect on May 14, 2019. Since then, Philippine embassies and consulates have stopped issuing Authentication Certificates.
3. I am having my vacation in the Philippines, and I changed my employer to another country. What must I do to apply for an OEC?
The steps for contract verification must be followed if you change employers. It is best if you contact POLO Berlin via email at polo_warsaw@dole.gov.ph to find out how it can verify the validity of your employment contract and process your OEC. Go home to the Philippines with your verified employment contract and apply for an OEC at POEA if the OEC application at POLO Berlin is not possible.
4. I'm a direct-hire worker from the Philippines who are headed to Germany. I'm in desperate need of a new OEC. What must I need to do?
To verify your employment contract, contact POLO Berlin by sending an email to polo_warsaw@dole.gov.ph. POLO must approve your contract before you can submit it to the POEA office in the Philippines for an OEC.
As a general rule, a foreign employer must hire a Filipino worker through a Philippine recruitment agency. POLO must verify the employment contract before it is sent to the Philippines. A POEA-accredited recruitment agency should be used whenever possible instead of hiring directly.
Summary
With the help of OEC, you can get your proper vacation or leave. POPS-BaM allows you to obtain OEC or OEC exemption online without having to go to POLO for appointment setting alone. A POLO visit is required for first-timers, but after that, you can use the online facility to secure an OEC before your next trip or vacation in the Philippines.
Contact Information
Philippine Overseas Labor Office (POLO)-Berlin
Address: Philippine Embassy Berlin, Luisenstraße 16, 10117 Berlin, Germany
Telephone Number/s:  +49 1523 765 7614
Email: polo_germany@dole.gov.ph
Website of POLO Berlin: http://poloberlin.dole.gov.ph/
Website of PH Embassy Berlin: http://philippine-embassy.de/
Facebook Page: https://facebook.com/PHinGermany/
Google Map Location
If you are visiting POLO Germany, here's a map guide that you can use. This is also the location of the Embassy of the Philippines Berlin: