Filipinos based in Germany may renew their OWWA membership by contacting the POLO-OWWA office located in Berlin. The process is done by sending an email to the office with the document requirements and receipt of your OWWA payment. Please follow the guidelines below in order to renew your account in Germany via the online process.
The Overseas Workers Welfare Administration (OWWA) was established to protect and promote the welfare of overseas Filipino workers and their families. It provides benefits in addition to those stipulated in the job contract. The cost of membership is € 22.70 per year, and it must be renewed every two years.
Overseas Filipino Workers should value their OWWA membership. Renew your OWWA membership as soon as possible to avoid losing your benefits. As an OFW, having this insurance policy not only helps you get OWWA compensation but also helps you in times of crisis. Due to the pandemic, all financial transactions must be conducted online by sending an email to the POLO-Berlin office.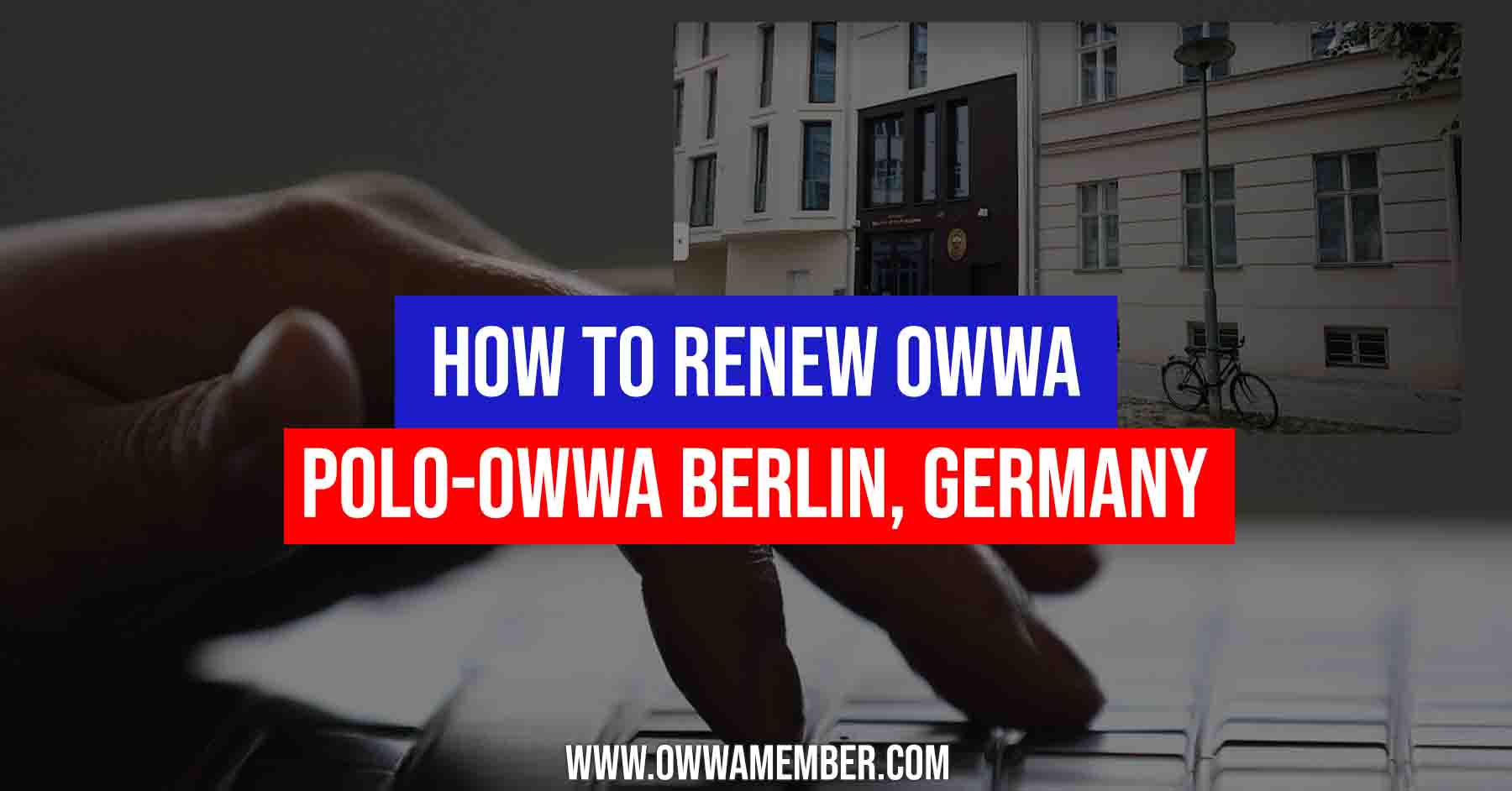 Amount of Contribution
The OWWA membership contribution shall be Twenty-Two and Seventy Hundredths Euros (€ 22.70).
Membership Validity
Regardless of the length of the contract, the change in employer, location of employment, or recruitment agency, membership is valid for two (2) years for each contribution. After then, OWWA membership will need to be renewed if proof of employment is provided.
Membership/Renewal Requirements
Filled out OFW information sheet with signature.
Valid Philippine passport copy
Proof of Employment / Payslip/ Contract
Proof of bank transfer or remittance of the membership fee of 22.70 euros (the amount may vary in May and month to month based on the USD/EUR exchange rate) net of bank/remittance charges.
POLO-OWWA Germany Bank Account Details
Please take note of the bank details for you to send your OWWA payment.
Account Name: EMBASSY OF THE PHILIPPINES-OWWA
Bank Name: DEUTSCHE BANK AG
Complete Address: Unter Den Linden 13/15, 10117 Berlin
Swift Code or BIC (Bank Id Code): DEUTDEBB101
Iban (International Bank Account Number): DE61 1007 0100 0310 9808 00
Branch: 701
Account: 3109808
How to Pay OWWA Membership in POLO Berlin, Germany
Please follow the step-by-step procedure on how to pay your OWWA membership in Berlin. The process is done by sending the POLO office an email with your requirements.
Step 1: Download the OWWA/OFW Information Sheet and fill it out.
Step 2: Scan your completed requirements.
Step 3: Send a copy of your Certificate of Oath and the Identification page if you're a dual citizen. Please double-check that the scanned document is crystal clear before sending it in.
Step 4: Send your requirements to owwamemb@gmail.com.
Step 5: You will be notified through email if your request has been approved and how to proceed with the payment. Please be aware that you will not be able to pay the € 22.70 OWWA membership fee until you get notification from OWWA.
Step 6: Pay the OWWA fee and send a screenshot of the payment receipt to OWWA's email.
Step 7: Your Official Receipt will be emailed to you once they have received a copy of your payment screenshot.
Step 8: The Philippine Embassy in Berlin, Germany, has the original OWWA Official Receipt. Simply notify the OWWA ahead of time so that an appointment can be made for you.
Here is the latest update from POLO-Berlin regarding the process of OWWA registration/renewal for Filipinos in this area: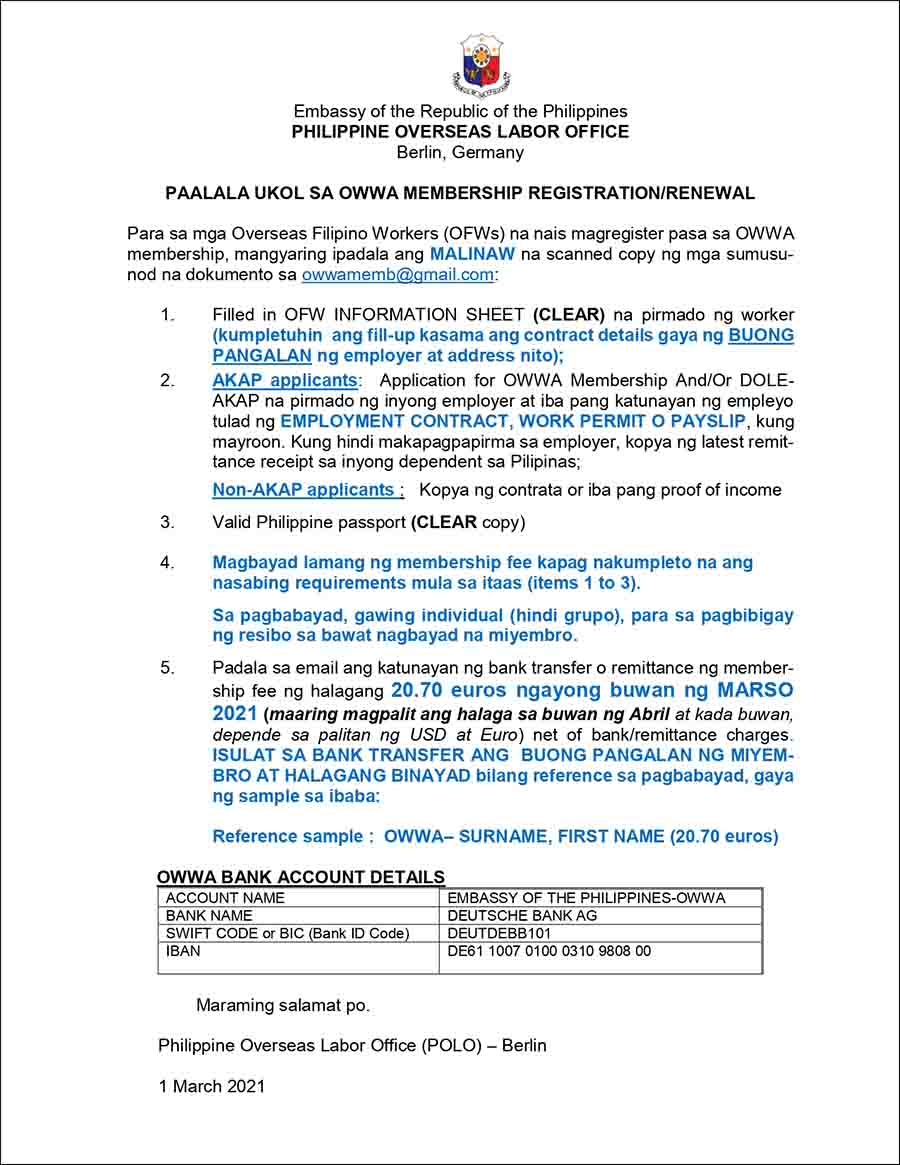 Important Reminders
Please check out some important things to know about the process of OWWA in Germany.
Please double-check that your requirements are accurate and complete. Requirements that are not full will not be handled.
For more information, see the Berlin, Germany Philippine Embassy Facebook Page.
After three (3) months of membership, new OWWA members are entitled to participate in OWWA's regular activities and services, as well as special programs.
If you wish to apply for the DOLE-AKAP, you may also apply for it together with your OWWA registration. The DOLE-AKAP application form needs to be signed by your employer, as well as other proof of employment, such as an employment contract, work permit, or payslip.
Video: How to Become an OWWA Member in Germany for Filipinos
Check out this video by a Filipina who shares her experience with her OWWA membership. She mentions that she emailed the POLO Germany office via – polo_germany@dole.gov.ph – and POLO replied with the document requirements and also submitted the other papers such as her work contract.
We hope you get an idea about the requirements for the renewal.
Frequently Asked Questions
Please do follow these important guidelines and questions when you renew your OWWA via the POLO-Berlin office.
1. Can I directly go to the OWWA-Berlin, Germany Office?
No, walk-ins are not allowed in Berlin, Germany. You can send them an email to register your OWWA membership.
2. How much does the OWWA membership fee cost?
The OWWA membership contribution is € 22.70.
3. What if I get rejected?
There may be incomplete or inaccurate documents submitted. So you need to make sure that your requirements are complete. You may need to resend them with the correct information if you get rejected. Please follow the advice from POLO-Berlin if you need to amend any of the requirements.
4. I have a few more questions, who should I contact?
Concerns can be sent directly to the OWWA-Berlin Office via email – owwamemb@gmail.com
Summary
So the above procedure is how you can certify your OWWA membership. As an OFW based in Germany, please follow the guidelines currently put in place on how you can keep your OWWA membership active. You may also renew your OWWA by registering in the OWWA Mobile App.
Workers in Germany may also renew their OWWA membership by having their family members in the Philippines submit the document requirements to the nearest OWWA Regional Welfare office.
Contact Information
OWWA Berlin, Germany
Main Address: Luisenstraße 16, 10117 Berlin, Germany
Telephone Number/s:  +49 1523 765 7614
Email: owwamemb@gmail.com, polo_germany@dole.gov.ph
Website of POLO Berlin: http://poloberlin.dole.gov.ph/
Website of PH Embassy Berlin: http://philippine-embassy.de/
Facebook Page: https://facebook.com/PHinGermany/
Google Map Location
Below is the map guide location of the POLO-OWWA office in Berlin, Germany for your reference. This is also the location of the Embassy of the Philippines Berlin: