Overseas Filipino Workers (OFW) in the United Kingdom can apply to Philippine Overseas Labor Office (POLO) in London for an Overseas Employment Certificate (OEC) through an online process. An OFW needs this document if he/she is going for a vacation in the Philippines and will return to the UK for work.
Also Read: How to Renew OWWA Membership in London, United Kingdom
Following the UK government's recent guidance on controlling COVID-19 and the Philippine Embassy London's direction to work from home, POLO and OWWA in London will continue to implement the online process for employment contract registration, issuance of OEC, and OWWA membership for the protection of both clients and Embassy workers. Processing online begins on 18 March 2020 and continuing until further notice.
In this post, we will share a detailed procedure with you if you are an OFW planning to spend a vacation in the Philippines while currently employed or waiting for your new employer in the UK.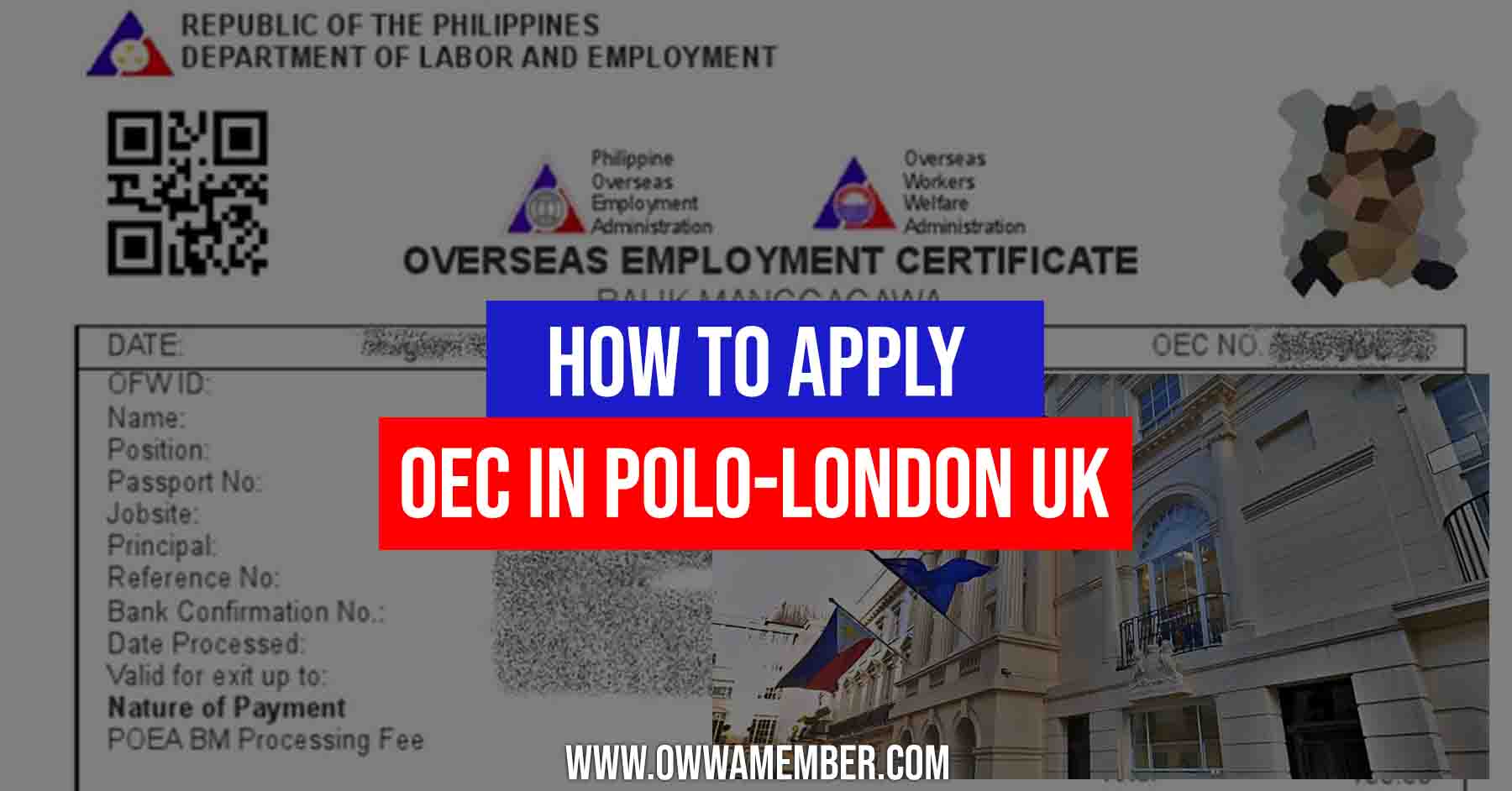 What is OEC (Balik Manggagawa) Certificate?
Overseas Employment Certificate or OEC is a document that can be shown at the immigration area as proof that a worker has been appropriately accredited by the Philippine Overseas Employment Administration (POEA). OEC is evidence that OFW has paid the processing cost and has contributed to the OWWA membership.
When Filipino workers return to the country where they work after a vacation, they are usually charged for the travel tax and terminal fees, but with an OEC, they will not be required to pay these expenses. OFW can also get the privileges to reduce travel tax for their spouses and dependents when they secure an OEC.
When departing from the Philippines, an OEC is regarded as an exit clearance as well. The OEC is proof that the OFW or Balik-Manggawa (BM) worker is legally allowed and fully documented to work overseas by the POEA.
OEC is valid for sixty (60) days.
Requirements
Please send the following documents to POLO thru an e-mail at polo_london13@yahoo.co.uk with the title OEC ONLINE- A if you have not changed employers and will be vacationing for the first time:
Copy of BM Information/Appointment Sheet (can obtain thru POPS-BaM)
Copy of Passport Data Page (with six months validity from time of departure from the Philippines)
Copy of Biometric Residence Permit (front and back pages)
Copy of company ID or recent payslip or Certificate of Employment
Please submit the following documents to polo_london13@yahoo.co.uk with the subject OEC ONLINE – B if you changed employment inside the UK/Ireland or transferred from another country to the UK/Ireland.
Copy of Employment Contract
Copy of BM Information/Appointment Sheet (can obtain thru POPS-BaM)
Copy of Passport Data Page (with six months validity from time of departure from the Philippines)
Copy of Biometric Residence Permit (front and back pages)
Copy of company ID or recent payslip or Certificate of Employment
Accomplished affidavit on how the worker secured the employment overseas (attached is the template for your reference)
Verification of Employment Contract
This is for those who have not yet registered their employment contracts with POEA or POLO London. Please send the requirements listed under Item B of the Issuance of OEC to polo_london13@yahoo.co.uk with the subject EC REG, except for requirement no. 2 (online appointment sheet/form).
Qualifications
Balik-Manggawa workers who are required to get OEC in POLO London are the following:
Filipino workers who are returning to the same employer and workplace with POEA record
Filipino workers who are returning to the same employer but in a different country with a POEA record
Filipino workers who are changing their employer on-site and or without a POEA record
If you are one of those mentioned and planning to have your vacation, you are required to get your OEC or OEC Exemption on or before your flight.
How much does it cost to get an OEC from POLO London?
Do I need to pay for OEC and Contract Registration? Yes. Consider the following costs while processing your OEC.
£2 for OEC processing fee
£9 for the Contract Registration fee
Also, you have to provide your payment for the OWWA membership fee of £23 if you have expired OWWA membership.
OFW can make payments through:
Postal Order payable to POLO London
BC Remit APP payment system (at no added cost to the worker)
How to Schedule OEC online appointment in POLO London?
In order to get the BM Information/Appointment Sheet as one of the requirements to get OEC in POLO London, you need first to register an account at POEA Online Processing System for Balik Manggagawa or POPS-BaM.
We provide a detailed guide on the registration procedure of an account. Just follow the steps below:
Go to your browser and type https://onlineservices.dmw.gov.ph/OnlineServices/POEAOnline.aspx in the URL
Click on Let's Go
Click on "Register" for new users ( just log in if you already have an account )
Then click "I accept the terms of use."
Fill out the required information and then click register. (a message will display indicating that your registration was "Successful")
Log in to the e-mail address you provided when you registered (there is a message containing your "temporary password")
Return to the link provided in Step 1 and login using the registered e-mail address, then click "next."
Use the temporary password sent to your e-mail, then click "log in."
Set the password you want
Update your profile by clicking "My Profile," after completing your profile, click "Update Profile" on the upper right side of the page
Add your Identification and Beneficiary
Attach profile picture and passport
After registration, you may now print your BM Information/Appointment Sheet by following the procedure below:
Log in to your POPS-BaM account (onlineservices.dmw.gov.ph/OnlineServices/POEAOnline.aspx )
Click "Balik-Manggagawa," located at your top right-hand side.
Input your next flight date, and then click "next."
You will be asked if you are returning BM to the same employer (if yes, you can print your OEC, if no, proceed to step 5)
Accomplish your contact details with true and correct information to the best of your knowledge.
After clicking "Submit," select POLO-Americas: Washington DC.
Then, choose an available Appointment Schedule.
You now have an Appointment with POLO. You can print or cancel your appointment.
How to get OEC at POLO London?
Due to Covid-19 restrictions and the health safety of the Philippine Embassy and Filipino workers seeking assistance, the UK government advised continuing to implement work from home and online transactions to avoid contamination with the virus.
The POLO London has instructed the applicant to send the requirements listed above thru e-mail polo_london13@yahoo.co.uk.
After assessing your requirements, copies of your Official Receipt and validated documents will be scanned and e-mailed back to you. You can pick them up at the POLO as soon as the situation allows or send a self-addressed stamped envelope to have them returned to you by mail.
You can print your OEC using POP-BaM.
"My Transactions"> OEC Requests tab > Print your OEC.
How to get OEC Exemption
Overseas Filipino Worker who is returning to the same employer and workplace can get OEC Exemption using the POPS-BaM. Register or log in with your updated overseas employment information and acquire an OEC exemption. Get the exemption number that you will be using to present to the Bureau of Immigration counter at the Philippine airport before leaving.
Video: How to get your OEC in United Kingdom
Check out the video below for tips on how to get your OEC for direct-hire employees based in the United Kingdom. The Filipina shares her experience, information, and tips about getting this required document for OFWs. Please be guided accordingly.
Frequently Asked Questions
Below are some commonly asked questions and answers regarding the POLO-London office for OEC Balik Manggagawa application:
1. How to process payments via postal order?
Go to the nearest post office (royal mail) to purchase a Postal Order
2. Where should you pay the OEC fees?
POLO LONDON for OEC fee (£2) and Contract Registration fee (£9) and OWWA London for OWWA membership fee of £23.
3. How can I pay online via BCRemit, and how much do I need to pay?
Please use your phone to download the BCRemit app.
To view POLO UK as the service provider, click the BCRemit-Pay button.
Two buttons will appear, one for £9 for contract registration and the other for £2 for the OEC fee.
To complete the transaction, click the specified payment and confirm button.
Please e-mail polo london13@yahoo.co.uk a screen photo of your completed payment.
4. Do I need to fill up an affidavit?
Yes, but only if you've changed employers since your first job.
5. Can I just go there to get the receipt?
Yes, once the Philippine Embassy's regular working schedule resumes.
6. Is there a bank account where I can deposit the fees?
POLO London bank account does not currently support online transactions. It recommends paying by postal order or using the BCRemit app.
7. How will I know if I am registered with OWWA?
Download the OWWA Mobile App to check your membership status or send an e-mail at london@owwa.gov.ph, or send a message at the official Facebook Page, POLO-OWWA LONDON (https://www.facebook.com/POLOOWWALONDON/).
Summary
Securing an OEC can prevent you from paying the travel tax and airport terminal fee while you flight returning to your work country. Getting OEC in POLO London is made easier because of online transactions. The pandemic is not yet over and the government is making everything they can to protect you and its personnel from danger.
With your mobile phone or computer, you can easily get your OEC. Just follow and provide the requirements above and send it to the designated e-mail of POLO London. Don't forget to use the POEA's online system as well!
Contact Information
POLO-OWWA London, United Kingdom
Address: Philippine Embassy, 6-11 Suffolk St. (10,745.52 km) SW1Y 4HG London, UK
POLO Email: polo_london13@yahoo.co.uk
Telephone Number/s: +44 20 7839 8078, (+44) 78 0279 0695
Website: https://londonpe.dfa.gov.ph/
Facebook Page: https://www.facebook.com/POLOOWWALONDON/
Google Map Location
Here's a map guide to POLO London in case you need a visit. This is also the location of the Embassy of the Philippines in the United Kingdom.