Filipinos who wish to renew their OWWA membership in Korea can visit the Philippine Overseas Labor Office located at the backside of the Philippine Embassy building in Seoul. Please follow the steps below on how you can activate your OWWA account.
Overseas Filipino workers (OFWs) should value their OWWA membership. Renew your OWWA membership as soon as possible to prevent losing your benefits. As an overseas Filipino worker, obtaining this insurance policy not only helps you get OWWA benefits, but also protects you from damage. The cost of membership is 30,000 South Korean Won (KRW 30,000), and it is renewed every two years.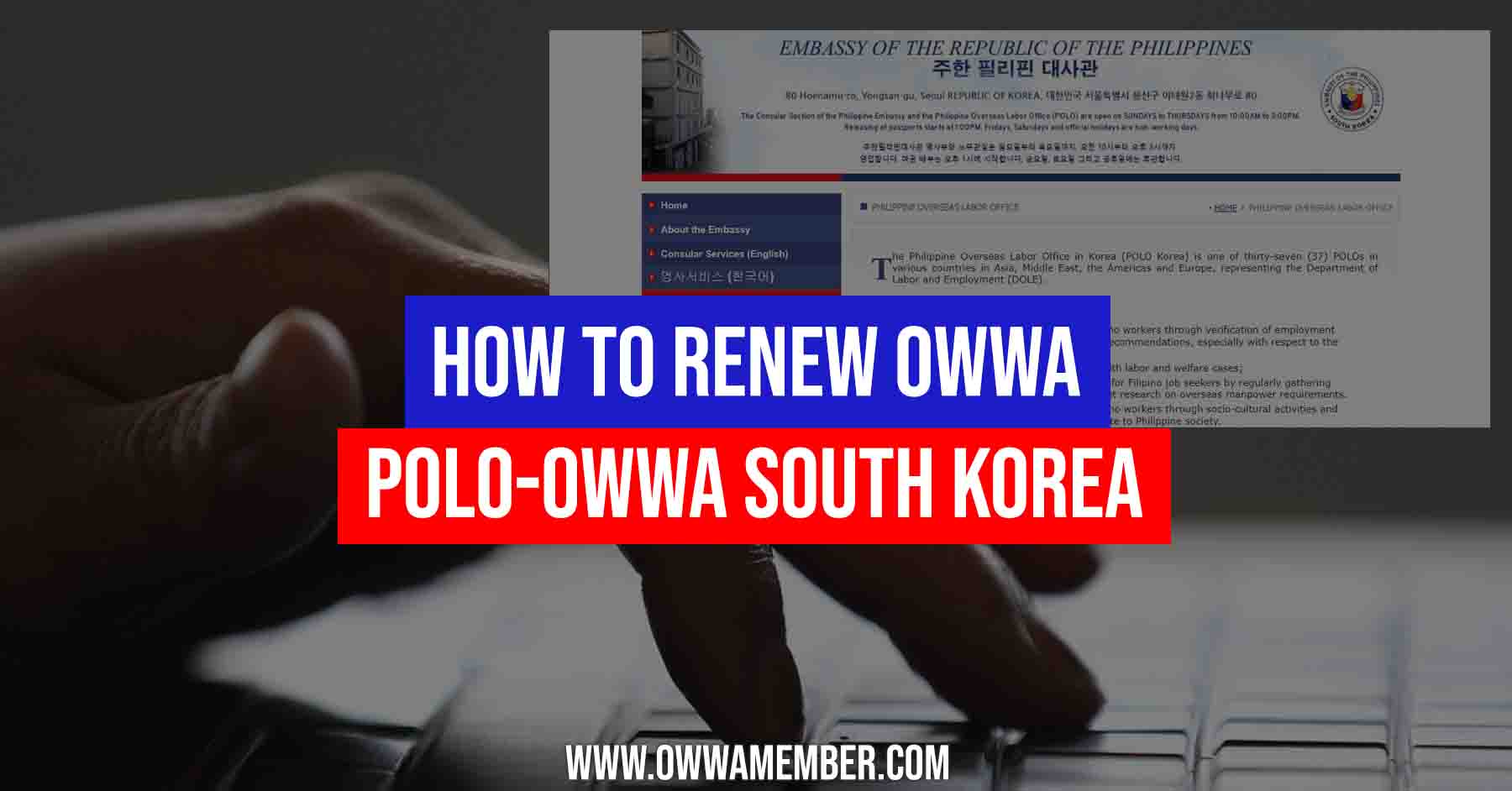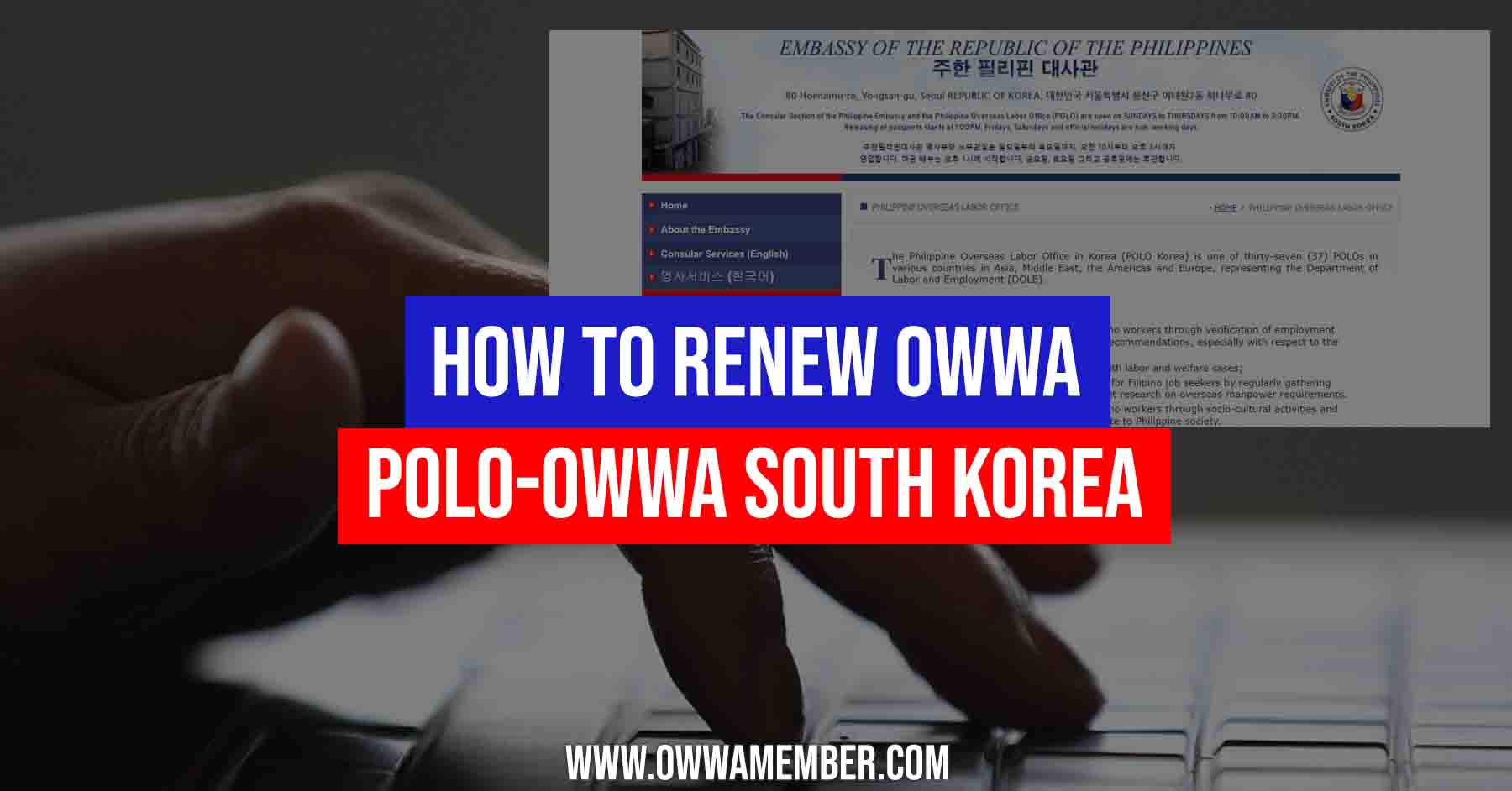 Amount of Contribution
KRW 30,000 and it is valid every 2 years.
Membership Validity
Membership shall be effective upon payment of the membership contribution for the duration of the work contract, but not for more than two years at a time. Voluntary members who register on-site will have coverage for no more than two years at a time. Membership, on the other hand, is renewable.
OWWA Requirements in Korea
Please be guided on the document requirements listed below on how you can renew and register in OWWA for Pinoys based in Korea.
OWWA OFW Information Sheet completed
A copy of a VALID employment contract
Valid passport (bring copy of photo page)
Copy of ARC – Alien Registration Card
If applicable, bring proof of your most recent OWWA membership (official receipt).
How to Pay OWWA Membership in POLO-Korea
Based on recent YouTube videos of fellow kababayans, they shared their experience on how they visited the POLO office in order to renew their membership. Please be guided on the steps below:
Step 1: Complete all the necessary documents.
Step 2: Go to the POLO-Korea office located at the back side of the Embassy of the Philippines building in Seoul. Take note that those with official OWWA transactions are allowed inside the POLO office.
Step 3: Submit all the necessary documents to the OWWA counter.
Step 4: Pay the OWWA membership fee (KRW 30,000) at the cashier.
Step 5: Collect your receipt.
Important Reminders
Here are some guidelines and tips about the process of OWWA renewal in Korea.
Please double-check that your requirements are accurate and complete as you may be rejected or asked to go back if your documents are not complete.
From Sunday through Thursday, from 10:00 a.m. to 3:00 p.m., the office will be open to its clients by appointment only.
During your confirmed appointments, all clients using the Consulate's services are reminded to wear their facemasks.
For more information, see the POLO-Seoul, South Korea's FB Page for updates.
Check out this video below which features Filipinos working in Korea and their recent visit to the POLO-OWWA office in order to renew their membership. Please be guided on the tips and details on what they did in order to renew their OWWA membership for your reference:
Here's another video that showcases how this Pinoy walked in at the POLO-Korea office. Based on the office signage, POLO says that only those with official transactions are allowed to enter the office.
How to Get to POLO-OWWA Office at PH Embassy in South Korea
Check out this video below as shared by a Filipino on how you can get to the Philippine Embassy in Seoul, South Korea, which is where the location of the POLO-OWWA office is also located.
Based on his directions, to get to the PH Embassy, you can
1. Take Exit 1 of Seoul Station,
2. Find the Bus Transfer Line No. 5
3. Ride 402 Bus.
4. Go down at the 8th stop (Grand Hyatt Hotel).
5. Walk about 2 minutes heading to the Philippine Embassy
Frequently Asked Questions
Here are some common questions and answers when you process your OWWA account membership at POLO-Korea.
1. Can I directly go to the OWWA-Seoul, South Korea Office?
Based on recent updates and advisory from POLO-OWWA Korea office, only those with official transactions are allowed to walk inside the office. Please note that this may change depending on the current health situation.
2. How much does the OWWA membership fee cost?
The OWWA membership fee in South Korea is KRW 30,000.
 3. How do I contact OWWA in Korea?
You may send POLO-OWWA Korea an email or you can call them at 010-9054-0694 for inquiries.
Summary
It is good to keep your OWWA membership as an OFW. We hope this guide has helped you understand the process of how you can register in OWWA for your membership. Make sure to activate your OWWA membership as this is your insurance abroad.
As an OFW based in Korea, please follow the guidelines currently put in place on how you can keep your OWWA membership active. You may also renew your OWWA by registering in the OWWA Mobile App.
Workers in Korea may also renew their OWWA membership by having their family members in the Philippines submit the document requirements to the nearest OWWA Regional Welfare office.
Contact Information
POLO-OWWA Seoul, South Korea
Main Address: 80 Hoenamu-ro, Itaewon 2(i)-dong, Yongsan-gu, Seoul, South Korea
Telephone Number/s: OWWA: 010-9054-0694, POLO: 010-6591-6290
Email: OWWA: owwaseoul@gmail.com, POLO: labor@philembassy-seoul.com
Website: http://www.philembassy-seoul.com/, https://seoulpe.dfa.gov.ph/
Facebook Page: https://www.facebook.com/poloowwakorea, https://www.facebook.com/PHinKorea/
Google Map Location
The POLO-OWWA office in Seoul is located at the back side of the office building of the Philippine Embassy in Korea. Please be guided on the map guide below: