Filipinos who need to verify their employment contract and get an Overseas Employment Certificate (OEC)in Greece can head to the Philippine Overseas Labor Office located in Athens. It's important that you know the process from collecting your documents until going to POLO-Greece to get your certificate. Please follow tips below.
Overseas Filipino Workers in Greece and Cyprus who are planning to get a vacation in the Philippines for some reason are required to get an OEC. You must have your OEC whenever you need to return to the country.
This post will help you secure your OEC if you're planning to go for a vacation in the Philippines and go back to Greece to continue your work. You better continue reading this article to gain information about OEC and how to get one in POLO Greece.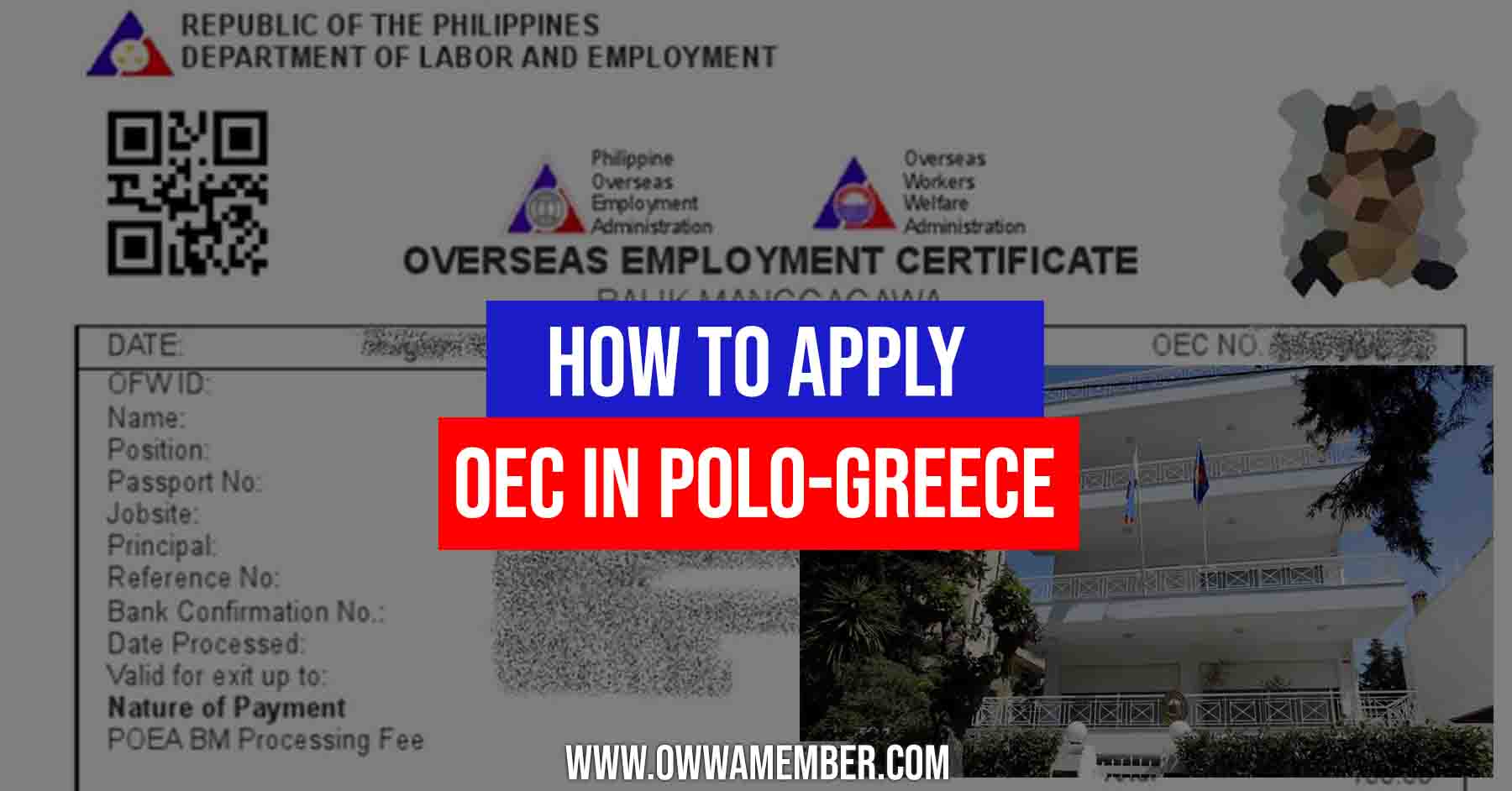 What is OEC Balik Manggagawa for OFWs in Greece and Cyprus
All departing OFWs, whether new employees or Balik Manggagawa, must get an Overseas Employment Certificate (OEC), exit clearance, and an exemption of travel tax and airport terminal fees.
Overseas Employment Certificate (OEC) is under the regulations of the Philippine Overseas Employment Administration (POEA) that certifies an Overseas Filipino Worker (OFW) as a legally documented Filipino worker abroad.
Without the OEC, the Bureau of Immigration (BI) at the airport terminal will not permit the worker to leave the Philippines. Therefore, OEC is one of the most important documents you need to present to the BI officer to evaluate and pass to depart the Philippines. In addition, the OEC will exempt the Filipino worker from paying the travel tax and airport terminal fees. This is one way you can save from spending more money on your travel abroad.
The OFW must secure their OEC upon the departure date because OEC is only valid for sixty (60) days from the date of acquisition.
Requirements
Based on the official website of POLO-Greece, starting on August 1, 2014, all vacationing OFWs who wish to obtain an OEC at POLO before leaving Greece and Cyprus must submit a copy of a valid employment certificate or any of the following documents that could establish a worker's employment details. The following are the documents you need to provide:
APOPASI
ERGOSIMO
CERTIFICATION OF EMPLOYMENT (for workers with an existing record in the POEA database and with the same employer)
COMPANY ID OR PAYSLIP (for skilled workers/employees)
The requirement also complies with the Omnibus Rules and Regulations Implementing the Migrant Workers and Overseas Act of 1995, as revised by Republic Act No. 10022. (Further Improving the Standard of Protection and Promotion of the Welfare of Migrant Workers and their Families)
Qualifications
The general qualification and requirement to secured an OEC are the following:
Workers with a POEA record take their first vacation and going to return to the same employer and workplace to maintain or extend their current employment contract.
Workers with a POEA record are returning to the same employer but in a different country
Workers who have no previous employment history with the Administration or who change employers to continue their job in Greece.
Cost of OEC Greece
OEC processing fee is worth PHP 100.00, or it is equivalent to Euro.
Also, be ready for other fees you may encounter such as fees for Contract Verification or OWWA membership. Also, you may need to update your payment for your PAG-IBIG and SSS as well.
How to Schedule OEC online appointment in POLO-Greece
In general, all OFWs who do not have a record in the POEA database will be required to register at POEA Online Processing System for Balik-Manggagawa or POPS-BaM and schedule a one-time appointment to obtain their OECs. Processing OECs can be done at the nearest POLO offices. OFWs who have already completed the appointment process can apply for OECs online for their next scheduled vacation without repeating it.
Follow these steps for registration for those who have no record yet in POPS-BaM.
Go to your browser and type – https://onlineservices.dmw.gov.ph/OnlineServices/POEAOnline.aspx in the URL
Click on "Let's Go"
Click on "Register" for new users (log in if you already have an account )
Then click "I accept the terms of use."
Fill out the required information and then click register. (a message will display indicating that your registration was "Successful").
Log in to the email address you provided when you registered (there is a message containing your "temporary password" ")
Return to the link provided in Step 1 and log in using the registered email address, then click "next."
Use the temporary password sent to your email, then click "log in."
Set the password you want.
Update your profile by clicking "My Profile," after completing your profile, click "Update Profile" on the upper right side of the page
Add your Identification and Beneficiary
Attach profile picture and passport
After creating an account, the next steps are about how to set an OEC appointment at POLO Greece using POPS-BaM.
Log in to your POPS-BaM account (onlineservices.dmw.gov.ph/OnlineServices/POEAOnline.aspx)
Click "Balik-Manggagawa," located at your top right-hand side.
Input your next flight date, then click "next."
You will be asked if you are returning BM to the same employer (if yes, you can print your OEC, if no, proceed to step 5)
Accomplish your contact details with true and correct information to the best of your knowledge.
After clicking "Submit," you can select your desire POLO location near your place.
Then choose an available Appointment Schedule.
You now have an Appointment with POLO. You can print or cancel your appointment.
After completing an appointment at POLO Greece for securing an OEC, you can go to the Philippine consulate parallel to the date and time scheduled on your online appointment sheet.
How to Apply OEC in Greece
The acquiring of your OEC at POLO-Greece is pretty straightforward. Just do the following:
Go to POLO Greece at the date and time of your scheduled appointment.
Don't forget to bring the important documents above and direct them to the reception desk of POLO Greece, then present the requested document.
After that, the reception officer will give you forms to be filled out and guide you to the procedure.
Pay all the necessary fees and wait for the approval of your OEC that also can be print out online using POPS-BaM.
Note that it's not required to go to POLO-Greece for your OEC all the time as there is an option for some OFWs to print out their OEC through the POPS-BaM system. If you can print the certificate, there's no need for you to go to the Consulate.
How to get OEC Exemption in POLO-Greece
A worker who qualifies for OEC Exemption is excused from having to obtain an OEC at the office. Instead, simply print out the OEC exemption number and present it to the Bureau of Immigration officer at the Philippine airport. As a result, the OEC processing charge, airport terminal fees, and travel tax are all waived for the worker.
The BM worker must log in to their POPS-BaM account before the scheduled date of return to the employer. Then, the system would determine whether or not the worker is already exempt from receiving OEC.
OEC exemption is not for first-timers to have a vacation in the Philippines. It is applicable for Balik-Manggawa workers who already had a previous OEC before and will return to the same country and with the same employer/company.
Video: How to get OEC from POLO-Athens
Please check out this  video guide about the OEC requirements and process in Greece as shared by this Filipina:
Frequently Asked Questions
Please check out these frequently asked questions and answers about the process of getting the overseas employment certificate if you are based in Greece:
1. Can I go to POLO Greece without an online appointment?
Yes, but the POLO will only assist you in registering online or logging into your existing account at POPS-BaM and setting an appointment. You will be instructed to return to POLO at the scheduled appointment.
2. Can I obtain my OEC in the Philippines, and am I returning to Greece?
Yes, but POLO in the Philippines will require you to verify your employment contract at POLO Greece.
3. What is OEC exemption?
OFWs who are exempt from the OEC must obtain an OEC and pay the POEA processing fee. If you are granted this exemption, processing your OFW documents at the airport before leaving will be accelerated.
4. How can I get OEC exemption?
If you have a previous OEC and record in the POEA database, you need to log in to your POPS-BaM account and choose OEC exemption. Then, the system will determine whether you are exempted or not.
Summary
OEC is essential to keep every OFW safe and secure around the world. It is the document that proves an OFW that they are protected and properly documented by the POEA. Without this certificate, you can't get out of the Philippines to work abroad for the first time or nth time.
It's better to get an OEC and proper documentation whether you're hired by an agency or directly by your employer to enjoy a hustle-free departure and return to your work in Greece. It's easy to get an OEC and exempt you from paying charges if you know the proper process. Hope this blog helps you in finding the information you are looking for in terms of getting your OEC. For more information, you can find the contact information of Polo-Greece below.
Contact Information
POLO-Athens Greece
Address: 10 Fthiotidos St., Ambelokipi, 115 23 Athens, Greece
Telephone Number: +30 210 698 3335
Website: https://pologreece.dole.gov.ph/
Email Address: pologreece@yahoo.com
Facebook Page: https://www.facebook.com/PHLinGreece/
Google Map Location
If you are looking for a quick map guide so that you can go to POLO-Greece, here it is: