Filipinos based in Spain can go and apply for an Overseas Employment Certificate at the Philippine Overseas Labor Office (POLO) located in Madrid. In case you have changed employers and need to verify your employment contract to get an OEC, please follow the guidelines below to assist you with the process.
Also Read: How to Book OWWA Appointment in Madrid, Spain
As an Overseas Filipino Worker in Spain, you should know the appropriate documents required to secure whenever you're planning for a vacation or other emergency circumstances in the Philippines and return to Spain after. Continue to read this article to gain insights about the things to consider, as well as the steps to follow.
This article consists of information about those important documents and procedures when obtaining OEC, an essential document that is required to secure when going to Spain after a short visit to the Philippines. Filipinos who return to their hometowns and planning to work again for a new employer or the same employer in Spain are required to obtain this document so they can easily depart the Philippines. If you are an OFW in Spain, this blog is for you.
Let's find out more about OEC now.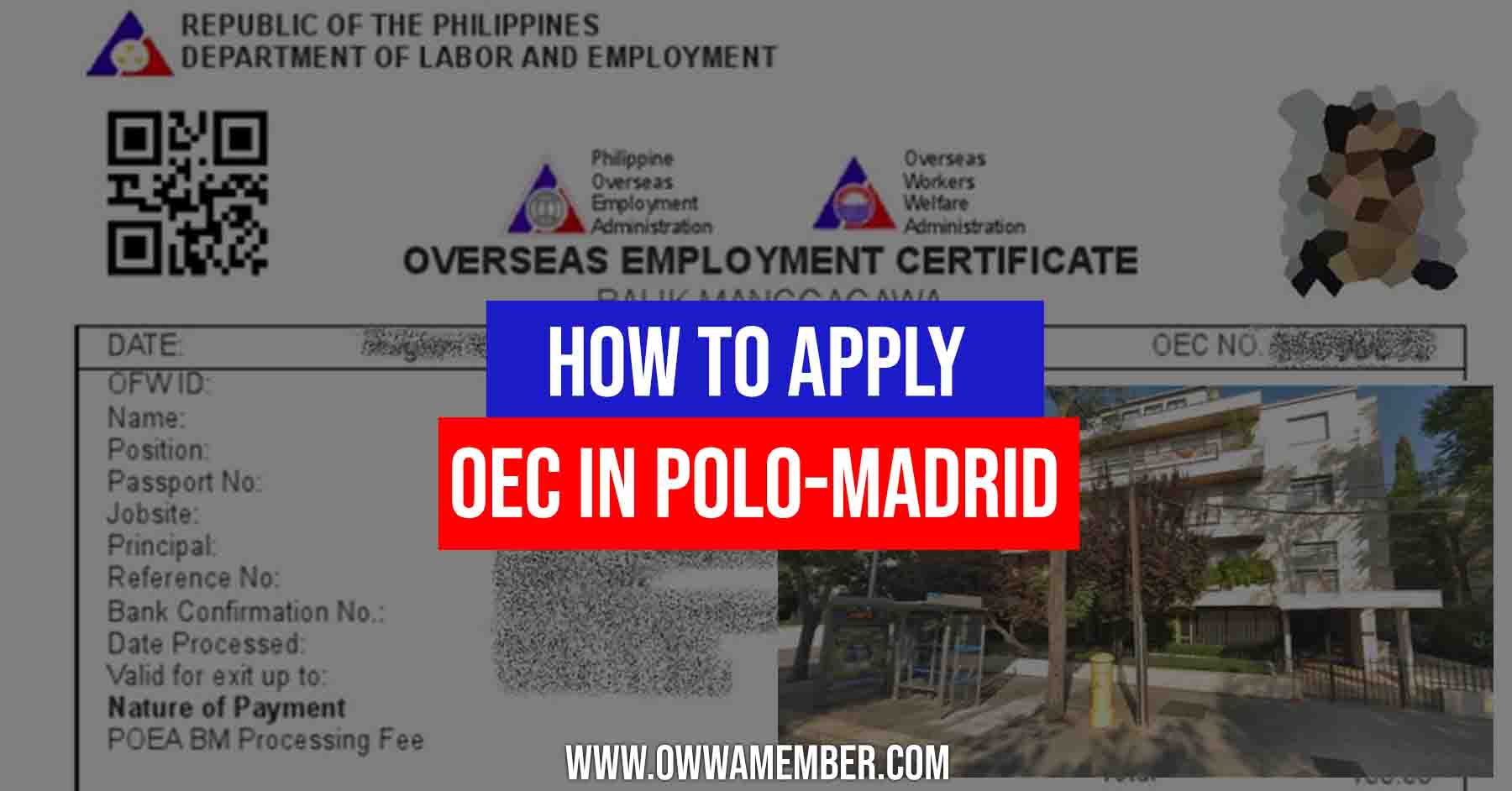 What is OEC Balik Manggagawa?
The Overseas Employment Certificate (OEC) is a document that allows Overseas Filipino Workers (OFWs), also known as Balik-Manggagawa workers (BMs), to leave the Philippines for work purposes.
Philippine Overseas Labor Offices are the ones who are responsible for the issuance of OECs. Acquisition of OEC is mandatory for all OFWs. OEC is the evidence that the OFWs were properly and legally documented to work abroad. Under the Philippine Overseas Employment Administration (POEA) rules and regulations, they require all returning OFWs or BMs to secure an OEC and be exempt from paying the Travel tax and Airport terminal fees whenever returning to work abroad.
OEC is valid for sixty (60) days.
Requirements
As stated on the worker's Tarjeta de Identidad de Extranjero (TIE), the applicant's status in Spain is temporary. Therefore, an active email account is required. The applicant must first register an account with the POEA Online Processing System for Balik-Manggagawa.
If you are applying for the first time and are submitting from a location outside of Spain, or if you have changed employers while in Spain, please submit/present:
Contrato de Trabajo – original copy and one (1) photocopy (for verification/registration)
Employee's Tarjeta de Identidad de Extranjero (TIE) – two (2) photocopies
Employee's Philippine Passport – two (2) photocopies of data pages (valid for at least six months)
Employer's DNI/data page of passport/or CIF (if the employer is an Empresa)/Nomina of employee – two (2) photocopies
Proof of existing employment such as Nomina of employee/Latest contribution to Seguridad Social/Latest Vida Laboral – two (2) photocopies
Qualifications
The required OFWs or BMs to apply for an OEC in POLO-Spain are the following:
Workers with a POEA record go on vacation and returning to the same employer and workplace to keep or renew their present employment contract.
Workers returning to the same employer but in a different country with a POEA record.
Workers who have no POEA record and or change employer on the job site
Note that Permanent residents (larga duración) and dependents (comunitario) are not required to apply for an OEC.
Cost of OEC in Spain
There is a cash payment of € 2.00 for the OEC processing fee.
The verification fee for an employment contract is € 9.00.
How to schedule OEC online appointment in POLO-Madrid
Likely on other POLO branches around the world, it is usual that you must have your record or account at POEA Online Processing System for Balik-Manggagawa (POPS-BaM) in order to set an appointment at POLO Spain.
If you do not yet have an account at POPS-BaM, this procedure is provided to help you for registration:
Go to your browser and type https://onlineservices.dmw.gov.ph/OnlineServices/POEAOnline.aspx in the URL
Click on "Let's Go"
Click on "Register" for new users (log in if you already have an account )
Then click "I accept the terms of use."
Fill out the required information and then click register. (a message will display indicating that your registration was "Successful").
Log in to the email address you provided when you registered (there is a message containing your "temporary password")
Return to the link provided in Step 1 and log in using the registered email address, then click "next."
Use the temporary password sent to your email, then click "log in."
Set the password you want.
Update your profile by clicking "My Profile," after completing your profile, click "Update Profile" on the upper right side of the page
Add your Identification and Beneficiary.
Attach profile picture and passport
Then the next steps are setting an appointment in POLO Spain through POPS-BaM.
Log in to your POPS-BaM account (onlineservices.dmw.gov.ph/OnlineServices/POEAOnline.aspx)
Click "Balik-Manggagawa," located at your top right-hand side.
Input your next flight date, then click "next."
You will be asked if you are returning BM to the same employer (if yes, you can print your OEC, if no, proceed to step 5)
Accomplish your contact details with true and correct information to the best of your knowledge.
After clicking "Submit," you can select your desire POLO location near your place.
Then choose an available Appointment Schedule.
You now have an Appointment with POLO. You can print or cancel your appointment.
How to get OEC at POLO-Madrid
You can get an OEC at POLO Spain located at Calle Serrano 161, 28002 Madrid (ground floor near the Philippine Embassy). Make sure to follow the things below for an easier process.
Present all the requirements above to the POLO reception officer.
Fill up all the given forms
Pay all the fees
Wait for the approval of your OEC
Please double-check the details and credentials written in your OEC if correct.
How to get OEC Exemption in POLO-Madrid
OFWs returning to the same workplace and employer with existing BM accounts/previous OECs can apply for an exemption online by creating a POPS-BaM account and following the prompts for exemption.
Video: Applying for OEC in POLO-Spain
Please check this update from POLO office Madrid regarding the Overseas Employment Certificate system:
Here's another video from POLO-Madrid regarding the programs and services an OFW can avail from their office:
Frequently Asked Questions
Please check out these frequently asked questions and answers about the process of getting the overseas employment certificate if you are based in Spain:
1. How long is the validity of OEC?
The OEC is only valid for sixty (60) days from the date secured.
2. What if I decided to spend over sixty (60) days in the Philippines and then return to Spain?
You can get an OEC at regional POLO branches in the Philippines. Just present your employment contract verified in POLO Spain and other prerequisite requirements.
3. What is OEC Exemption?
OEC exemption excuses the worker to obtain OEC at the physical office and prevent the worker from paying the OEC processing.
4. How to obtain OEC Exemption?
Before the appointed date of return to the employer, the BM workers must log in to their POPS-BaM account. Then, the system would determine if the BM is already exempted from getting OEC.
Summary
Under POEA Rules and Regulations, an Overseas Employment Certificate (OEC) is required to guarantee that Overseas Filipino Workers (OFWs) are properly recorded and protected. Balik-Manggagawas (Returning OFWs) are eligible to apply for OECs. As a result, returning OFWs will be free from paying travel tax and terminal fees at Philippine airports. There are also instances where you can get exempted from presenting your OEC at Philippine airports. But you have to check with the system if you are exempted or not.
To enjoy those benefits, don't hesitate to get an OEC. The process is quite easy and simple to do. Allocate time for obtaining your OEC.
Contact Information
POLO-Spain office
Address: Calle Serrano, 161, Planta Baja, 28002 Madrid (near Metro Republica Argentina)
Working hours: POLO Spain is open from Mondays to Fridays from 9:00 am to 5:00 pm (No Noon Break), excluding Philippine and Spanish holidays
Phone: 915 776 755 / 917 818 626 / 600 307 988 / 604 348 154
Email: polomadrid2020@gmail.com or oficinalaboral@philembassymadrid.com
Website: https://www.philembassymadrid.com/
Facebook Page: https://www.facebook.com/PHinSpain/
POLO Madrid FB Page is this – POLO Madrid FB Profile
Google Map Location
You can use this map to get to POLO-Spain. The Philippine Overseas Labor Office (Spain) is on the ground floor near the Embassy of the Philippines in Madrid.