Filipinos who are based in Rome, Italy, it is important that you renew your OWWA membership and keep your account active in order to get the maximum benefits provided by this agency. Especially during these times of crisis such as losing your job or needing assistance, you can take advantage of the projects available. To renew your OWWA membership, you need to make an appointment booking first. Please see the guidelines below on what are the requirements, fees, and steps to confirm your appointment and renew your OWWA in Rome.
Also Read: For those who are based in Milan, please see this guide – How to Book OWWA Appointment in Milan, Italy
Be advised that there are currently two methods for you to make an OWWA appointment in Rome – by visiting the POLO-Rome website or sending an email to POLO-Rome email (owwaroma@yahoo.com).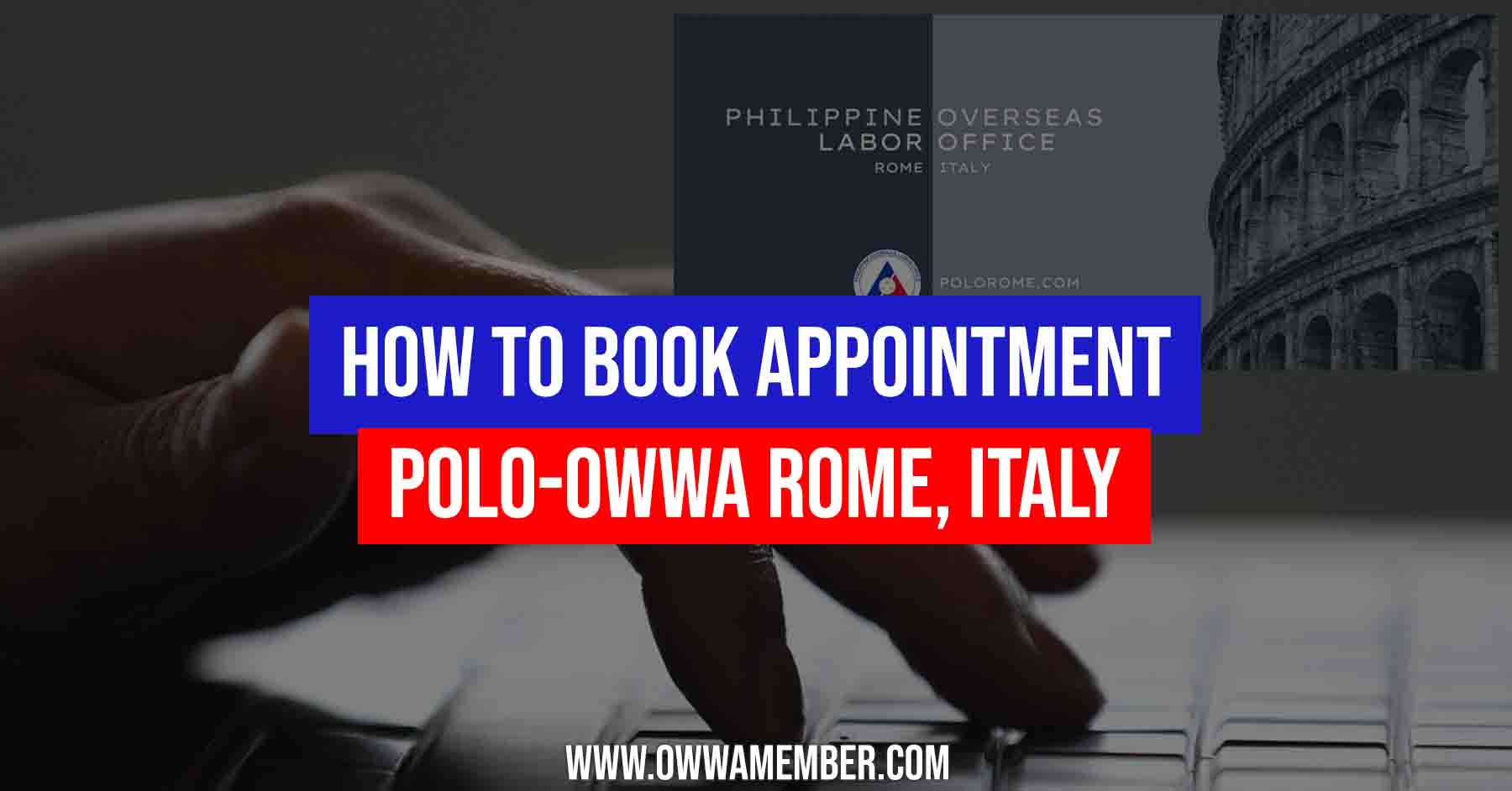 Overseas Filipino Workers (OFWs) should understand the value of their membership in the Overseas Workers Welfare Administration (OWWA). It's critical to renew your OWWA membership before it expires and becomes invalid. It not only assists you in obtaining OWWA compensation, but it also ensures your safety as an OFW should you require assistance.
With the pandemic, it's important to schedule an appointment online. Maintain social distance when you arrive at the OWWA-Rome, Italy office, and always wear your face mask to keep yourself and others safe.
Amount of Contribution
The OWWA membership contribution shall be Twenty-One Euro (21 EURO).
Membership Validity
Membership is valid for two (2) years for each contribution, regardless of contract term, change of employer, jobsite, or recruitment agency. Following that, OWWA membership must be renewed if proof of active work is shown.
OWWA Membership/Renewal Requirements in POLO-Rome
Here is a list of document requirements that you need to present for POLO-Rome OWWA renewal:
Busta Paga (only Italy)
Fully filled-up form – OFW Information Sheet
Latest INPS contribution (only Italy)
Membership Fee (ranging from Php 1,000- Php 1,500 or )
Personal Appearance
Photocopy of Passport and Personal Data
Photocopy of Permit to Stay/Work Permit
NOTE: If OFW has dual citizenship, please present a copy of the Oath of Allegiance.
Photocopy of Proof of Present Employment
Valid Employment Contract (Lavoro Subordinato) for regular workers
Verified Contract (outside Italy)
Reminder: In Rome, Italy, there are two ways to schedule an appointment. You can make an appointment via the online reservation system or by sending an email.
How to Schedule an OWWA Appointment in Rome, Italy – Online Reservation
Please be guided on the step by step guide below on how to make anm online appointment reservation at the POLO-Rome office for OWWA payment:
Step 1: Visit the official website of the POLO in Rome, Italy at https://www.polorome.com/
Step 2: Scroll down and click the "Reservations".
Step 3: After clicking the "Reservations", scroll down and click the "Schedule Appointment for OWWA Membership"
Step 4: Click the "Fully filled-up form" to get the membership form.
Step 5: Select the date and time you want.
Step 6: Complete all required information.
Step 7: After you've entered all of the required information, review it and click the "submit" button.
Step 8: Wait for the confirmation e-mail.
Step 9: Bring a copy of your confirmed appointment to the OWWA-Rome, Italy.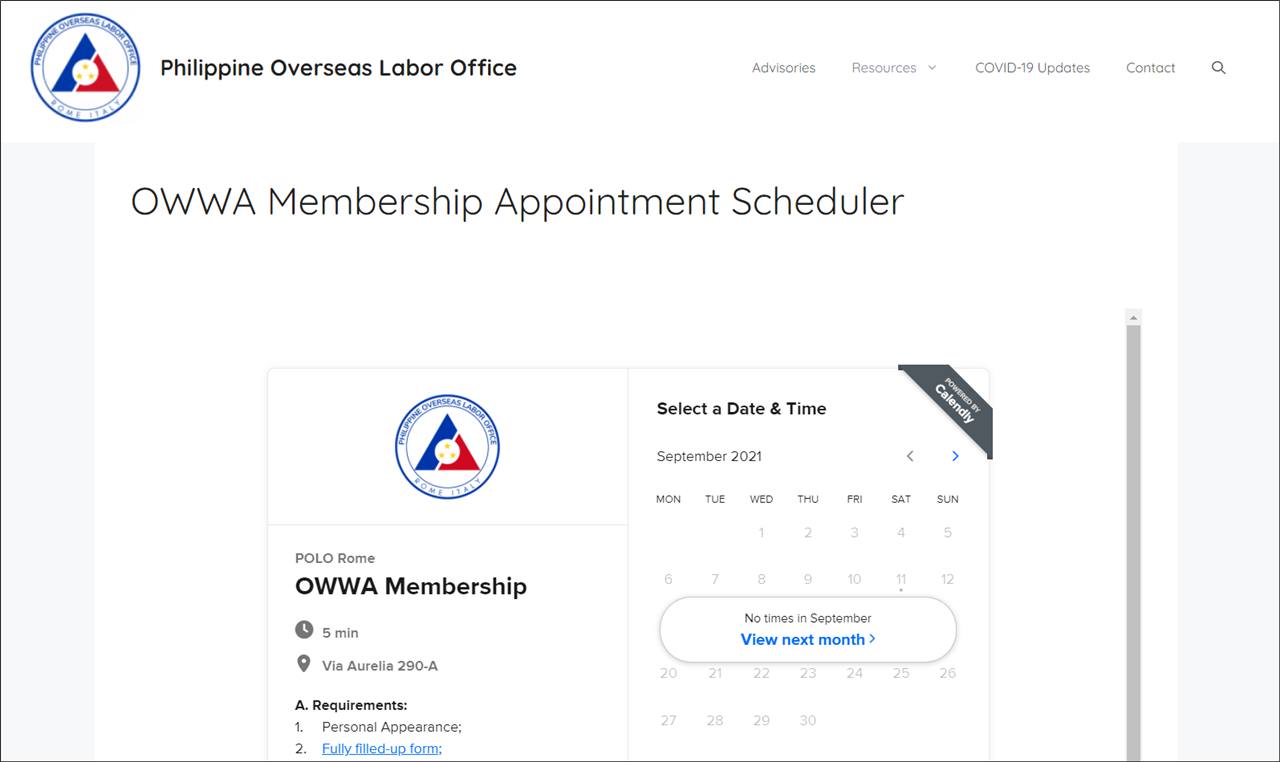 How to Schedule OWWA Appointment in Rome, Italy – Email
Below are the easy steps to send an email to POLO-OWWA Rome office to make a confirmed booking.
Step 1: Email owwaroma@yahoo.com with your full surname, first name, middle name, and phone number.
Step 2: Wait for your scheduled date to be confirmed.
Step 3: Bring all of the necessary documents to your appointment.
How to Renew OWWA Membership at POLO-Rome Office
Please follow the guidelines below on the process of renewing your OWWA during your day of the appointment at POLO-Rome office:
Step 1: Go to the POLO-Rome office. Present your confirmed scheduled appointment at the security.
Step 2: Go to the counter handling the OWWA renewal. Present your full documents.
Step 3: Pay the OWWA fee to renew your account.
Step 4: Get the receipt/certificate of your active OWWA membership.
Important Reminders during OWWA Renewal
Please be informed of these important reminders when renewing your OWWA membership during the day of the appointment.
Proceed to WINDOW 2 of the Philippine Embassy in Rome
Only book once! Multiple bookings in a single day will be canceled.
Please double-check that your requirements are accurate and full. Requirements that are not full will not be handled.
The OWWA membership receipt is issued on the same day as the application.
Face masks must be worn at all times, and individuals must maintain a two-meter physical distance from one another.
Video: OWWA-Rome Members Account Renewal Guide
Please check out this video below showcasing the process of OWWA account renewal in the POLO office in Rome, Italy. This Filipina shares her experience in the appointment and appearance at the office.
Frequently Asked Questions:
Below are some commonly asked questions and answers regarding the POLO-Rome office for OWWA renewal:
1. Can I directly go to the OWWA-Rome, Italy Office?
No, you cannot walk into the OWWA-Rome, Italy office without a scheduled appointment.
2. How much does the OWWA membership fee cost?
The OWWA membership contribution shall be Twentyone Euro (€ 21.00).
3. Is it okay if I bring a

friend?
No, you are not allowed to bring a friend with you. The OWWA office is only open to individuals who have arranged an appointment.
4. Is it possible to schedule an appointment through email and online?
No, only one appointment is required.
Summary
So this is the process of OWWA appointment and renewal in Rome, Italy. Please follow the process mentioned above for a smooth and hassle-free transaction at the OWWA-Rome office.
We would like to remind everyone to please do not forget to renew their OWWA account. You can also download the OWWA Mobile App in order to process your membership online. Take advantage of the benefits and programs as this is a very affordable form of insurance provided to us by our government.
Contact Information
POLO-OWWA Rome
Main Address: Via Aurelia, 290-A, 00165 Roma RM, Italy
Website: https://www.polorome.com/
Facebook Page: https://facebook.com/POLORomeIT/
Email: OWWA: owwaroma@yahoo.com
Telephone Number/s: +39 320 851 5465, +39 06 3974 6621 local 226
Google Map Location
Below is a map guide to the location of POLO-OWWA Rome office. Please be advised that they recently transferred to a new location in Via Aurelia: