Filipinos who wish to renew their OWWA membership in Macau can visit the Philippine Overseas Labor Office located at the Philippine Consulate General office in AIA Tower. Please follow the steps below in making an appointment before going to the office.
Also Read: How to Renew OWWA Membership in Hong Kong
The Overseas Workers Welfare Administration (OWWA) was founded to protect and promote the welfare of overseas Filipino workers and their families. It provides advantages in addition to those stipulated in the job contract. The cost of membership is $25.00, and it is renewed every two years.
Overseas Filipino workers (OFWs) should value their OWWA membership. Renew your OWWA membership as soon as possible to prevent losing your benefits. As an overseas Filipino worker, obtaining this insurance policy not only helps you get OWWA compensation, but also serves as your protection in times of crisis. Due to the pandemic, appointments are required before conducting business.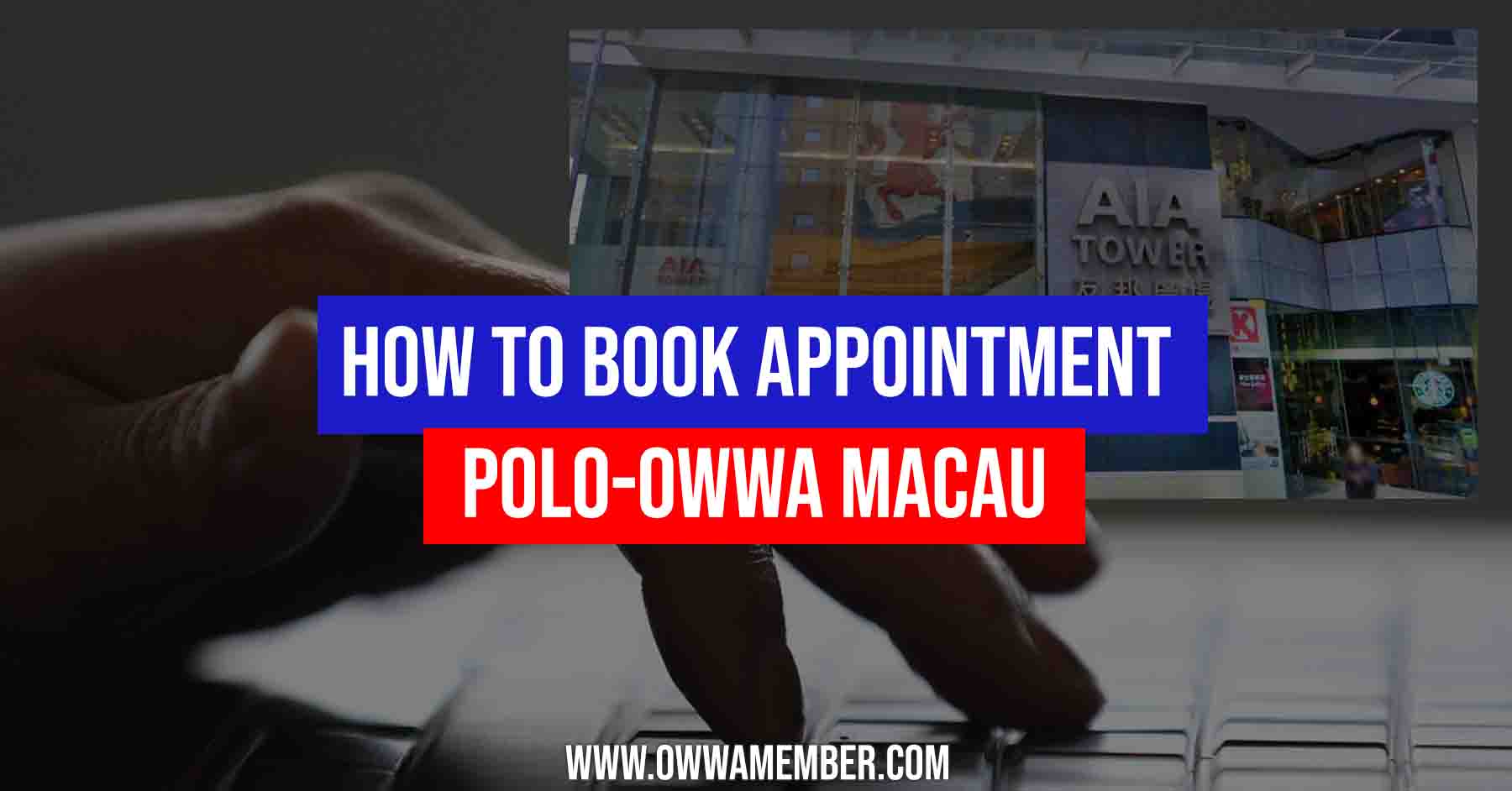 Amount of Contribution
Twenty-five dollars (US$25.00) or its equivalent is the OWWA membership contribution.
Membership Validity
Membership shall be effective upon payment of the membership contribution for the duration of the work contract, but not for more than two years at a time. Voluntary members who register on-site will have coverage for no more than two years at a time. Membership, on the other hand, is renewable.
OWWA Requirements
Copy of a VALID employment contract
A copy of the passport page with the photo and personal data
A copy of your current work permit and visa
OWWA OFW Information Sheet completed
Valid entry visa
Reminder: In Macau, there are two ways to schedule an OWWA appointment. You can make a reservation by e-mail or call. Please see the below steps for both procedures:
How to Schedule an Appointment in Macau via E-mail
Step 1: Write a note indicating when and where you are available (from Sundays through Thursdays from 10:00AM to 3:00PM).
Step 2: Send an email with specific information about the appointment you'd want to schedule.
Step 3: Before heading to the OWWA office, wait for confirmation of your appointment date.
How to Schedule an Appointment in Macau via Phone Call
Step 1: Write a note indicating when and where you are available (from Sundays through Thursdays from 10:00AM to 3:00PM).
Step 2: Call the OWWA office at (+853) 62587887 and let them know when you'd like to meet.
Step 3: Double-check your confirmed date before visiting the OWWA office.
How to Renew OWWA Membership in POLO-Macau Office
During the day of your appearance, please follow the simple steps to renew your OWWA membership. Take note that you need to have an appointment first.
Step 1: Present your appointment for entry to the security personnel.
Step 2: Present your documents to the OWWA counter.
Step 3: Pay the OWWA fee.
Step 4: Collect your receipt. Your membership is valid for 2 years.
Important Reminders
Here are some guidelines and tips about the process of OWWA renewal in Macau.
Please make sure to check that your document requirements are accurate and complete for faster processing.
From Sunday through Thursday, from 10:00 a.m. to 3:00 p.m., the Consulate will be open to its clients by appointment only.
Only individuals with scheduled appointments will be permitted to visit the Consulate. Except for minors, people with disabilities, pregnant women, and senior citizens, no companions will be allowed.
During your confirmed appointments, all clients using the Consulate's services are reminded to wear their facemasks.
Before entering AIA Tower, everyone will be subjected to a thermal scan.
Following the completion of the transaction, all clients will be asked to leave the Consular Area promptly to make room for additional clients in accordance with "social distancing" principles.
For more information, see the OWWA Macau Facebook Page for updates.
Video: OFW Filipina Renews OWWA in PCG Macau Office
Check out the video below where a Filipina shares her experience going to the POLO-OWWA Macau office (the same office as PCG Macau). She details in her vlog what happened during her recent visit. She mentions the steps that she did by walking into the OWWA office to process the account renewal.
Advisory from PCG Macau
Based on the last advisory from the Philippine Consulate General in Macau, the process for OWWA renewal in the POLO-Macau office is by appointment.
They used to have an appointment online system put in place in this URL – https://polomacauappointment.timetap.com/ – but based on our checking, this URL is not working. So the best option is to contact the POLO-OWWA office by email or by calling them to set an appointment. Alternatively, in case you have an appointment at the POLO-OWWA Macau office because you
Please check out their post below:
Frequently Asked Questions
Here are some common questions and answers when you process your OWWA account membership at POLO-Macau.
1. Can I directly go to the OWWA-Macau, Hong Kong Office?
Based on the update from PCG-Macau, walk-ins are not allowed in Macau, Hong Kong. You can send them an email or you can call them at +85362587887 to make a transaction.
However, there are some recent videos posted online of OFWs going to the PCG office to renew their OWWA. They did not mention that they have a pre-approved appointment. It is still best to contact POLO-Macau for updates on the current situation.
2. How much does the OWWA membership fee cost?
Twenty-five dollars (USD 25.00) or the equivalent local currency is the OWWA membership contribution.
3. Where do I get updates about POLO-OWWA activities in Macau?
You may follow the Facebook Page of POLO-OWWA Macau in order to get updates on what are the recent procedures for OWWA membership as well as other OWWA programs. Please check out this URL of their FB page – https://www.facebook.com/PoloOwwaPhilcongenMacau
Contact Information
POLO-OWWA Macau
Address: Unit 1404-1406 ,14th Floor AIA Tower Avenida Comercial de Macau, Macau SAR
Telephone Number/s:
OWWA: (+853) 62587887
Trunk Line: (+853) 28757111 local 115
Duty Officer/POLO Hotline: (+853) 66872509
Duty Officer/OWWA/OEC Hotline: (+853)62587887
Email: OWWA: owwamacau@gmail.com, POLO:   polomacau@yahoo.com
Website: https://macaupcg.dfa.gov.ph/
Facebook Pages: https://www.facebook.com/PoloOwwaPhilcongenMacau/, https://www.facebook.com/PHinMacau
Google Map Location
Below is a map guide to the location of the Philippine Overseas Labor Office in Macau for OWWA concerns. The POLO office is also in the PCG Macau office: