The aim of OWWA is to ensure the preservation of OFWs' rights and to promote their interests and well-being. If you wish to renew your OWWA membership in Spain, please follow the guidelines below
Also Read: How to Get OEC in POLO-Madrid, Spain Online
OWWA members can benefit from insurance coverage, loan packages, legal counseling and support with employment concerns, repatriation services for troubled OFWs, airport assistance at NAIA, and other similar services. OWWA membership is free of charge. For a period of two years, membership is valid.
Because of the pandemic, it's necessary that you make an appointment before visiting the OWWA-Madrid, Spain office.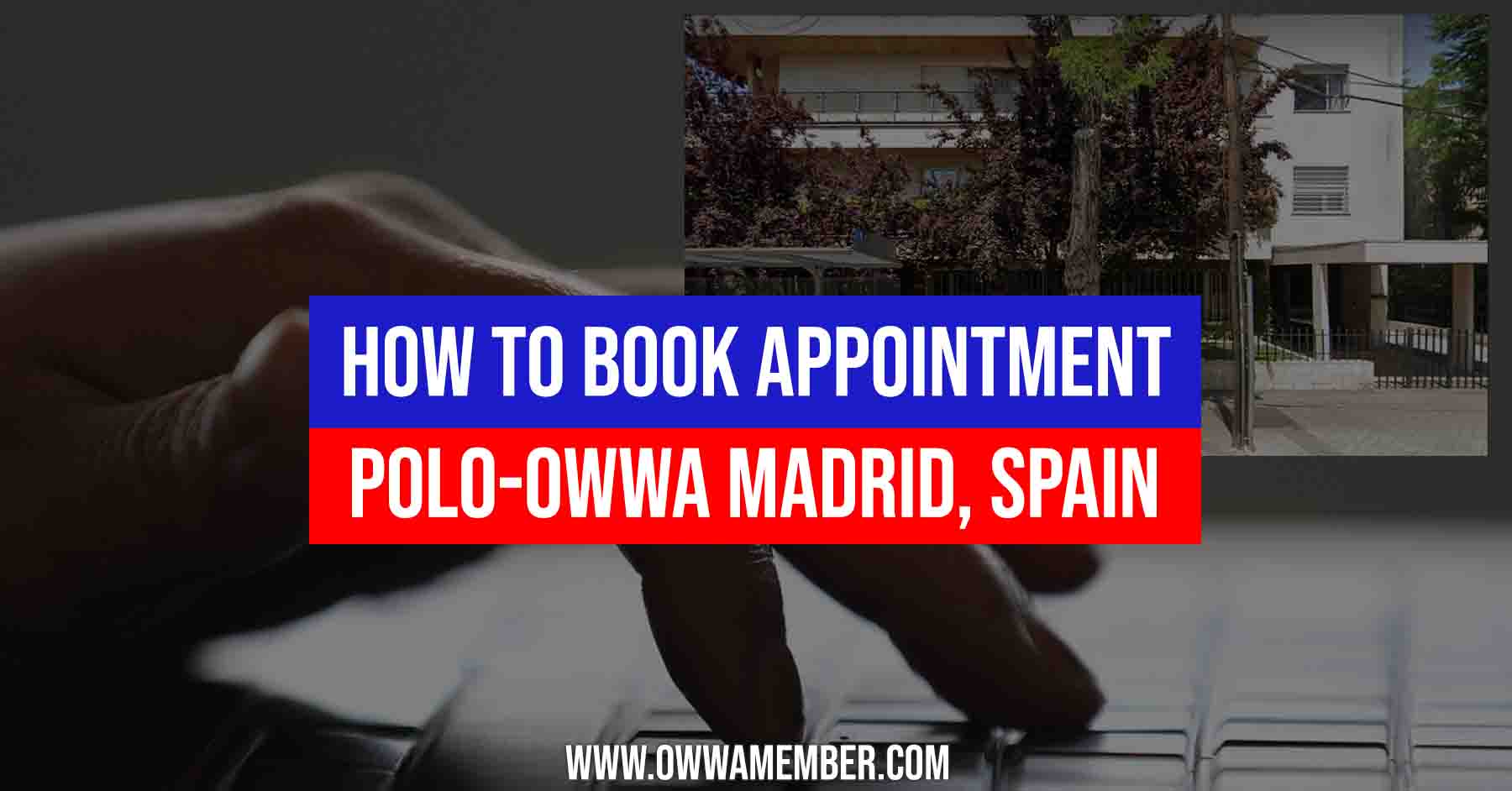 Amount of Contribution
The OWWA membership contribution shall be Twenty-One and Thirty-One Hundredths Euro (€21.31).
Membership Validity
Regardless of the length of the contract, the change in employer, location of employment, or recruitment agency, membership is valid for two (2) years for each contribution. After then, OWWA membership will need to be renewed if proof of employment is provided.
Membership/Renewal Requirements
Please see the following requirements for OWWA membership in Spain:
Copy of a VALID employment contract
A copy of the passport page with the photo and personal data
A copy of your current work permit and visa
OWWA OFW Information Sheet completed
1 colored ID photo (2×2) on a white background (for new members only)
Cash payment of 21.31 Euro
How to Schedule an Appointment in POLO-Madrid, Spain
Here are the steps for OWWA appointment in Spain:
Step 1: Visit the official page of Embassy of the Philippines-Madrid, Spain or click this URL – https://www.philembassymadrid.com/epassport-renewal-appointments
Step 2: Scroll down until you see "Passport & Visa News" then click "ON-LINE APPOINTMENT FOR CONSULAR & LABOR SERVICES".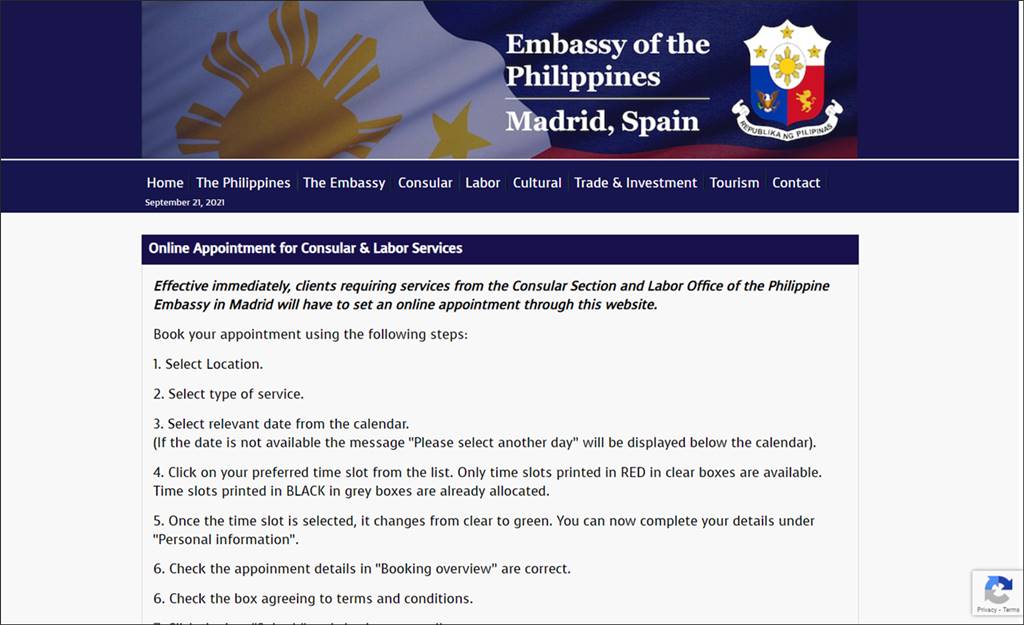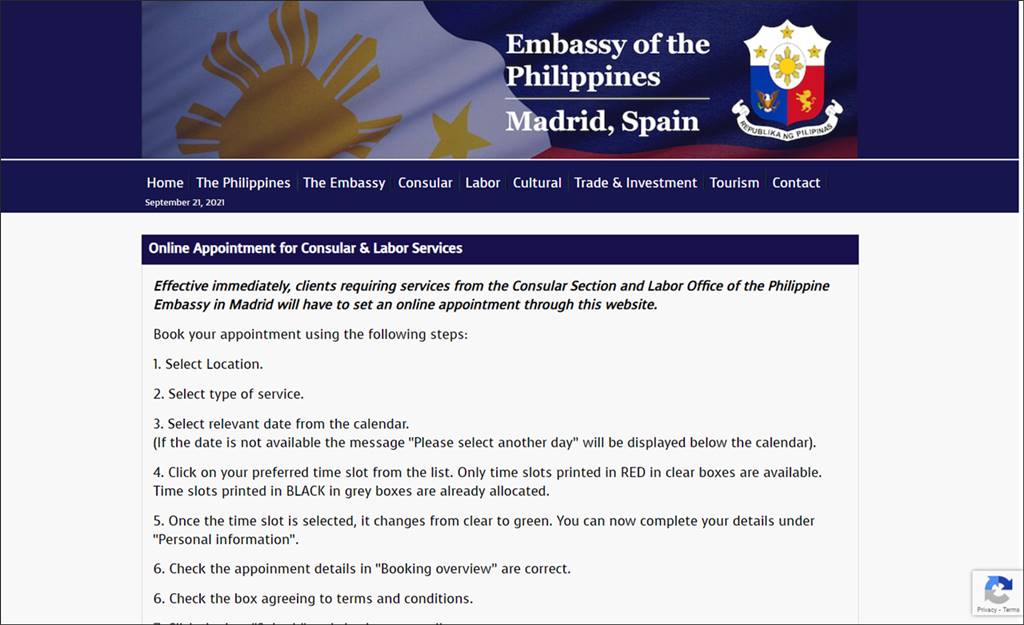 Step 3: Scroll down to see the information needed to be filled.
Step 4: Choose a location.
Step 5: Decide on the sort of service you require.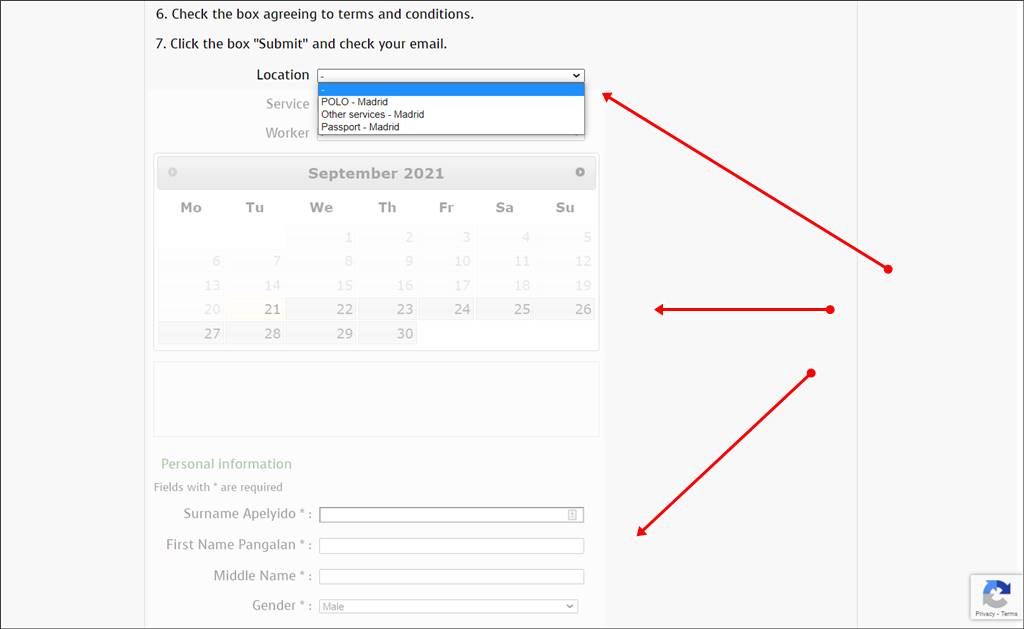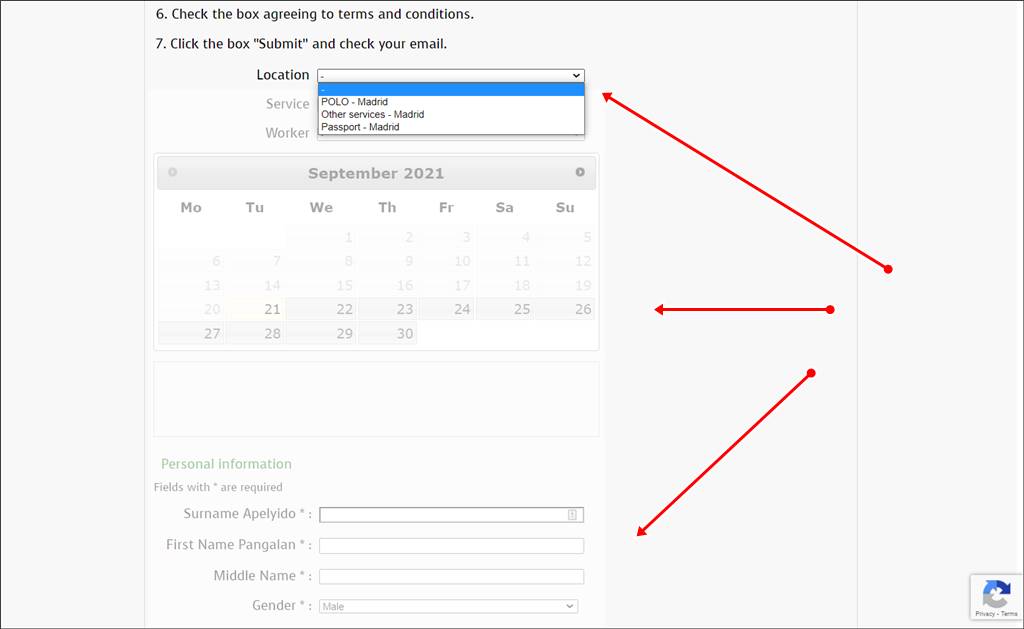 Step 6: Choose a date on the calendar that corresponds to the event. (If the date is not available, so the message "Please select another day" will appear below the calendar if it is.)
Step 7: From the drop-down menu, select the time slot you desire. There are just RED time slots in transparent boxes available. Time slots in grey boxes that are printed in BLACK have already been assigned.
Step 8: The color of the time slot picker switches from clear to green once you've picked it. You can now finish filling out your personal information under "Personal information".
Step 9: The appointment information in the "Booking overview" should be checked to ensure it is accurate.
Step 10: Check the box indicating that you have read and agree to the terms and conditions before continuing.
Step 11: Check your email after clicking "Submit" on the form's final page.
How to Pay OWWA during Appearance in POLO-Spain
During the day of your appearance, please follow the simple steps to get your OWWA active at the POLO office:
Step 1: Present your appointment for entry.
Step 2: Present your documents to the OWWA counter.
Step 3: Pay the OWWA fee.
Step 4: Collect your receipt. Your membership is valid for 2 years.
How to Renew OWWA Membership in Spain via Online Submission
Last May 2020, the POLO-OWWA Madrid announced that they opened an option to renew OWWA via online submission.
Due to the crisis, first-time applicants of OWWA are given an opportunity to process the OWWA via an online/web-based application. There is a corresponding video conference call for the applicants in order to verify their identity and status as an OFW.
The OWWA membership fee will be paid via bank transfer, remittance, or other means that do not require any personal appearance. Please check out the post-announcement below: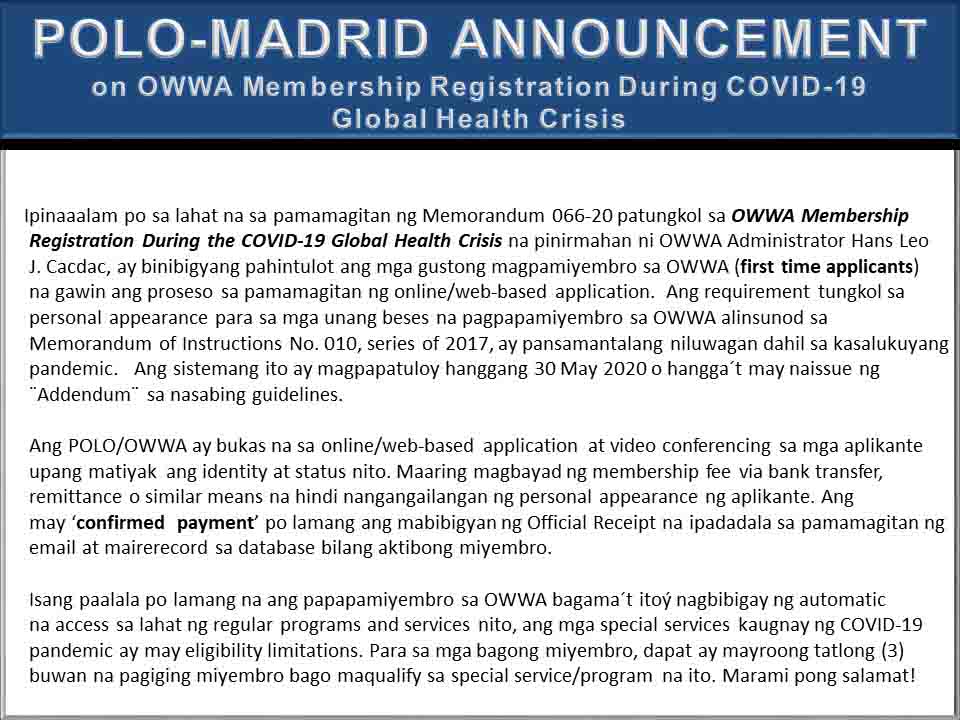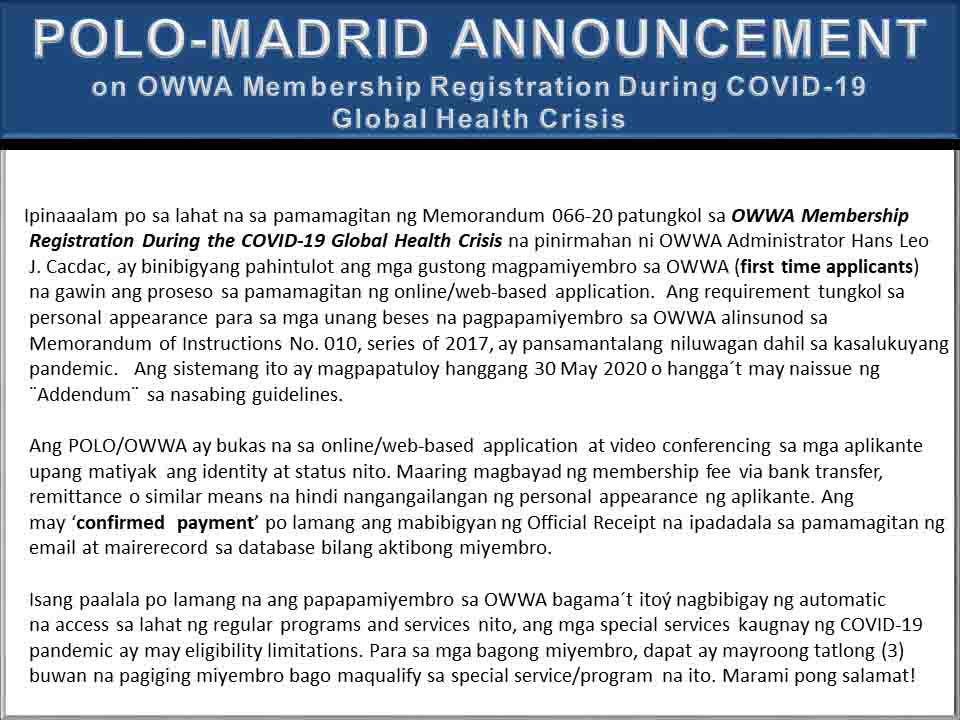 Applicants who have confirmed their payment will be given an Official Receipt and will be sent to the OWWA member via email.
The new applicants of OWWA are advised that they can only take full advantage of the full OWWA benefits after 3 months of activating their membership.
POLO-Madrid Outreach Missions
From time to time, the Philippine Overseas Labor Office in Madrid conducts POLO missions together with the PH Embassy's Consular outreach activities. These are events where they go out and visit other areas in the country in order to provide services to OFWs near the area. Some places include Barcelona, Tenerife, etc. After all, not all OFWs are able to visit the POLO office due to their current location.
Take for example this current mission in Tenerife below. They mention that there is a need for an appointment and there are instructions on how to make an appointment for OWWA renewal in the said post:
So in order to be aware of the POLO office will have these outreach events, please make sure to follow the FB Page of the PH Embassy in Spain and also the FB Profile of POLO-Madrid.
Important Reminders
Here are some guidelines and tips about the process of OWWA renewal in Madrid.
Please double-check that your requirements are accurate and complete. Requirements that are not full will not be handled.
For more information, see Madrid, Spain Embassy Facebook Page here – https://www.facebook.com/PHinSpain
After three (3) months of membership, new OWWA members are entitled to participate in OWWA's regular activities and services, as well as special programs.
If all of the documentation is incorrect, the Certificate of Membership Coverage can be issued immediately.
Here is a video shared by a Filipina who recently registered her OWWA membership in Madrid. This is a new video and she outlines the steps that she made in order for her to become an active OWWA member. Please be guided below.
https://www.youtube.com/watch?v=p-6voikAbFk
Check out this video from a Filipina worker based in Spain and how she shares the benefits and importance of the OWWA insurance for active members. Please see the clip below:
Frequently Asked Questions
Here are some common questions and answers when you process your OWWA account membership at POLO-Spain.
1. Can I directly go to the OWWA-Madrid Office?
It is advised that you should check out the latest updates from the POLO-Madrid page in order to check what is the current procedure. This FB page posts information on current activities whenever there are POLO Outreach missions in your area.
There is currently a set-up process in booking an appointment online. But you may also show up in the POLO activities whenever they have outreach missions in other parts of Spain. The POLO Madrid FB Page is this – POLO Madrid FB Profile
2. How much does the OWWA membership fee cost?
The OWWA membership contribution shall be Twenty-One and Thirty-One Hundredths Euro (€21.31).
3. Is it okay if I bring a friend along?
No, only the person with a scheduled appointment was allowed in the building.
 4. What if I live outside Madrid?
You may send an email to OWWA Madrid email address for further instructions – spain@owwa.gov.ph. Please be advised that the Philippine Embassy in Madrid also conducts Consular Outreach activities so together with other PH government agencies, they also go to other areas of Spain in order to provide POLO-OWWA services. So you have to stay updated with their FB page in order to get the latest updates on when are the next activities.
Contact Information
POLO-OWWA Madrid, Spain
Main Address: Calle Serrano, 161, Planta Baja, 28002 Madrid
Telephone Number/s: OWWA: (34) 917-818-626, POLO: (34) 915-776-755
Email: spain@owwa.gov.ph, polo2013.spain@gmail.com
Website: https://www.philembassymadrid.com/
Facebook Page: https://www.facebook.com/PHinSpain/
POLO Madrid FB Page is this – POLO Madrid FB Profile
Google Map Location
Below is the map guide location of the POLO-OWWA office in Madrid. The office is near Metro Republica Argentina). You may take public bus Bus: 51, 7, C1 & C2 or take the metro and stop at Republica Argentina station: