Filipinos based in Oman who are wondering how to secure an OEC, the Philippine Overseas Labor Office is the government agency handling this process. Here we share the requirements, qualifications, fees, and overall procedure on how you can apply for an OEC/Balik Manggagawa certificate at the POLO-Muscat office.
OFWs must know about the importance of OEC. Once you have a chance to go on a vacation in the Philippines after long years of work and if you are going to return to Oman, you need an OEC to travel back. You will not be permitted to travel as this is one of the document requirements when you are at the airport.
Also Read: How to Renew OWWA Membership in Muscat, Oman
The basic guidelines to get an OEC is very easy to follow. As long as you have the instructions, there's no need to worry about the process. If you are in Oman, you can follow POLO or OWWA's guideline as to how you can get one. Let's take a look at the steps, requirements, qualifications, and other things you have to consider.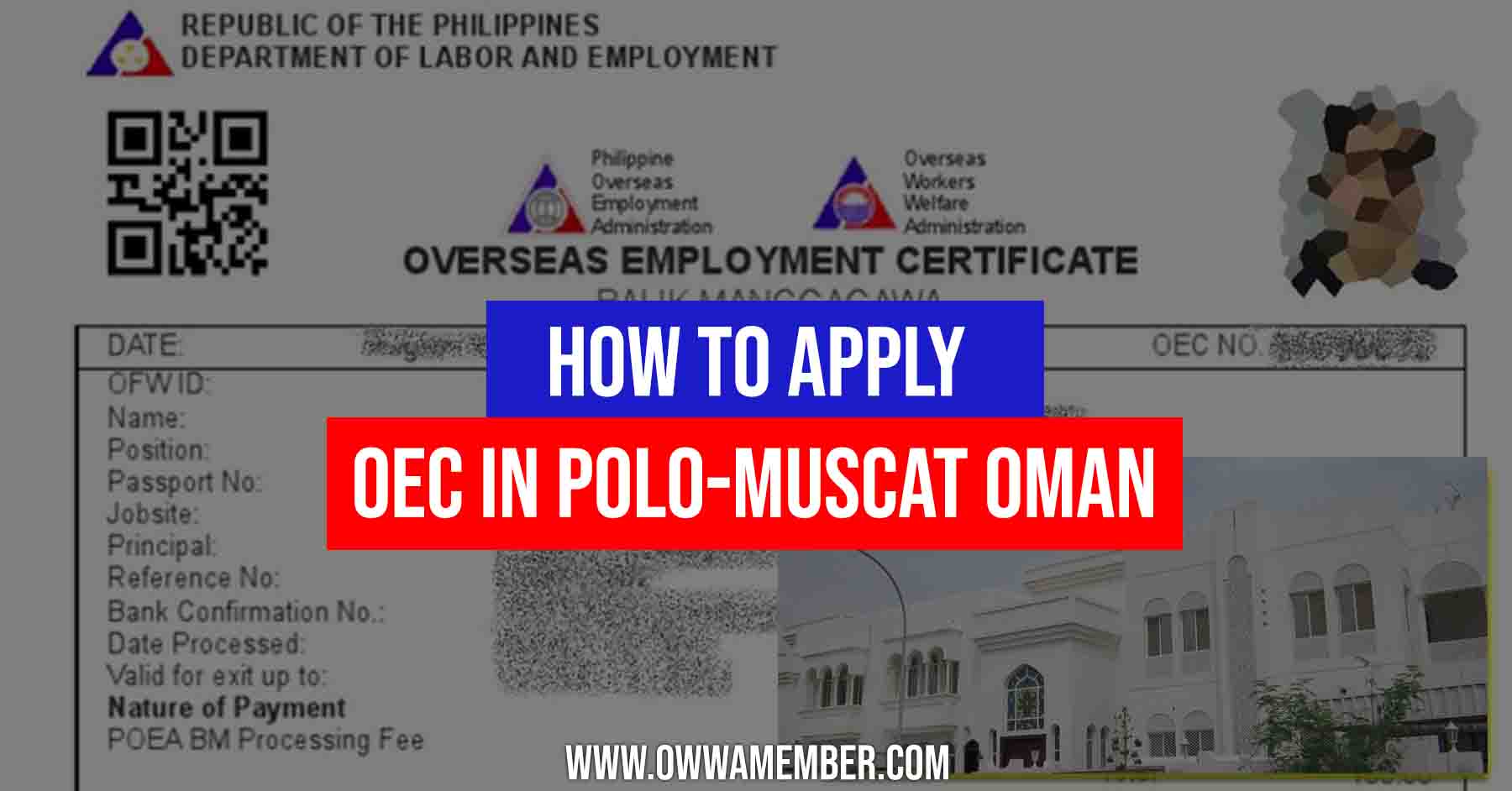 OEC / Balik Manggagawa Explained
The Overseas Employment Certificate (OEC) is a prerequisite under the Philippine Overseas Employment Administration's (POEA) rules and regulations to make sure that Overseas Filipino Workers (OFWs) are protected and properly documented. The OEC, often known as an "exit pass," must be presented to international airports in the Philippines as proof that the possessor is a legal OFW. Having OEC is required if a Household Service Worker (HSW) or other OFWs spend a little time in the Philippines and return to Oman.
Balik Manggagawa worker who secured OEC is free from paying the airport terminal fee and the travel tax.
The OEC can be obtained through the nearest OWWA/POLO office to their workplace and in the Philippines or using the online processing platform or the POEA Online Processing System for Balik-Manggagawa (POPS-BaM).
OEC is valid (60) sixty days from the date of issuance.
Requirements
These requirements are for those who need to get OEC in POLO Oman. You should know what to bring when going to the physical office of POLO to avoid the hassle later on. Don't forget to bring these documents when getting your OEC.
Printed POPS-BaM Appointment Sheet
Valid and appropriate working Visa
Valid passport
Airline Ticket – indicating the dates of arrival and departure
Valid OWWA Membership official receipt
POLO verified Employment Contract
Note: The employment contract must be verified and authenticated by the Labor Attache in POLO. Having an unverified employment contract in your compiled requirements can cause a conflict when securing OEC at the POLO office. POLO Oman wouldn't issue OEC to OFW or Balik Manggagawa (BM) without a verified employment contract as it is pursuant to the guidelines to obtain OEC.
In case you have your OEC appointment at POLO and you don't have a verified employment contract yet, please provide the following to get :
Three (3) copies of the Employment Contract
Copy of Valid Passport
Copy of Visa stamp invalid passport
Copy of labor I.D/card of the worker
Verification of contracts takes place first upon acquisition of OEC.
Qualifications
OECs are required requirements for both the following:
Filipino domestic workers; and
Skilled professional workers.
They must obtain their OEC if they are returning to Oman to continue their contract after a short vacation in the Philippines or returning to Oman to work with the new employer. If you are a Filipino domestic worker in Oman or a skilled professional worker, you are qualified to obtain an OEC so you can continue working in Oman.
Cost of OEC in Oman
These are the fees that you may spend when securing OEC at POLO Oman:
One (1) Omani rials for OEC processing fee
Four (4) Omani rials for verification of contract (if ever you don't have POLO verified contract)
Ten (10) Omani rials for OWWA Membership fee of 2 years (if ever you don't have valid/updated OWWA Membership)
How to Apply OEC Balik Manggagawa appointment in POLO-Oman
Scheduling an online appointment can save you from falling in line when you have to get your OEC. Plus, it's already the new process of POEA and POLO in terms of getting an OEC. In making an appointment, you should register first in POEA Online Processing System for Balik Manggagawa (POPS-BaM). This is one way you set a schedule for the specific date and time when going to the POLO office in Oman.
For those OFWs who don't have their registration yet, just follow these simple steps in creating an account in POPS-BaM:
Go to your browser and type https://onlineservices.dmw.gov.ph/OnlineServices/POEAOnline.aspx in the URL
Click on Let's Go
Click on "Register" for new users ( just log in if you already have an account )
Then click "I accept the terms of use."
Fill out the required information and then click register. (a message will display indicating that your registration was "Successful")
Log in to the email address you provided when you registered (there is a message containing your "temporary password")
Return to the link provided in Step 1 and login using the registered email address, then click "next."
Use the temporary password sent to your email, then click "log in."
Set the password you want
Update your profile by clicking "My Profile," after completing your profile, click "Update Profile" on the upper right side of the page
Add your Identification and Beneficiary
Attach profile picture and passport
The guide below is for setting an appointment at POLO Oman. Those with successful registration and already have their record in the POEA database can follow the steps below:
Log in to your POPS-BaM account (https://onlineservices.dmw.gov.ph/OnlineServices/POEAOnline.aspx)
Click "Balik-Manggagawa," located at your top right-hand side.
Input your next flight date, and then click "next."
You will be asked if you are returning BM to the same employer (if yes, you can print your OEC, if no, proceed to step 5)
Accomplish your contact details with true and correct information to the best of your knowledge.
After clicking "Submit," select POLO-Middle East, and then Oman(Muscat).
Then choose an available Appointment Schedule.
You now have an Appointment with POLO. You can print or cancel your appointment.
Note: If you already have your OEC obtained lately, you don't need to set an appointment at POLO to get a new OEC. Just log in to your POPS-BaM account and update the necessary information. The system will notify you if you are qualified for OEC Exemption and if yes, you can print your OEC online without paying the processing fee.
How to Apply for OEC at POLO-Muscat Oman?
These are the steps if you qualify to get your OEC at POLO Oman. Please be guided accordingly.
For those who have an appointment:
Step 1. Go to window number 1 and present all the requested requirements.
Step 2. After the evaluation, pay one (1) Omani rial for the processing fee of OEC
Step 3. Log in to your POPS-BaM account, go to the "My Transaction" tab and then print your OEC.
For those without an appointment:
Step 1. Present the following for evaluation:
Valid and appropriate working Visa
Valid passport
Airline Ticket – indicating the dates of arrival and departure
Valid OWWA Membership official receipt
POLO verified Employment Contract
Step 2. After evaluation, get a queue number and wait for your turn to use the computer for registration and make an appointment at POPS-BaM.
Note: This may require you to have an active personal email address.
Step 3. After registration and appointment, pay one (1) Omani rial for the processing fee of OEC.
How to get OEC Exemption in Oman?
To obtain an OEC exemption, log in to your POPS-BaM account before your scheduled return to work. Then, under "Acquire OEC or Exemption," choose "Acquire OEC or Exemption." The system will display a confirmation message that includes your BM Exemption number and pre-departure advice on which documents to carry to the airport if you are qualified.
The qualified BM worker to obtain OEC exemption:
Already have an account and employment information in POPS-BaM
Have OEC number before
And returning to the same employer in Oman
Video: Applying for an OEC in POLO Oman
Here's a video of Balik Manggagawa about her experience in obtaining OEC in Oman.
Frequently Asked Questions
Please check out these frequently asked questions and answers about the process of getting the overseas employment certificate if you are based in Muscat, Oman:
1. Can I use OEC multiple times?
No. The OEC is for single use only. It can't be used again once it is presented to the Bureau of Immigration (BI).
2. What If I lost my OEC copy?
You will not be permitted to obtain a new OEC to replace the one you have lost. If you received your most recent OEC through a walk-in application, you must file a notarized Affidavit of Loss to the POLO office in your host country. Request a certificate that includes the information on your most recent OEC. To avoid this from happening again, obtain an OEC using the POPS-BaM. This way, you can keep an online duplicate of your OEC and print it if you misplace it.
3. What is OEC exemption?
OFWs qualified as exempt are not required to get an OEC and pay the POEA processing fee. If you are granted this exemption, the process of your documents at the airport before leaving will be hastened.
4. What should I bring to the airport aside from my OEC?
Don't forget to bring your Visa, Passport, and other travel documents.
Summary
The steps and procedures above are easy to do to obtain OEC. Getting your OEC prevents you from other charges that may take place at the time of your flight returning to Oman. If you want to enjoy the benefits of having an OEC, follow the steps above for a more convenient process.
While in Oman, don't forget to spend time getting your OEC so you can have more time to do the other things you need to accomplish. While enjoying your vacation in the Philippines, you can follow the process above to get your OEC and come back to Oman without problems.
Contact Information
POLO-Oman
Address: House No. 1045, Way No. 3015, Kharijiyah Street, Al Shatti Qurum, MSQ, Sultanate of Oman
Working Hours: Sunday to Thursday 8:00 am to 3:00 pm
Website: http://polomuscatoman.weebly.com/
Email address: polomuscat@gmail.com
Contact numbers : +968-9355-7931 / +968-7990-5211 / +968-2460-5171
Facebook Page: https://www.facebook.com/POLOmuscat/
Google Map Location
Below is a map guide to the location of POLO-Oman office: