Filipinos who are based in Lebanon and want to renew their OWWA account can visit the Philippine Overseas Labor Office (POLO) in Beirut. The POLO-Beirut office is located in the same building as the Philippine Embassy in Lebanon. Please be guided on the process for OWWA membership renewal below.
The Philippines and Lebanon first established diplomatic ties in 1946. OWWA-Beirut, Lebanon's major purpose is to protect the rights of overseas Filipino workers in Lebanon under Philippine and Lebanon labor laws, norms, and standards, as well as their employment contracts.
OFWs are eligible for OWWA benefits, which include welfare benefits in times of need. The contribution fee for OWWA membership will be $25.00 USD, and it will need to be renewed every two years.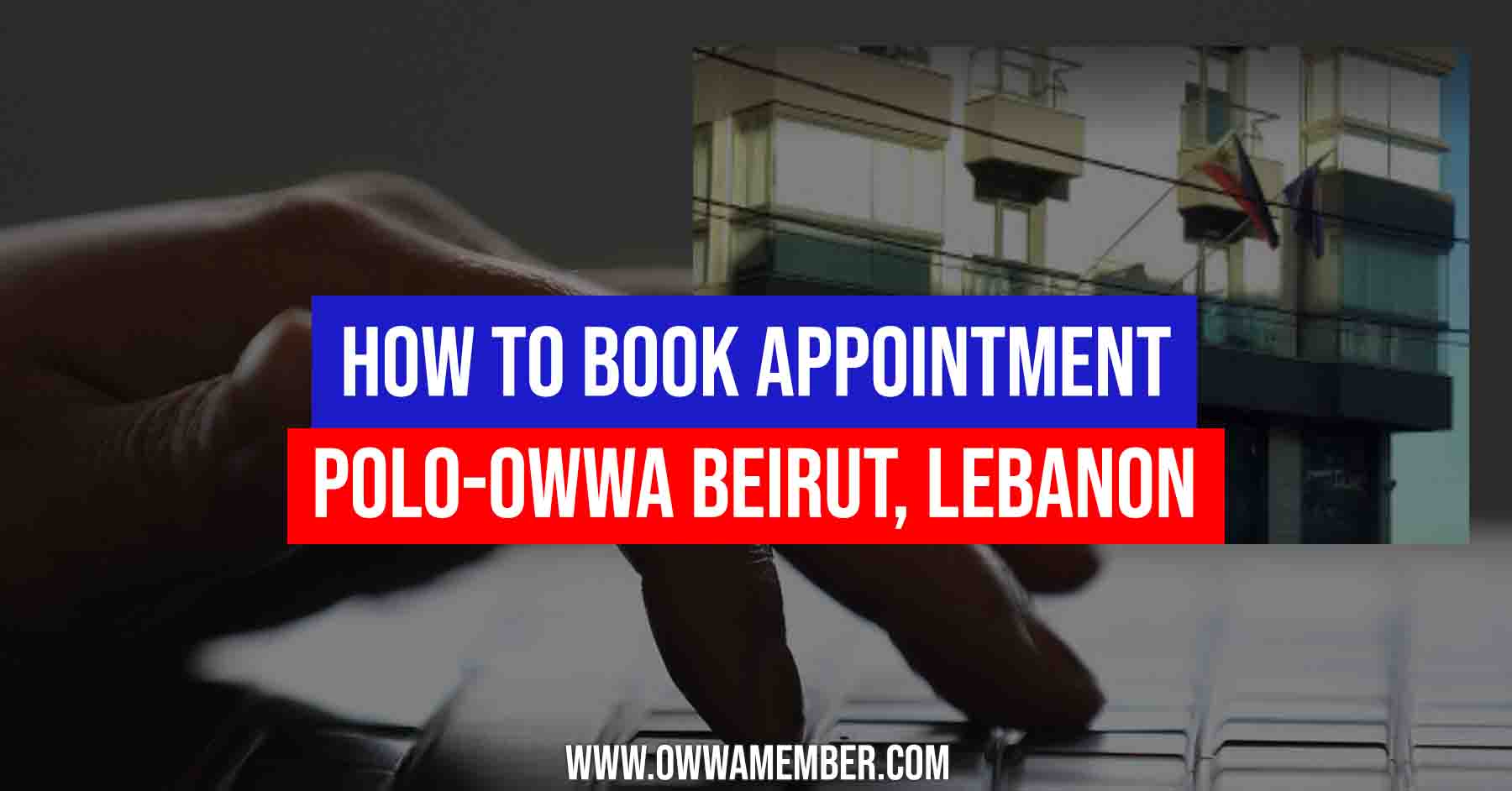 Amount of Contribution
The OWWA membership contribution fee will be the equivalent of $25.00 US Dollars.
Membership Validity
Each contribution is valid for two (2) years, regardless of the length of the contract, the change in employer, location of employment, or recruitment agency. If proof of employment is provided, OWWA membership must be renewed after that.
Requirements
Please see the following requirements in order to renew your OWWA in Lebanon:
Completed OWWA OFW Information Sheet.
A photocopy of the Philippine passport with a photo, name, and signature.
Copy of current employment contract or Certificate of Employment.
Copy of employer's ID or passport.
Membership contribution will be the equivalent rate of 25 US Dollars.
How to Schedule an Appointment for OWWA Renewal in POLO-Beirut, Lebanon
Please check out the following procedure when you schedule an OWWA appointment before going to the POLO-Beirut office.
Step 1: Verify the status of your OWWA membership by calling the OWWA-Beirut, Lebanon office at +961 05953524.
Step 2: Schedule an appointment to pay the OWWA renewal fee.
Step 3: Before visiting the OWWA-Beirut, Lebanon office, double-check your appointment time.
Step 4: Present your completed documents at the OWWA counter.
Step 5: Pay the membership fee to the OWWA.
Step 6: Receive your OWWA renewal receipt.
How to Renew OWWA Membership in POLO-Lebanon
Please check out this flowchart process as shared by the Philippine Overseas Labor Office in POLO-Lebanon about the steps when validating your OWWA membership, what requirements you need to bring, and the overall process of how to renew your OWWA.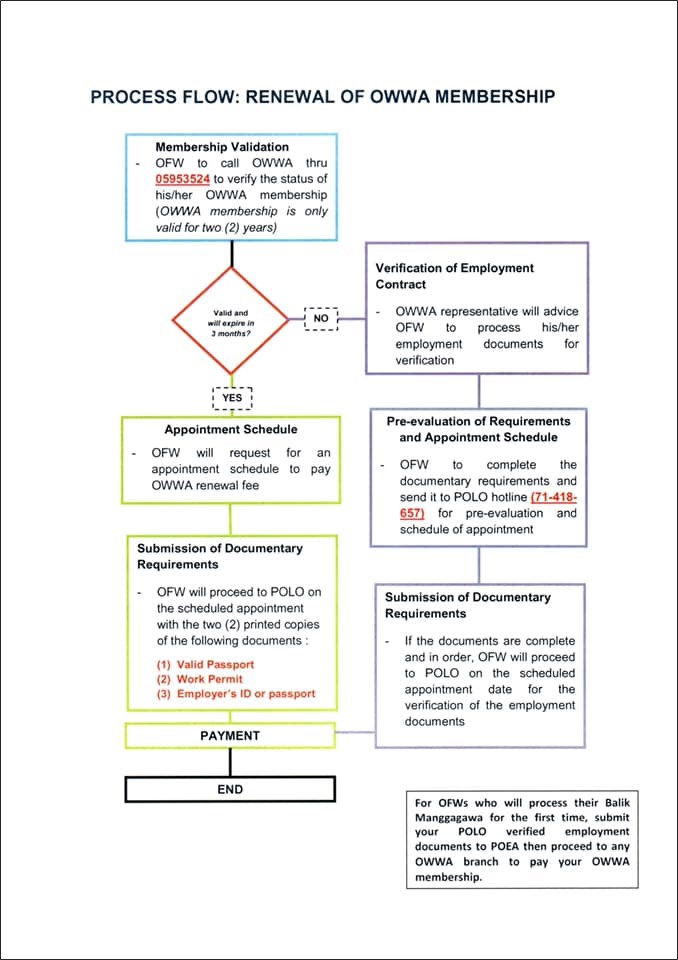 Based on the flowchart above, you need to contact the POLO Lebanon office first in order to validate if you need to visit them for OWWA renewal.
Note: Please check as well and visit the OWWA membership counter if you are able to renew your OWWA once you have an appointment for other services at the PH Embassy.
In case you are visiting the embassy for passport renewal, OEC application, verification of contract, etc, you may be able to renew your OWWA account as well since you are already inside the PH embassy.
So please be guided with this added process as well. The situation may change depending on the policies of the country so always stay tuned for updates from our PH government for any changes.
Video: Filipina Goes to Philippine Embassy in Lebanon to get "Ayuda" Assistance
Check out this video clip below which details the experience of a Filipina and her friends going to the Philippine Embassy in Lebanon. These are two videos posted and 2nd video below shows them getting the Ayuda (assistance) from our PH Embassy. Our PH Embassy in Lebanon also houses the POLO-Lebanon office.
The Filipina shares that they are lucky to have gotten assistance from our PH government. After the crisis that has impacted the globe, any form of support is very much needed.
Important Reminders
Here are some reminders and guidelines about the OWWA renewal process and what you should need to take note of when processing this OWWA in Lebanon:
Requirements that are not full will not be handled.
If you're heading to the OWWA-Beirut, Lebanon office, make sure you are wearing appropriate attire so you will be allowed inside this government office.
To download the OFW Information Sheet, go to this link.
New OWWA members are eligible to engage in OWWA's regular activities and services, as well as special programs, after three (3) months of membership.
Frequently Asked Questions
Here are some common questions and answers about renewing OWWA in Beirut. Please take note of these questions and answers for your reference:
1. Who should I contact if I have any additional questions?
You can contact the OWWA-Beirut, Lebanon office by sending an e-mail to lebanon@owwa.gov.ph, sending a message, or calling +961 05953524.
2. Can I directly go to the OWWA- Beirut, Lebanon Office?
OWWA-Beirut, Lebanon requires that you make an appointment before visiting the OWWA office. Bring your completed documentation with you when you enter, wear a facemask, and keep your social distance from others.
3. How much does it cost to join the OWWA?
The OWWA membership fee will be the equivalent of $25.00 US Dollars.
4. When is the office going to be open?
The OWWA Beirut, Lebanon office is open Monday through Friday from 9:00 a.m. to 4:00 p.m. (except during the Philippine and Lebanese Holidays).
Summary
So this is the process of renewing OWWA at the POLO office in Lebanon. May we remind everyone that it is very good to keep your OWWA account active to maintain the maximum benefits you can get as a member.
As an OFW based in Lebanon, please follow the rules and policies currently put in place about visiting the office before visiting them. On another note, you may also renew your OWWA by registering in the OWWA Mobile App.
Workers in Lebanon may also renew their OWWA membership by having their family members in the Philippines submit the document requirements to the nearest OWWA Regional Welfare office.
Contact Information

POLO-OWWA Lebanon
Address: 2nd Floor W. Building, Mar Geries St.,  Hadath, Baabda, Lebanon
Contact Number: POLO: +961 05953519 locals 202, 203, OWWA: +961 05953524
Email: POLO: pololebanon@yahoo.com, OWWA: lebanon@owwa.gov.ph
Website: https://pololebanon.weebly.com/, https://beirutpe.dfa.gov.ph/
Facebook Pages: https://www.facebook.com/pololebanon/, https://www.facebook.com/PHinLebanon/
Google Map Location
Please check out the map guide below of the location of the Philippine Embassy in Beirut, Lebanon. The POLO-OWWA Lebanon office is on the 2nd-floor building: