In case you want to know how to use the OWWA mobile app and renew your OWWA membership online as an OFW, this article guide will help you. The OWWA Application can be downloaded via Android or via App store. The purpose of this mobile app is that it provides easy access to information about OWWA programs and services. You can also renew your OWWA membership via mobile app which makes it more convenient for you to become an active member.
Also Read: How to Get an Overseas Employment Certificate (OEC) for OFWs
The Overseas Workers Welfare Administration (OWWA) is a membership organization and an affiliated agency of the Department of Labor and Employment (DOLE). Overseas Filipino Workers (OFWs) and their dependents are protected and promoted. It was founded in 1977 under the name Welfare and Training Fund for Overseas Workers. OWWA, has 31 overseas posts in 27 countries. It is also represented in each of the seventeen regions.
OWWA is dedicated to the welfare of OFWs and their families. It can be found at all three stages of migration: prior to departure, on-site, and upon arrival. OWWA trains first-time employees on the realities of working in a foreign country before they depart. They also receive basic language training depending on the country where they will be working.
OWWA also helps OFWs in other countries when they have problems with their employers. Finally, when the OFWs return, OWWA is prepared to assist them with livelihood training and programs. So it is vital that as an OFW, you keep your membership active and OWWA has provided the mobile app in order to make it easier for OFWs to access and renew their account.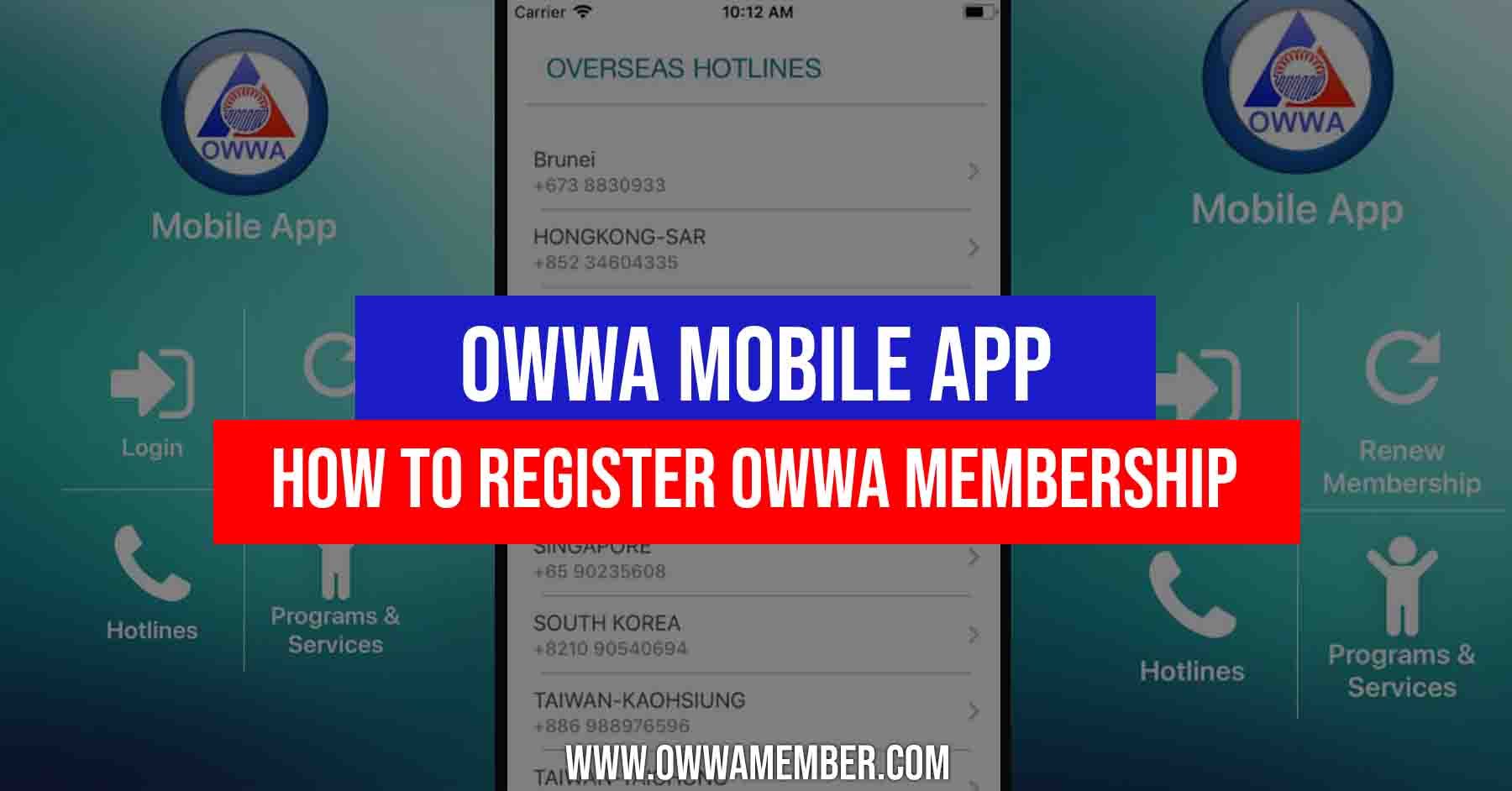 OWWA Membership Requirements
In case you want to know the things you need to secure to activate your account, please see the list of general membership requirements below:
OWWA OFW information sheet — visit the agency's website to download and print the information sheet (owwa.gov.ph) – Note: To register in the Mobile App, you can easily just enter your details in the app itself.
A photocopy of a passport page with a photo and personal information.
Employment Pass or Work Permit Card
Employment Contract
Membership Fee of 25 USD. (varies depending on destination country's foreign currency equivalent, ranging from Php 1,000 to Php 1,500)
Step by Step Guide: OWWA Mobile App Membership Registration
Please follow the step by step process on how you can install the app, log in, register, and renew OWWA member account via your smartphone:
1. Install the OWWA Mobile Application
You have 2 options where you can install the mobile app, depending on the phone you use: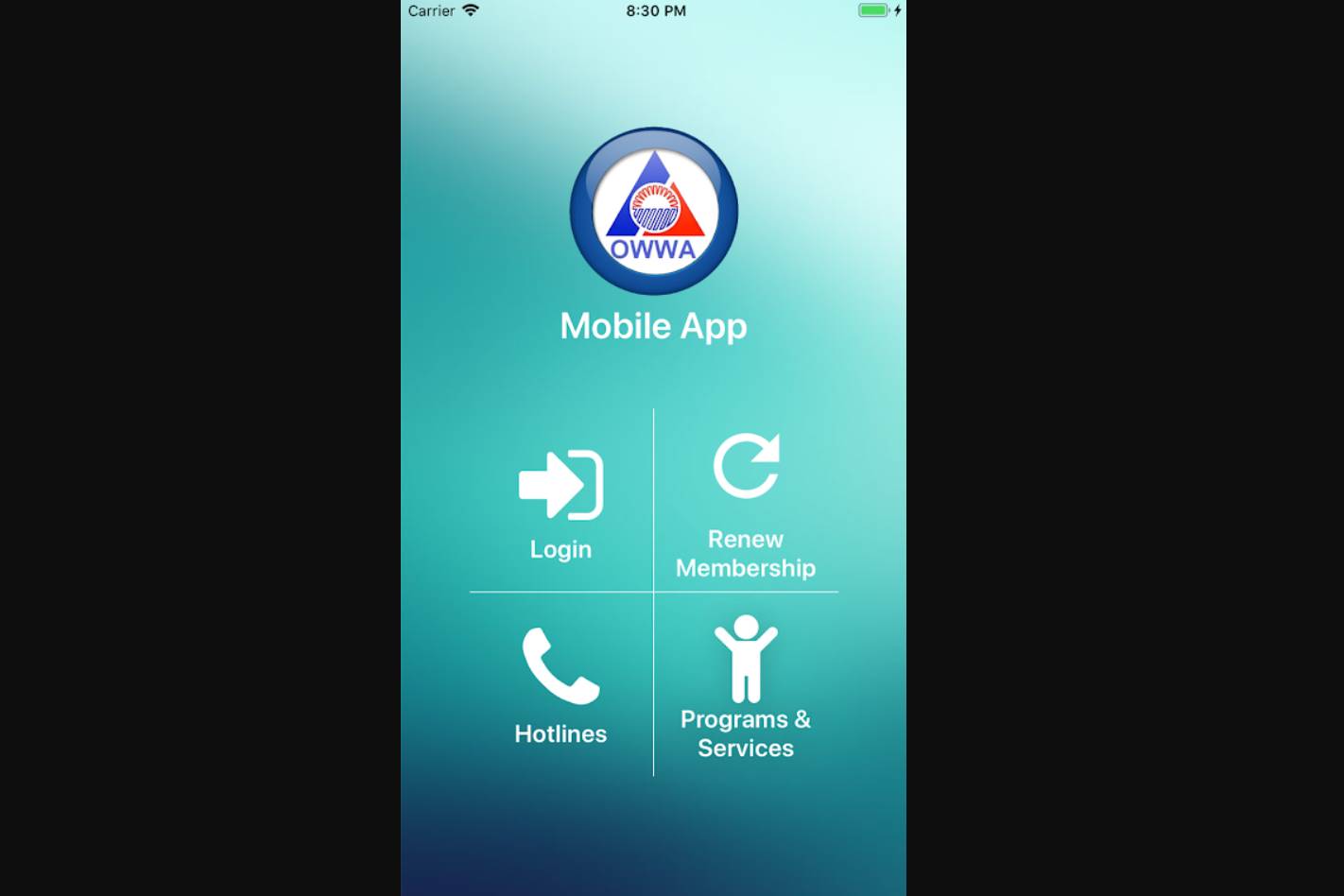 2. Register for an account or log in to your account
Below are the steps to register for your account:
Tap the Login icon in the OWWA Mobile App.
If not registered yet, click the "Don't have an account? Sign up here" button. Or enter username and password to log in.
Complete the registration form by entering the relevant information and pressing the Register button.
You'll get a notification that you've been registered. The login information will be sent to you through email.
Open the OWWA Support email that has been sent to you. It contains your account's username and password.
Return to the OWWA Mobile App. To log in, use the username and password you were given when you created your account.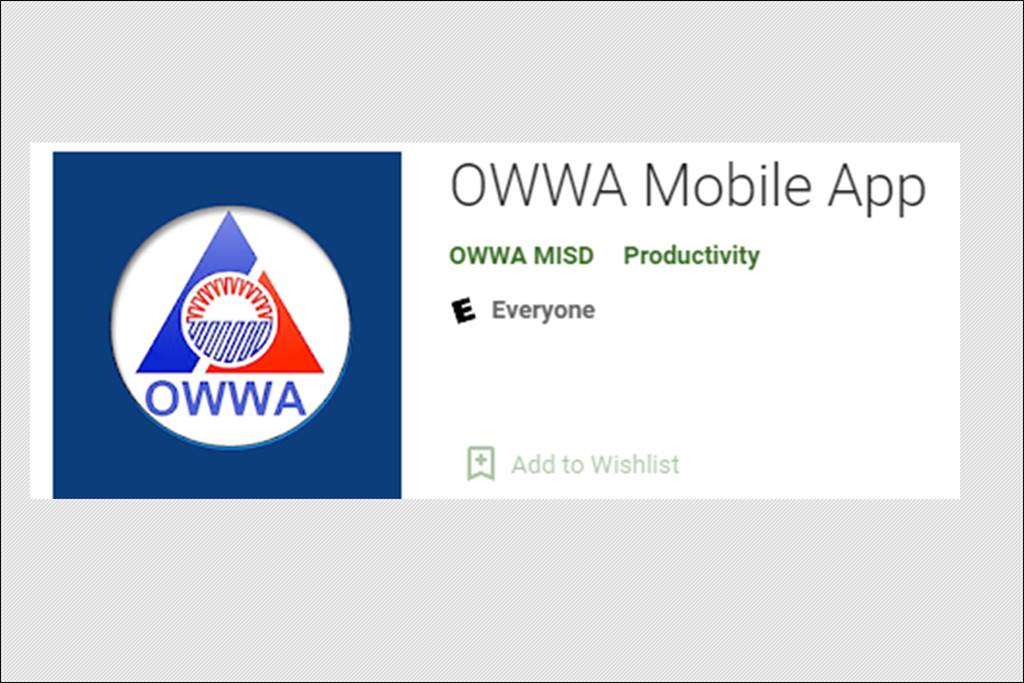 3. Verify your OWWA membership status online
Go to the Information tab to see if you're an OWWA member. If the status is ACTIVE, your membership will be valid until the given expiration date, but if the status is INACTIVE, you will have the choice to renew your membership. Tap the Renew Membership Here! button to renew your membership.
4. Pay for renewal of membership
A new window will appear. The majority of the information has already been entered. Simply enter your employment position and the contract period, then press the SUBMIT button.
You have four choices when it comes to paying your membership renewal fee:
LandBank/OFBank ATM Card
BancNet
Cash Payment
Other Banks via PCHC PayGate
5. Confirm your membership status
Go to the Information tab to see if you're an OWWA member. Once the money has been received, the status will change to ACTIVE, and the validity date will be updated as well. You can also lookup the OR number and date of the most recent payment in your payment history.
So that's it, this 5-step process is actually quite easy so you can access the services available in the OWWA application.
List of Features & Services Available in the OWWA App
So what can you expect when you access this app? In case you are wondering what are the services and benefits of downloading the mobile app, please check out the following items below for a list of features:
Access OWWA profile
Check your latest employment contract
Pay for OWWA membership fee
Access your transaction history
Check FAQs and Important OWWA details and contact information.
View your passport
4 Ways to Pay OWWA Membership Fee in Mobile App
As mentioned, there are numerous ways you can settle and renew your account. OWWA has tried to offer as many options as possible to make it easier for OFWs to pay for their account. Here are OWWA membership payment options:
1. LandBank/OFBank ATM card
Pay with your LandBank/OFBank ATM card online. Below are the steps for payment of OWWA via Landbank or OFBank ATM account:
Tap the Submit button after entering your LandBank or OFBank account number.
Check the box next to the Terms and Conditions and enter the One-Time Password that was provided to your registered phone number.
Finally, input the pin number for your ATM card and click the Submit button.
It displays the payment confirmation and transaction details if the payment is successful.
2. BancNet
BancNet is also a payment option. Below are the steps to pay OWWA via BancNet:
Go to the Payment Options page and select BancNet.
From the drop-down box, select the bank and enter the ATM card number. After you've double-checked everything, press the Submit button.
List of BancNet Banks you can access:
Asia United Bank
BPI Direct BanKo
CTBC Bank
Citystate Savings Bank
DBP
Enterprise Bank
Entrepreneur Bank
Equicom Savings Bank
Luzon Development Bank
MASS SPECC
Malayan Bank
Overseas Filipino Bank
PBCom
Philippine Business Bank
Philthrust Bank
Sterling Bank of Asia
Sun Savings Bank
It displays the payment confirmation and transaction details if the payment is successful.
3. Cash via Payment Facility
Cash is accepted as payment and you just need to go to the payment center. You will need to present a printed transaction before going to the payment center. Below are the steps for OWWA cash payment:
In the Payment Option option, choose Cash Payment.
Select the method of payment from the drop-down menu.
Review the payment information before pressing the Proceed button.
Print the transaction information and go to the payment facility to pay the appropriate fee.
4. Other Banks
Paying with a different bank. You just need to choose your preferred bank to pay the OWWA membership fee. Here are the steps for paying via "Other banks":
Go to the Payment Options page and select Other Banks.
Decide which bank you wish to pay the charge to.
To finalize the purchase, follow the on-screen instructions.
It displays the payment confirmation and transaction details if the payment is successful.
Important Reminders when using OWWA App
Here are some important guidelines and reminders to be aware of when using the OWWA App.
OFWs will be provided with instructions on how to pay their OWWA membership dues (Php 1,000 to Php 1,500).
The e-receipt will be sent to OFWs via their e-mail addresses.
New OWWA members are entitled to participate in OWWA's regular activities and services, as well as special programs.
Frequently Asked Questions
Below are some common questions and answers about the mobile application registration in OWWA. Please be guided accordingly.
1. How much is the OWWA membership fee?
The membership fee varies from Php 1,000-Php 1,500. Take note that the membership is basically USD 25 every 2 years. After your registration in the mobile app, you can ask your family to deposit the payment in selected payment centers.
2. How do I download OWWA Mobile App?
In order for you to register via smartphone, you need to download the OWWA App (Google Play for Android users and App Store for Apple users). Log in or sign up to register
3. Why there's an error occurring upon registering in the OWWA mobile app?
You'll receive an "alert" notification on your screen, followed by a notification that you've been registered. You will receive the login information via email.
4. Is the OWWA Mobile App the same as OWWA Uwian Na App?
No, these are 2 different apps managed by OWWA. OWWA Uwian Na is intended to assist OFWs who need assistance to go home to the Philippines in time of the pandemic. The OWWA mobile app is the regular app used for all OFWs to check and get updates on OWWA services and programs.
For additional questions, you may contact your nearest OWWA regional office if you are in the Philippines, or contact the POLO-OWWA office based in the PH Embassy/Consulate where you are working.
5. What if I don't have a smartphone, how do I check the status of my OWWA?
If you are do not have a smartphone yet, the other options for you to renew your OWWA would be to visit the POLO-OWWA office in your work country, or check the OWWA welfare office when you go home to the Philippines, or renew your OWWA membership online via computer.
6. What major benefits can I get from the OWWA Mobile App?
If you have your mobile app, you can renew your OWWA membership and pay via App, check the OWWA projects, find the contact information to call the office in case you need assistance.
Video: OWWA App on your Smartphone
Here are some important videos to know what to expect when you use the OWWA mobile app as shared by Filipino bloggers who have downloaded and installed the app on their smartphones.
This first video clip shows a step-by-step guide on how you can sign up for the OWWA mobile app, and also check the status of your OWWA membership if it is active or expired. Please watch the clip below:
Here's another video showcasing the online registration of your OWWA account via the mobile app. Please be guided accordingly:
Here's another video of an OFW informing other Filipinos on how to register in the OWWA application. The vlogger mentions that this is a very important app for OFWs to help manage and renew your membership in OWWA.
Summary
So as you can see, the OWWA mobile app makes it more convenient for OFWs to access and pay for their membership. You do not have to go to a money exchange center or go to the nearest Philippine Consulate or Embassy in your country for the OWWA office abroad. You also do not have to go to the nearest OWWA Regional Welfare office in your province. You can simply go and use your smartphone and ask your relatives to pay on your behalf.
We do not want to force any Pinoy to download the app if he or she is not comfortable with it. Instead, we just want to share this information and process guide as this Philippine government agency is doing its best to provide more accessible services and programs, as well as reach out to more Filipinos.
In this digital age, let us all use our time wisely and ensure that we make maximize our days off and vacation leaves. Instead of going to any office, we can just access these OWWA services using our smartphones. We hope that this article has helped you understand better how you can use the OWWA app for your convenience.