The Overseas Workers Welfare Administration has been doing their best to provide different livelihood programs and financial assistance to Overseas Filipino Workers (OFWs). Among these programs is the group livelihood program called Tulong PUSO for OFWs. This is a partnership project by DOLE-OWWA which has been launched in lieue of the COVID-19 Pandemic.
Also Read: How to Become an OWWA Member?
The Tulong Pangkabuhayan sa Pag-unlad ng Samahang OFWs Program or Tulong PUSO is a DOLE-OWWA project implemented to help distressed OFWs who plan to stay in the country and build a business. And unlike any other assistance programs, this is focused in supporting OFW organizations or OFW groups. Here we share more details on the meaning of Tulong PUSO, the qualifications and eligibility, amount you can get as a beneficiary, step by step method on how to apply, and other important information about this financial grant.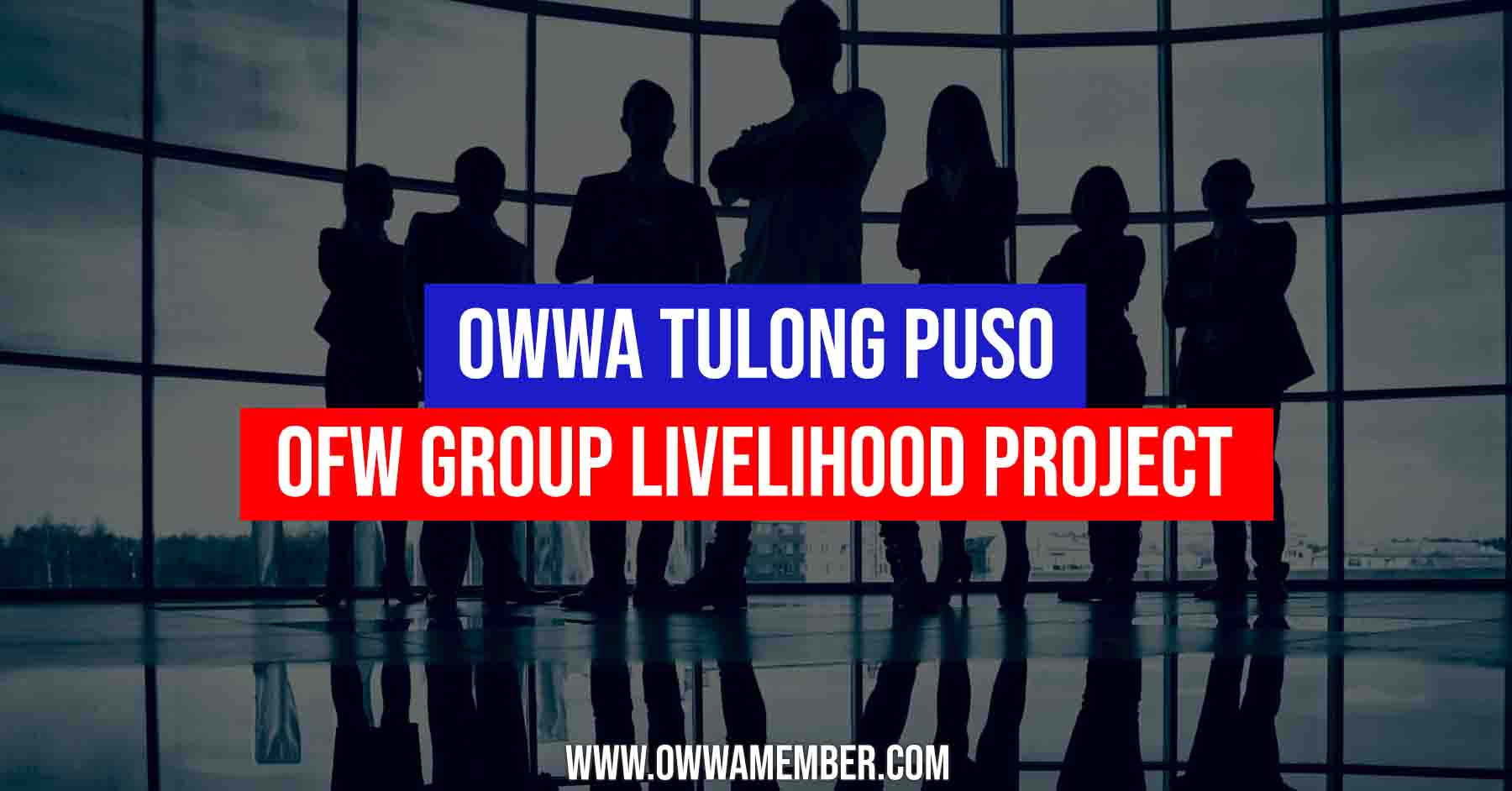 What is Tulong PUSO Program?
The Tulong Pangkabuhayan sa Pag-unlad ng Samahang OFWs Program, or simply known as the Tulong PUSO Program, is a one-time financial grant implemented to encourage OFWs to form their own groups or organizations and to venture out business activities.
Take note that Tulong PUSO is NOT an OFW loan program. Instead, this is a financial grant where qualified applicants can get a maximum of PHP 1 million cash assistance.
The DOLE-OWWA is more than prepared to provide you complete training and preparation to ensure the success of your chosen enterprise. The assistance can be in the form of support services, tools and jigs, equipment, and raw materials that aim to support the start-up/ formation, enhancement/ expansion, or restoration of your livelihood projects or undertakings.
The Tulong PUSO Program is sourced from the OWWA Capital Fund and is given a fund allocation of an amount worth Php 515,000,000.00 inclusive of Php 15,000,000.00 (Administrative Cost for Implementation, Accounting and Auditing Laws, and Rules and Regulations).
Also Read: OWWA Balik Pinas Balik Hanapbuhay Livelihood Program for OFWs
What are the Qualifications/ Eligibility?
For you to qualify and become an eligible beneficiary of the Tulong Pangkabuhayan sa Pag-unlad ng Samahang OFWs (Tulong PUSO) Program, you must see to it that:
You are a distressed OFW who aims to stay for good in the Philippines.
You belong to a group or organization with a minimum of five (5) members and is duly registered under DOLE, CDA, and SEC. (Regional/ Provincial Chapters shall have separate local registrations)
The group should comprise of 80% OWWA Members (active or inactive) and 20% other members (family members, undocumented OFWs)
Members of the organization or group must be individually knowledgeable of the proposal you will present.
Previous Tulong PUSO beneficiaries are no longer eligible.
What are the Requirements/ Documents?
In processing your application for the Tulong PUSO project, you will need to prepare the necessary documents for the financial grant. The documents you will need are:
Tulong PUSO Application Form (You can fill up the application form by visiting this link: https://tulongpuso.owwa.gov.ph/)
Beneficiary Prole
Business Permit
Business Plan/ Business Proposal with an indication that the proponent has an equity equivalent of at least 20% of the Total Project Cost
Certificate of Entrepreneurial Development for start-up or formation of project
Proof of Registration from DOLE, SEC, and CDA
Certificate indicating that the OFC-Applicant is a bonafide OFW Group recognized by OWWA – from the Regional Welfare Office (RWO) Director
Board Resolution designating a Business Manage who will be authorized to file or apply on behalf of the organization
Tulong PUSO Application Form
To download the application form, you can simply visit the website where you can fill out your information and submit it online. Below is a photo screenshot of the Tulong PUSO form.
Recognized Businesses or Livelihood Projects for Tulong PUSO
The livelihood projects that are considered in the financial grant can come from different sectors such as wholesale and retail trade, agriculture, manufacturing, tourism, and other locally based industries. Below is a list of some projects you may want to consider when setting up your business proposal:
Product or Services – Food Processing and other Consumer Products
Environment-Friendly (Green Products) – Herbal Food and Drugs, Bamboo Propagation, Organic Fertilizer and other agriculture-based products)
Usage of Local/ Indigenous Resources/ Materials – Handicraft, Specialty and Souvenir Items)
Supports Generation of Local Employment – Farming, Livestock, Aquaculture, and Manufacturing)
Franchise – Food, Wellness, Medical, Health, and Sanitary Related Business
Online Selling and Delivery Service
Key Employment Generation Industries – Agribusiness, Information Technology, Health and Wellness, Wholesale and Retail Trade, and Tourism
Note: It is said that you cannot propose businesses that are inappropriate to the current health situation such as gyms or fitness centers, spa, or salons/ barber shops. The amount of grant will be depending on the capital requirement that your group will need for the livelihood plan.
How to Apply? Step by Step Process for Tulong PUSO
Below is a simple guide  for you to have an overview on the step by step process when applying for the Tulong PUSO livelihood grant:
Application for the Livelihood Grant

Form an OFW organization with a minimum of 5 members (80% OWWA Members)
Registration of the organization to DOLE, SEC, and CDA.
Submit the necessary document requirements to OWWA or any Regional Welfare Offices (RWOs)

After the application process, you and your organization will attend a Pre-Orientation and Pre-Social Preparation Webinar.
Your business plan/ proposal will then be evaluated by the Regional Welfare Office to make sure that your project is feasible and eligible.
Upon evaluation comes the assessment of business proposal this involves site inspection, if members are at a minimum of 5, and other inspections to assure that the project will take place.
The Regional Review Committee will then evaluate if the proposal passes a certain criterion.
Awarding of Grant
There will be regular monitoring and evaluation to ensure the progress and success of each livelihood grant.
Conditions for the Livelihood Grant
Below are the following conditions for the Tulong PUSO Livelihood Grant:
Tranches of Cash Grant

For Start-Up and Restoration

1st Tranche – equivalent to the 20% of the grant
2nd Tranche – equivalent to the 50% of the grant (upon submission of business registration documents)
3rd Tranche – equivalent to the 30% of the grant (upon submission of business physical set-up and documentation)

For Business Expansion

1st Tranche – equivalent to the 40% of the grant
2nd Tranche – equivalent to the 60% of the grant (upon submission of proof of business physical set-up and documentation)

The Livelihood Grant will be under the name of the OFW Group and in its behalf, through authorized persons via board resolution, special power of attorney, affidavit or other similar documents.
Addition fund source for the business project may be allowed on top of the livelihood grant by OWWA.
Frequently Asked Questions
Below are some common questions and answers OWWA members have asked about this Tulong PUSO project
1. What if I want to apply but I do not want to be a part of a group or an organization? Can I still qualify if I am solo?
Unfortunately, no. You are not eligible to apply for the grant as an individual. The program is made for OFW Groups/ Organizations, so as long as you form a minimum of five (5) member group, you can qualify.
2. What if I am not an OWWA Member? Can I still qualify for the Tulong PUSO Program?
The program is inclusive to everybody as long as you are a member of an OFW Group. According to the Memorandum of Instructions 018 Series of 2020 – The OFW Group or Organization you belong to must comprise of 80% OWWA Members and 20% undocumented, irregular OFWs, family members or others.
3. Is the Tulong PUSO a loan or "utang" that is payable in the future or is there a need for a collateral?
The Tulong PUSO program is a financial grant – a sum of money provided by the government. This means that there is no need for you to set up collateral and it is not a liability to be paid in the future.
4. How much can an  applicant organization receive from the Tulong PUSO program?
There are group categories and for each category is a specific type of grant.
Micro-sized OFW Groups (5-10 members) – eligible up to a maximum of Php 150,000.00 grant;
Small-sized OFW Groups (11-20 members) – eligible up to a maximum of Php 250,000.00 grant;
Medium-sized OFW Groups (21-30 members) – eligible up to a maximum of Php 500,000.00 grant; and
Large-sized OFW Groups 31 or more members) – eligible up to a maximum of Php 1,000,000.00 grant.
Videos About Tulong PUSO Project
In case you want to learn more information about this Tulong PUSO business program, please check out the following videos to help guide you in the application process and how you can start your own business. Good luck!
https://www.youtube.com/watch?v=gxTddadKnYo
Summary
The Tulong PUSO financial grant is really a helpful way to reintegrate OFWs back to the Philippines who have been affected by the pandemic. This way, Filipinos are given a chance to come up with a solid business plan and will help them with creating a livelihood that can help in sustaining their needs as well as the needs of their families.
After all, once these OFWs will have a viable business operation, the business will also help form jobs for other Pinoys in the country.