As an OFW who is planning to start a business in the Philippines, OWWA has partnered with LANDBANK to provide an OFW Business Loan program for up to PHP 2 Million Pesos for a single applicant, or up to PHP 5 Million Pesos for Groups. This is the OFW Enterprise Development and Loan Program or OFW-EDLP.
It is important that you keep your OWWA membership active as they have a number of programs and services available for OFWs.
OWWA forged a partnership with LANDBANK of the Philippines to provide the Overseas Filipino Workers (OFWs) enterprise opportunities on a sustainable basis. OFW-EDLP is one of the projects under the Reintegration Program of OWWA. It is an enterprise development intervention and loan facility of OWAA, intended to support OFWs and their families for their enterprise development. Here we share the requirements (collateral, documents, etc.), qualifications, and step by step process in applying for this particular OWWA project. So please be guided in the steps below.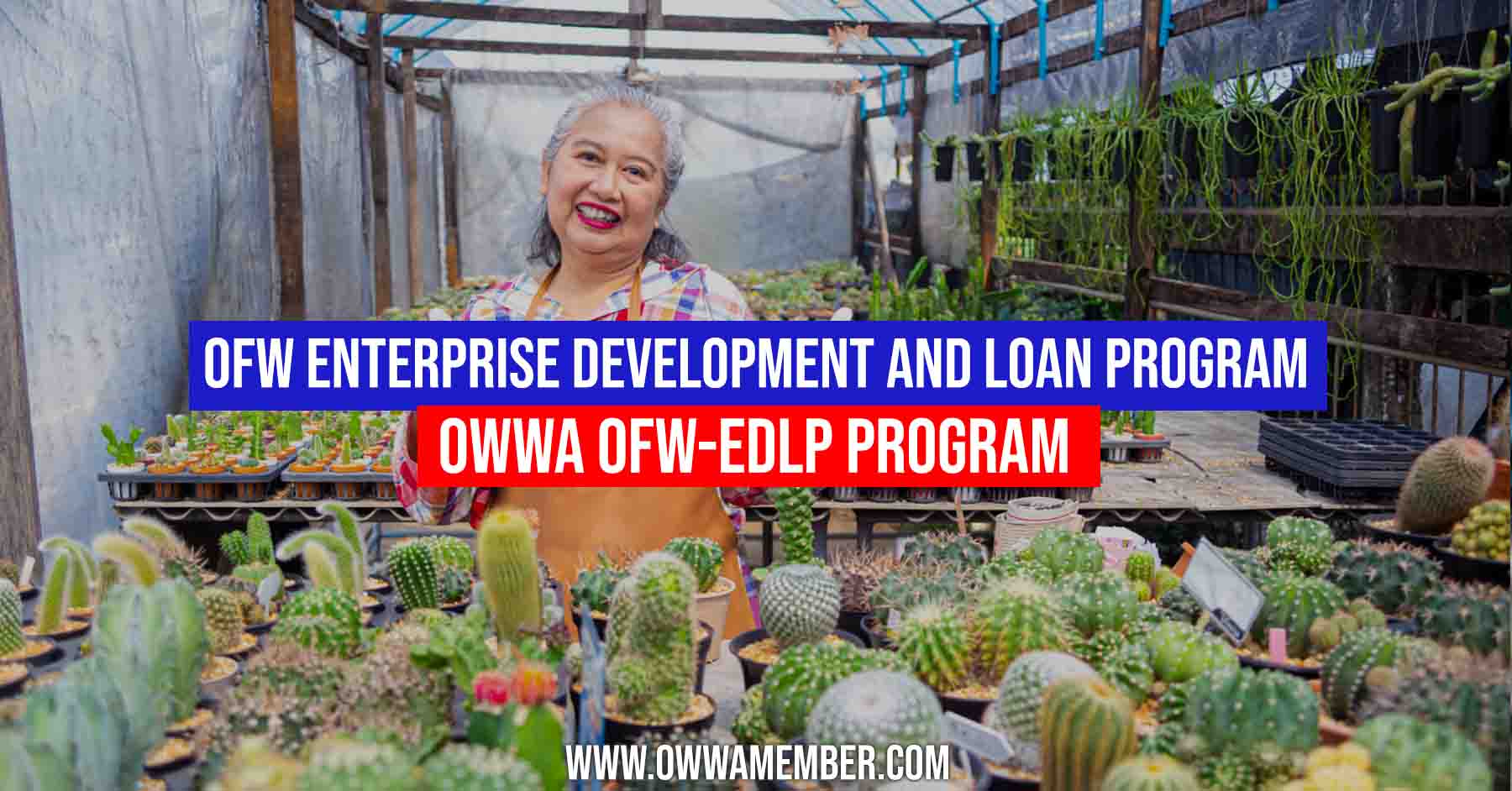 What is this OWWA OFW Business Loan Program – OFW-EDLP Project?
The Overseas Filipino Workers – Enterprise Development and Loan Program (OFW-EDLP) was formerly known as OFW – Reintegration Program (ORP). This has been established to help Overseas Filipino Workers (OFWs) who choose to stay in the country with their family by helping them establish their own business enterprise.
In the OFW – EDLP, the OWWA will provide loans to qualified OFWs. It is a two-component package;
Enterprise Development Interventions (EDT)
The EDT aims to empower OFWs on managing a business and an opportunity for queries about the business loans.
Loan Facility
Providing OFWs and their families steady income as well as create opportunities for employment in their community.
What are the Qualifications to become an eligible borrower for OFW-ELDP?
For you to be an eligible borrower under the Overseas Filipino Workers – Enterprise Development and Loan Program (OFW-EDLP), you should:
Be an OFW certified by an OWWA Membership (Active or Non-active);
Have completed the Enhanced Entrepreneurial Development Training (EEDT);
If you are an OWWA-OFW working abroad or about to leave, you may be represented:

If you are married – by your legal spouse;
If you are single, widow, widower, or separated-in-fact – by your parents who are not older than 60 years old, or by your children who are at least 18 years old.
What are the Requirements for OFW-EDLP?
After assessing if you meet the qualification requirements of the OFW – EDLP, you must prepare next the necessary documents you will need for the processing of the loan. The requirements you need to have are:
Certification from OWWA that you are a bonafide OFW and has completed the Enhanced Entrepreneurial Development Training (EEDT)
Business Plan/ Proposal on your choice of project/ business
Two (2) Valid IDs with Signature
Duly filled-out Application Form
Statement of Asset and Liabilities
Proof of Billing Address
Barangay Certification of Residency
Sketch – Place of Residence
For OFWs who already have an existing business prior to loan:

Certificate of Registration with Department of Trade and Industry (DTI)
With contract growing agreement, purchase order or service contract, if applicable
Bio-data of applicant
Mayor's Permit
If applicable, Income Tax Return (last 3 years)
If applicable, Financial Statements (last 3 years – BIR filed)
If applicable, Latest interim Financial Statement
What are the Eligible Projects/ Businesses for the OFW – EDLP Loan?
Your enterprise should at least be able to generate sufficient cash to meet the projected amortization of the loan. The following are the specific projects that is covered by the loan program;
Franchising Business
Contract Tie-up with Top 1000 Corporations
Agricultural and Non-Agricultural Production/ Manufacturing
Construction Business
Rental Business
Service/ Trading Business
Transportation Service
Any other viable projects (existing or new)
How to Apply for OWWA OFW-EDLP Loan?
Please be guided on the steps on how you can apply for this OWWA-Landbank OFW EDLP Loan:
Step 1. Verification of OWWA Registration
OFWs in the country
Visit your OWWA Regional Welfare Office to undergo orientation/ eligibility screening and processing /necessary training.
If you are eligible, you will be issued a certification of membership which you will present to LANDBANK Assessment.
OFWs outside the country
Contact your designated Welfare Officer of the Embassy on your country through their Email Address.
Your Welfare Officer will then verify your OWWA Registration and you will be referred to an OWWA Regional Welfare Office in the Philippines.
Upon your return to the Philippines, visit the reffered OWWA Office to get the certification which you will present to LANDBANK.
Step 2. Enhanced Entrepreneurial Development Training (EEDT)
Next, you will be advised to personally attend the Development Training conducted by the OWWA, DTI, and LANDBANK.
You must present your Certificate of Attendance on the EDT to LANDBANK as a requirement.
Step 3. Preparation of your Business Plan and Other Document Requirements
Step 4. Submission of Document Requirements, Review, and Inspection
Submit all prepared document requirements specially your business plan to LANDBANK for review.
For existing businesses/ projects, an inspection of your business/ project will be carried.
The completion of your loan evaluation, packaging, and approval will be in about 45 working days upon your receipt of complete loan requirements.
Step 5. Loan Approval
LANDBANK will release the fund to you, the Overseas Filipino Worker (OFW) if your loan is approved.
OWWA Enterprise Development Loan Program Application Form
In case you want to know where to get the application form for EDLP loan, you can download it from the OWWA website.
You may also visit the nearest OWWA regional welfare office center. This is where you can ask how you can download the OFW-EDLP application form
What are the conditions under the OFW – EDLP Loan?
Interest Rate (IR)
The IR of the Loan is 7.5% per annum for the entire duration of the loan.
Loan Purpose
The purpose of the borrower for the loan should only for Working Capital and Fixed Asset Acquisition.
Project Cost Sharing
Borrower's Equity (should be at least 20% of the Total Project Cost)
Maximum Loanable Amount (should be limited to 80% of the Total Project Cost)
Loan Amount
The amount of the loan will depend on the project needs and the amount of equity participation of the borrower.
For Individual Borrowers (Single Proprietorship)

The loan amount is from a minimum of Php 100,000.00 up to a maximum of Php 2,000,000.00.

For Group Loan Borrowers (Partnerships, Corporations, Cooperatives)

The loan amount is from a minimum of Php 100,000.00 up to a maximum of Php 5,000,000.00.
Loan Repayment
For Short Term, you have a maximum of one (1) year to repay your loan.
For Term Loan, it will be based on your cash flow but it will not exceed over seven (7) years, with an inclusion of a maximum of two (2) years grace period on your principal.
Loan Security / Collateral
Under the OFW – EDLP Loan you will have to provide a collateral. The following are the acceptable collateral sources:
Object of financing
Mortgage able project assets (machines or equipment) and other assets of the borrower
Videos: OFW-ELDP Business Loan Program
Below are some videos that discuss this OFW Business Loan Program:
Contact Information
To know more information about this OWWA loan program, you may contact the following banks/organizations:
LANDBANK
Customer Hotline Number : (+632) 8 405-7000
Domestic Toll Free: 1-800-10-405-7000
Email Address: customercare@mail.landbank.com
OWWA
Customer Hotline Number : 1348
Mobile Numbers :
Globe: +63-917-898-6992
Smart: +63-998-981-6992