Aside from the Tabang OFW program, another scholarship program created to help dependents of OFWs affected by the pandemic is the Project EASE. The Overseas Workers Welfare Administration (OWWA) has introduced Project EASE (Educational Assistance through Scholarship in Emergencies), a new educational assistance program for eligible children of OWWA members who are distressed, have been displaced and have lost their jobs because of the COVID-19 pandemic.
OWAW EASE Project aims to provide an eligible dependent of an OWWA member or an OFW with active membership status an educational assistance of PHP 10,000 per year for a period of 4 years. This is not an OWWA loan program. Instead, this is a Financial Grant scholarship.
Check out the latest OWWA At Your Service Episode about Tabang OFW and Project EASE updates here.
This program was launched in February 2020 and according to the Department of Education, seven million Filipino children have not yet registered for the 2020-2021 school year. So we want to share information about this project to help OFWs learn more about what they can expect, how to apply, what are the requirements and benefits of Project EASE. So please be guided accordingly to this article.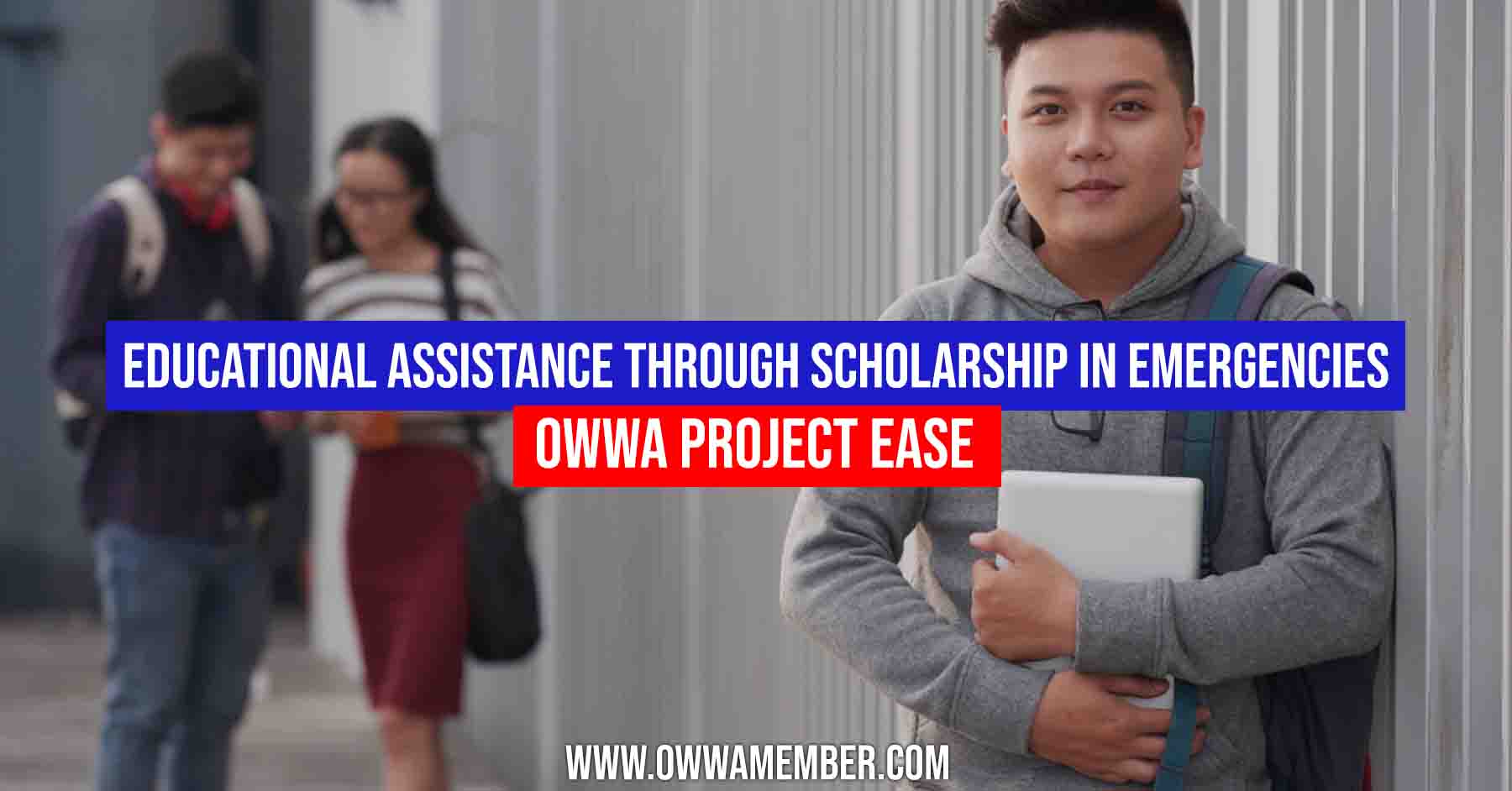 What is Project EASE – Educational Assistance by Scholarship in Emergencies
Project EASE stands for Educational Assistance by Scholarship in Emergencies, aims to help eligible college-level dependents of active OWWA member-OFWs whose jobs were affected by the COVID-19 pandemic. By active members, this could mean:
Land-based workers
Sea-based workers
Balik Manggagawa
For a period of four years, this educational scholarship offers P10,000 per year. The organization has set aside P400 million for the project's first year of implementation.
Benefits of Project EASE
So the benefit of Project EASE will enable one (1) college-level dependent of an OFW who was repatriated lost his job during the COVID-19 pandemic. This will help subsidize the cost of the OFW who was displaced abroad.
Note: Remember that if your dependent receives any OWWA educational assistance, such as the EDSP or ODSP, or ELAP-Education, he or she will no longer be eligible for Project EASE benefits.
What are the Qualifications of Project EASE?
IMPORTANT: Please be advised that to be eligible for this Project EASE, the OFW must be an ACTIVE MEMBER!
Dependents of an OFW are as follows:
– OFWs who are married, single child under the age of 30
– OFWs who are single, dependent is a single child/sibling/niece under the age of 30
Below are the list of qualifications for the dependents of this Project EASE scholarship:
You must be a Filipino citizen.
Incoming college freshman or currently enrolled in college
Must meet the University's current admission and retention criteria and have not met the University's overall residency policy.
Hasn't been kicked out of the university.
You must be enrolled in a CHED-approved undergraduate post-secondary program.
Must be a dependent of an OFW who was repatriated or displaced during the CoViD19 pandemic, as certified by the DOLE.
You must not be a recipient of a government scholarship award.
What are the Project EASE Requirements?
Accomplished Application form for Project -EASE. The form can be accessed by visiting this link – https://ease.owwa.gov.ph/
OFW member's valid passport
Flight ticket or boarding pass, as well as an arrival stamp or sticker in the passport (This will be proof that the active OWWA member entered the country after February 1, 2020).
Official Receipt or other proof of OWWA membership (For Validation).
Proof of relationship to the OFW maybe any of the following:
Birth Certificate of the child if the active members OFW is married or Single Parent
CENOMAR of ofw and birth certificate of OFW sibling, if the active OWWA member OFW is single.
Certificate of Grade of the Dependent.
Certificates of grades/ proof of grades from the last school Year/Semester attended with passing marks in all subject from the last School Year/ Semester attended students may be incoming freshman or currently enrolled.
How to Apply for OWWA Project EASE?
Download the Application Form or go to the nearest OWWA office for the Application Form. Link – https://ease.owwa.gov.ph/
Complete all of the documentation specifications.
Submit all documents through the regional office or submit to OWWA RWO e-mail.
Alternative submission: Send Application Form, Evaluation Form and required documentation to Courier Services (LBC, j&T. JRS. Etc.)
Wait for the call from OWWA if you are in the applicants slot.
For more information, visit owwa.gov.ph
Project EASE Application Form
You can download the application form for Project EASE can be accessed by going online to the website – https://ease.owwa.gov.ph/
You need to fill out this form and submit it online.
Note: As per the latest update, when you apply for Project EASE, your application will automatically be submitted to the Tabang OFW project. OWWA and authorities will check if you are qualified for both projects.
Below is a screenshot of the website where you can download the application form for Project EASE: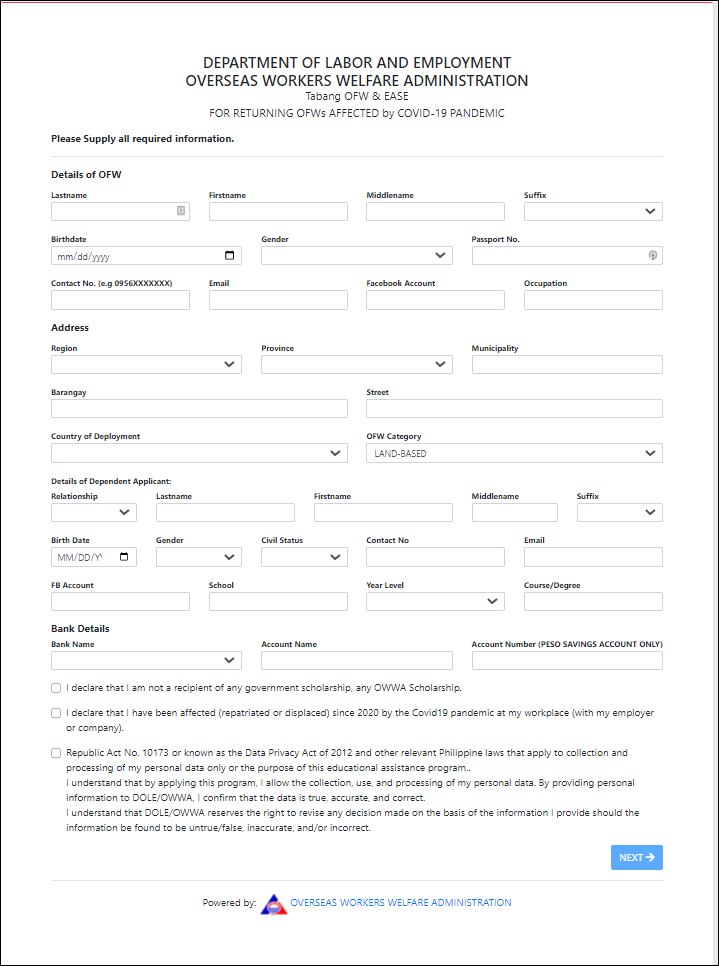 EASE Tracker Online – Check OWWA EASE Status Inquiry
In order to track the status of your application, you can access the Project EASE Tracker Online via – https://easetracker.owwa.gov.ph/
Below is a screenshot of the tracker where you will just need to fill out your details such as your Last Name, First Name, Middle Name, and Email Address. Then click Search to verify the status: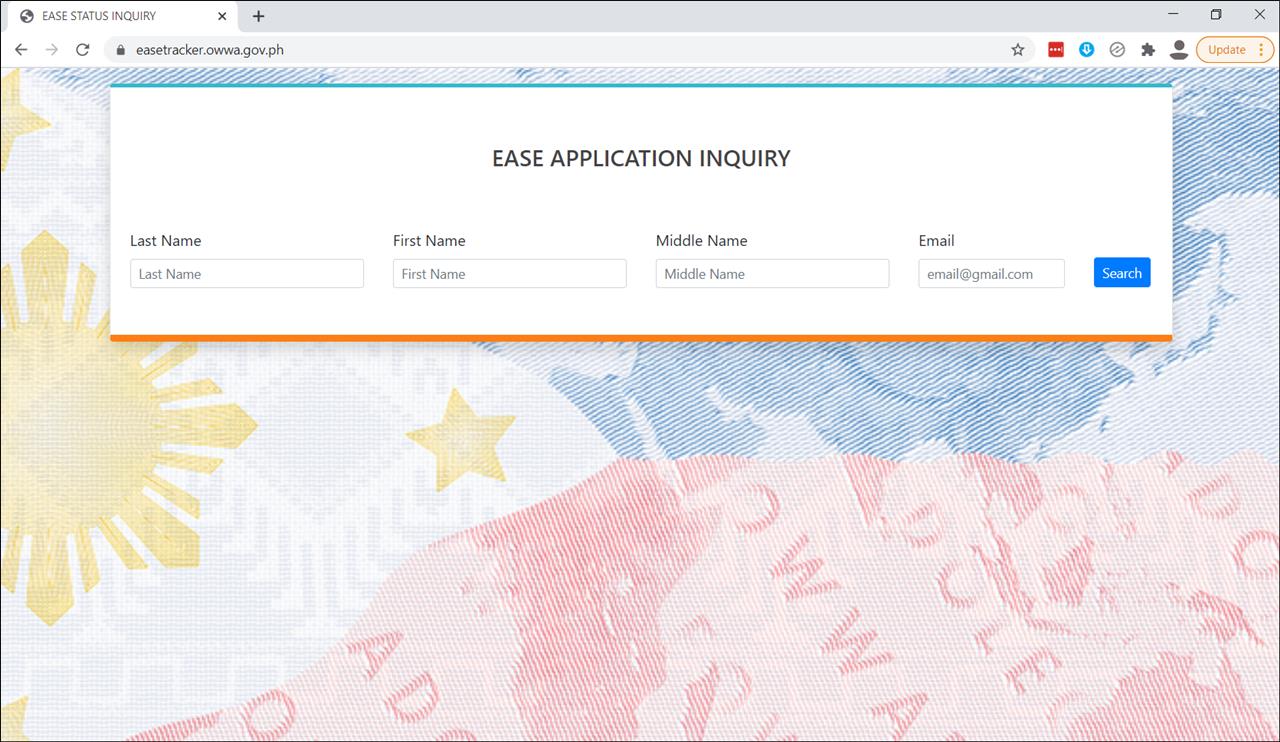 In case there are some requirements that are not complete, you will be asked to submit the missing documents to your application.
Please take note that there is also another OWWA scholarship project during this pandemic called Tabang OFW. The Tabang OFW grants an OFW dependent a one-time education allowance worth PHP 30,000. Both of these programs were launched together.
The current system is that when you apply for the Project EASE application form, you will automatically be applying for the Tabang OFW program as well. This is good because you can just apply once for both programs.
Important Things to Know about Project EASE
Please be advised on these important reminders and guidelines when you apply for the Project EASE program:
For the purpose of tracking the status of the application, the applicant will receive a serial reference/tracking number via SMS or email.
Applicants who submitted incomplete or invalid requirements will be informed of the missing/invalidated requirements via SMS or email.
After an application has been accepted, a downloadable and printable Scholarship Agreement will be sent to the applicant for signature and notarization.
Scholarship Agreements that have been signed and notarized are returned to the concerned RWO by any courier service.
The eligible beneficiaries of the Project-EASE will be announced, and the assistance will be paid through bank remittances, direct to the student beneficiary's bank account.
To receive the remittance annually, eligible beneficiaries of Project EASE must have an active account number in their name. Otherwise, you'll have to open a savings account in the name of your child or relative.
Bear in mind that this educational aid will not cover the entire tuition fee for your child or sibling. Nonetheless, it can be used to supplement various expenditures such as books and other school supplies.
NOTE: You may contact your nearest OWWA regional office through their respective Facebook page or here: https://www.owwa.gov.ph/index.php/contact-us.
Frequently Asked Questions
Below are some common questions and answers about OWWA's EASE Program. Please be guided accordingly.
1. What amount is the monetary assistance?
PHP 10,000 a year educational financial aid over a four-year duration.
2. Can I use Project EASE if I'm an inactive member?
NO, The aim of Project EASE is to help eligible college-level dependents of active OWWA member-OFWs whose jobs were affected by the COVID-19 pandemic
3. Can we both get Project EASE as an OFW couple who are both eligible for the program?
NO, OFW couples who are both eligible for the program shall be entitled to only ONE (1) SLOT ONLY.
4. May I grant the Project EASE as a SEA-BASED OFW active-member?
YES, Project EASE covers qualified dependent of Active OFW-members (Land-Based, Sea-Based, and Balik Manggagawa) at the time of their repatriation to the country from the declaration of the outbreak on February 1, 2020 up until the pandemic is declared controlled and managed by the World Health Organization (WHO) or any other competent authorities.
Video: Project EASE by OWWA
Check out this video below to get a better idea of what you can expect from this EASE for OFWs program.
Infographics of Project EASE
Below are some images from OWWA Official FB Page and infographics to know what to expect with the OWWA EASE Program:
Summary
As you can see, the Project EASE aims to help the student dependents of OFWs. This helps OFWs have some financial assistance so that their child can continue their education.
Please do not forget to keep your OWWA account active and benefit from the many programs and services provided by the agency. You may renew your OWWA membership online, or download and register in the OWWA mobile app.
The fee for the membership is only 25 USD and it is valid for 2 years.
Contact Information
If you have any additional questions/concerns or you want to know more information, it is important that you contact the OWWA office directly.
OWWA Hotline: 1348
Email Address: commandcenter@dole.gov.ph
Cellular Numbers:
(Smart) 09615958438
(Globe) 09052535680
Landline Numbers:
(02) 85680986
(02) 85680984
(02) 85273476
(02) 85273525
(02) 85272115
(02) 53096605
(02) 83538067
DOLE-Bureau of Local Employment (BLE) – (02) 8527-2539
Also Read about other OWWA Scholarship Projects: