All Overseas Filipino Workers in France who want to keep their OWWA membership account active can contact the Philippine Embassy in Paris for information and inquiries. In the case of France, because there is no actual POLO-OWWA office available, the OWWA renewal process is handled by the POLO-Madrid office. The POLO-Madrid coordinates with the PH Embassy and they conduct outreach missions to selected locations in France where you have the opportunity to process the renewal.
Filipino workers are assisted by the Overseas Workers Welfare Administration (OWWA) and the Philippine Overseas Labor Office (POLO) in obtaining job welfare and improving their lives. OWWA was founded to fulfill the Constitution's mandate to defend OFWs' rights under Philippine and Paris labor laws, norms, and standards, as well as to promote their interests and well-being.
OWWA payments, which include emergency welfare benefits, are available to OFWs. The membership fee for the OWWA will be equivalent to $25.00 USD, and it must be renewed every two years.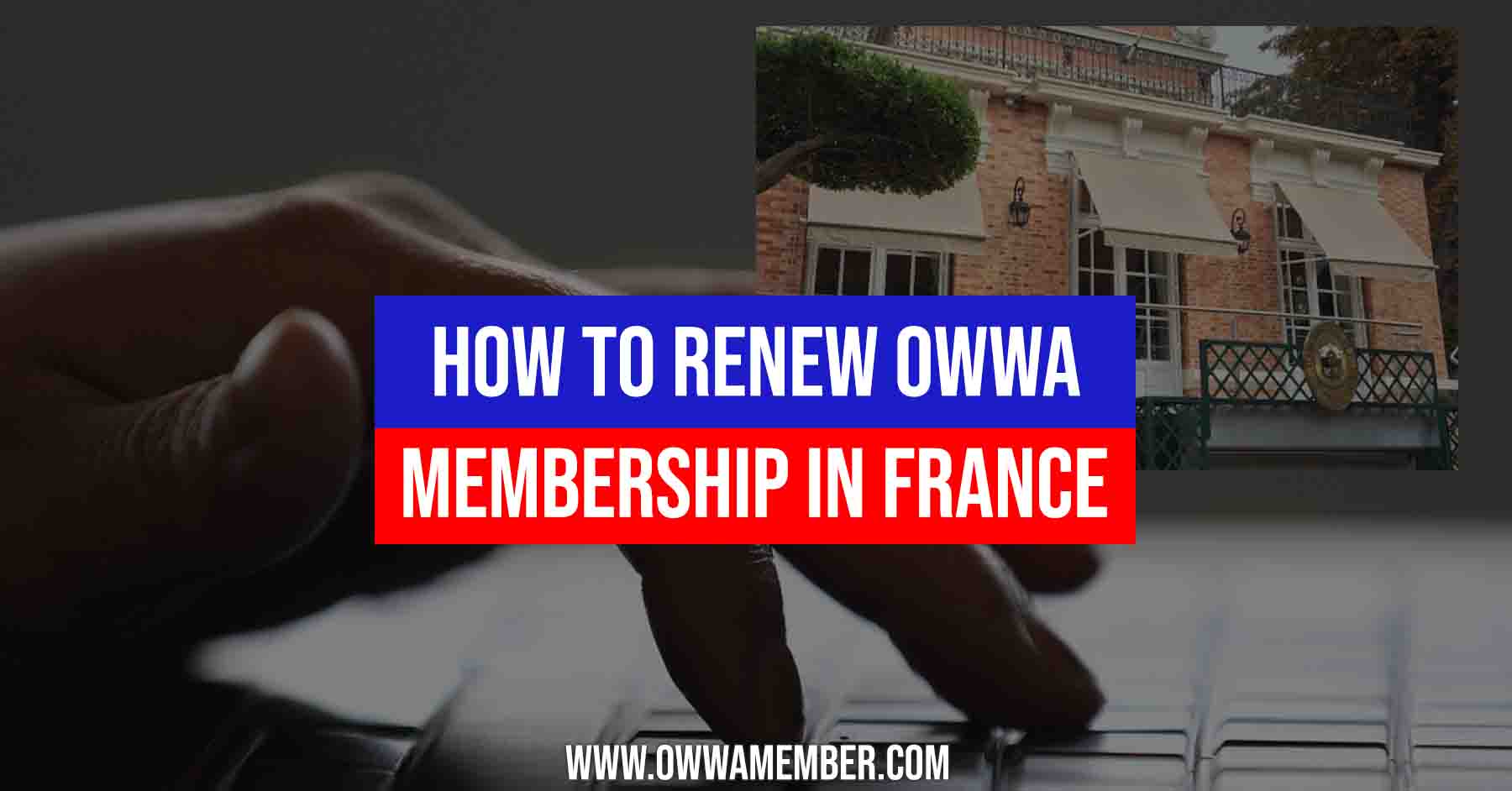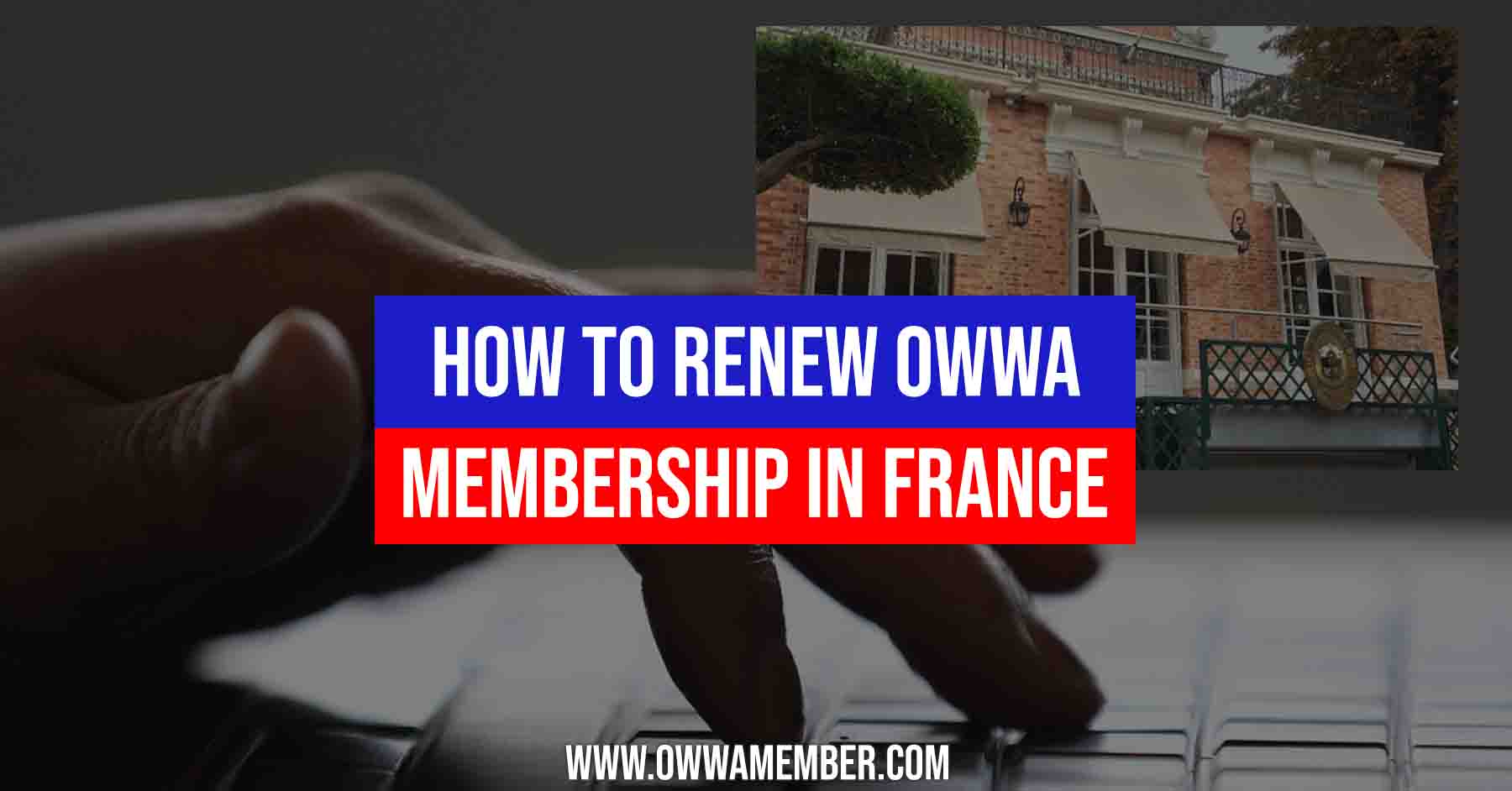 Amount of Contribution
The OWWA membership contribution shall be equivalent to Twenty-Five US Dollars (US$25.00).
Membership Validity
For each contribution, membership is valid for two (2) years, regardless of the contract term, change of employer, jobsite, or recruitment agency. Then, if proof of active labor is provided, OWWA membership must be renewed.
OWWA Membership/Renewal Requirements
OWWA membership fee
Completed OWWA OFW Information Sheet
A copy of the passport page with the photo and personal data
A copy of a VALID employment contract
A copy of your current work permit and visa
A copy of employment contract, or certificate of employment or payslip
Note: You can renew your OWWA membership through the POLO-OWWA Madrid office. They set up outreach missions in Paris and other areas in France on a regular basis so keep an eye on the Philippine Embassy in France's Facebook page and the Embassy of the Philippines in Paris, France's website to find out when the next one is.
How to Book an Appointment for OWWA Renewal in France
Step 1: Wait for the OWWA membership renewal outreach mission in Paris, France to be confirmed.
Step 2: To schedule an appointment, send them an e-mail with your full name, address, phone number, and the service you're considering in. You can also make an appointment by calling +33 (0)1 44 14 57 00 / +33 (0)6 20 59 25 15.
Step 3: Before visiting the OWWA office in Paris, France, confirm your scheduled appointment.
How to Pay OWWA Membership in France during Outreach Mission Events
Step 1: Find the OWWA office location by asking the guard, then wait in line or acquire a number as you enter.
Step 2: Take your completed documents to the OWWA counter.
Step 3: Pay the OWWA membership fee.
Step 4: Get your OWWA renewal receipt.
Important Reminders
Please see these important guidelines and information about the renewal of OWWA in France process:
Outreach Missions to Filipinos in France and Monaco
There are regular OWWA member renewals, OEC verifications, and other Philippine government offices by the POLO-Madrid office in France.
This is an opportunity for you to process your OWWA membership in person. But you need to set up an appointment before you can walk into the Outreach missions.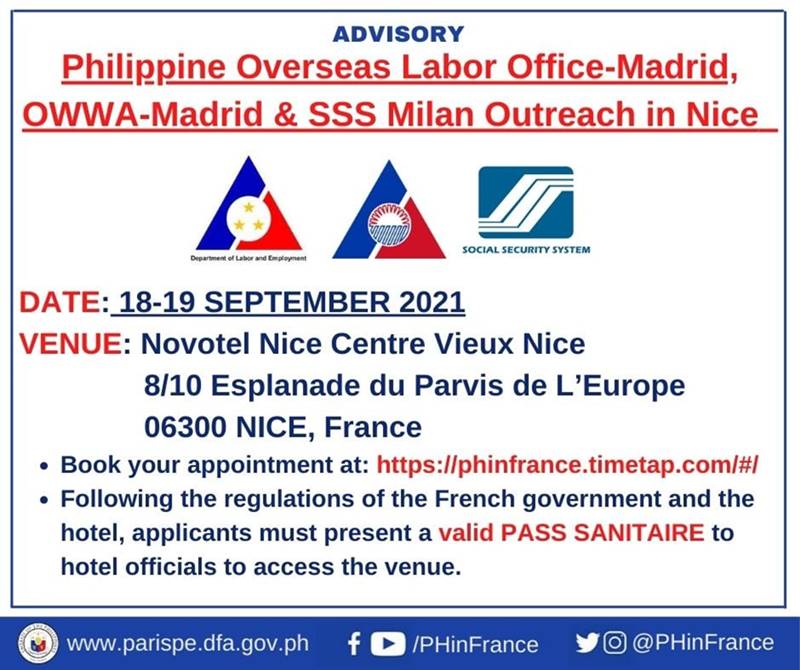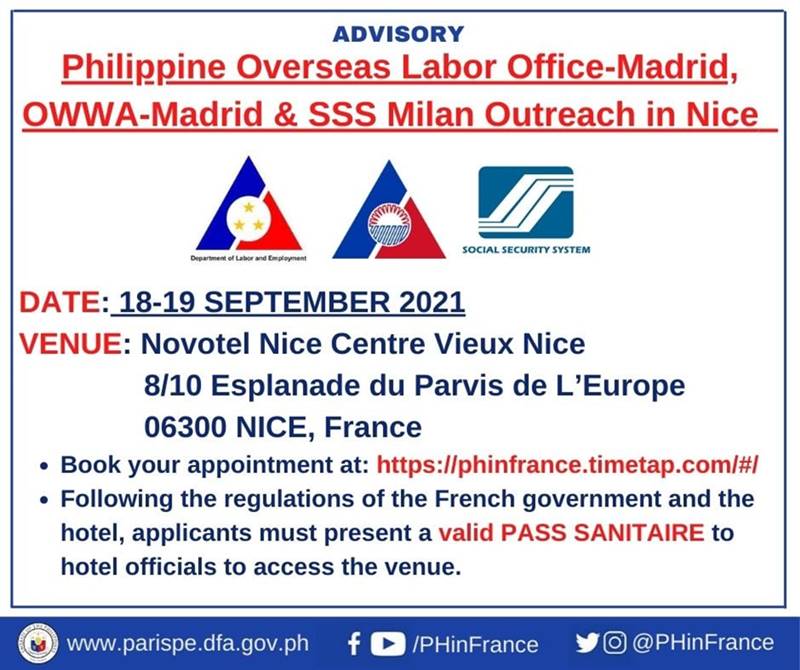 Video: POLO-Madrid with PH Embassy in France about OWWA Membership Renewal in France
Check out this video as shared by the Philippine Embassy in France. It showcases PH Consul General Hans Siriban from the Philippine Embassy in Paris, where he talked to Labor Attache Joan "Bing" Lavilla from POLO-Madrid, and OWWA Welfare Officer, Hart Sangco, OWWA-Madrid. They discussed how to renew OWWA for Filipinos based in France.
It is the POLO-Madrid that handles the inquiries about OWWA membership as there is no POLO-office in France. However, POLO-Madrid conducts regular Consular Missions wherein they reach out to Filipinos in France (about 3-4 times a year) to provide outreach missions and renew OWWA memberships as well as other PH government processes in France.
Frequently Asked Questions
Here are some common questions and answers when you process your OWWA account membership in France:
1. How long will it take for the OWWA membership to be processed?
If all documentary requirements are met, OWWA membership can be picked up the same day.
2. Who should I contact if I have any additional questions?
You can reach the Philippine Embassy in Paris, France, by sending a message, dialing +33 (0)1 44 14 57 00 / +33 (0)6 20 59 25 15, or sending a message through their Facebook page.
3. How much does the OWWA membership fee cost?
The OWWA membership contribution shall be equivalent to Twenty-Five US Dollars (US$25).
4. Can I directly go to the OWWA/POLO Paris, France Office?
No, you will not be able to go straight to the OWWA/POLO office in Paris, France because there is no POLO/OWWA office in Paris.
Summary
May we remind all overseas Filipino workers in France that it is very important to keep your OWWA membership active in order for you to get the maximum benefits. We hope this post has helped you understand the process of how you can register in OWWA in France. Don't take this for granted as this is already a form of insurance where you can avail of many projects for yourself as well as your dependents.
As an OFW based in this country, please follow the guidelines currently put in place on how you can keep your OWWA membership active. You may also renew your OWWA by registering in the OWWA Mobile App.
Workers in France may also renew their OWWA membership by having their family members in the Philippines submit the document requirements to the nearest OWWA Regional Welfare office.
Contact Information
Embassy of the Philippines in Paris, France
Address: 4 hameau de Boulainvilliers/45 rue du Ranelagh 75016 Paris, France
Telephone Number: +33 (0)1 44 14 57 00 / +33 (0)6 20 59 25 15
Email: paris.pe@dfa.gov.ph
Website: https://parispe.dfa.gov.ph/
Facebook Page: https://www.facebook.com/PHinFrance/
Google Map Location
Below is a map guide to the location of the PH Embassy in Paris. Again, there is no actual POLO-OWWA office in France so it is the embassy that helps in POLO and OWWA inquiries: