The Overseas Workers Welfare Administration (OWWA) offers the Seafarer's Upgrading Program (SUP) as another scholarship program for Filipino seafarers who want to improve their skills and expand their expertise in order to cope with technical advances and international maritime standards. So this is a great OWWA program and benefit that an active OWWA member seafarer can apply.
This is a FREE financial assistance training that amounts to PHP 7,500 cash grant. Take note that a seaman or seawoman can avail this SUP every three (3) recorded membership contributions. So if you work in the maritime industry, you may want to avail this SUP scholarship.
Under SUP, a seafarer-applicant/grantee can select a MARINA or TESDA-accredited training/course from a list of training/courses provided under the program and enroll in training providers recognized by OWWA. OWWA acknowledges all MARINA-accredited training centers as training providers. A training allowance/assistance of P7,500 is given as part of the program.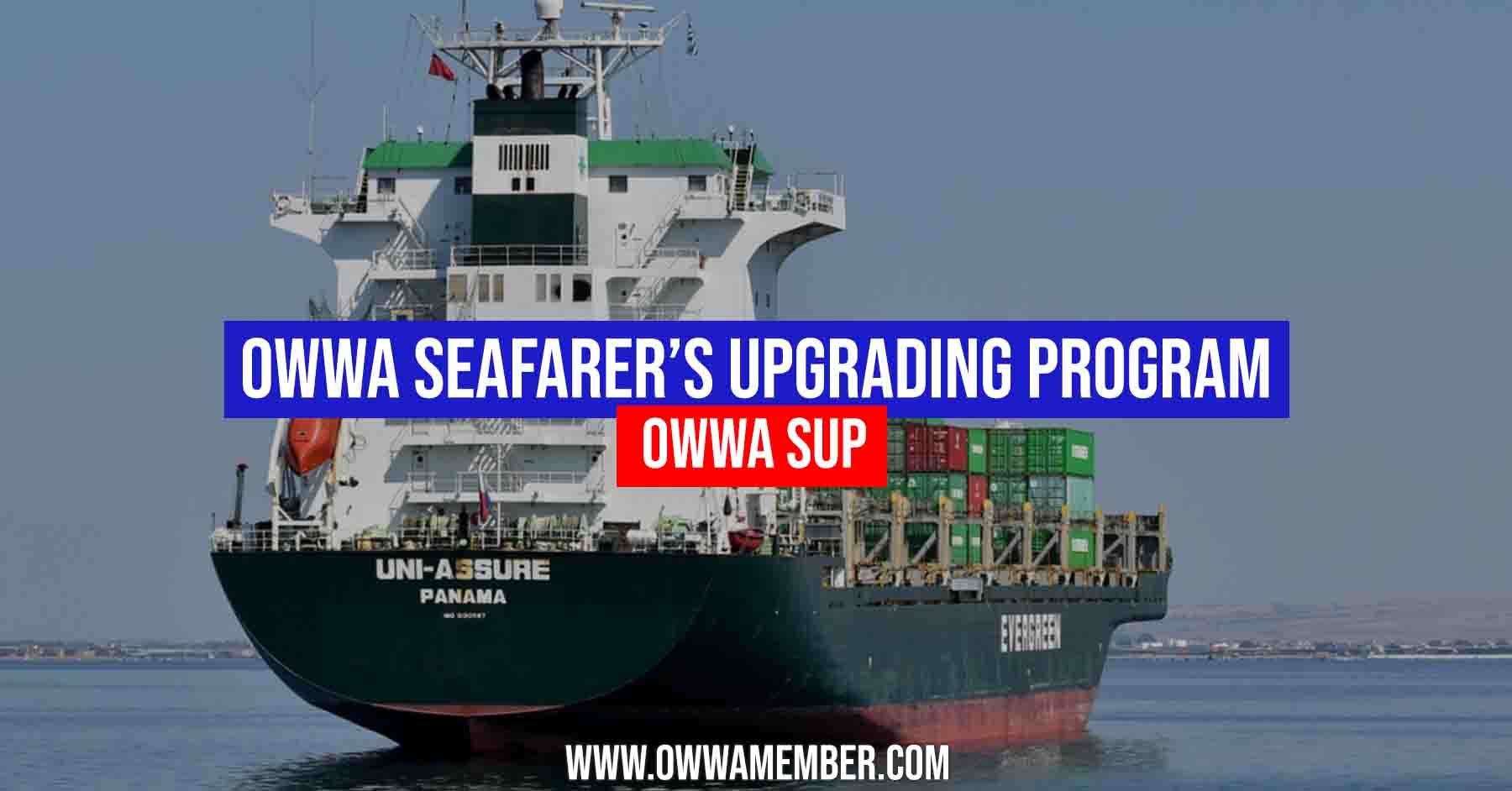 What is Seafarers Upgrading Program (SUP) – FREE Training Financial Assistance?
The OWWA's goal is to provide job-related training in priority maritime courses as defined by the Maritime Training Council to its seafarer members. The OWWA provides financial support to beneficiaries ranging from a minimum of PHP 1,200.00 to a maximum of PHP 7,500.00. In the case of trainees referred to the National Maritime Polytechnic (NMP), these sums include meal and transportation allowances.
What are the courses available to take for a seaman in OWWA SUP?
Although seafarers are free to choose their preferred training course, it is recommended that applicants sign up for training courses that are approved by the following organizations:
The Maritime Industry Authority has accredited a school or college (MARINA)
Technical Education and Skills Development Authority (TESDA)
From the list of OWWA recognized and approved Training Providers, other sanctioned government institutions
The following are some examples of courses available to seafarers:
Advance Training in Liquified Gas Tanker (ATLGT)
Advanced Messman Course
Advanced Training in Chemical Tanker (ATCT)
Advanced Training in Fire Fighting (ATFF)
Advanced Training in Oil Tanker (ATOT)
Auxiliary System
Basic Baking
Basic Culinary
Basic Food Service Management
Basic Training for Liquified Gas Tanker Cargo Operation
Basic Training for Oil and Chemical Tanker Cargo Operations
Cargo Handling and Care of Cargo
Catering Management – Chief Cook Course
Control Engineering
Crisis Management
Crowd Management
Deck Watch Keeping (DWK)
Electronic Chart Display and Information System (ECDIS)
Engine Room Simulator
Engine Watch Keeping (EWK)
Galley and Provision Management
General Operator's Course for Global Maritime Distress Safety System (GOC for GMDSS)
Hazardous Material (HAZMAT)
Housekeeping Management (Steward Course)
International Cooking
Lathe Machine Course
Marine Diesel Engineering
Marine Pollution Consolidated (MARPOL I-VI)
Medical Care (MECA)
Medical Emergency First Aid (MEFA)
Proficiency in Survival Craft and Rescue Boat (PSCRB)
Radar Navigation, Radar Plotting & use of ARPA (RNRPUA)
Radar Simulator Course
Radio Electronics Officer's Course (REOC)
Ship Simulator Bridge Team Work (SSBT)
Shipboard Welding and Lathe Machine
Shore-based Fire fighting
Specialty Cuisine
Trim and Stability                                                                                
What are the Qualifications for OWWA SUP?
You must be a Filipino citizen.
At the time of application, the seafarer must be a registered OWWA member.
For the first time applicants, you are expected to have a single contribution to OWWA
Subsequent entitlements are earned per three (3) recorded OWWA membership contribution payments
Note: Subsequent availments must be filed within ninety (90) days of his/her last arrival in the Philippines, whether on holiday or after his/her employment contract has expired.
What are the OWWA Seafarers Upgrading Program Requirements?
You need to secure the following requirements for the SUP program:
Application Form – download it Here
Proof of OWWA Membership
2″x2″ photograph (2 copies)
The most recent proof of residency
Seaman's identification and Record Book (SRIB) and/or Philippine passport (valid original copy)
How to Apply for OWWA SUP?
Below are the steps you need to take in order to file your application for the Seafarer's Upgrading Program:
Complete all of the documentation specifications.
Submit all documents to the nearest OWWA Office
Wait for the call from OWWA if you are in the applicants slot.
You will be given a Notice of Award. You should then enroll and complete your training course within 45 days to avoid invalidity of your application for free training.
Below is a screenshot of the application form for the SUP program: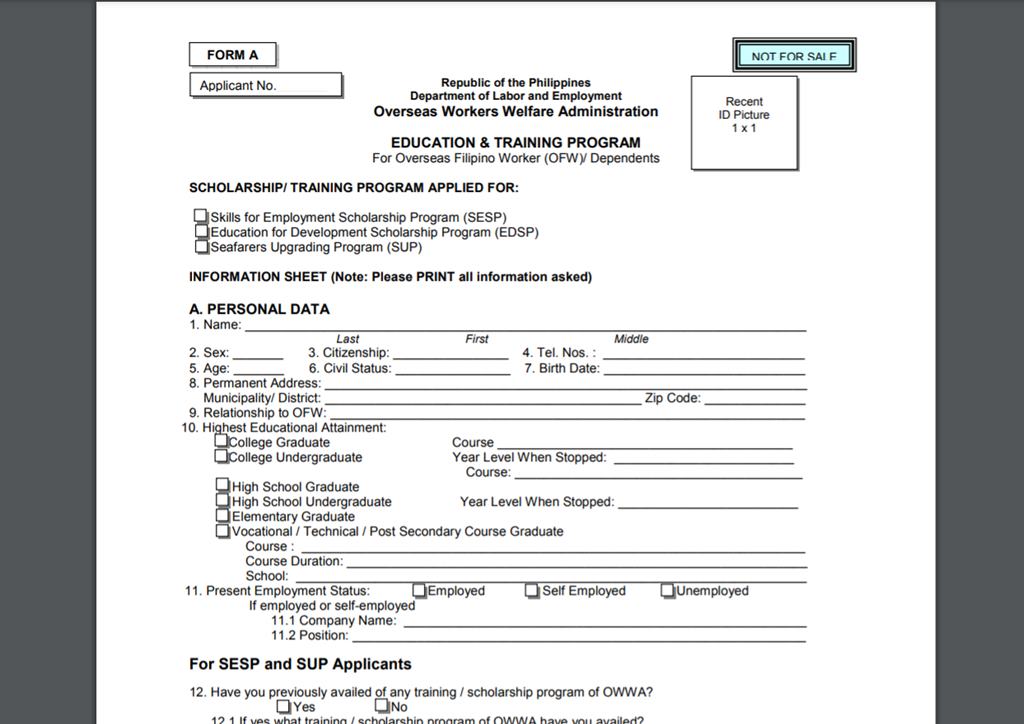 Important Things to Know about SUP
Only after the SUP application has been approved will the applicant receive a Notice of Award (NOA).
Upon enrollment in the course, the NOA must be submitted to the approved training center. The training centers are already aware of this, so all you have to do now is show them your NOA when enrolling.
The NOA is only valid for 45 days after it is accepted. Make sure you get your hands on it within 45 days. You won't get another NOA if you don't use it within the time limit. You will have to wait for the next scheduled appointment.
Under SUP, the seafarer must comply with and complete the course requirements.
NON-NCR residents' applications for SUP are processed in seven (7) working days after submitting all necessary documents, subject to verification by the other 16 OWWA Regional Welfare Offices.
Residents of the NCR may apply for SUP within two (2) working days of submitting all relevant documents.
Just Php7,500 per training course is provided by the SUP subsidy. This implies that if the course costs more than this, the remaining balance should be paid by the seafarer.
After three reported OWWA membership contributions, seafarers will continue to receive subsidy.
Frequently Asked Questions (FAQs)
Below are some common questions and answers about the OWWA SUP program. Please be guided accordingly:
1. How much is the amount of the OWWA Financial Assistance for Seafarer?
A P7,500 preparation allowance/assistance.
2. May I still participate in the training if the cost exceeds P7,500?
Yes, you will still attend the training, but you will be liable for any costs exceeding P7,500.
3. Is the Notice of Award (NOA) valid for a certain number of days/months?
The NOA is only valid for 45 days after it is accepted. Make sure you get your hands on it within 45 days.
You won't get another NOA if you don't use it within the time limit. You will have to wait for the next scheduled appointment.
Video: OFW Claims Her OWWA SUP Cash Subsidy
Check out this video of one of our kababayans who went to Intramuros to go to OWWA and avail the OWWA training subsidy. In the video, the Filipina also shared details about the SUP program for seafarers. So if you want to avail the free financial assistance, do take advantage of this SUP project by OWWA!
For additional questions:
OWWA Hotline: 1348
Email Address: commandcenter@dole.gov.ph
Cellular Numbers:
(Smart) 09615958438
(Globe) 09052535680
Landline Numbers:
(02) 85680986
(02) 85680984
(02) 85273476
(02) 85273525
(02) 85272115
(02) 53096605
(02) 83538067
DOLE-Bureau of Local Employment (BLE): (02) 8527-2539
Check out this other helpful scholarship and education training programs offered by OWWA: