The Philippines' Department of Science and Technology (DOST) is a government agency in the Philippines that focuses on promoting scientific research, technological innovation, and development. It is responsible for funding and developing the country's scientific and technological achievements. Established as the National Science and Technology Authority (NSTA) in 1958, DOST aims to create a competitive and socially conscious science and technology community.
DOST collaborates with academic institutions, research organizations, and industry partners to address national priorities such as agriculture, health, disaster resilience, energy, and information and communication technology. The DOST provides scholarships, grants, and training opportunities to support capacity-building in the field of science and technology and organizes events to showcase innovative solutions and advancements.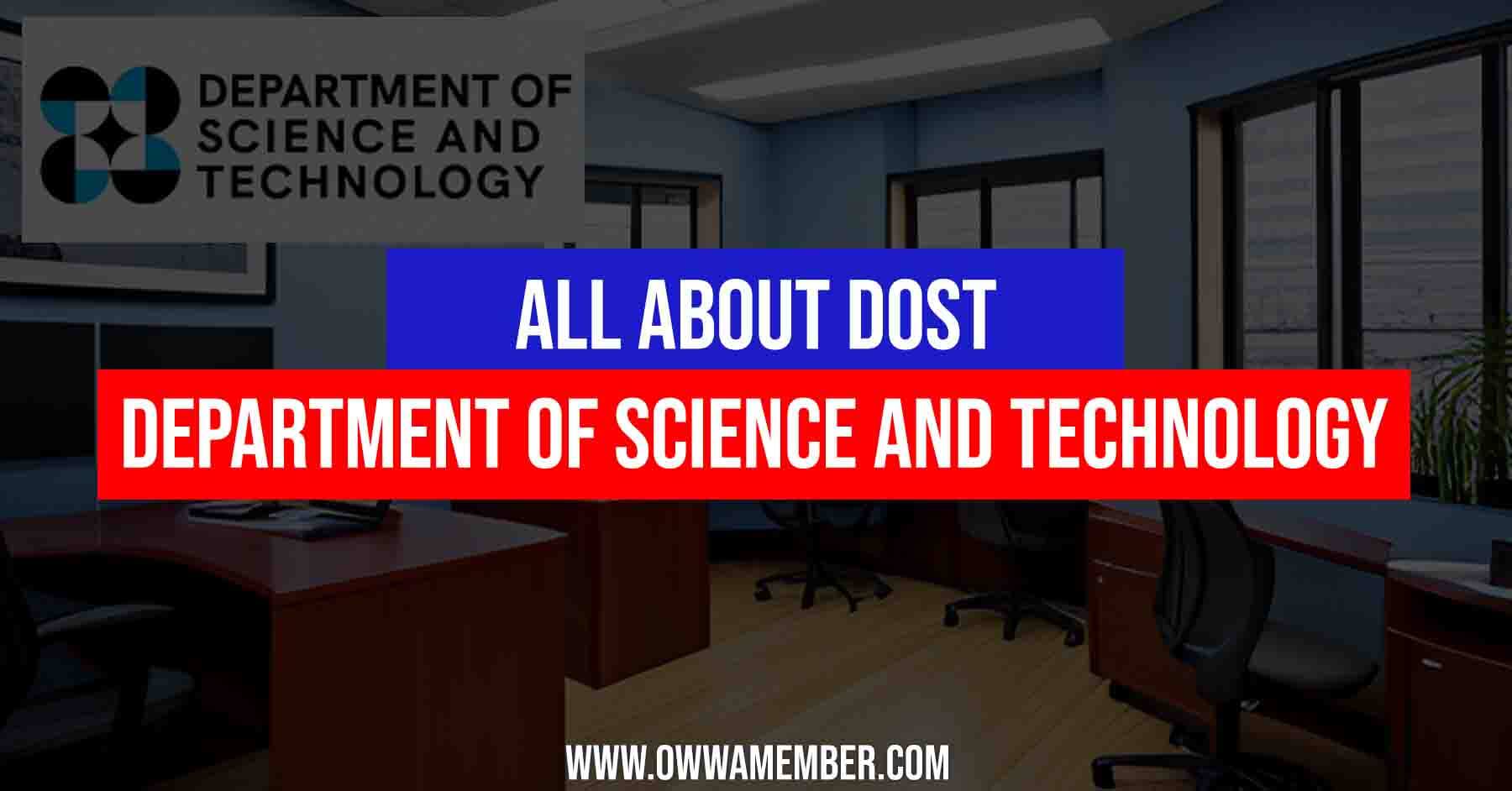 What is DOST?
The nation's leading science and technology agency, the Department of Science and Technology (DOST), has the dual responsibility of developing policies, programs, and projects to promote national development as well as serving as the central direction for all scientific and technological activities.
The following are the agencies incorporated by DOST:
Advanced Science and Technology Institute (ASTI)
Food and Nutrition Research Institute (FNRI)
Forest Products Research and Development Institute
Health Research and Development Philippine Council
Industry, Energy, and Emerging Technology Research and Development Philippine Council
Industrial Technology Development Institute (ITDI)
Information and Communications Technology Office
Metals Industry Research and Development Center
National Academy of Science and Technology
National Research Council of the Philippines (NRCP)
Philippine Atmospheric, Geophysical, and Astronomical Services Administration (PAG-ASA)
Philippine Council for Agriculture, Aquatic Natural Resources Research and Development (PCAARRD)
Philippine Institute of Volcanology and Seismology (PHIVOLCS)
Philippine Nuclear Research Institute (PNRI)
Philippine Science High School System
Philippine Textile Research Institute (PTRI)
Science and Technology Information Institute
Science Education Institute (SEI)
Technology Application and Promotion Institute
Technology Resource Center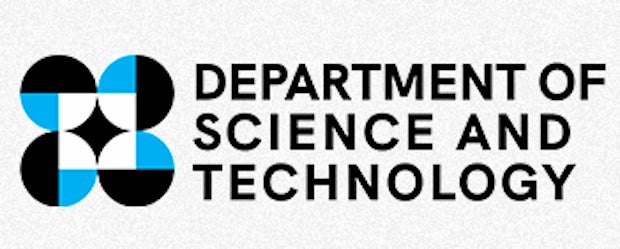 Programs and Services
The following programs, services, and projects are provided by DOST through its central and regional offices as well as affiliated organizations. The DOST Central Office offers a number of DOST services, such as:
Accreditation and Certification
Attached agencies support DOST personnel and research institutions through training and development programs, while regional offices implement policies and provide technical assistance to local government units.
Appreciation to the Balik Scientist Program (BSP)
Balik Scientist Act strengthens science by rehiring technologists, promoting agro-industrial development, and fostering knowledge sharing in science and technology.
Appreciation to the DOST-JSPS Joint Scientific Research Program
DOST-JSPS Joint Scientific Research Program promotes sustainable research in social sciences, fostering scientific exchange, seminars, and collaboration for mutually beneficial collaboration in natural and social sciences.
Appreciation to the Grants-In-Aid (GIA) Program
In an effort to support S&T activities listed in the General Appropriations Act, this DOST program gives funding for the implementation of programs or projects..
The following grant types are available through the program:
DOST-GIA awards
DOST-GIA program awards Ph.D. degree holders in science or technology, allowing five-year research work in the Philippines.
DOST Outstanding Scientist Awards (OSA)
OSA recognizes scientists in technology-related fields for significant contributions to science and technology, with two categories for Young Scientists and Senior Scientists.
Certificate of Eligibility of Non-DOST System S&T Personnel under R.A . No. 8439
With the use of this program, qualified Filipino working for S&T agencies other than DOST can become certified for positions as DOST System S&T Officers. DOST provides training and orientation on DOST programs and regulations as well as guidance on how to conduct research effectively as part of the program.
Certification of Science Foundations
DOST S&T Foundation Unit provides technical advice and support for national biosafety policy development, ensuring regulatory frameworks and effective implementation of policies related to biotechnology. DOST also conducts research and development projects for the advancement of science and technology and provides S&T-focused private foundation certificates for tax exemption purposes.
DOST Wide S&T Services
Scholarships, technology, and human resources development are provided by the DOST to common people, promoting information, technology transfer, and support for R&D activities by private companies and non-government organizations.
S&T Scholarships
DOST supports the development of science and technology in the Philippines through scholarships and fellowships, attracting outstanding Filipino students for postgraduate studies in S&T-related fields, and supporting research grantees and postdoctoral scholars.
Programs and Projects
The following are the DOST's programs and projects:
Biosafety Clearing-House of the Philippines (BCH Pilipinas)
DOST initiated the Biosafety Clearing-House of the Philippines (BCH Pilipinas) to serve as a repository for applications and biosafety information on genetically engineered crops. It also serves as a communication hub for stakeholders.
DOST Biosafety Committee (DOST-BC)
The DOST Biosafety Committee (DOST-BC) coordinates agencies on biosafety and biosecurity, provides technical advice, and ensures the effective implementation of biotechnology policies.
DOST Scholarship Programs
Listed below are some of the available DOST Scholarships:
The S&T Undergraduate Scholarships Program aims to entice talented Filipino youths to pursue careers in science and technology and ensure that the government will have an adequate supply of qualified human resources.
The DOST-SEI Merit Scholarship Program
The DOST offers a scholarship program for students who are highly talented in math and science and who want to work in the fields of science and technology.
RA 7687
The Science and Technology Scholarship Act of 1994 is an Undergraduate Scholarship program for talented students from low-income families. Applicants must pass exams and pursue collegiate studies in basic sciences, engineering, applied sciences, and science and mathematics teaching.
The brilliant and deserving students who are enrolled in their third year of college and pursuing degree programs in science and technology are the only ones eligible for this scholarship program.
The Accelerated Science program provides scholarships to qualified individuals who wish to pursue Master's and Doctoral programs in priority S&T areas. The program aims to enhance global competitiveness and innovation through S&T, accelerating high-level human resources production.
The Capacity Building Program in Science and Mathematics Education, a collaboration between DOST-SEI and NCGSME, offers grants for Master's and Doctorate degrees in science and mathematics education, aiming to enhance education quality and develop a critical mass of experts.
Engineering Research and Development for Technology (ERDT)
Institutions in the Engineering Research and Development for Technology consortium offer masters and doctoral degrees in various engineering fields. This Consortium is composed of the following academic institutions:
Ateneo de Manila University (ADMU)
Central Luzon State University (CLSU)
De La Salle University (DLSU)
Mapua University (MU)
Mindanao State University-lligan Institute of Technology (MSU-llT)
University of the Philippines Diliman (UPD)
University of the Philippines Los Banos (UPLB)
University of San Carlos (USC)
Foreign Graduate Scholarship Program
The Foreign Graduate Scholarships Program, initiated by DOST-SEI, aims to upgrade the country's research and technological innovation capabilities in science and engineering. Grantees must enroll in reputable foreign universities, enhancing human resources and global competitiveness.
UAlberta S&T Graduate Scholarship Program
The DOST-SEl-UAlberta S&T Graduate Scholarship Program supports graduate studies in priority S&T fields at the University of Alberta in Canada, enabling Filipino master's and doctoral students to study and conduct research.
PhilFrance DOST Fellowship Program
The PhilFrance DOST Fellowship Program in the French Republic supports Filipino professionals' mobility in higher education and research institutions, enabling them to pursue Master's or Doctorate degrees.
Science and Technology Regional Alliance of Universities for National Development
Scholarship grants for qualified individuals pursuing STEM Master's and Doctoral programs are offered by STRAND, enhancing faculty profiles and training high-level human resources in STEM priority fields.
Video: DOST scholarship program tumatanggap pa ng mga aplikante | Newsroom Ngayon
CNN Philippines interviewed DOST-SEI Scholarship Division chief Peter Gerry Gavina regarding the DOST, its programs, and its services. Watch the video below to know the recent updates in the DOST scholarship program.
Frequently Asked Questions
If you have any further questions regarding the "DOST – Department of Science and Technology" see the list of frequently asked questions and answers below.
1. What is DOST?
The Department of Science and Technology (DOST) was established as the nation's principal science and technology organization to direct, coordinate, and lead national scientific and technical endeavors in line with developmental trends at the national level.
2. What is the purpose of DOST?
Supporting and supplementing scientific and technological services, DOST ensures the development and implementation of S&T policies and programs, ensuring the country's progress.
3. What is DOST benefits?
By giving local entrepreneurs access to labs, innovation hubs, and funding for product development, DOST promotes societal benefits through technical programs and services.
4. Is the DOST admission exam challenging?
DOST scholarship exam is easier than UPCAT, but students can easily qualify with proper preparation, materials, and strategies for entrance exams. After passing the examination, you only need to submit the required requirements.
5. What are the benefits of being a DOST scholar?
One of the highest financial assistance and scholarship allowances in the Philippines is provided by DOST. Students who meet the requirements will be given financial assistance and a monthly living allowance.
6. How can I tell if my application for a DOST grantee was successful?
The Department of Science and Technology's (DOST) official website publishes the results of every scholarship selection, whether it be for an undergraduate or graduate degree scholarship. An email message will be sent to all eligible students.
Summary
The Philippines' top organization for scientific research and development is the Department of Science and Technology (DOST), which supports national growth through programs, services, and projects. DOST offers information, programs, and services to support global scientific advancements and improve the quality of life for Filipinos in the Philippines and overseas.