Pinoys based in Singapore and need to renew their OWWA membership, you can renew it by going to the Migrant Workers Office (MWO) / Philippine Overseas Labor Office (POLO) located at Philippine Embassy at 20 Nassim Road. Be advised that in order to enter the embassy, you need to book an appointment first. Here we outline the steps on how to get an appointment before you go and visit the POLO-OWWA office.
Also Read: How to Register in OWWA Mobile App
As a general rule and based on the Singapore office's announcement, the appointment is done by sending an email to polosgappointment@yahoo.com. Although there is also a Google form document online that mentions that you can make an appointment booking by going to this link. We advise to use the email service as this is from the announcement on the POLO-SG website.
Depending on the purpose of your appointment, the requirements and documents you need to complete may vary. Because of these challenging times, it is important to have a pre-arranged appointment before you go to the OWWA office. Filipinos living in Singapore must schedule an appointment in advance to visit the POLO-OWWA office, whether to inquire about OWWA events and services or to renew their membership.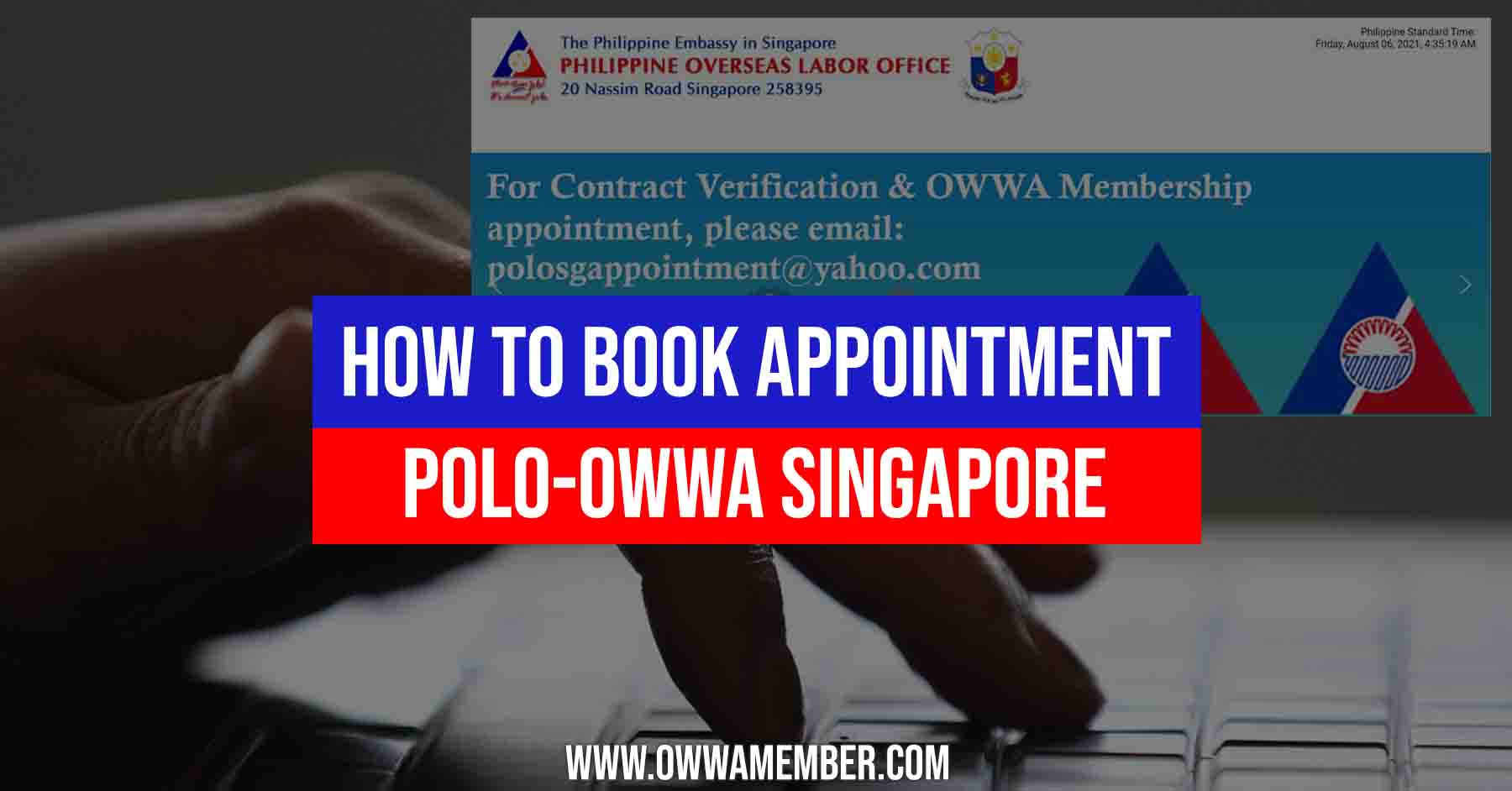 Amount of Contribution
The OWWA membership contribution shall be Thirty-Six Singaporean Dollars (SG $36.00).
Membership Validity
Membership is valid for two (2) years for each contribution, regardless of contract length, change of employer, job site, or recruitment agency. Following that, OWWA membership must be renewed if proof of active employment is presented.
OWWA Membership/Renewal Requirements in Migrant Workers Office Singapore
Here is a list of requirements/documents you need to secure for your OWWA renewal at the Philippine Embassy in SG:
Original Passport
OFW Information Sheet – completely filled out – download the sheet here
Valid Visa – The validity of the visa should be more than 90 days, and the OFW must be working actively and continuously.
Valid Employment Contract or Certificate of Employment – OFW must produce a certificate from the company/employer verifying that they are not on the list of employees due for termination/ termination/canceled/ resigned or Latest payslip.
Valid Work Pass – Work Permit / S-Pass / Employment Pass / Contract verified by POLO SG
Membership Fee (ranging from Php 1,000- Php 1,500 or SG $36.00)

How to Schedule POLO OWWA Appointment in Singapore Online
If you want to renew your OWWA membership while working (on your days off) you can go to POLO-OWWA Singapore. Online appointment booking is handled by OWWA Singapore via email.
OFWs in Singapore can apply for or renew their OWWA membership at the Philippine Embassy in Singapore's Windows 1 and 2, Philippine Overseas Labor Office (POLO).
Step 1: Click the link for OFW Membership Form Link: https://owwa.gov.ph/images/downloads/OWWA-OFW-INFORMATION-SHEET.pdf
Step 2: Print the OFW Information Sheet
Step 3: Input the date and amount of the OWWA contribution portion's latest payment
Step 4: Fill in all of the required personal information.
Step 5: Fill in all of the details in the Contract Particulars section.
Step 6: Make a list of your legal beneficiaries or qualifying dependents.
Step 7: After you've filled out all of the required fields, place your sign over your printed name.
Step 8: Send an e-mail with the form attached.
How to Pay OWWA Membership at POLO-Singapore
Please follow the steps below in order for you to renew your OWWA membership when you arrive at the POLO Singapore office on the day of your appointment.
1. Go to the Philippine Embassy in Singapore POLO office during the day of the appointment. Present a copy of your appointment email to enter the office.
2. Go to Windows 1 and 2 to renew the OWWA.
3. Present the document requirements for validation.
4. Pay the OWWA membership fee of S$36. Cash payments only.
That's it! This is the simple process to renew your membership when you're at the POLO-OWWA Singapore office on the day of your appointment.
Check out this video shared by a Filipina about the process of renewing her OWWA account to become a certified OWWA member. She shares their experience as they mentioned that they only realized that their OWWA has already expired and they needed to keep their OWWA accounts active.
https://www.youtube.com/watch?v=iteovW_QlhU
How to Get There
In order to get to the Philippine Embassy in Singapore POLO-OWWA office, you can follow these 2 modes of transport below:
Public Transport – Ride the MRT train and alight at Orchard Station. Exit at the Shaw Centre side and head to the Orachard Road. As you pass by Orchard Tower, you can turn left until you reach the PH Embassy.
Taxi – Alternatively, you can take a taxi cab and inform the taxi driver that you are heading to the Philippine Embassy in Nassim Road.
Important Reminders during the Appointment Day
Please double-check that your requirements are accurate and full. Requirements that are not full will not be handled.
Before you go to polo Singapore for your appointment, be sure to read and complete the requirements.
Please wear proper attire when you visit the POLO office.
The OWWA membership receipt is issued on the same day as the application.
If you have questions about OWWA programs and services, please send an email at owwasingapore15@yahoo.com or visit the OWWA website at www.owwa.gov.ph
In case you want to learn more about renewing your OWWA membership as an OFW in Singapore, please check out this video as shared by a Filipino and his experience applying for his OWWA membership. This video is intended to those who are going to apply for the first time:
There is a slight difference for domestic workers in Singapore when they verify their contract and renew their OWWA. Please check out the video as shared by this Filipina for some tips about the process and requirements:
Based on the Pinay's experience, below are the additional requirements she needed to present at the Philippine Embassy during her date of appointment:
Confirmed Appointment Booking
Standard employment contract (original and photocopy)
Undertaking of the Employer (original and photocopy)
Working Permit (3 photocopies)
Passport (3 photocopies)
Employer ID (3 photocopies)
OFW Information Sheet
SG $17 Fee for Contract Verification
SG $36 Fee for OWWA Renewal
Download OWWA Information Sheet Singapore
It is really important that you make an OWWA booking first before going to the OWWA office. Another thing is to complete all required documents. One of these documents is the OFW Information Sheet. To download the OFW information sheet, please check the link here – https://owwa.gov.ph/images/downloads/OWWA-OFW-INFORMATION-SHEET.pdf
Below is a screenshot of the said OFW information sheet for your reference. We have taken this screenshot from the official OWWA website: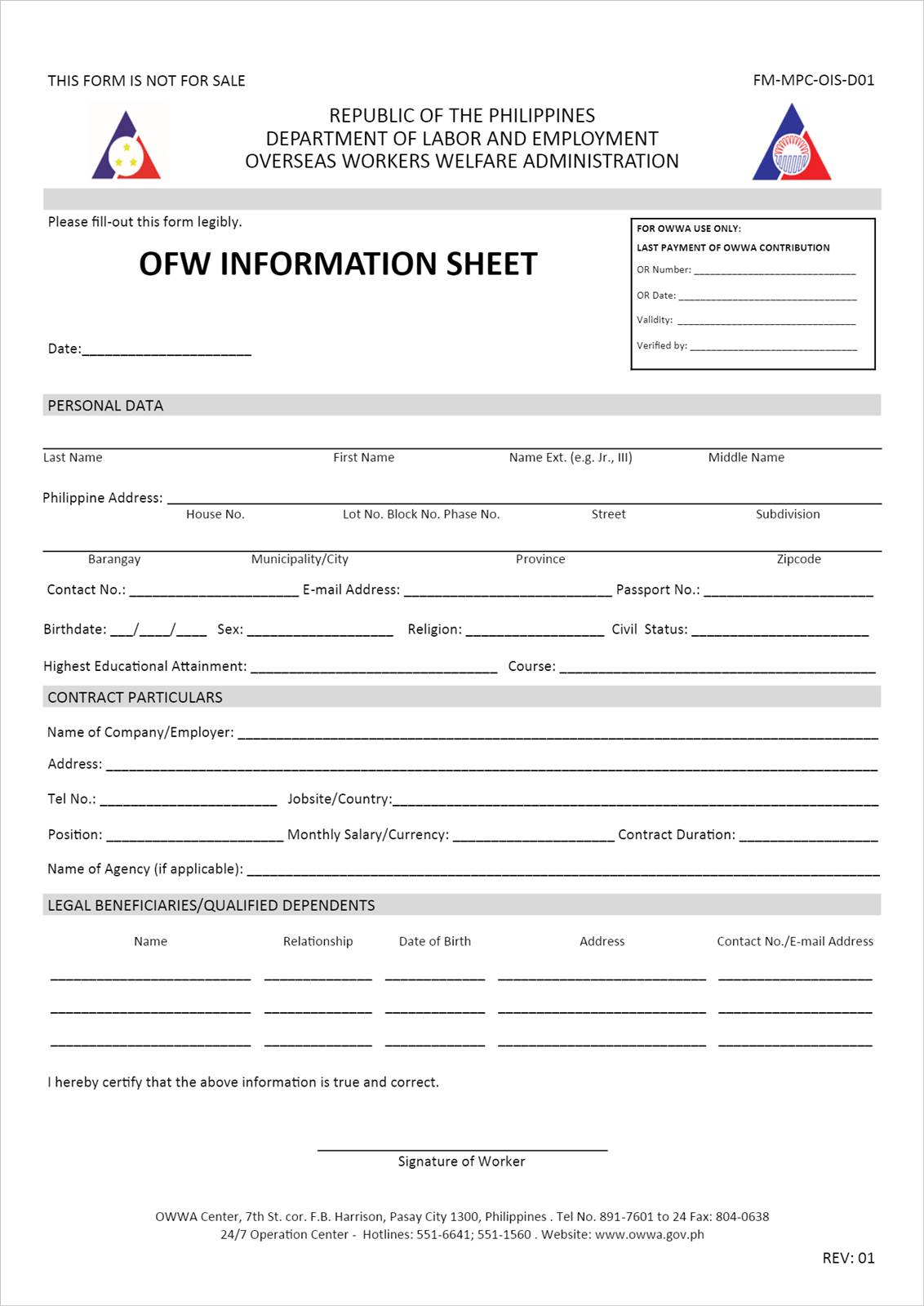 Frequently Asked Questions
Here are some common questions and answers about getting an appointment for the renewal of your OWWA membership in the Singapore OWWA office.
1. Is it possible to schedule an appointment when I'm working?
Yes, you can book an appointment by sending an email to POLO Singapore via polosgappointment@yahoo.com.
2. How much does the OWWA membership fee cost?
The OWWA membership contribution shall be Thirty-Six Singaporean Dollars (SG $36.00).
3. How long is the OWWA account active?
When you pay the OWWA fee and renew/apply for your membership, your account will be active for 2 years.
4. Can I renew OEC in Singapore?
Yes, you can renew your OEC at the POLO office. You can do this by also booking an OEC appointment in Singapore.
Summary
It is required to make a reservation since admission to the POLO-OWWA office in Singapore may be denied if you do not have an appointment confirmation. The process will proceed more swiftly and safely if you arrange an appointment. Please do not forget to renew your OWWA membership to take advantage of the benefits and programs that come with being an active member.
So these are the steps in order for you to make a booking for OWWA in the Singapore office. Please be guided accordingly and continue to stay safe. Based on our research, the POLO office Singapore is quite active so it's good to know this as it shows that they are doing their best in taking care of the welfare of Filipinos in this country. In turn, it is good that we also do our part in adding this government process to our list of things to do.
Contact Information
MWO / POLO-OWWA Singapore
Address: 20 Nassim Road, Singapore 258395
Website: https://polosingapore.dole.gov.ph/
Opening Hours: 9am to 3pm (Monday to Friday – except public holidays)
Email:
polosgappointment@yahoo.com – Contract Verification/Collection Appointment, Agency Accreditation Appointment, OWWA Membership Appointment
polo_singapore@dole.gov.ph – Contract Verification/Agency Accreditation
oecpolosingapore@gmail.com – OEC Concerns
polosgwebinar@gmail.com – Webinar Concerns
polosgaccreditation@gmail.com – Agency Accreditation Concerns
owwasingapore15@yahoo.com – OWWA Membership and Welfare Concerns
singapore@sss.gov.ph – SSS Membership Concerns and Benefits Claims
popsingapore@pagibigfund.gov.ph – Pag-IBIG Membership Concerns and Benefits Claims
Telephone Number/s: +65 67373977
HOTLINE:
+65 8186 3549 – Contract Verification/Agency Accreditation/OEC Concerns
+65 9023 5601 – OWWA Membership and Welfare Concerns
+65 9639 5453 – SSS Membership Concerns and Benefits Claims
+65 9853 3147 – Pag-IBIG Membership Concerns and Benefits Claims
Facebook Pages:
Google Map Location
Please see this map guide to the location of the MWO POLO-OWWA Singapore office: