This next OWWA at Your Service episode was uploaded on May 2, 2021, and features an interview with Rommelyn, a former Filipina OFW from Jeddah, Saudi Arabia. Rommelyn took advantage of the Balik Pinas, Balik Hanapbuhay program by OWWA upon learning about this program during her vacation in the Philippines. She now has a sari-sari store and food business that she runs.
Rommelyn's story is a sensitive one as she shared her traumatic experience working in a salon where there were multiple attempts of sexual abuse from different customers.
OWWA continues to help OFWs regardless of their statuses. The benefits and projects are something you should take advantage of especially if you are paying for your membership. The OWWA at Your Service Team, together with DA Mocha and DA Bubsie, visited a BPBH Availee in Region VI in Kalibo, Aklan. The team checked up on her on what she has been doing from the time she went home and established her own business.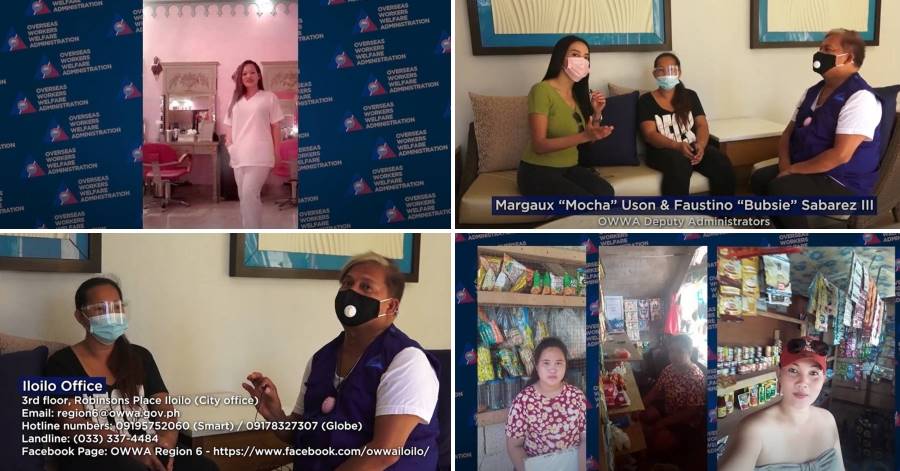 What is OWWA Balik Pinas Balik Hanapbuhay Project?
BPHP stands for Balik Pinas! Balik Hanapbuhay! Program established by OWWA. It's a livelihood support and assistance package program that can be availed by OFWs who have been distressed or removed from their work abroad. The beneficiary will get PHP 20,000 to start a livelihood project.
This is usually given to distressed OFWs – those who have not completed their contracts but have returned to the Philippines for good.
Story of Rommelyn Umambong Now with Sari-Sari Store and Food Livelihood
In this episode, Rommely Umambong was interviewed by DA Mocha Uson. Rommelyn worked as an OFW in Jeddah. This was her story from being an OFW to becoming a successful business owner.
"I went abroad last September 15, 2015. I worked at salon where I became a therapist. I had a Domestic Helper License but when I got there, I became an all-around staff. I was in charge of the massage services, I did manicure and pedicure, I was also a hair colorist."
When DA Mocha asked Rommelyn about her years of stay in Jeddah, she told that she worked there for about 2 years and 3 months.
"It was my first time going to Jeddah. I was supposed to renew my contract but I decided not to because of some circumstance that happened to me at work. My contract was supposed to end on September 15, 2017. I told my boss that I didn't want to do room massage services for men because it was not allowed and there were customers who attempted to rape me. I experienced this attempt thrice. I told my boss that I didn't want to do this particular service anymore since there were other jobs to do, such as spa at the salon. My boss didn't agree. When I told her that I would not renew my contract anymore, she detained me for 3 months. What I did was tell her that I would renew my contract just so she could release me. When she released me, I didn't go back and went back home to the Philippines."
Rommelyn continued telling her story. "When I got back, I made a statement of what happened. Then, I applied for the Balik Pinas Project from OWWA. I got 20,000 pesos as assistance from OWWA and that's what I used to build my sari-sari store."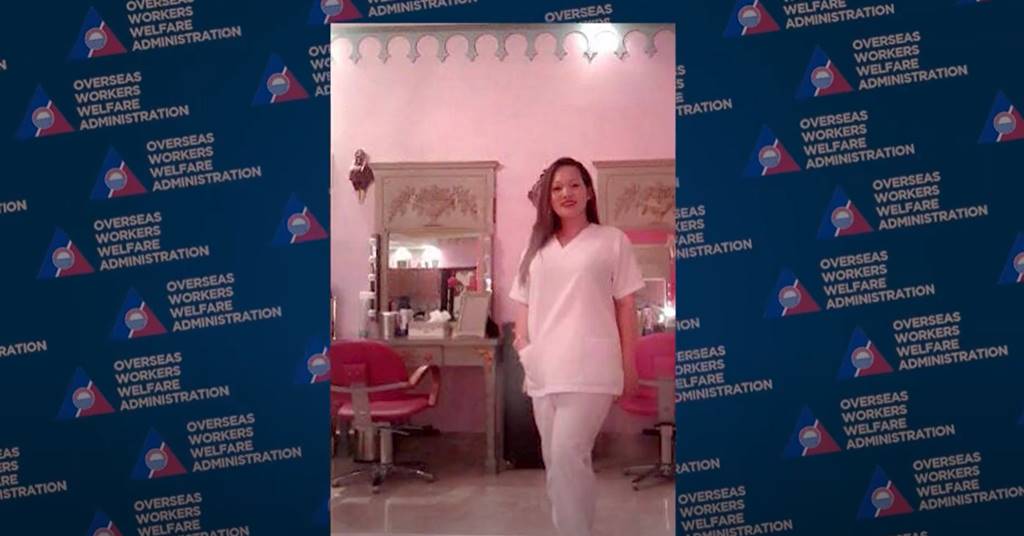 How did Rommelyn learned about PHP 20,000 Balik Pinas Livelihood Project?
DA Bubsie asked Rommely how did she learn the said program. This was Rommelyn's response:
"When I was in Manila for my vacation, my colleague asked me what would be my work here. She said I should go back to work since back then, I had no job here. Then I told her I didn't want to go back because of what happened. She introduced me to OWWA's Balik Pinay Balik Hanapbuhay Program. At first, I didn't know how to avail myself. So, I asked her how. She said I just needed to go to OWWA and ask for the requirements, which I did."
When DA Bubsie asked her if she experienced challenges during the submission of the requirements to avail of the program, she said no.
"It was not that hard if you follow what needs to be done. The submission of requirements is easy. When I got the money, I built my own sari-sari store, I cooked homemade dishes and snacks."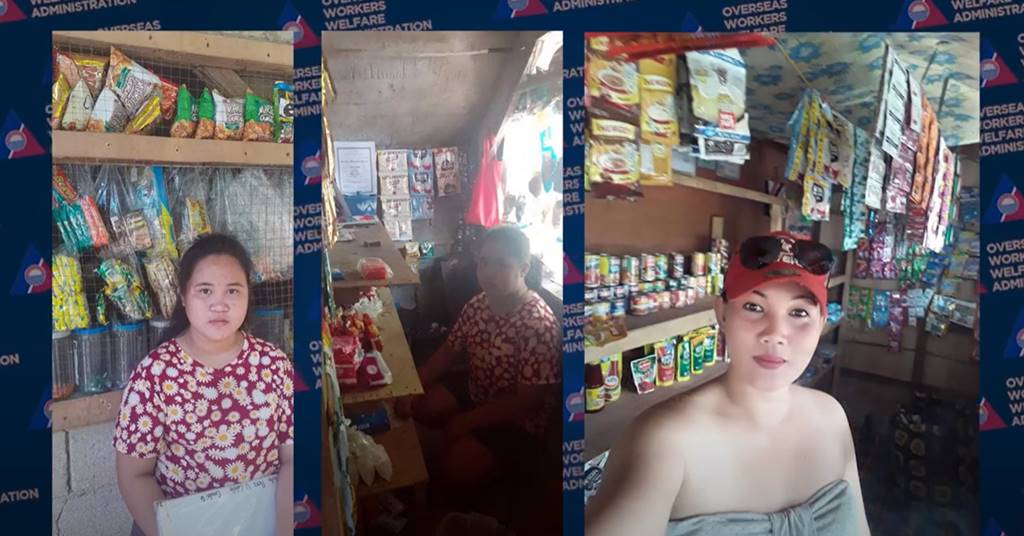 Rommelyn's Businesses Now
DA Bubsie also asked about the status of Rommelyn's business.
"Aside from my sari-sari store, I was also able to supply frozen food, pork meat, and chicken. I was also able to buy my freezer, which was a second-hand appliance. I was able to use the money wisely."
Rommelyn's Advice to OFWs
It's not very uncommon for an OFW to do jobs that are not covered by the job description and role when they signed the contract. In fact, Rommelyn is just one of them. There are also many Filipinos who experience the same situation.
Here's Rommelyn's advice to OFWs who are experiencing the same situation abroad:
"You have to trust God. Be Vigilant. Don't just say "yes" all the time, especially if you are in Saudi. Not everything our boss says about our job is true. You have to be careful in Saudi. Always follow the rules. In case you experience some problems, you can always contact OWWA and ask for help."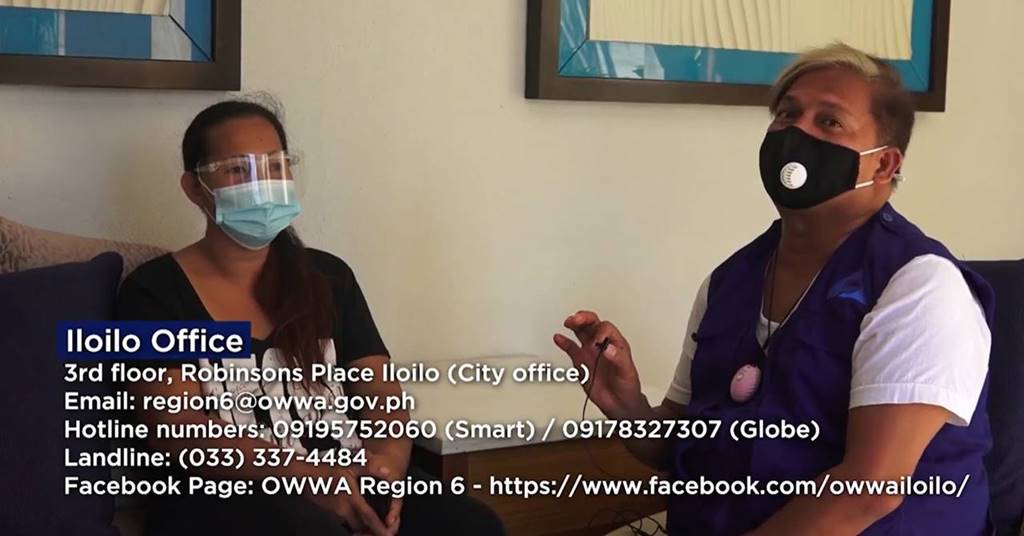 How to Avail the Balik Pinas Program
Rommelyn was able to get 20,000 from the Balik Pinas Balik Hanapbuhay Program of OWWA. Since she's an active member of the agency, she managed to apply for the program without a hassle.
"I used the 20,000 pesos as my starting capital when I got back to the Philippines. I am very thankful for Sir Sherwin of OWWA for his guidelines so that I could avail of this program."
DA Bubsie emphasized that any active member of OWWA can avail of the same service with the same benefit of — PHP 20,000. Just submit your requirements and complete them. You can either go to the OWWA branch nearest to your place or go to www.owwa.gov.ph to check the services offered by the agency.
If you are a distressed OFW who has been terminated from work and you are an active OWWA member, you can avail yourself of this particular program. You can get 5,000, 10,000, or 20,000 pesos benefit from the agency depending on your contributions.
Once again, don't forget to update your membership payments so you can be an active member of OWWA. You can pay online through the agency's mobile application or you can let your relatives in the Philippines pay for your membership.
Also Read: 
How to Book OWWA Appointment in Jeddah, Saudi Arabia
How to Book OWWA Appointment in Riyadh, Saudi Arabia
Video: Interview with Rommelyn, Former OFW in Saudi, Balik Pinas Availee
Check out this video clip of the interview with Rommelyn as she shares her story and advice to all OFWs:
Kumusta muli Kababayan! Sa paglilibot ng OWWA AT YOUR SERVICE, nakapanayam naman namin ang isang dating OFW na si ROMMELYN UMAMBONG, mula sa Region VI na isang Balik Pinas! Balik Hanapbuhay! program availee. Alamin natin ang kanyang waging kwento.
—
Nagsimula mag-trabaho si Rommelyn sa Jeddah, Kingdom of Saudi Arabia noong September 2015. Nagtrabaho siya bilang isang therapist sa isang salon. Kalaunan, naging all around siya sa trabaho sa loob ng dalawang taon.
Dahil sa kanyang trabaho, muntikan na siyang ma-rape nang tatlong beses dahil sa kanyang amo na pumapayag na room service sila. Ito ang naging dahilan kung bakit ayaw niyang mag-renew ng kontrata sa kanyang employer.
Bilang pamamaalam ng maayos sa kanyang employer, sinabi ni Rommelyn na hindi na siya mag-rerenew ng kontrata at dahil dito, hinold siya ng kanyang employer at dinetain. Para lang makauwi siya, nagsabi siya na magrerenew siya ng kontrata pero hindi na siya babalik dahil tapos na naman siya ng kontrata at dahil na din sa pangyayari.
Pagbalik sa Pinas, sumangguni siya sa OWWA tungkol sa nangyari sa kanyang employer. At dahil distressed si Rommelyn, pinag-apply siya sa Balik Pinas! Balik Hanapbuhay! Program.
Dahil sa livelihood assistance na PHP 20,000.00, nagsimula siya ng isang sari-sari store business at kalaunan, nag-expand sa frozen food at mga paninda para sa pag-aalaga ng mga baboy at manok.
Isa lamang si Rommelyn sa mga OFWs na distressed at nag-avail ng BPBH program. Ang OWWA Balik Pinas! Balik Hanapbuhay! Program ay isang livelihood support/assistance para sa mga distress o displaced na returning OFW-members na nagbibigay ng PHP 20,000.00 bilang panimula o karagdagang kapital para sa sa inyong livelihood project.
Sa mga gustong mag-avail ng BPBH o iba pang programa mula sa OWWA, sumangguni, tumawag o magtanong lamang sa pinaka-malapit na OWWA Regional Welfare Office sa inyong lugar.
Para sa mga taga-Region 6, narito po ang mga contact details ng ating OWWA Regional Welfare Office sa Iloilo:
Iloilo Office
3rd floor, Robinsons Place Iloilo (City Office)
Email: region6@owwa.gov.ph
Hotline numbers: 09195752060 (Smart) / 09178327307 (Globe)
Landline: (033) 337-4484
Facebook Page: OWWA Region 6 (https://www.facebook.com/owwailoilo)
Samahan muli kami sa mga waging kwento ng ating mga kababayang OFW dito lang sa OWWA AT YOUR SERVICE.
https://www.youtube.com/watch?v=tfRHddOwIDg
OWWA Iloilo Office
3rd Floor, Robinsons Place Iloilo (City Office)
Email: region6@owwa.gov.ph
OWWA Iloilo Hotline Numbers: 09195752060 (Smart) / 09178327307 (Globe)
Landline: (033) 337-4484
Facebook Page: OWWA Region 6 – https://www.facebook.com/owwailoilo
————————————————-
Check out the full transcription of the interview above in the text below:
Rommelyn Umambong's Story – Original Transcription
Magandang araw po sa ating mga OFWs, ako po si Mocha Uson ang inyong DA mula sa Owwa at kasama ko rin po si DA Bubsie at ngayon po ay may makakausap po tayong dating ofw sa Jeddah si maam Rommelyn Umambong, Maam Rommelyn kamusta ka?
Rommelyn: okay naman po maam.
Mocha: Good afternoon po, paki kwento naman po sa amin kailan kayo nagsimula mag OFW.
Rommelyn: Umalis po ako Sept 15, 2015 po. Nagtrabaho po ako sa salon. Trabaho ko po don na pinasukan is na therapist po ako DH license po ako pero pagdating ko po doon ang naging trabaho ko doon semi all around, nagmamassage po ako nagmamanicure nagkukulay ng buhok.
Mocha: Ilang taon ka don sa Jeddah?
Rommelyn: Bali 2 years and 3 months po.
Mocha: Yun yung unang beses kayo bumyahe tapos ano pong nangyare?
Rommelyn: Recontract sana ako kaya lang nagdecide sana ako na dati kasi dapat matatapos contract ko sep 15,2017 sabi ko kasi sa madam ko hindi na ako babalik kasi po pag massage po diba bawal po diba lalaki kaya lang ito pong madam ko nagrroom service po ako lalaki 3 times po akong iattempt na gahasain so nagcomplain po ako sabi ko di na ko magmamassage ng room service kasi may ano naman sa spa sa salon kaya lang ayaw nya kasi hanggang family nalang daw tapos nung sabi ko di ako magrerenew ng contract ginawa nya yung mga nauna kong mga kasamahan ko nauna pa ko sa kanila nakauwi na ako dinetain nya ko ng 3mnths kung di ako nagsabi na babalik di nya ko irerenew di nya ko papauwiin so ang ginawa ko nagsabi nalang ako na babalik pero di na ko bumalik kasi nga po yun yung nangyayari.
Mocha: Ngayon nakauwi ka.
Rommelyn: nung nakauwi po ako gumawa po ako ng statement ko po na ganon yung nangyare sa akin tapos nag apply po ako sa OWWA sa balik pinas projrct po nakakuha po ako ng 20,000 yun po yung pinangsimula ko sa maliit na sari-sari store.
Bubsie: Since nandito kana sa Pilipinas kanina sa pag uusap nyo ni Da Mocha nabanggit mo na naka avail ka ng balik pinas balik hanap buhay program paano mo ito nalaman at paano mo sya yung proseso.
Rommelyn: Kasi po nung nasa maynila po ako meron po akong kasamahan na naunang umuwi sa akin tas sabi nya dai anong hanapbuhay mo jan ngayon sabi ko wala, sabi nya ayaw ko na daw ba talagang bumalik sabi ko hindi kasi natapos na yung bakasyon ko kasi hindi nga ako babalik tas sabi nya itry mo sa OWWA meron silang balik pinas project e sabi ko paano ko maavail tas sabi ki punta ka sa OWWA ninyo, yun po nagpunta po ako, nagtanon po ako kung ano yung mga requirements.
Bubsie: Nahirapan kaba sa pagpasa ng mga requirements para maavail mo ang balik pinas balik hanapbuhay program?
Rommelyn: Hindi naman po basta po sundin lang ang mga daoat gawin madali lang naman po, nagtayo po ako ng sari sari store at nagluluto luto po ako ng lutong ulam tsaka meryenda.
Bubsie: Kamusta naman po ngauon yung sari sari store nyo?
Rommelyn: Nakapag ano po ako ng frozen foods tsaka nag ano rin po ako ng mga ano ng baboy manok nakabili po ako ng freezer na second hand po kung baga po napaikot ko po sya ng maayos.
Mocha: Maam rommrlyn sa inyong dinanas bilang OFW yung pinipilit kayong gawin kahit wala naman yan sa usaoan sa trabaho nyo, ano yung maibibgay ninyong mensahe sa mga kapwa ninyo ofw lumabas din ng bansa.
Rommelyn: Tiwala sa Diyos unang una, mag machag po di basta o-oo lang tapos po usually po sa saudi hindi lahat ng sinasabi ng madam natin is natutupad po kaya onting ingat po pagdating sa saudi tapos po kung ano pong patakaran nila sundin natin tapos kung sila po mismo ang lumabag may mga OWWA naman po doon pwede po huminga ng tulong.
Mocha: yun nga DA bubsie kaya nga nakakuha si maam Rommelyn ng 20,000 pesos BPBH Program dahil sya po ay active OWWA member at nakatulong naman ang OWWA maam?
Rommelyn: Yes po, yun po yung ginamit ko ng pang simula po nung umuwi po ako nagpapasalamat nga ako kay sir sherwin OWWA kasi po kung di po dahil sa guide lines nya di po ako makakaavail sa OWWA po na balik pinas.
Bubsie: etong balik pinas program po ay pwede nyong iavail this is a livelihood program na ibinibigay ng OWWA worth 20,000 pesos kapag ikaw ay nakapasa sa requirement nila kaya inaanyayahan ko lahat ng OFW na i avail nila ito at magpunta lang sa OWWA.GOV.PH
Mocha: At tulad nga ng nabanggit ni DA bubsie itong balik pinas balik hanapbuhay program kung ikaw ay active owwa mmember at nawalan ka ng trabaho abroad distress ka makakakuha ka ng 20,000 pesos kung inactive member ka at may kontribusyon ka sa OWWA membership mo makakakuha ka ng 5,000 pesos kung inactive ka at more than 1 contribution ang binigay mi sa OWWA meron kang 10,000 kaya sa OWWA ang myembro, protektado!