This is the 2nd part of the OWWA at Your Service episode where OWWA officially visited cities in Region 6, particularly Iloilo and Bacolod cities. They uploaded this video on the same day (May 14, 2021). If you want to check out the first part of OWWA Region 6 visit, you may check it out here.
Region 6 is the Western Visayas region and this episode highlights OWWA's visit in Bacolod and Iloilo. Please check out OWWA Deputy Administrator for Membership Promotion Mocha Uson and OWWA Deputy Administrator for Reintegration Bubsie Sabarez III as they share news and updates during this visit.
DA Bubsie shares his thoughts on why they are doing these regional visits. He talked about how Philippine President Rodrigo Duterte ordered DOLE Secretary Silvestre Bello III to go to OWWA Administrator Hans Leo Cacdac and make sure that they reach out to all OFWs and give them jobs when they go back here in the Philippines. That's why the OWWA department is going around the Philippines to deliver the message.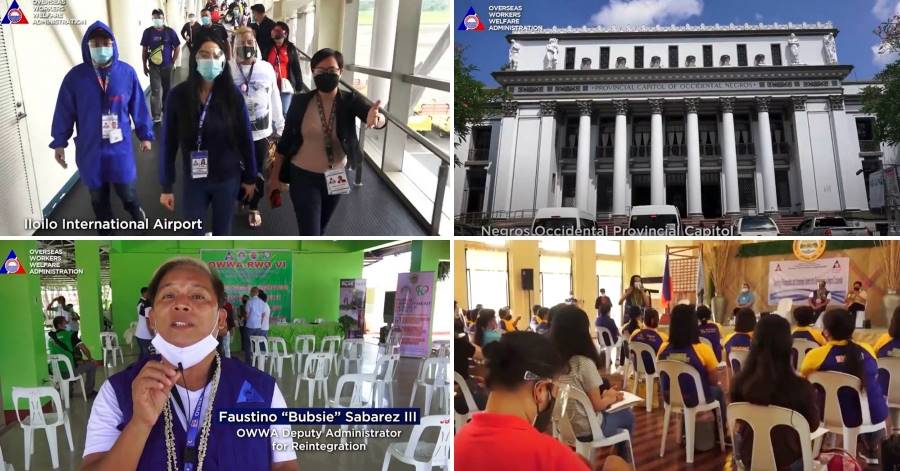 OWWA Iloilo Visit
This episode highlighted beneficiaries who got help from OWWA. OWWA was at the Freedom Grandstand in Iloilo where they interviewed beneficiaries who took advantage of the OWWA programs.
One beneficiary is Rosalie Nigolo. She was a beneficiary for the Balik Pinas! Balik Hanapbuhay, and Project EASE Program. She received PHP 20,000 as cash assistance from the Balik Pinas program for livelihood. On top of the starting capital, she also received PHP 10,000 per year for 4 years as a scholarship grant for her child. She was able to avail of these benefits because she is an active member of OWWA.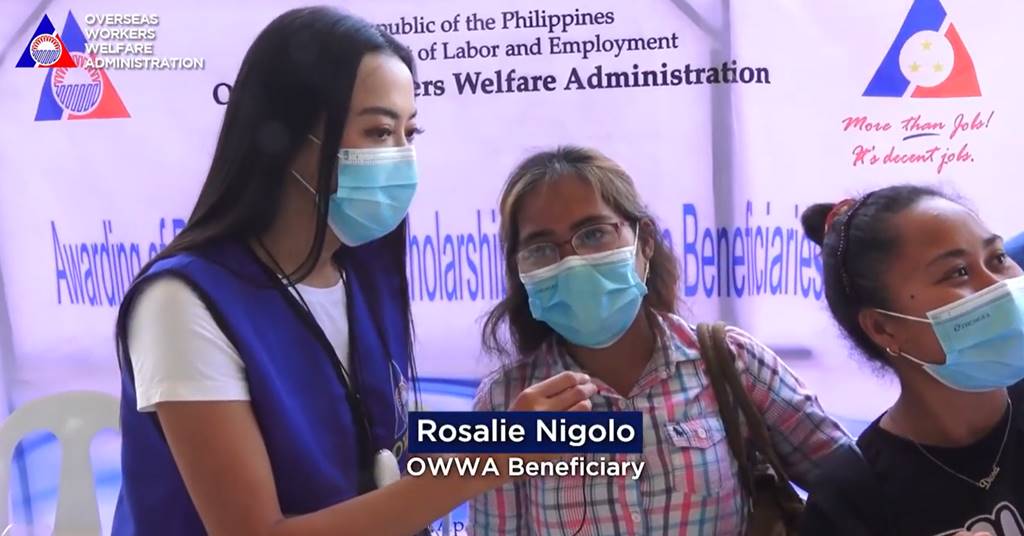 Lhen Rabadomia is also an OWWA beneficiary. She underwent an operation before because she had a lump in her head. When she found out about her illness, she came home to the Philippines and received help from OWWA for being an active member. DA Uson asked her how much did she receive from OWWA, she said PHP 20,000. She used the Balik Pinas! program money to start a business. This was big monetary assistance for her because of her situation and she thanked the President for it.
OWWA has a one-stop-shop office in Iloilo which is located on the 3rd floor of Robinsons Place Iloilo.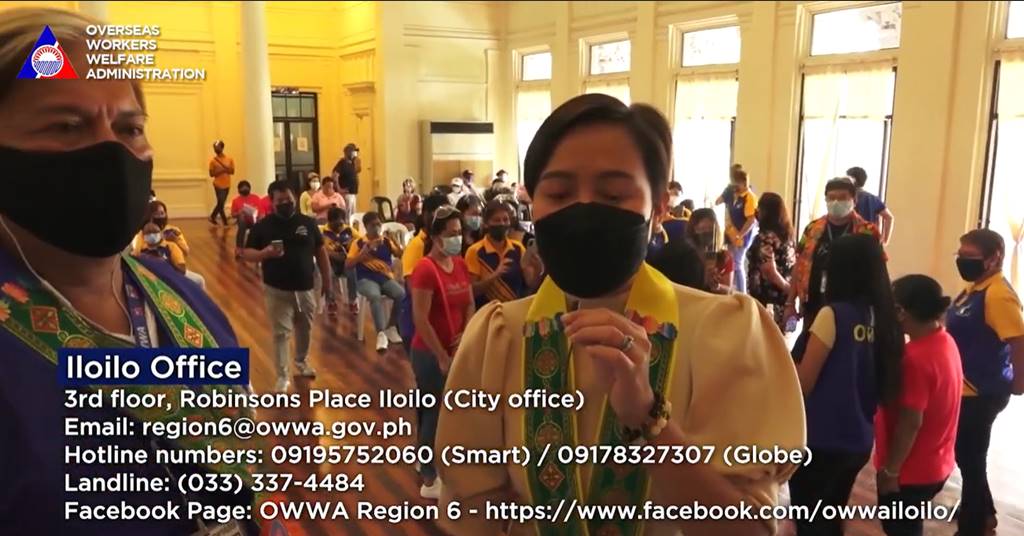 DA Mocha emphasized that the current administration is doing its best to provide everything for OFWs, especially those who went back home and who need jobs. The OWWA exists to send help. DA Bubsie said that OWWA is there for the OFWs, always.
OWWA Bacolod Visit
The next scene showed OWWA going to its neighbor, Bacolod. An event was held at the Negros Occidental Provincial Capitol featuring beneficiaries of OWWA.
The episode also featured OWWA Region VI Regional Director, Rizza Joy Moldes where she mentioned where OWWA members can ask for help in this region.
For those who are based in Bacolod and other areas in Negros Occidental, OWWA has an office on the 2nd floor of the Old City Hall in Luzuriaga St., Bacolod City. There are also hotline numbers and emails where OFWs can reach out.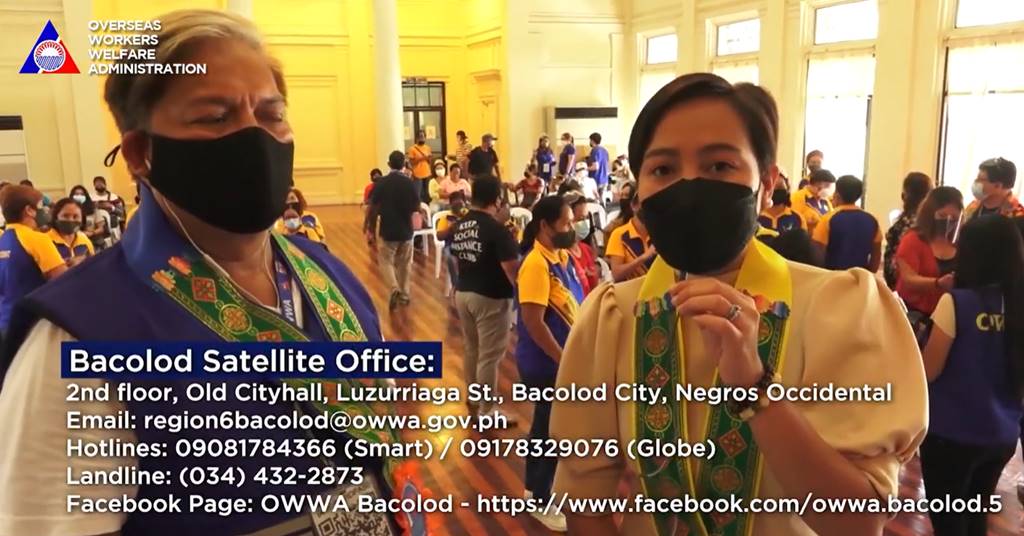 Video: OWWA Visits Region 6 (Part 2)
Check out the 2nd part of the visit in the video below where OWWA visited Bacolod and Iloilo:
OWWA AT YOUR SERVICE visits Region 6 (Part 2)
Kabayan, sa pagpapatuloy ng pabisita ng OWWA AT YOUR SERVICE team sa Region 6 sa pangunguna nina Deputy Administrator Margaux "Mocha" Uson at Deputy Administrator Faustino "Bubsie" Sabarez III patuloy ang pag-award ng reintegration & scholarship grants sa mga beneficiaries sa Iloilo City at Negros Occidental.
Ilan sa mga programang iginawad sa ating mga OFWs sa RWO 6 ay ang Tulong PUSO, Project EASE, TABANG OFW & Balik Pinas! Balik Hanapbuhay Project! Program sa pangunguna ni Regional Director Rizza Joy Moldes.
https://www.youtube.com/watch?v=SW-pNF1PEuU
Summary
OWWA reminds OFWs that they can renew their membership via the mobile app and have their families back in the Philippines pay for the membership. This concludes their visit to Region 6.
We hope OFWs are more aware now of the different programs available that one can avail so long as you keep your OWWA account active!
Contact Information
Below are the contact details of OWWA Region 6 Welfare Offices/Satellite Offices located in Iloilo and Bacolod for your reference:
OWWA RWO 6 – Western Visayas Region – Iloilo
Address: 3rd Flr. Robinson's Place Iloilo (City Office)
Email: region6@owwa.gov.ph
Hotline: 09195752060 (Smart) / 09178327307 (Globe)
Landline: (033) 337-4484
Facebook Page: OWWA Region 6 – www.facebook.com/owwailoilo
OWWA Bacolod Satellite Office
Address: 2nd Flr Old City Hall, Luzurriaga St., Bacolod City, Negros Occidental
Email: region6bacolod@owwa.gov.ph
Hotlines: 09081784366 (Smart) / 09178329076 (Globe)
Landline: (034) 432-2873
Facebook Page: OWWA Bacolod – www.facebook.com/owwa.bacolod.5