The first episode of OWWA at Your Service had a lot of good response from OFWs as this gives them ideas of what are the programs and benefits available from OWWA. That previous episode discussed updates on Tabang OFW program. In this second episode uploaded on February 5, 2021, they discussed the details of Project EASE, another scholarship project launched during the time of COVID-19.
In the said video, Deputy Administrator Mocha Uson is back with a guest, Deputy Administrator Faustino Sebares III, as they discuss this program.
The goal of this episode is to answer the following questions:
What is Project EASE?
Who are qualified to apply for Project EASE?
What is the process to avail Project EASE?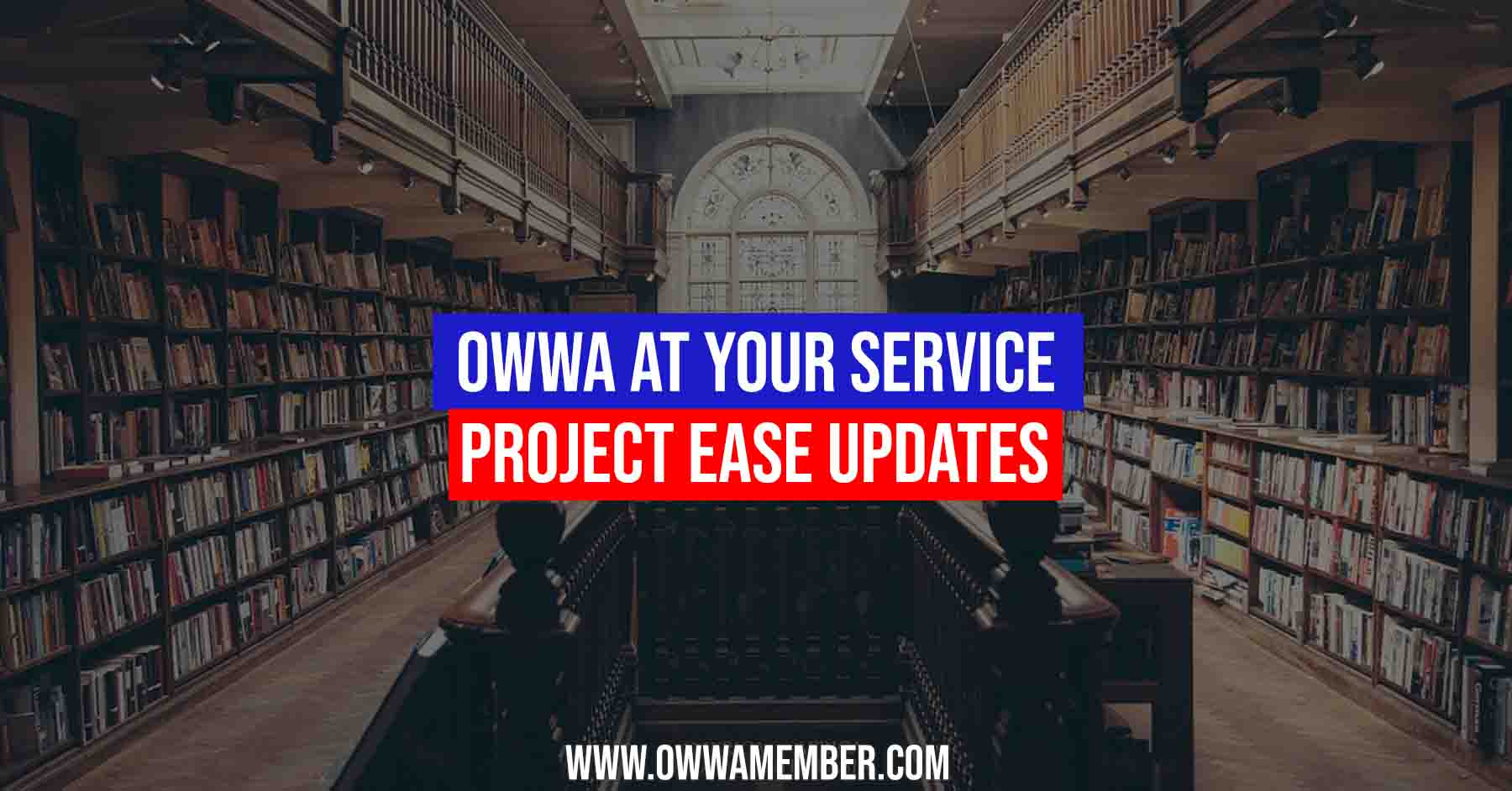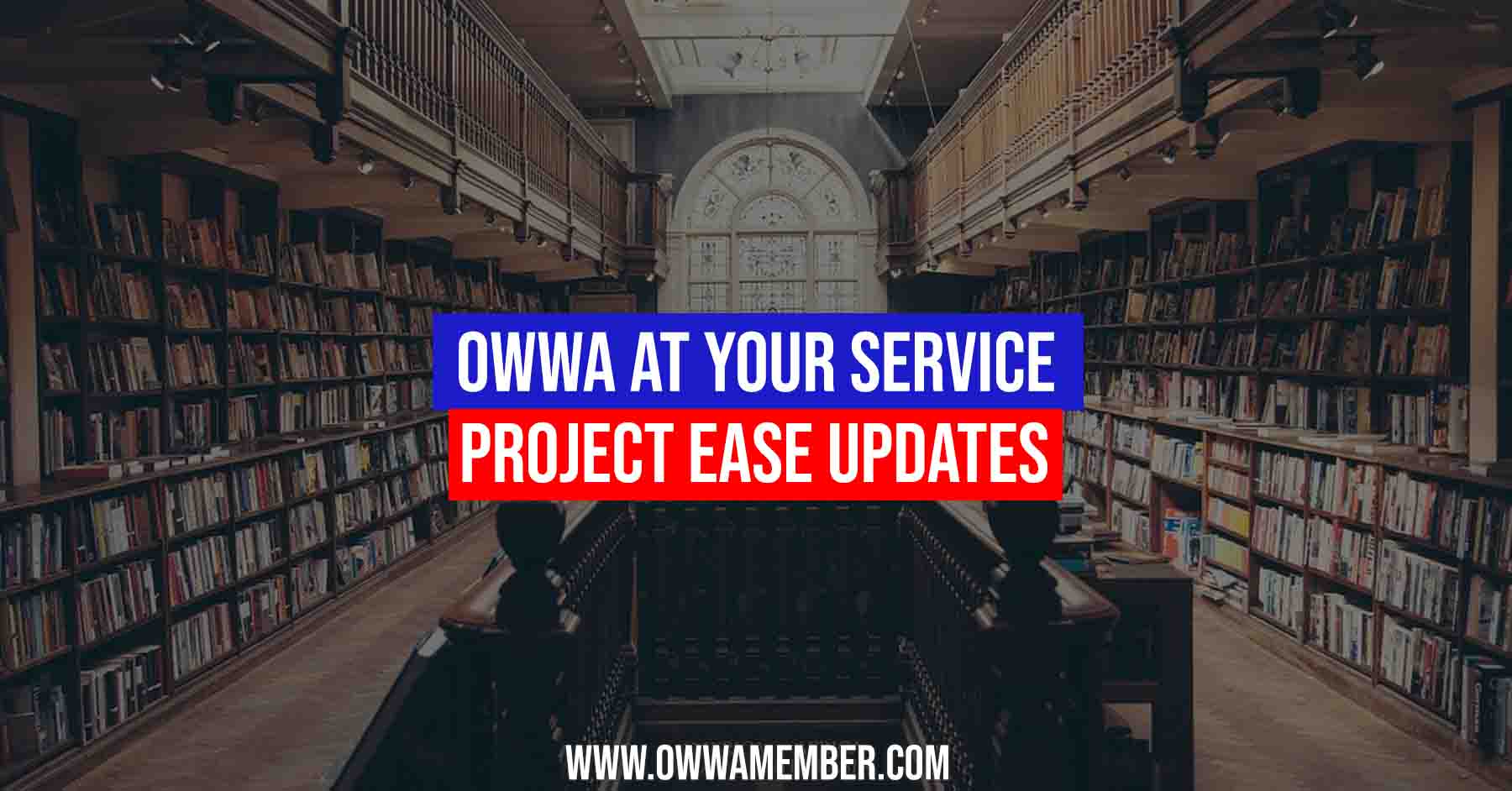 OWWA Scholarship for Members Affected by Pandemic
Many OFWs have returned to the Philippines after their companies abroad have shut down. While we are facing this health crisis, OWWA has created a program dedicated to many OFWs who are sacrificing their time to work abroad to provide education for their children/dependents.
Aside from Tabang OFW, there is another program dedicated to dependents of OFWs during this time of pandemic, which is the Project EASE.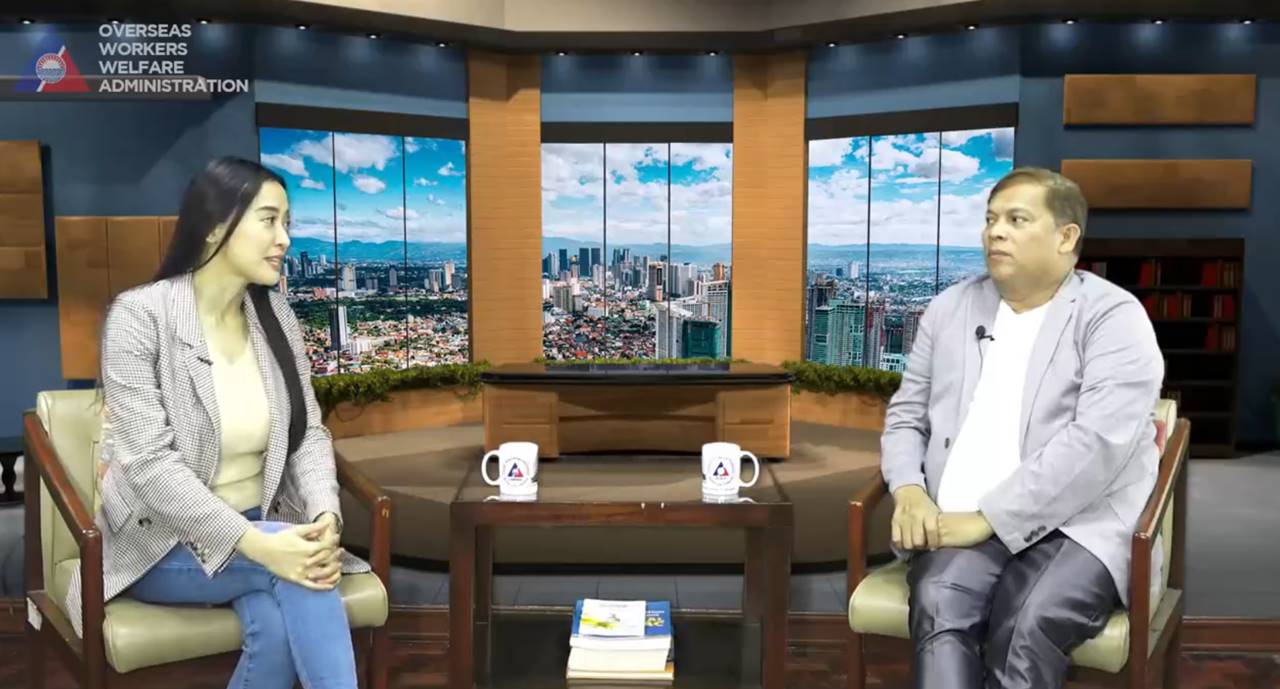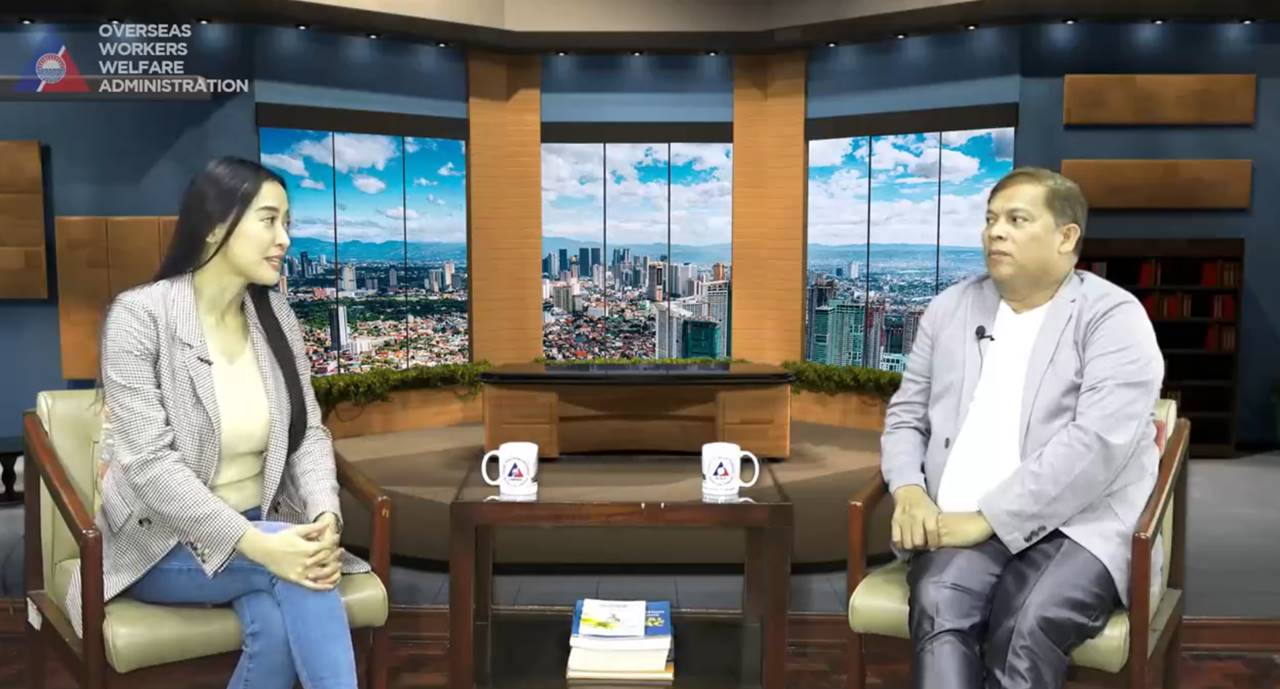 What is Project EASE?
EASE means "Educational Assistance through Scholarships in Emergencies"
It provides PHP 10,000 educational assistance per year for a maximum of 4 years in the collegel level, to qualified Active OWWA OFW-members.
Project-EASE is a component of the OWWA Collective Assistance and Restoration for Emergence (CARE program) for OFWs affected by the COVID-19 pandemic. It is an integrated response of OWWA to support the repatriated active OFW-members and their families in this time of global health crisis. Purely, the Project EASE project is ONLY for ACTIVE OWWA members.
If the dependent passes the qualifications, he/she can receive PHP 10,000 every year for 4 years as scholarship grant. This financial grant will only be used for the school only. This is not necessarily for 4-year courses. So long as the applicant is in college and the maximum is only for 4 years.
If they are in the 3rd year college, they can only get 1 year grant.
If they are in the 1st year college, they get 4 years grant.
If they are in a 5-year course, maximum grant is good for 4 years only.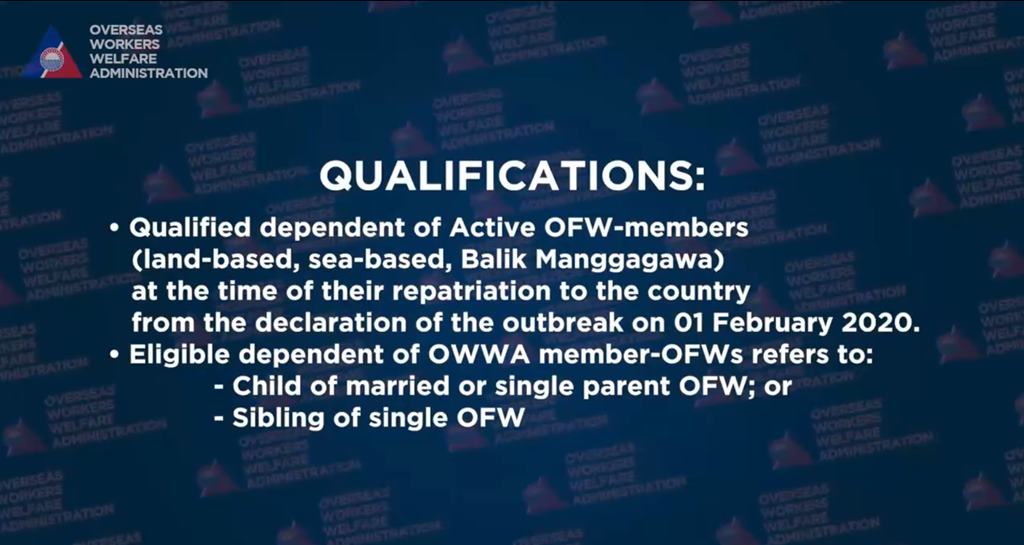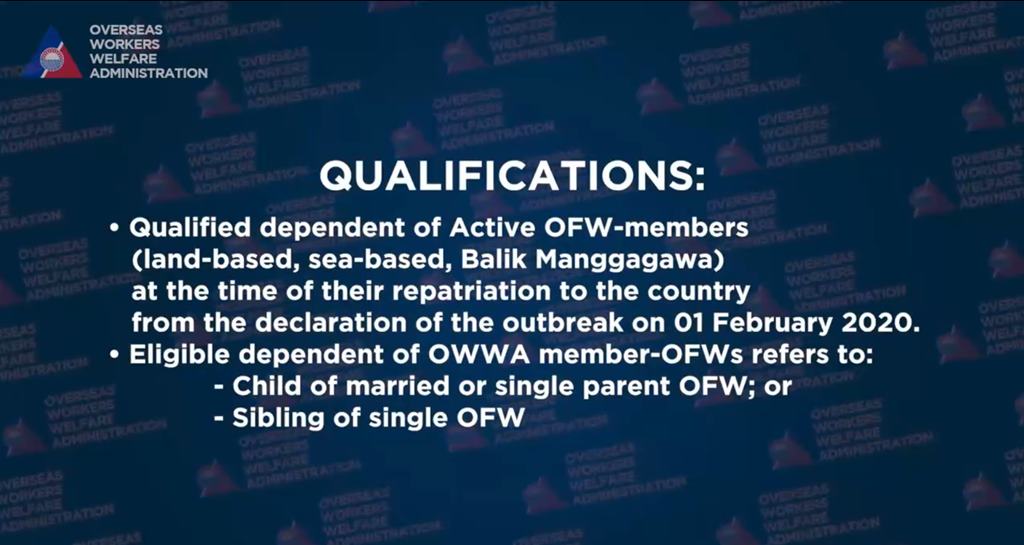 Who can avail the Project EASE Program?
There are 2 qualifications for this – these are Land-Based and Sea-Based OFWs who have been repatriated to the Philippines from the declaration of the outbreak on February 1, 2020. So this is only for OFWs who returned to the Philippines from Feb 1, 2020 onwards.
If an OFW is married or single parent, his/her child can avail
If an OFW is single, the sibling (or niece/nephew) can avail
Who are not covered under Project EASE?
Not Covered by Project EASE include:
Undocumented Workers
Inactive OWWA Members
Those with existing Scholarship Grants under ODSP, EDSP, ELAP-Education and CMWSP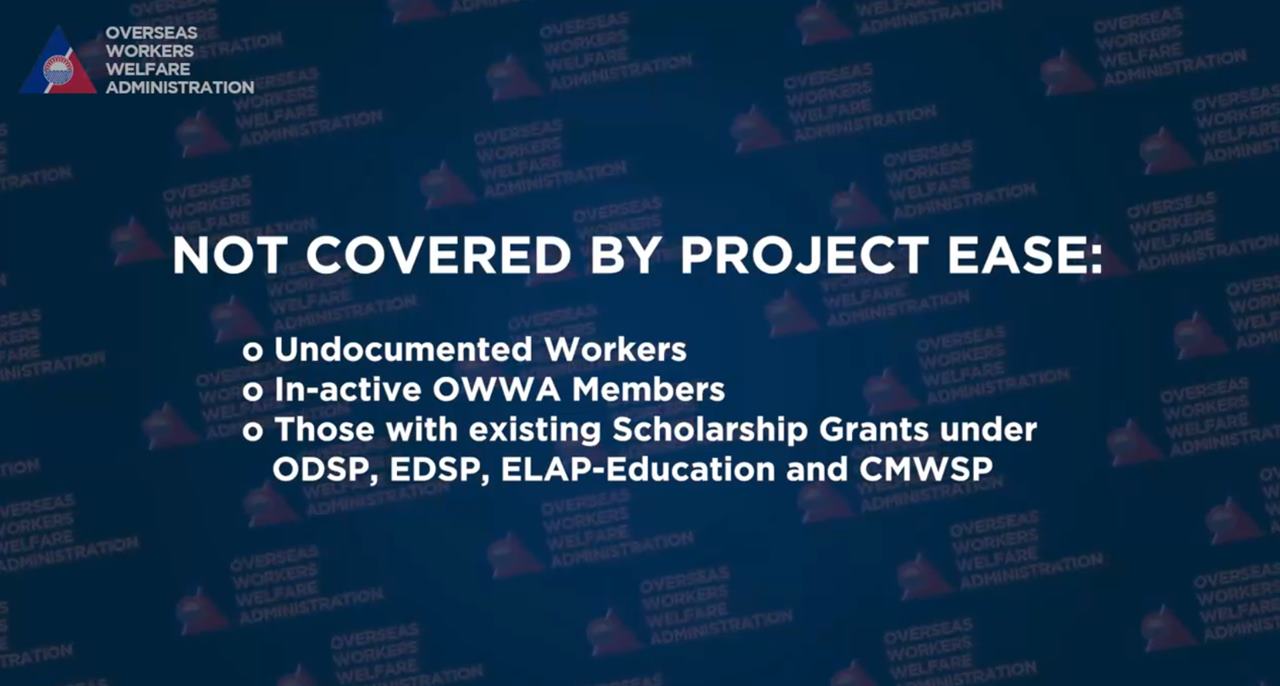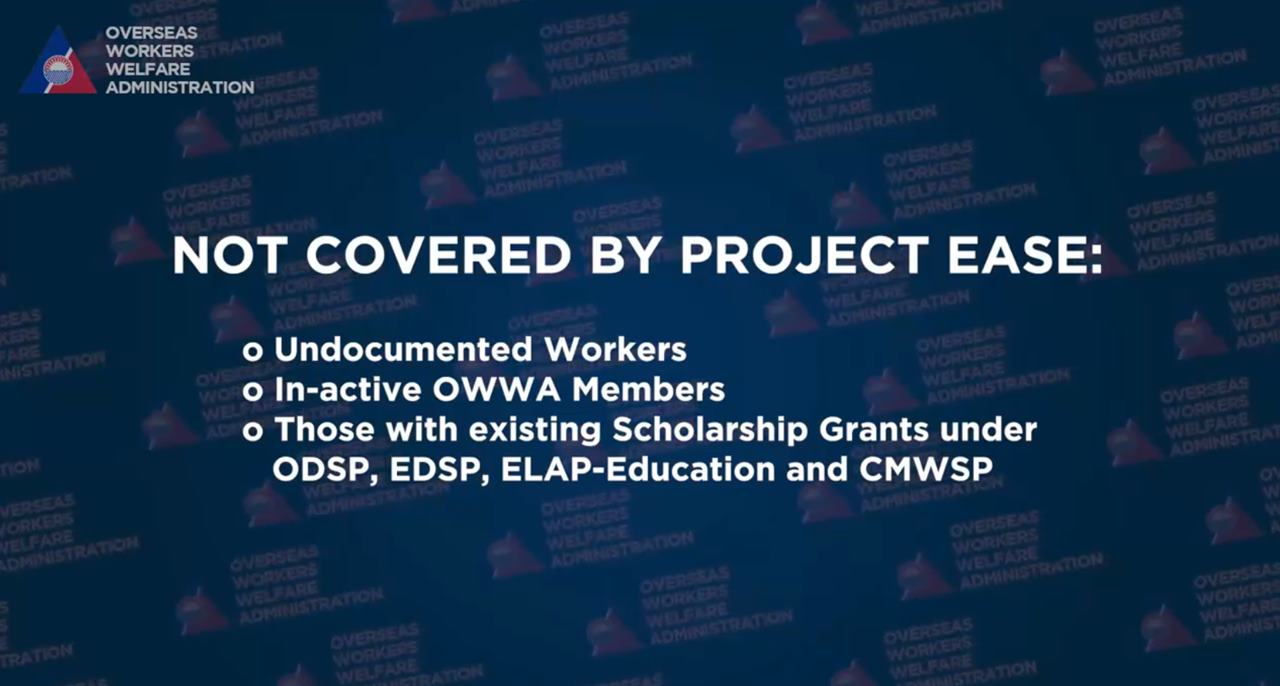 How to Apply for OWWA Project EASE
1. Applicant needs to apply online. Go to https://ease.owwa.gov.ph/
2. Fill out the form and submit the requirements.
3. Applicant will receive a tracking reference number to check the status of their application.
4. OWWA Regional Welfare Office will notify the status if PENDING, APPROVED, or DECLINED. If requirements are not complete, OWWA will send a message to complete the requirements.
5. Once approved, OWWA will send a message on how to claim the money (via Money Remittance).
What is the difference between Project EASE and Tabang OFW Program?
Both projects are created due to the pandemic health crisis. If you apply for Project EASE, your details will also be submitted to apply for Tabang OFW. OWWA will check if you are qualified for either of these projects. Tabang OFW beneficiaries can get a claim of PHP 30,000 financial grant. While Project EASE beneficiaries can get a claim of PHP 10,000 per year for 4 years.
What if I don't get approved in Project EASE? Are there are other OWWA scholarship programs?
Yes, you can apply for other scholarship programs if you don't get approved.
There are other OWWA scholarship programs, which include:
How can I track the status of my Project EASE application?
Applicants can follow up the status online via EASE Tracker: https://easetracker.owwa.gov.ph/
or contact OWWA Hotline: 1348
or email OWWA Project EASE: ease@owwa.gov.ph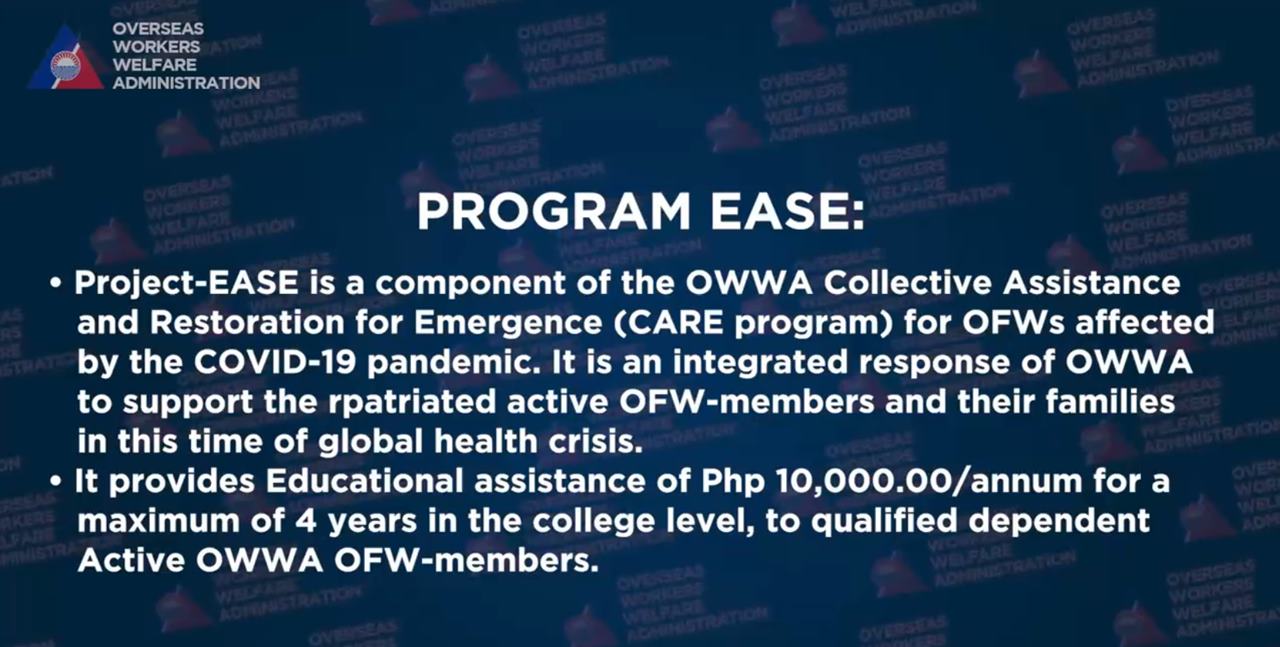 Video: OWWA AT YOUR SERVICE (Episode 2): Project EASE
Warch the video below that was uploaded on the official FB Page of OWWA so you can watch a recap of this webisode:
OWWA AT YOUR SERVICE (Episode 2): PROJECT EASE
Kabayan, usapang Project EASE po tayo ngayong araw.
Ano ba itong Project EASE? Sino-sino ang qualified para dito? Ano ang proseso para ma-avail ang programang ito?
Tunghayan ang sagot dito lang sa pinaka bagong serbisyo publiko ng OWWA ang… OWWA AT YOUR SERVICE.
Summary
So to all our OFWs, now that we know who is qualified or not and the requirements, we hope that we all learned something new regarding the benefits and programs of OWWA. Applicants are advised to keep their membership active because you will definitely get a lot of opportunities to claim benefits if you are an active OWWA member.