The previous episode of OWWA at Your Service discussed the Tulong PUSO updates. During this new episode of OWWA at Your Service uploaded on March 19, 2021, Deputy Administrator Mocha Uson shares news about the Social Benefits available for OFWs. One of the guests during this episode was OWWA NCR Director, Ma. Teresa "Matet" B. Capa, and she also shared the social and medical benefits that an OFW can get from OWWA.
OWWA at Your Service is a web episode where active and non-active OWWA members are made aware of the claims they can get if they get sick, get into an accident, or need medical assistance. This time, they are sharing information about the types of Social benefits which is one of the services in the OWWA program.
One of the important issues in this time of pandemic is our health. Many of our kababayans abroad have experienced a variety of sicknesses, get into accidents, or have passed away in the country where they work. So the question is, what benefits can I get as an OWWA member?
The goal of this episode is to answer the following questions:
What are the health benefits that an OWWA member can get in this time of pandemic?
How to ask for help from OWWA an OFW gets sick while abroad?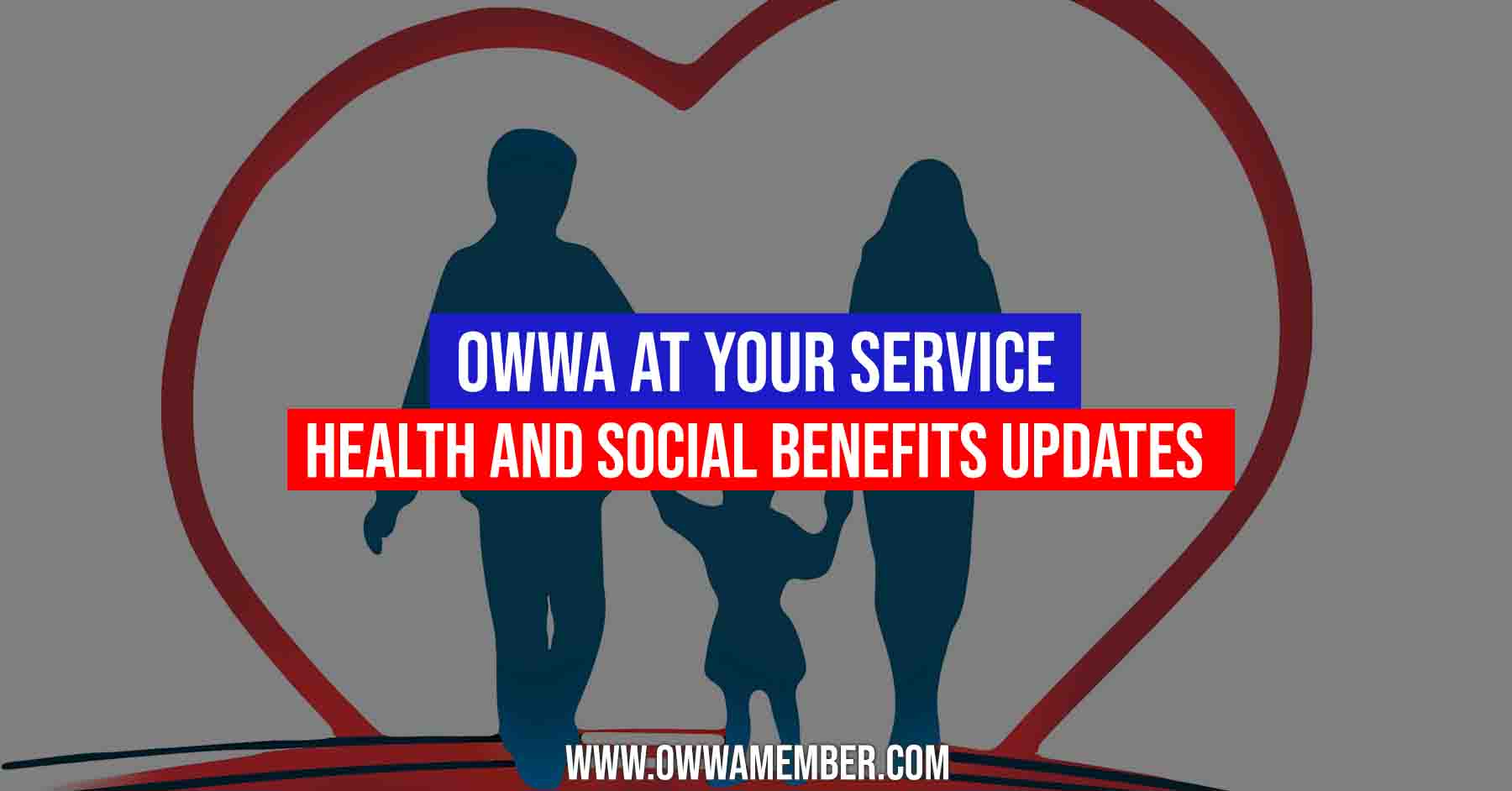 List of Health Benefits and Social Benefits for OWWA Members
So in case you are wondering what benefits you can get as an OWWA member, the social benefits are categorized into these types:
Disability and Dismemberment Benefit
Death and Burial Benefits
Supplemental Medical Assistance for OFWs (Medplus)
Welfare Assistance Program (WAP)

Calamity Assistance
Bereavement Assistance
Medical Assistance
Relief Assistance
Before anything else, it is important that you keep your OWWA membership active because it will help in maximizing the entitlements that you can claim should an OFW be involved in an accident, sickness, or death.
That is why for our OFWs who get into an accident abroad, you can file a disability assistance claim in regional welfare offices near their hometowns.
What is the basis of OWWA Medical Benefits of OFWs who get into accidents?
The benefits are based on the assessment of the medical retainer. There is a guide, schedule of impediments with corresponding assistance, and amount of benefit. This is the basis of giving assistance to OFWs involved in accidents.
What are the Sickness Benefits of OFWs who Get Sick Abroad?
Under the Welfare Assistance Program, OFWs who get sick can take advantage of this. OFWs need to have an active membership to avail the Medical Case Benefits. There is a schedule of benefits that will be based on where the assistance will be given.
However, for non-active members of OWWA, but get into an accident or get sick, you can get claims from the Welfare's Assistance Program via the Medical category.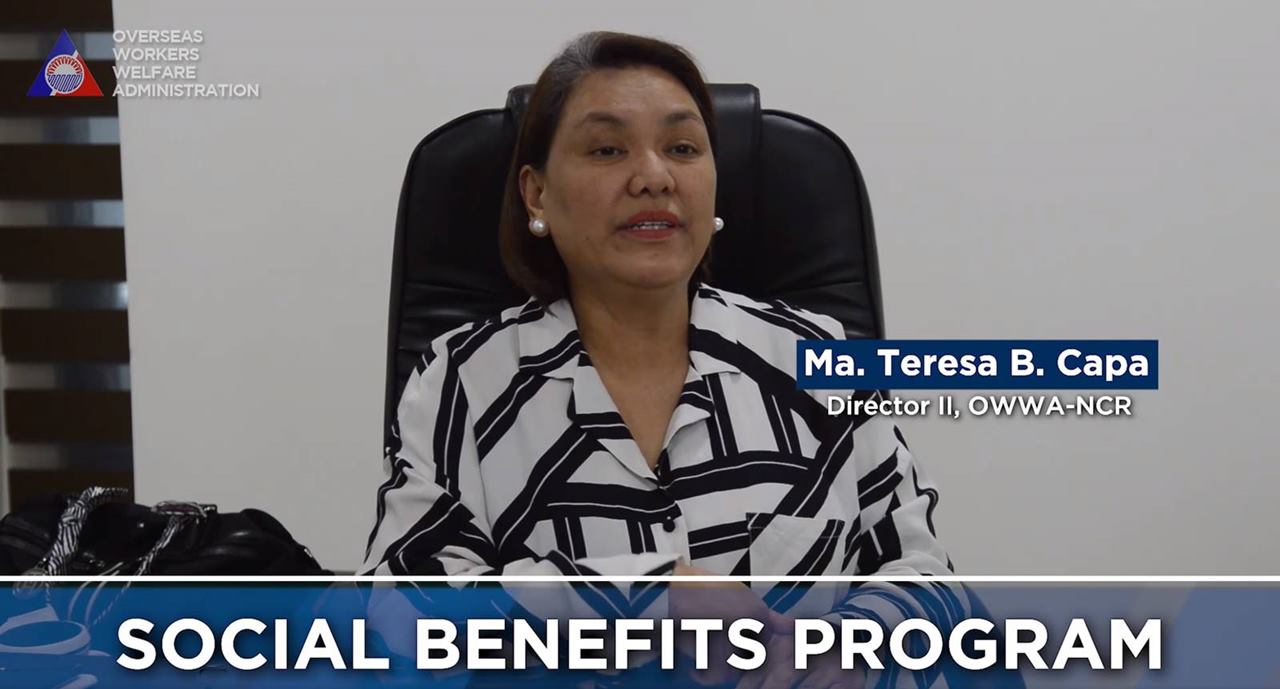 Medplus for Catastrophic Cases
OFWs who get into catastrophic health cases and need assistance, you can apply for maximum assistance of PHP 50,000, depending on the assistance they get from Philhealth. OWWA will match the amount of assistance given by Philhealth. You need to be an active member of OWWA and Philhealth (this is a partnership between two). For example, OFW who is afflicted with a dreaded disease like cancer and needs dialysis or chemo.
Program: Medplus (for catastrophic cases)
Requirements: Active OWWA membership and Philhealth membership
Amount of Benefit: maximum assistance of PHP 50,000
Disability Assistance for OFWs
For OFWs who get into accidents and become disabled, you can take advantage of the cash assistance from OWWA.
Program: Welfare's Assistance Program (under Disability Case)
Requirements: Active OWWA Membership
Amount of Benefit: PHP 2000 to PHP 100,000 – depending on the extent of injury
Important Notes: For Disability Assistance, the cause must be accident-related (not natural cause) – it does not have to be work-related, but so long as the disability is sustained within the Work Contract duration
For WAP Disability, even if OFW is an inactive OWWA member, they can still get it so long as the applicant filed a claim within one year from the time of the accident.
What can the OFW or family of an OFW do in case they will get sick abroad?
OFWs who Get Sick Abroad you can please follow the guidelines on how to claim the sickness benefit:
1. Go to the nearest Philippine Overseas Labor Office as there are welfare offices to assist them and address their concerns.
2. For the families in the Philippines, they can head to the nearest Regional Welfare Office to get assistance under the Welfare Assistance Program.
3. OFW needs to send authorization to the relative/family that authorizes the relative to process the assistance in
What if the OFW is an inactive OWWA member or undocumented?
For OFWs who are inactive members of OWWA, there are 2 social welfare programs where you can get benefits from OWWA:
Balik Pinas Balik Hanapbuhay – you can get a claim from PHP 5,000 to PHP 20,000 livelihood assistance.
Balik Pinay Balik Hanapbuhay – this is a program by the National Reintegration Center for OFWs (NRCO) for Filipina women who have been displaced. They can get maximum of PHP 10,000
What can a Filipino who are diagnosed with COVID-19?
OFWs diagnosed with COVID-19 can get assistance via the regular program called Welfare's Assistance Program (WAP) under Medical Benefits. The OFW needs to show symptoms of the COVID-19 before they can get the benefit.
Requirements: COVID-19 PCR Test Positive Result plus documents certifying pre-existing conditions/symptoms
Amount of Benefit: maximum of PHP 20,000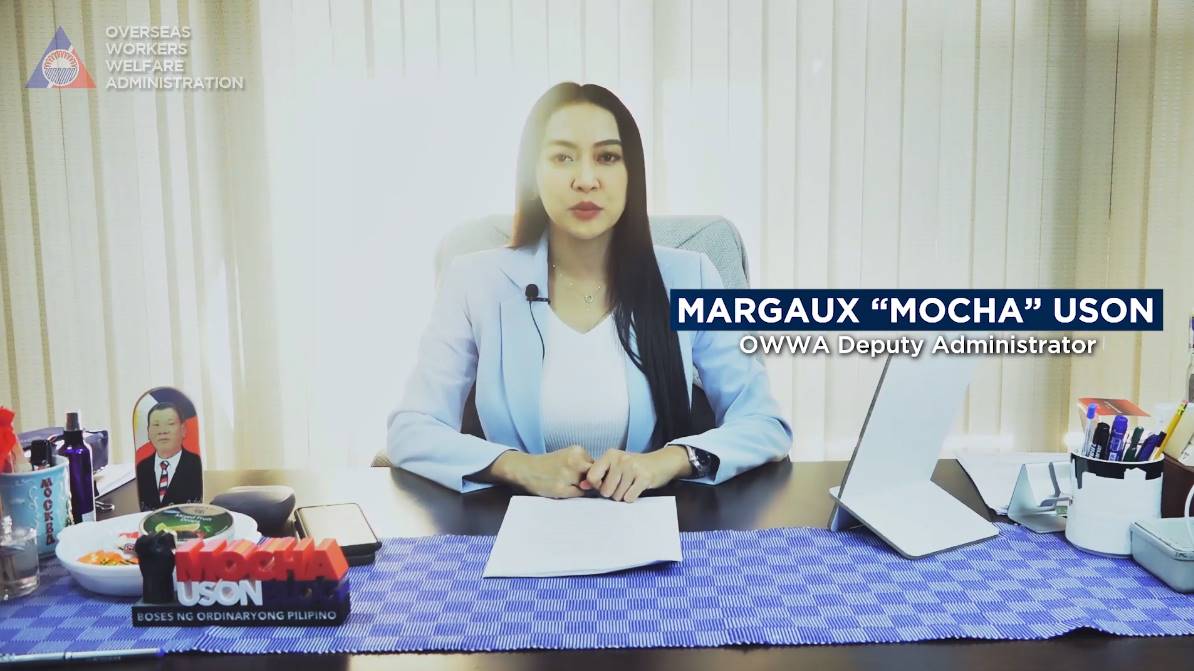 Social Benefits Testimonial from an OFW
On another note, this episode also featured a Filipina from Tondo, Manila who shared her story about her OFW sister who died due to cervical cancer.
They first tried to go to OWWA office but did not successfully enter because they needed to book an appointment online. This was the moment when coronavirus impacted the world and systems were not fully set in place. They were dismayed when they needed to schedule an appointment first to inquire about the benefits available.
During this time, she wrote a letter to DOLE Secretary Bello who then endorsed the case to the OWWA office. After a few days, the OWWA staff went to their house in order to secure the requirements.
She received a notice that she can claim the benefits for the deceased OFW and they were able to successfully use the benefits from OWWA.
Summary
So this is the summary of the latest episode of OWWA at Your Service. May this episode shed light on the benefits you can claim as a Filipino OFW, whether you are active or inactive in your OWWA membership.
OWWA Official Website: owwa.gov.ph
Official Facebook Page: facebook.com/OWWAofficial
Official Twitter Account: twitter.com/OWWAofficial
OWWA Hotline – Dial 1348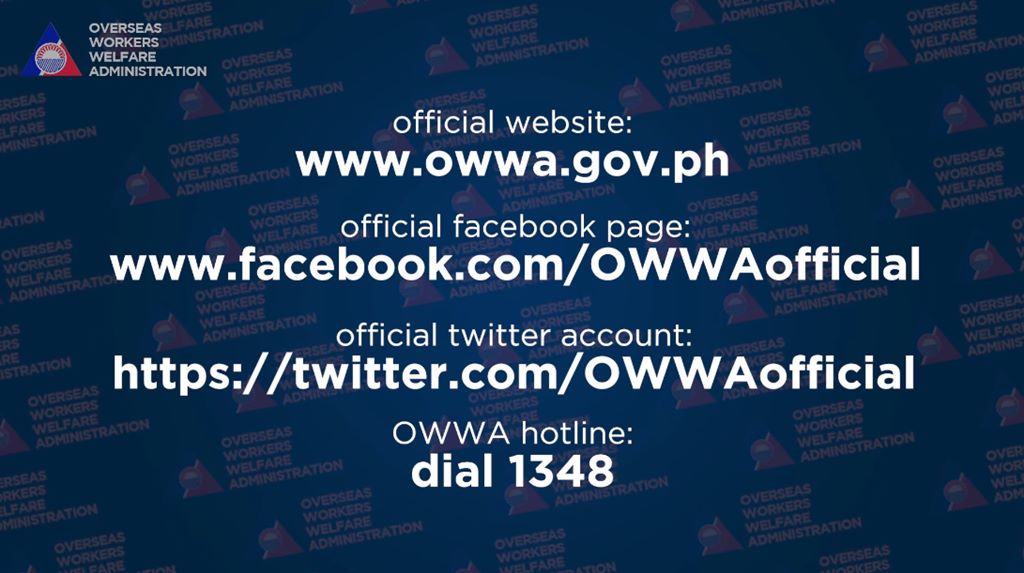 Video: OWWA Social Benefits Projects
Check out a recap of the video episode where the OWWA team shared the social benefits that OFWs can avail:
—————
OWWA AT YOUR SERVICE: SOCIAL BENEFIT PROGRAMS
Kabayan, usapang Social Benefit Programs tayo ngayon.
Paano makaka-avail ng programa at serbisyo ng OWWA patungkol sa kalusugan? Paano makakahingi ng tulong sa OWWA kung sakali ang OFW ay nagkasakit habang sila ay under contract o nasa-abroad?
Sabay-sabay nating alamin kasama si DA Mocha Uson at OWWA NCR Director – Dir. Ma. Teresa Capa dito lang sa OWWA AT YOUR SERVICE.