To all working Filipinos living in Kuwait, it is important that we renew our OWWA membership when we visit the POLO office at the Philippine Embassy. We outline the steps on how you can pay or renew your OWWA member account in Kuwait.
Overseas Filipino workers only need to pay a minimal amount and you are covered for 2 years. Take note that while you may have health insurance in Kuwait, should there be something happening to you, you will need to seek assistance from the Philippine government. When you have an active OWWA account, you can take advantage of the benefits and programs available especially in times of need.
All OWWA members are covered by life insurance and other OWWA-provided social benefits and programs such as health care, disability and death benefits, scholarships and financial aid for education and training, workers support and on-site services, and social services and family welfare help are all available to all registered members of the OWWA.
So head over to the POLO office Kuwait so you can activate your OWWA. Given the current crisis, it's important to maintain social distance when going to OWWA-Kuwait Office and always wear your face mask to keep you and others safe.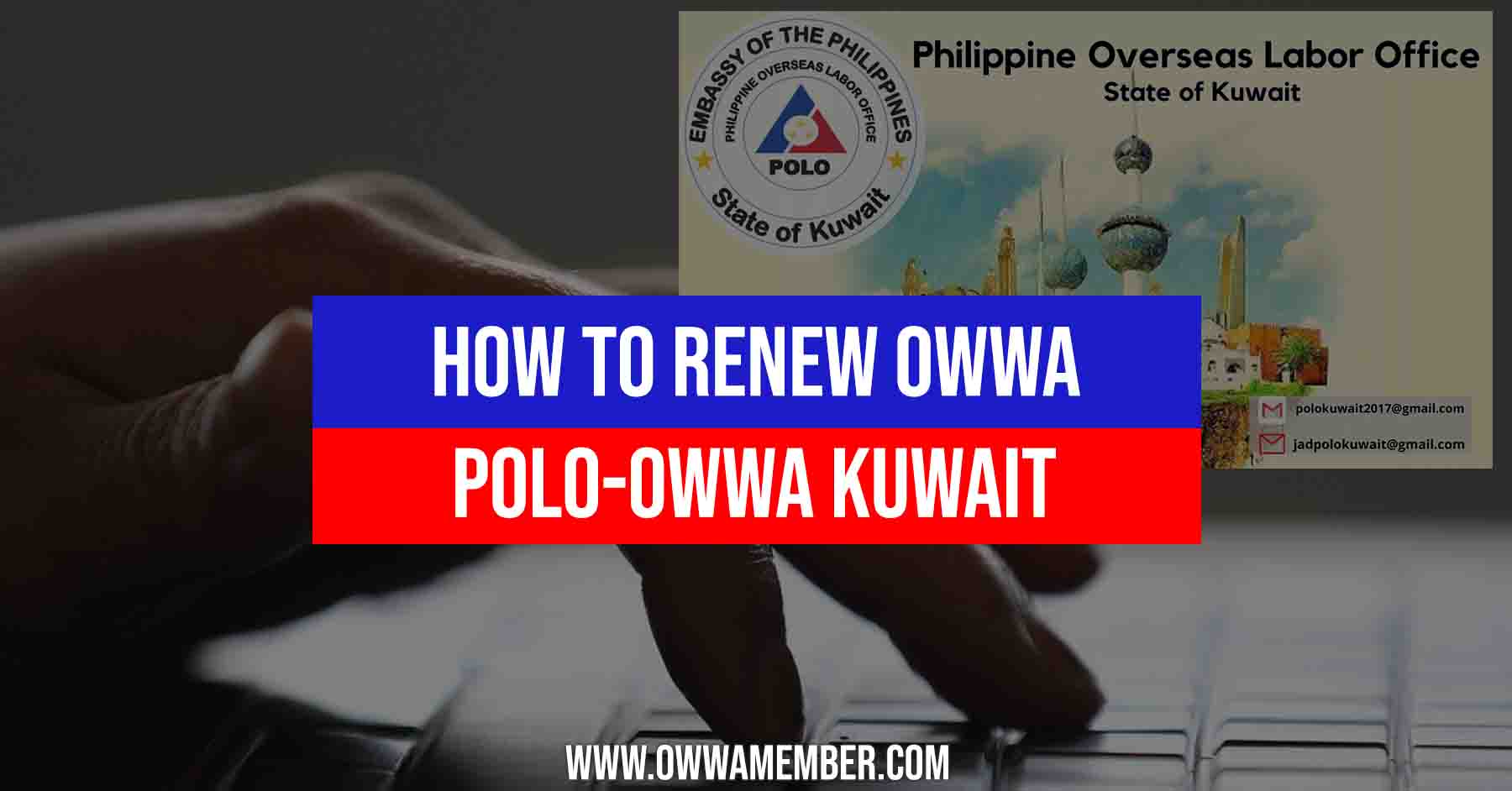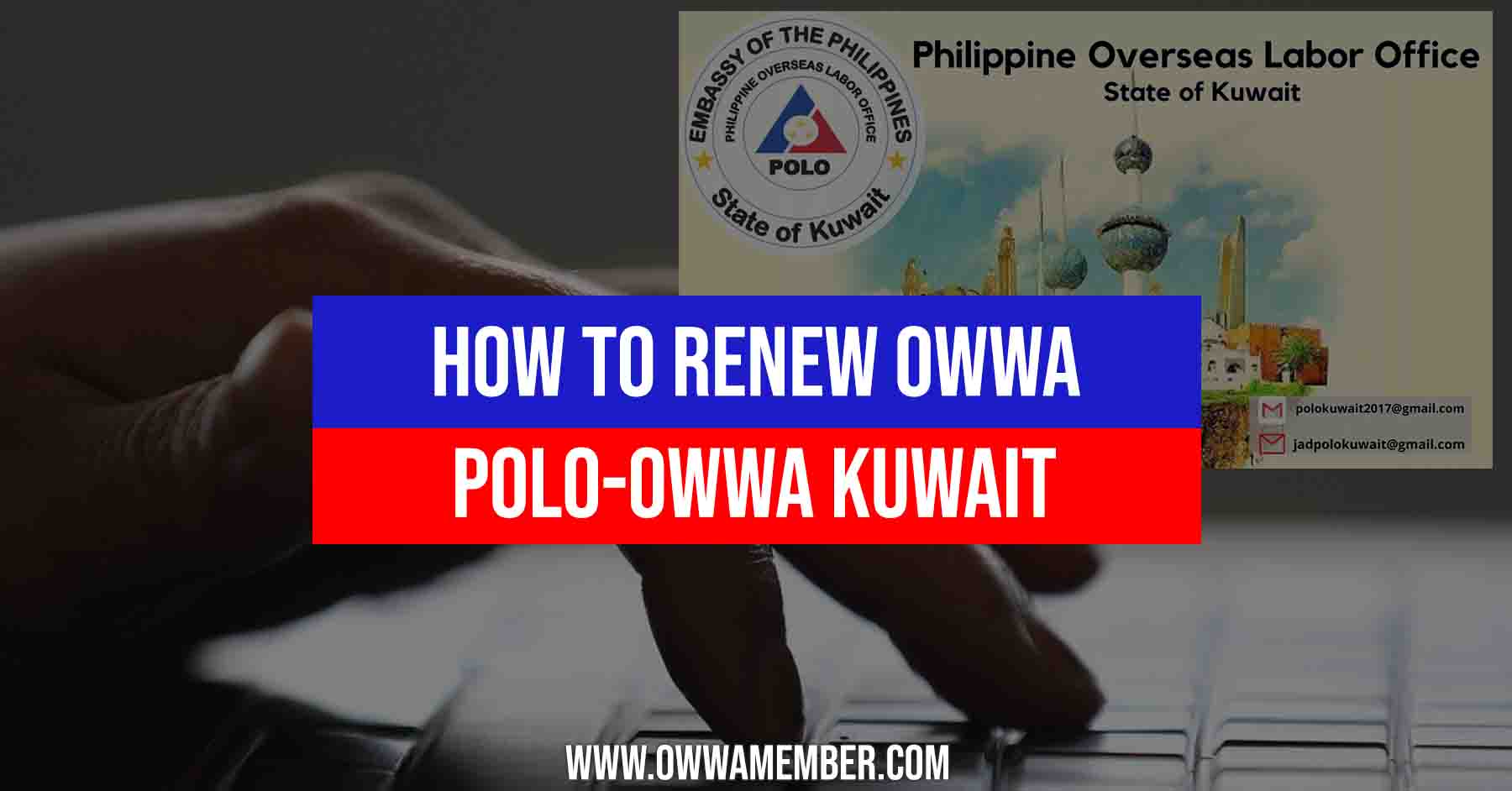 Amount of Contribution
The OWWA membership contribution shall be Eight and Ninety-Three Kuwaiti Dinar (8.93KD).
Membership Validity
Membership is valid for two (2) years for each contribution, regardless of contract length, change of employer, job site, or recruitment agency. Following that, OWWA membership must be renewed if proof of active employment is presented.
OWWA Membership/Renewal Requirements in POLO-OWWA Kuwait
Here's a list of OWWA requirements you need to present at the PH Embassy for POLO-OWWA renewal:
OFW Information Sheet Membership Form
Original Passport
Certificate of Employment/Contract Verification (2 copies)
OFW must produce a certificate from the company / employer verifying that they are not on the list of employees due for termination/ termination/ cancelled/ resigned.
Contract verified by POLO
Membership Fee (ranging from Php 1,000- Php 1,500 or KD 8.93)
Steps to Renew OWWA Membership in Kuwait
Please be guided on the steps to renew your OWWA account in Kuwait. Take note that there is NO appointment booking required (for now). So you have to wait for your turn when you queue for you to pay for the renewal:
Step 1: Get a form for Membership Renewal from the OWWA-Kuwait office (you can take a taxi to the OWWA-Kuwait office) located at Abdulla Hamad Al Hashimi St, Kuwait.
Step 2: As one of the requirements, get a Certificate of Employment/Contract Verification and have your employer sign it.
Step 3: After completing the signature of your employer for Certificate of Employment/Contract Verification you may now proceed to the payment window.
Step 4: The Certificate of Employment/Contract Verification Fee is 3.250KD.
Step 5: The teller will direct you to the OWWA window after you have paid the Certificate of Employment/Contract Verification fee (it is beside the Certificate of Employment/Contract Verification window)
Step 6: Pay the OWWA membership fee of 8.93 KD to the teller.
Step 7: After paying all the fees for your OWWA membership renewal you can now get your receipt after the payment.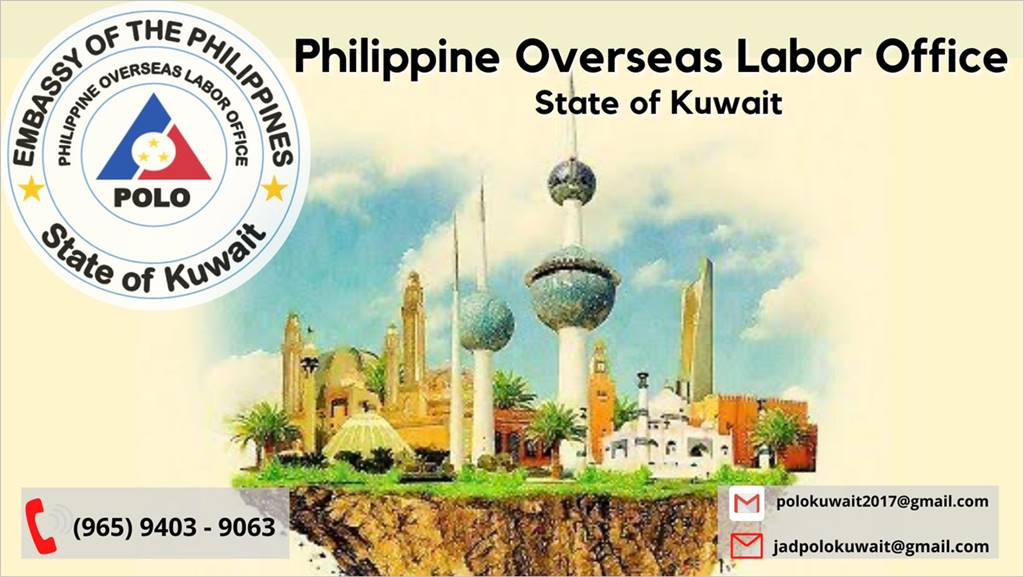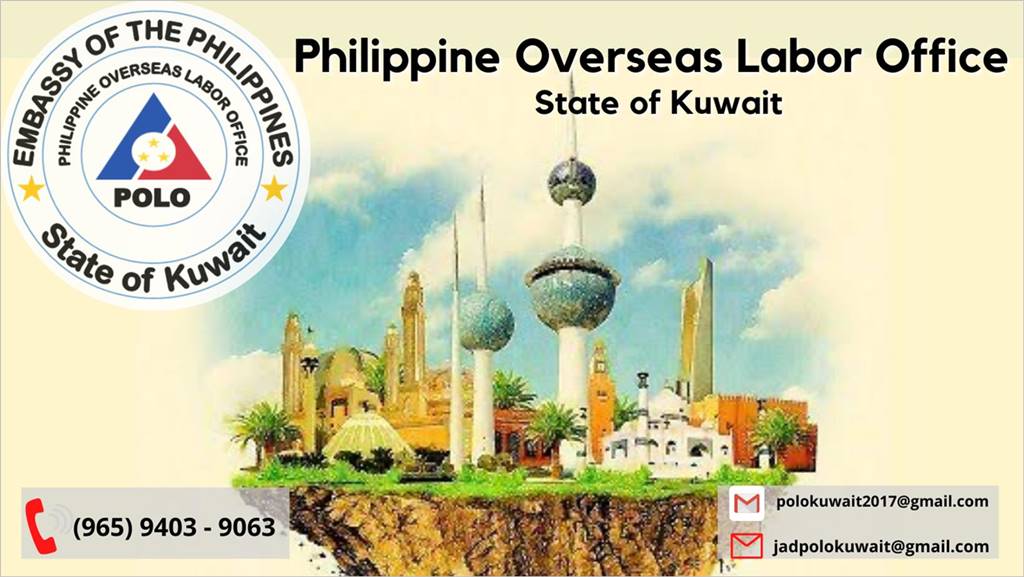 Important Reminders at POLO-OWWA Kuwait
Please do follow these important guidelines and reminders when you visit the POLO-Kuwait office when you renew your membership:
Please double-check that your requirements are accurate and full. Requirements that are not full will not be handled.
The OWWA membership receipt is issued on the same day as the application.
Contract processing and verification, vaccination certificate validation, OWWA membership renewal, and Pag-IBIG Fund and SSS membership application will all be continued at Al-Sahel Sports Club until the next announcement.
Wear proper attire when at the office. No slippers/sleeveless/tanktops and other inappropriate clothes.
Face masks must be worn at all times, and individuals must maintain a two-meter physical distance from one another.
Filipinos in Kuwait are responsible for maintaining the Embassy's safety and order at all times.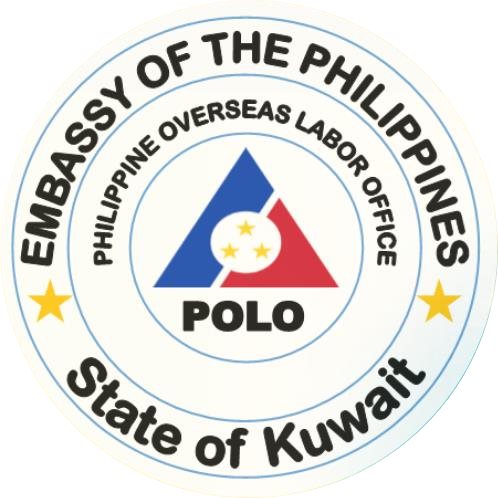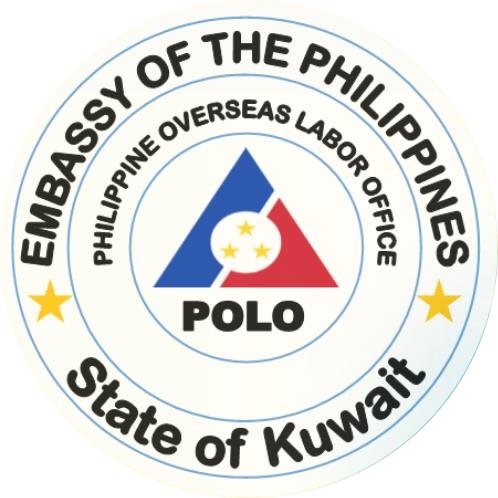 How to Book OWWA Appointment at POLO Kuwait
Note: We noticed that there is an OWWA appointment booking process via this link – https://appointment.owwa.gov.ph/
But based on the Types of Programs to for the purpose of appointment, there is NO option for OWWA renewal/payment. These are the options available for the purpose of booking:
Interview via phone of workers who executed Sinumpaang Salaysay, Waiver/Quitclaim and SENA
Welfare Cases for Visa 17 and 18
Welfare Cases for Visa 20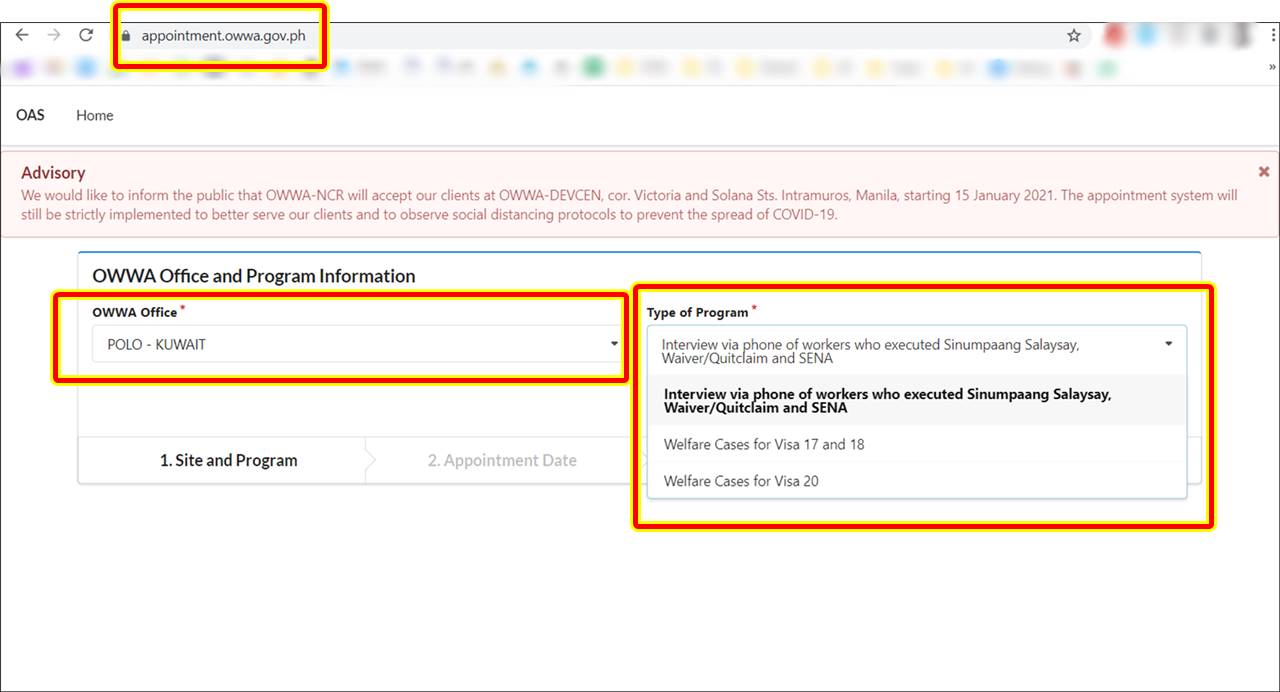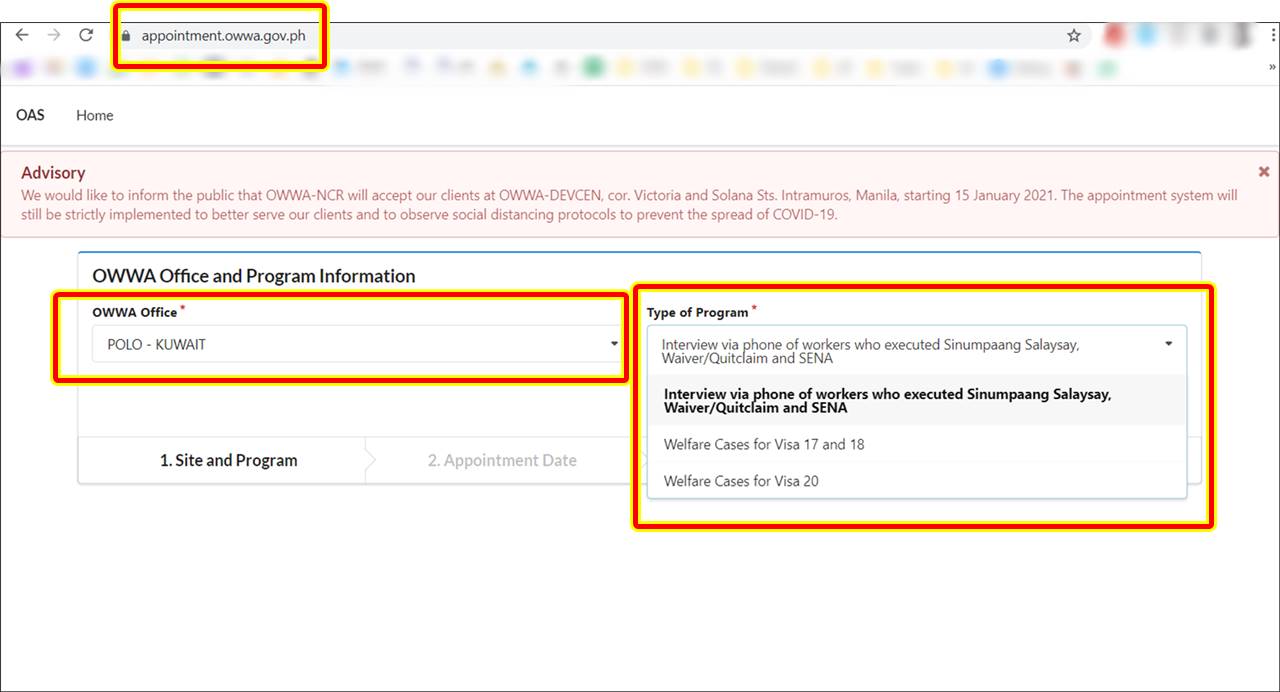 There is no mention in the website that you can book an appointment for OWWA membership in POLO-Kuwait. So for now, it is a walk-in process so you will queue for your turn.
Please be advised that it may be possible that having a scheduled appointment may be required in the future once a system will be implemented. For now, you can just go directly to POLO Kuwait to renew or pay your OWWA membership.
Frequently Asked Questions
Here are some common questions and answers about getting an online appointment or renewing your OWWA Membership
1. How much does the OWWA membership fee cost?
The OWWA membership contribution shall be Eight and Ninety-Three Hundredths Kuwaiti Dinar (8.93 KD).
2. Is there anything more I need to pay at the Philippine Embassy in Kuwait?
Aside from the OWWA fees, you can also pay other government agencies at the PH Embassy. You have the option of paying your SSS contribution yourself. The cost of the three months is 22 KD. You can also directly pay for your PAG-IBIG contribution, which costs 20 KD (three months).
3. Can I directly go to the OWWA-Kuwait Office or do I need to make an appointment?
Yes, you can go straight to the OWWA Kuwait Office; just remember to maintain social distance and wear your mask at all times.
4. Does POLO-Kuwait have an OWWA Appointment System online?
There is an OWWA appointment website (https://appointment.owwa.gov.ph/). But be advised that the dropdown option for purpose of appointment only mentions that it is only for selected OWWA welfare cases. There is no description that this is an official appointment booking platform for renewal of OWWA membership. Also based on a video of other Pinoys in Kuwait (check the video below), they share that you can go to the PH Embassy directly.
Video: OWWA Payment and Renewal at PH Embassy in Kuwait
If you want to learn more on "How to Renew OWWA Membership in Kuwait" you can check out the video below. A Filipina OFW shares her experience going to the POLO office in the PH Embassy in Kuwait so she can process the OWWA payment as well as other government payments that she needed to update. Watch the video here:
Contact Information
POLO-OWWA Kuwait
Address: Villa 35, Block 1, Abdulrahman Al Ghafiqi Street, Salwa Area
Telephone Number: +965 9403 9063
Email: polokuwait2017@gmail.com, kuwait@owwa.gov.ph
Office Hours: 7am to 2pm, Sundays to Thursdays
Website: https://kuwaitpe.dfa.gov.ph/
Facebook Page: https://facebook.com/POLO.OWWA.KUWAIT
Google Map Location
Based on the latest update from POLO-OWWA in Kuwait, the address of the office in order to renew your membership is located at Villa 35, Block 1, Abdulrahman Al Ghafiqi Street, Salwa Area, just in the same office as the Philippine Embassy in Kuwait.