In this recent episode of OWWA at Your Service, OWWA shared updates during their visit to Cebu. The video was uploaded on April 30, 2021, and features a Filipina who took advantage of the Balik Pinay Balik Hanapbuhay project.
To those who are not aware of this project, Balik Pinay! Balik Hanapbuhay is a training and livelihood program intended for distressed women OFWs who returned to the Philippines. This helps women start a small business and there is a PHP 10,000 livelihood cash aid after you complete the training.
Also Read: OWWA Balik Pinas Balik Hanapbuhay Livelihood Program for OFWs
OWWA Deputy Administrator Mocha Uson interviewed Gemma Delvo who used to work in Dubai, UAE. She is a recipient of the Balik Pinay program. Read more details below on this OFW success story of how former OFW Gemma was able to start a digital marketing agency business with a capital of PHP 10,000 and has built her agency that had a PHP 600,000 revenue in 1 year (in 2020).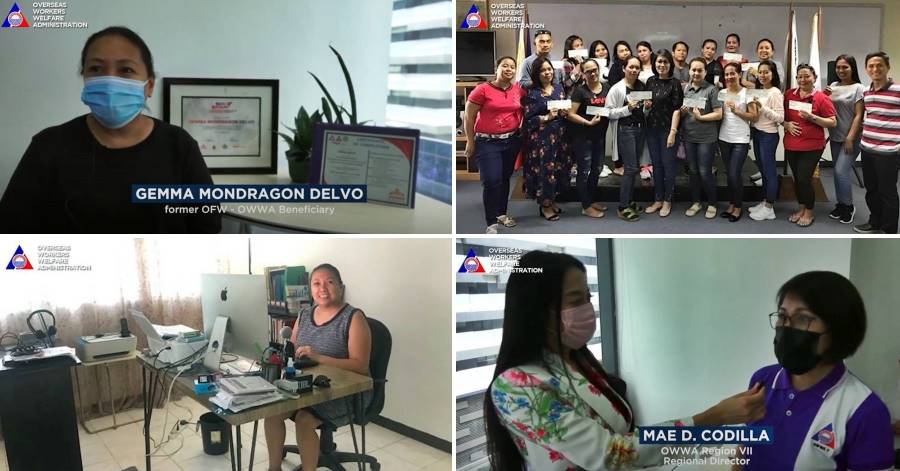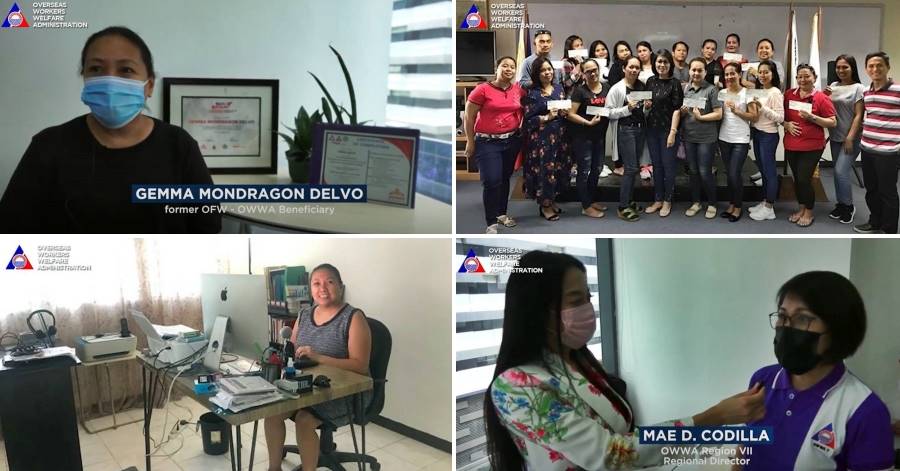 OWWA Balik Pinay! Success Story of Former Dubai OFW who set up a Digital Marketing Agency
DA Mocha and Dir. Mae started the episode by saying that there's an OFW who has a success story to share in the episode.
Both DA and the director visited OFW Gemma Delvo, a Balik Pinay! Balik Hanapbuhay beneficiary in OWWA and NRCO. According to the information provided by Dir. Mae, Gemma received 10,000 pesos financial assistance which she used to start a business.
Gemma is a single mom with one son. She went to Dubai in 2000 and worked hard until she earned a Sales Manager position in UPS. However, 2009 came when the Global Financial Crisis happened. Gemma was one of the OFWs who lost their visas and jobs during the crisis. She also owed a lot of money to the banks. She was banned and could not go home. So, she said to herself that she can go home after a while, just not that time.
She wasted no time while waiting for hope. In those four years of staying in Dubai, she studied digital marketing. When she got home to the Philippines, she saw that the environment was new for her since she wasn't able to go home for 10 years. She's been out of the Philippines for 20 years in total and that made her depressed. She didn't know where to start and she didn't have money.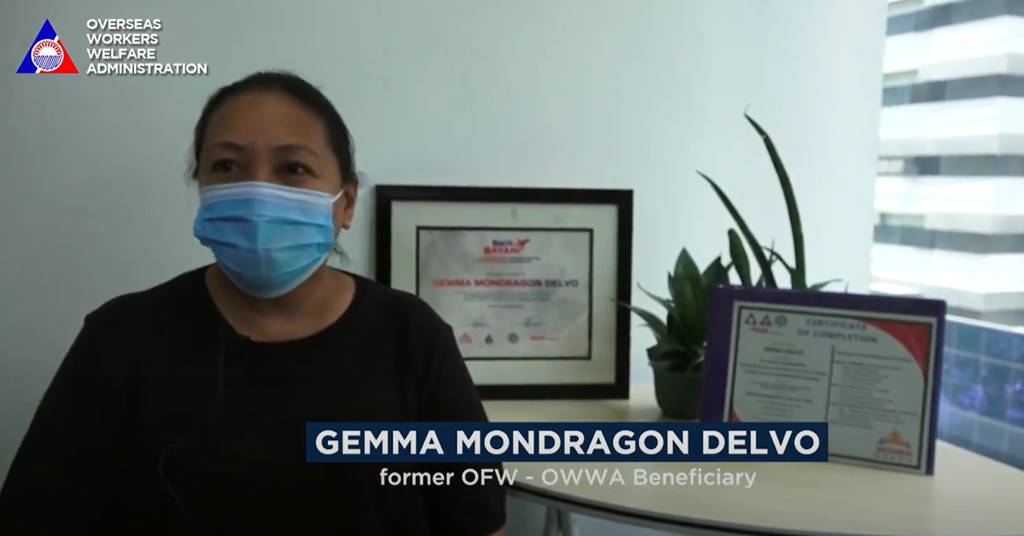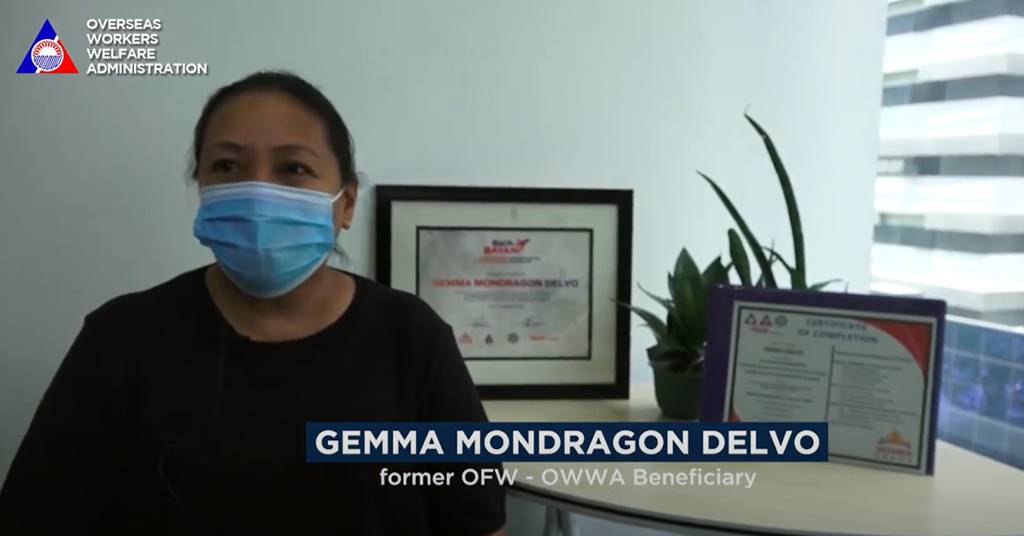 Women Entrepreneurs Reintegrated and Economically Active at Home (WOMEN REAcH)
A friend told her to ask for help from OWWA. She was introduced to OWWA and NRCO where she spent her time attending the program for women called WOMEN REAcH (Women Entrepreneurs Reintegrated and Economically Active at Home), an entrepreneurship training workshop intended to help women learn how to start a business in the Philippines.
There were four live seminars at that time. When Gemma was attending the seminar, she heard people saying that if she finishes the program and seminars, she would receive a 10,000-peso grant from OWWA.
Gemma persevered through the training because she wanted to learn how to open a business in the Philippines. From basic accounting to checking transactions, those were the things taught during the seminar. She found the program very educational. When she graduated, she was so happy because of her learnings.
OWWA called back and told Gemma she has 10,000-peso grant from them. With that money, she started Centrality Marketing Solutions.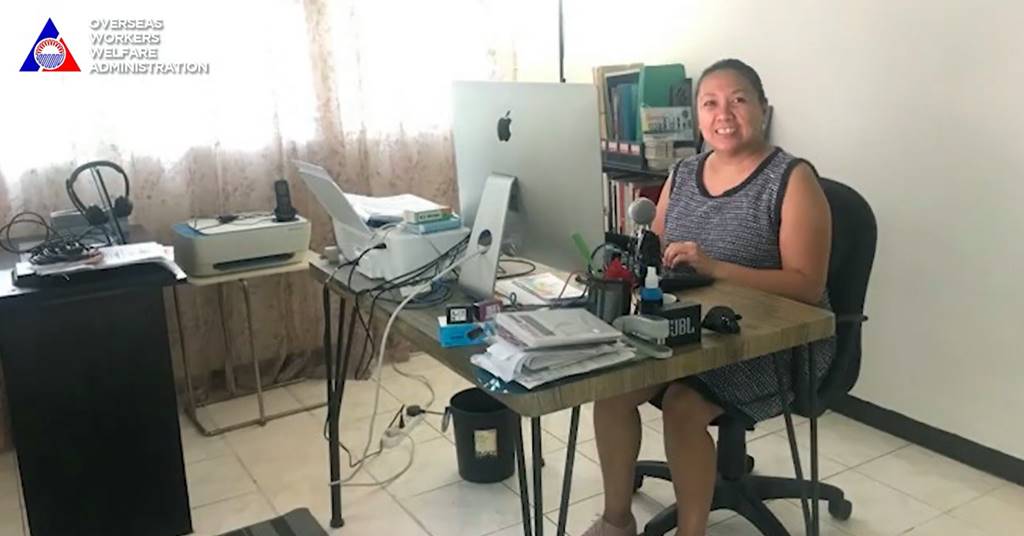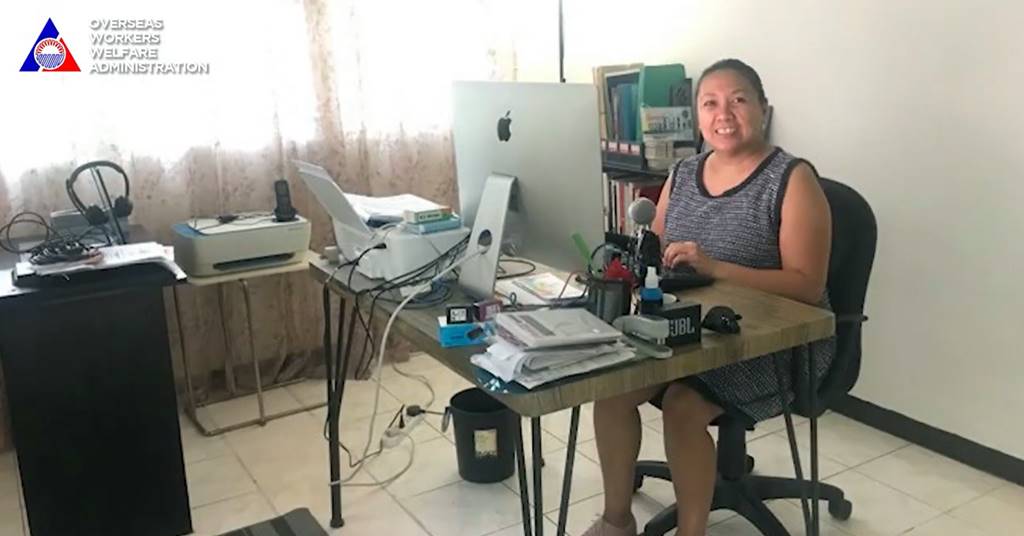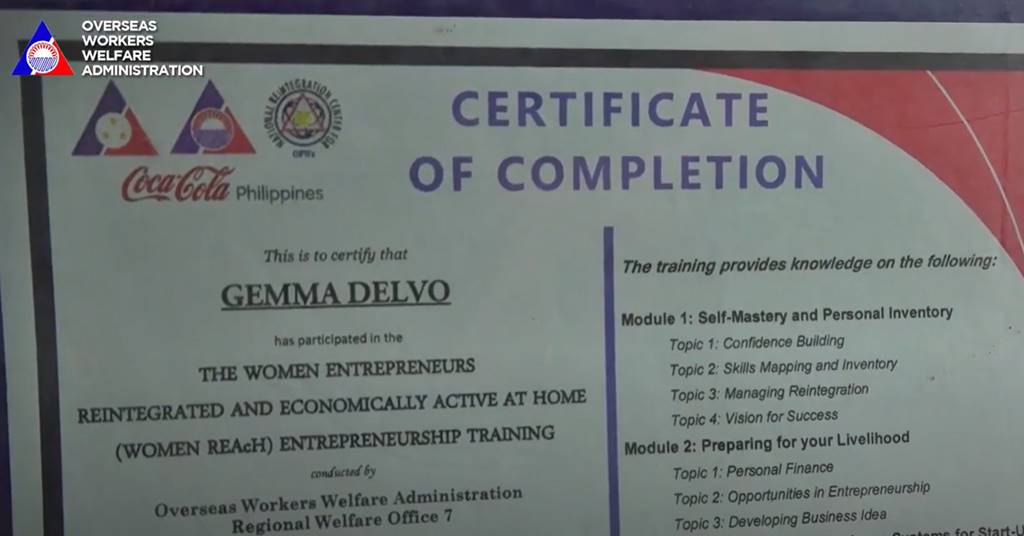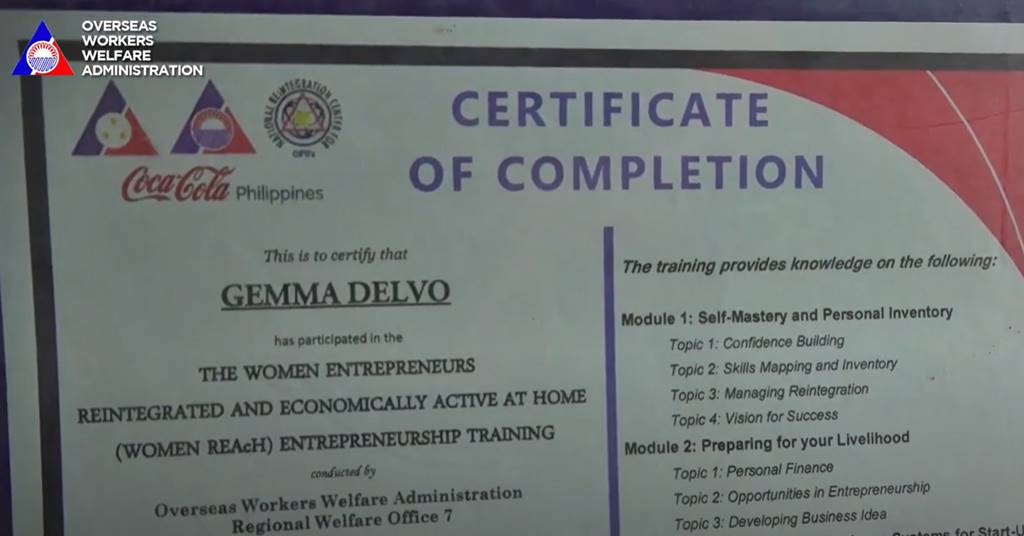 From Php 10,000 Capital to Php 600,000 in 1 Year
It is not about the amount of your capital. DA Uson emphasized that Gemma just started with 10,000 pesos from the Balik Pinay, Balik Hanapbuhay program of OWWA and NRCO. She grew her money from 10,000 to 600,000 in 1 year of offering marketing services. Her money became 600,000 pesos in 2020.
When asked whether it's possible to grow her money regardless of how big or small the capital is, she answered yes. The capital doesn't matter. Whether it's big or small, if you work hard and believe in yourself and in the grace of the Lord, you will never run out of clients. Your 10,000 pesos can grow as much as you want.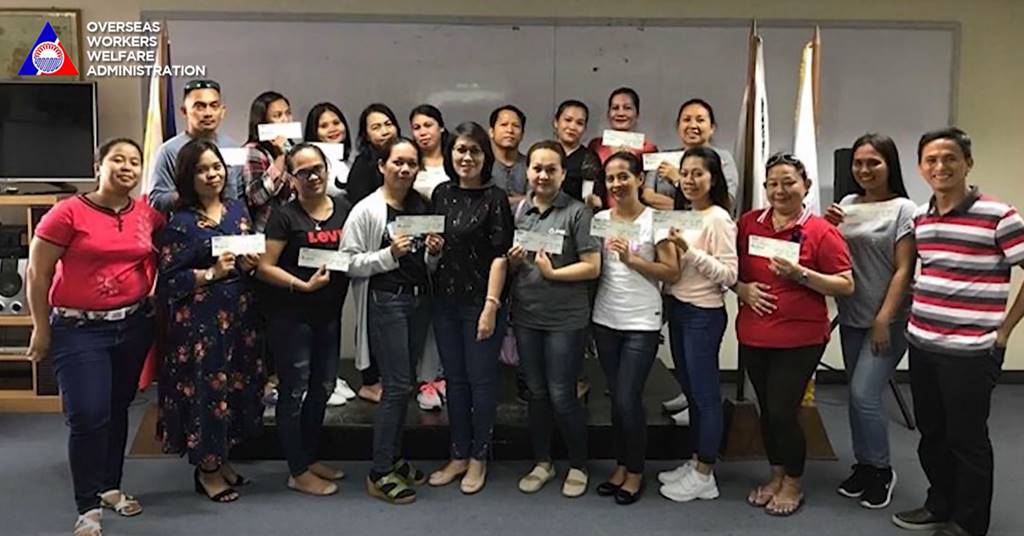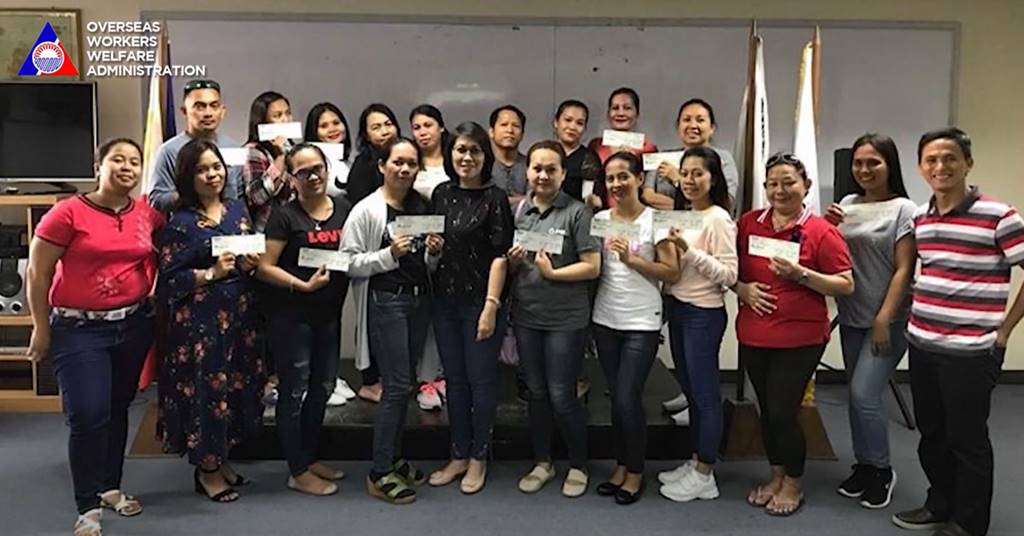 Video: Interview with Balik Pinay! Recipient
Check out this video clip of the interview with Gemma Delvo and what Balik Pinay! program is all about. We hope you get inspired from her story of hard work and perseverance.
Kabayan, sa pagpatuloy ng ating pagbisita sa OWWA Regional Welfare Office 7 sa Cebu City, ating nakausap si former OFW Gemma Delvo na isang beneficiary ng OWWA-NRCO Program na Balik Pinay! Balik Hanapbuhay! program.
Tunghayan natin ang kanyang storya ng tagumpay kasama sina Deputy Administrator Margaux "Mocha" Uson at DA Faustino "Bubsie" Sabarez III dito lang sa OWWA AT YOUR SERVICE.
DA Uson concluded the episode with a reminder that OFWs should renew their membership with OWWA so they can avail themselves of the available services and benefits. OWWA has a mobile app where OFWs can register and pay. Also, the OFW can apply for OWWA membership by making an appointment and visiting the nearest POLO-OWWA office. But even if they are unable to do so, they can also ask their relatives to pay for their OWWA membership online or through the nearest OWWA Regional Welfare office.
Summary
This is an inspiring video to watch. This OFW success story shows that if you are patient, willing to learn, disciplined, and you are going to put in the work, you can have success. It is not about how big or small the capital is. The amount is a factor, but so long as you persevere and use your resources wisely, you can still succeed. It is good that Gemma was able to set up her own business and OWWA's project has helped her in establishing it.
Let us all learn a thing or two about this story and may we all make sure to be aware of the available programs for OFWs that are open for us to take advantage of, especially in these challenging times.
If you want to know more inspiring stories like Gemma's, tune in for more OWWA at Your Service episodes.