The Overseas Workers Welfare Administration (OWWA) is required by law to create an Emergency Repatriation Fund to evacuate OFWs in the event of conflicts, disasters, or epidemics, among other services. This is the purpose of the Repatriation Assistance Program so if you are a Filipino who needs to go home to our country, you can get assistance by going to the nearest Philippine Overseas Labor Office (POLO) found in the PH Embassy or Consulate of your work country.
Also Read: List of OWWA Benefits Programs and Services for OFWs
In cases of war, epidemics, natural or man-made disasters or calamities, and other similar incidents, the OWWA, in conjunction with relevant foreign agencies, shall undertake the repatriation of workers without regard to reimbursement by the liable principal or organization.
All costs associated with repatriation shall be borne by the OWWA if the principal or recruitment agency cannot be found. The emergency repatriation fund was formed and developed for this purpose, initially with a budget of one hundred million pesos (P100,000,000.00), inclusive of outstanding balances, under the administration control and supervision of the OWWA.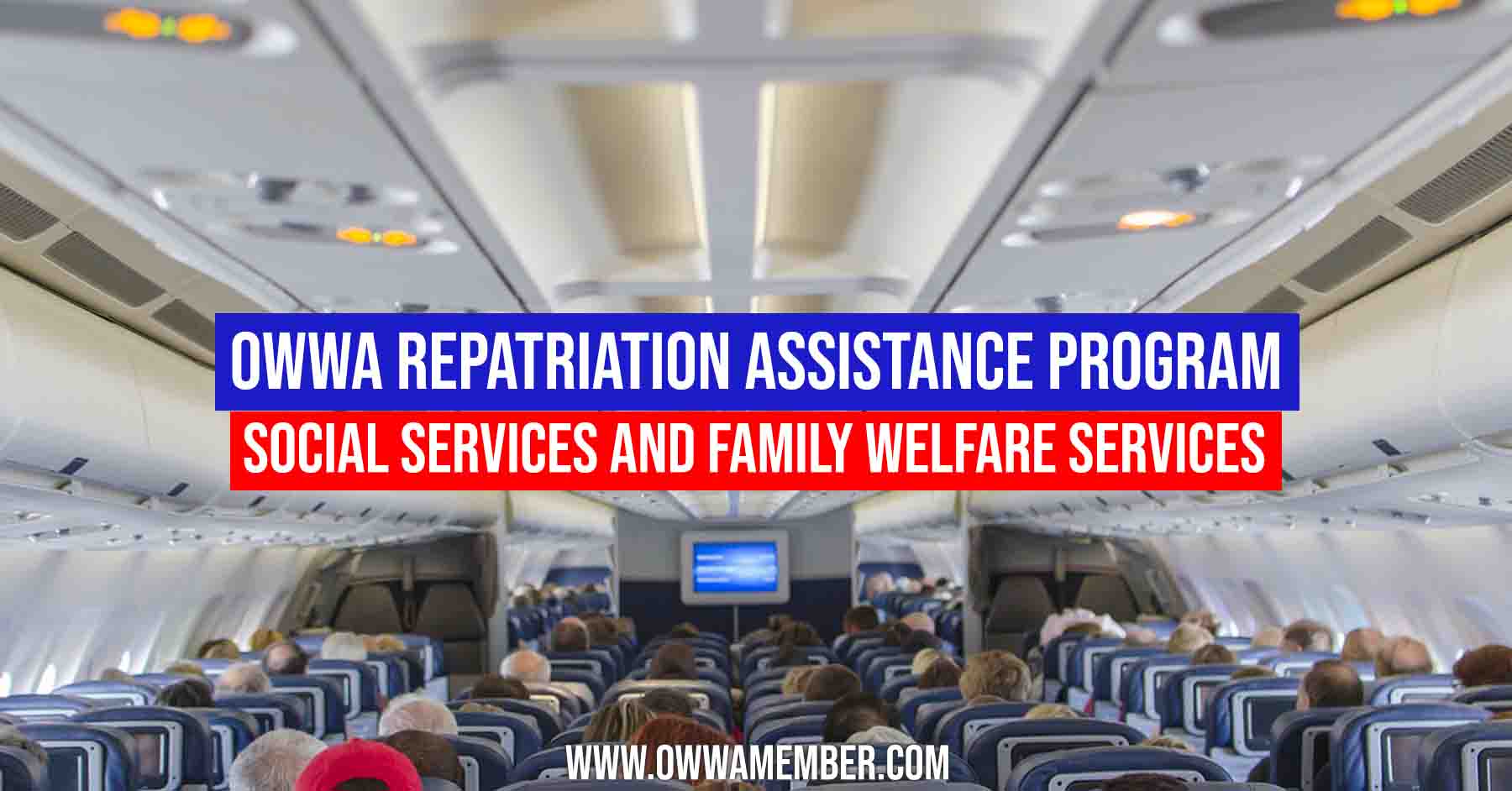 What is OWWA Repatriation Assistance Program?
Repatriation is the process of returning a person to his or her home country. It requires the repatriation of physically and mentally ill overseas Filipino personnel, as well as human remains and belongings. In the case of civil instability or natural disasters, emergency repatriation is carried out.
With the help of its respective Local Government Units (LGUs) and concerned agencies such as the Department of Foreign Affairs (DFA), the Southern Philippines Medical Center (SPMC), and the Department of Social Welfare and Development (DSWD)., the region's repatriation team provided the required assistance to said OFWs.
What are the Benefits of Repatriation Assistance Program?
OWWA's repatriation program offers the following services for you as a distressed OFW:
Airport assistance
Packed food at the airport
Upon arrival, free transportation to a quarantine facility and free quarantine accommodations are given.
Temporary accommodation at the OWWA Halfway House
Psychosocial therapy
Stress debriefing
Transportation facilities or fares for onward travel to their respective provinces are all given to staff.
What are the Qualifications?
Below is a list of qualifications in order for you to be eligible to claim the repatriation program:
Filipino Citizen
Overseas Filipino Workers, active or non-active
Land Based
Sea Based/Seafarers
What are the Requirements?
Here are the document requirements in order for you to claim your repatriation assistance benefits:
Passport
Contact Number
Exact Address
Exit Visa
How to Apply for OWWA Repatriation Assistance?
Please follow the following steps to guide you if you are seeking to get repatriation support from our PH government through OWWA:
Go to the nearest Philippines Embassy or Consulate.
Ready your EXIT VISA.
Apply for repatriation program.
Get a request for repatriation program.
Wait for the response of the Embassy to your request.
OWWA Repatriation Loan
Aside from the repatriation service for OFWs, OWWA also has OFW loan programs as well as financial grants for distressed and displaced Filipinos to help them get back on their feet. Please be guided on these reintegration programs and benefits which provide OFWs with repatriation loans and cash aids:
OWWA Repatriation Assistance Form
The repatriation assistance form can be easily filled out online via the OASIS form. Here's a guide – How to Register in OFW Assistance Information System (OASIS) Form
Those who are seeking to get repatriation assistance need to fill out the application form at least 5 days before your scheduled flight.
In case you cannot fill out the online form, Filipinos can download and print the form here –  DOLE OASIS Form. Make sure to write your information clearly and submit the form to an authorized staff of DOLE, OWWA, POEA, or Philippine Overseas Labor Office (POLO).
Below is a screenshot photo of the OASIS form if you need assistance for repatriation: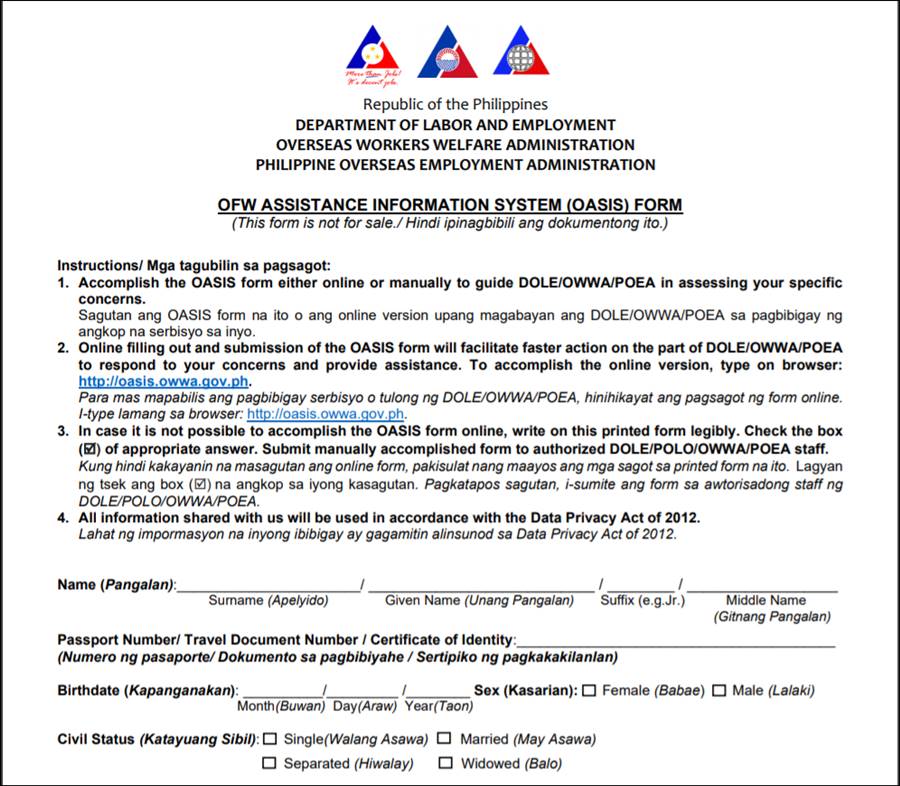 Frequently Ask Questions
Here are some common questions and answers for those who have inquiries about the repatriation assistance from OWWA:
1. How can I go home to the Philippines?
You need to get an EXIT VISA to leave the country and return to the Philippines.
No EXIT VISA cannot leave the country
2. Is the travel document an EXIT VISA?
EXIT VISA is not a travel document
3. What is the procedure for obtaining an EXIT VISA?
If you have an employer or sponsor, your employer or sponsor can apply for your EXIT VISA online or go to the Passport Office to apply for your EXIT VISA.
You may ask the Embassy or POLO to go to the Passport Office to process the EXIT VISA if you are undocumented, do not have a passport, have an expired passport, or do not have a valid employer.
Before the EXIT VISA can be approved, you must first conclude your criminal case, including the private rights of the individual who filed the case, if any.
Summary
As an OFW living abroad, it is important that we seek help whenever we need it. We can do so by going to the Philippine Overseas Labor Offices (POLO) where we can ask for support from authorities. If there are abuse cases especially, please do not hesitate to call and/or visit POLO (through the nearest Consulate or Embassy offices).
You may contact your nearest Embassy or you can contact the OWWA here: https://owwa.gov.ph/index.php/contact-us