Filipinos based in Taiwan, particularly those who are near the Kaohsiung office, can visit the MECO Labor Center in Kaohsiung City in order to process OWWA renewal and inquire about OWWA programs and services.
MECO-Kaohsiung is one of the extension offices of the Manila Economic and Cultural Office in Taiwan (the other one is MECO-Taichung). This is the equivalent of the Philippine Embassy in Taiwan and it is the Taiwanese representative office that handles POLO, DOLE, OWWA, SSS, Pag-IBIG, and Consular Services.
Also Read:
– How to Book OWWA Appointment in Taipei, Taiwan
– How to Book OWWA Appointment in Taichung City, Taiwan
The MECO Labor Center is the Department of Labor and Employment's (DOLE), the Philippines Overseas Employment Administration (POEA), and the Overseas Worker Welfare Administration's (OWWA) representative office in Taiwan. It also incorporates the Social Security System (SSS) and the PAG-IBIG Fund's services.
MECO Labor Center's primary purpose is to protect the rights of overseas Filipino employees in Taiwan under Philippine and Taiwan labor laws, policies, and norms, as well as their employment contracts.
OWWA benefits, which include welfare benefits in times of need, are available to OFWs. The membership fee is NT$758 or less, based on a monthly average equivalent rate of 25 US Dollars, and it must be renewed every two years.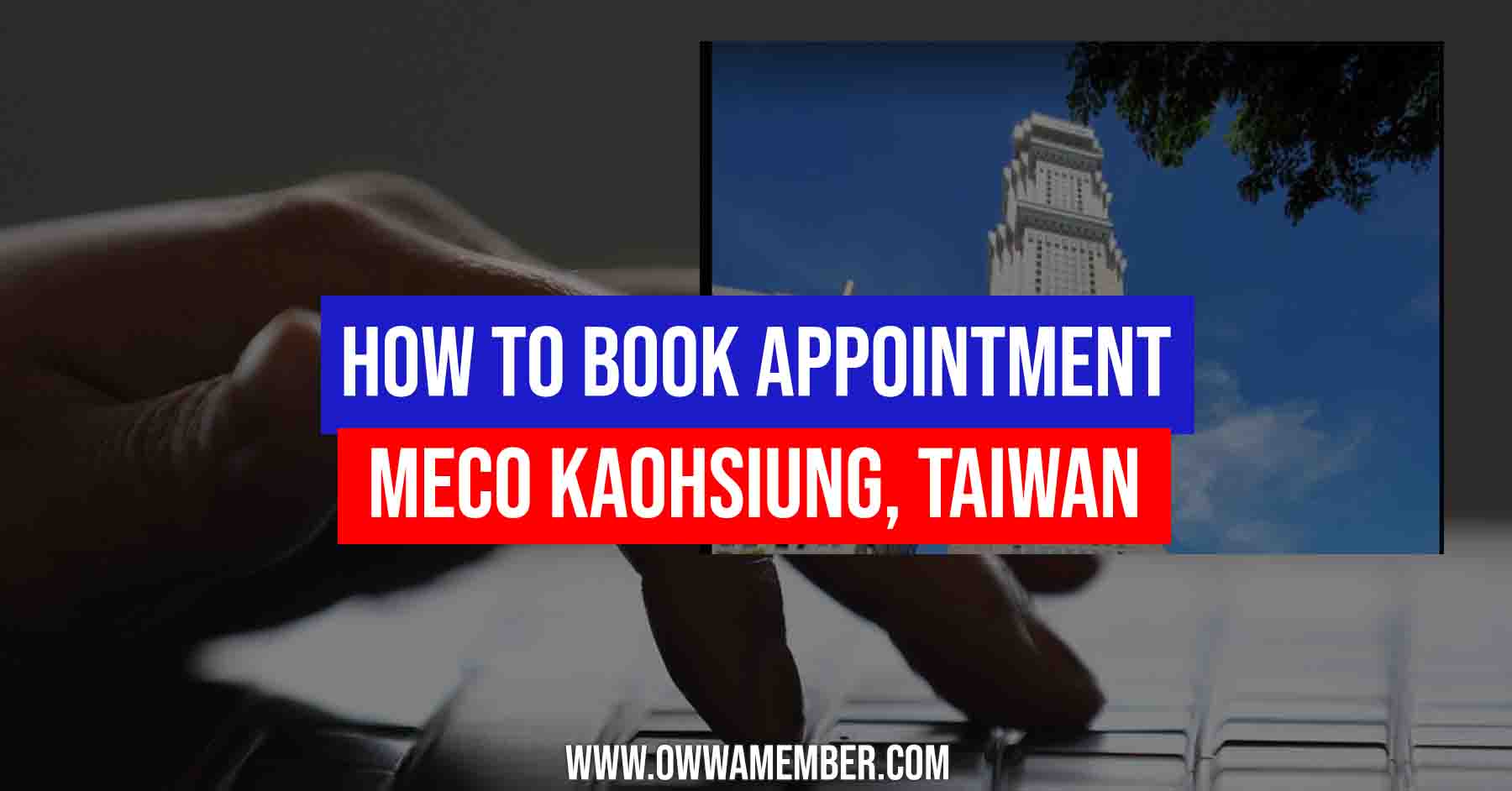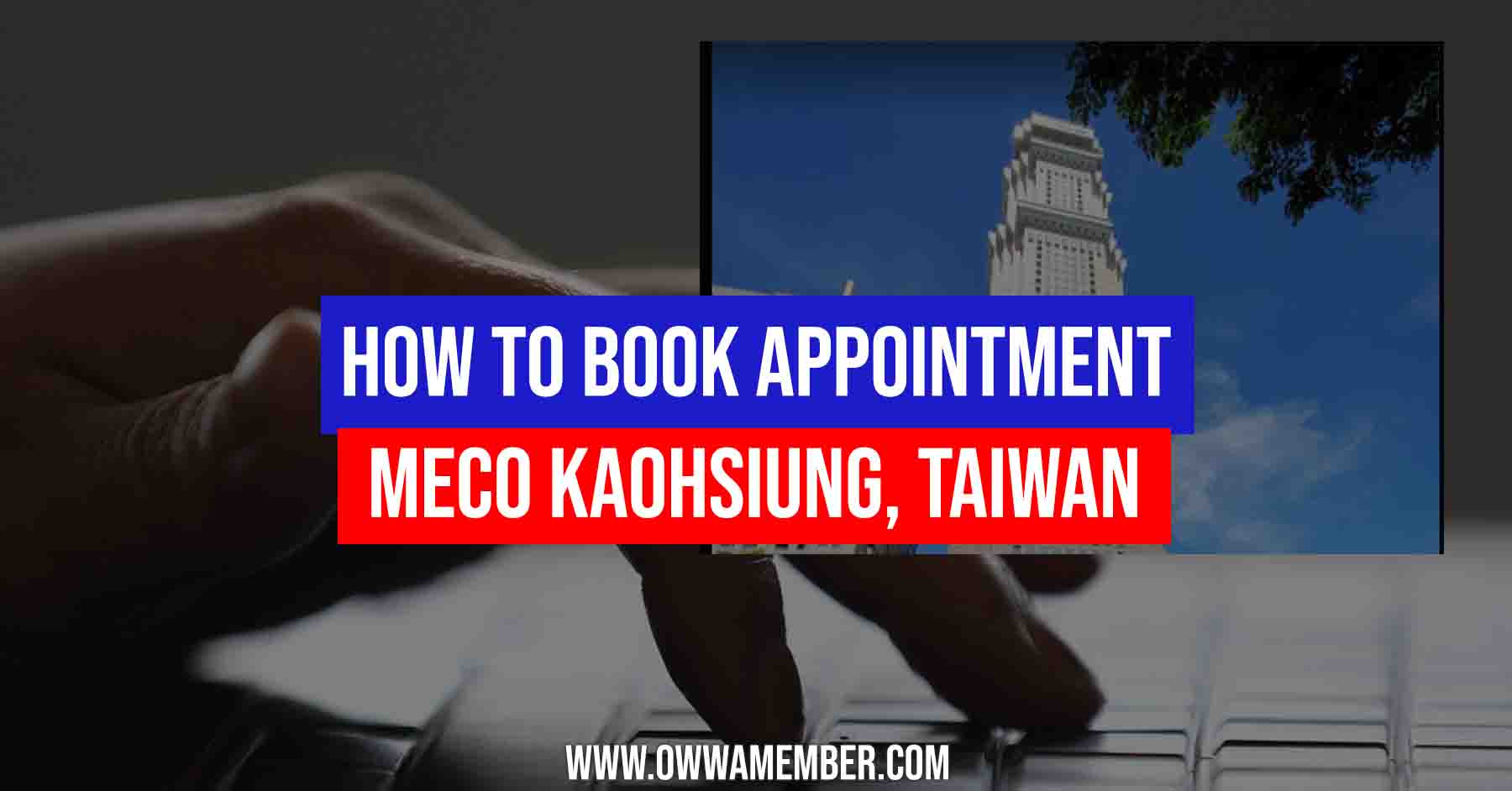 Amount of Contribution
The OWWA membership contribution shall be NT$758 or less depending on the monthly average equivalent rate of 25 US Dollars.
Membership Validity
Regardless of the length of the contract, the change in employer, location of employment, or recruitment agency, each contribution is valid for two (2) years. After that, OWWA membership must be renewed if proof of employment is presented.
OWWA Requirements
Make sure to have the following requirements when you go to the MECO Lebor Center office:
Completed OWWA OFW Information Sheet.
Copy of ARC (Alien Registration Card)
A photocopy of the Philippine passport with a photo, name, and signature.
Copy of current employment contract or Certificate of Employment.
Membership contribution of NT$758 or less depending on the monthly average equivalent rate of 25 US Dollars.
Reminder: The OWWA-Kaohsiung, Taiwan office does not allow walk-in transactions for the meantime due to the pandemic.
How to Schedule an OWWA Appointment at MECO-Kaohsiung
The two MECO offices (Taipei and Kaoshiung) require an appointment before going to the office. While there are some experiences of other OFWs visiting the Kaoshiung office directly, it is strongly advised that you contact them first and inquire if an appointment is required. Here are the steps to contact MECO-Kaoshiung for OWWA appointment inquiries.
Step 1: Visit the Manila Economic & Cultural Office's Facebook page to see what appointments are available.
Step 2: Call the MECO-Kaohsiung, Taiwan office to see whether your preferred appointment date is available and to make a reservation.
Step 3: Before visiting the MECO-Kaohsiung, Taiwan office, double-check that your appointment has been scheduled and that you have all of the required documentation for a fast transaction.
How to Renew OWWA Membership in MECO-Taichung, Taiwan
After you have scheduled an OWWA appointment, it is time to renew your OWWA membership during the day of appearance. Please follow the steps below in order to pay your OWWA account in the Kaohsiung extension office:
Step 1: Present your confirmed booking at the MECO office (as applicable).
Step 2: Go to the OWWA counter and present your documents for verification.
Step 3. Pay the OWWA membership fee.
Step 4. Get your receipt for the OWWA renewal.
Important Reminders
Here are some guidelines and tips about the process of OWWA renewal in the Kaohsiung extension office.
Requirements that are not full will not be handled.
Bring your old passport.
For more information, see the Kaohsiung, Taiwan website and Facebook updated post.
New OWWA members are eligible to engage in OWWA's regular activities and services, as well as special programs, after three (3) months of membership.
Here is a video shared by a Filipina discussing the OWWA requirements and renewal experience process at the Kaohsiung office of MECO Labor Center. She says that it was very easy for her to renew her account as she already filled out her OFW Information Sheet.
Frequently Asked Questions
Here are some common questions and answers when you process your OWWA account membership at POLO-Kaohsiung .
1. I have a few more questions about OWWA, who should I contact?
You may reach the OWWA-Kaohsiung, Taiwan office via e-mail at owwa_polokhh@yahoo.com, or by sending a message or calling them at 07 3982-475
2. How much does the OWWA membership fee cost?
The OWWA membership contribution shall be NT$758 or less depending on the monthly average equivalent rate of 25 US Dollars.
3. Can I directly go to the OWWA-Kaohsiung, Taiwan Office?
No, due to the pandemic, you must make an appointment before visiting the OWWA-Kaohsiung, Taiwan office. It is strongly advised. Please check the official Facebook Page for latest updates about the policies.
4. What time is the office going to be open? Do they take a break for lunch? What holidays do they observe?
The office is open Monday through Friday from 9 a.m. to 6 p.m., excluding holidays, and on the first and third Sundays of every month (9:30 am-1:00 pm).
Summary
May we remind everyone that it is very good to keep your OWWA account active to maintain the maximum benefits you can get as a member. We hope this article has helped you become more aware of the process of how you can register in OWWA for your membership in Kaohsiung.
As an OFW based in Taiwan, please follow the rules and policies currently put in place about visiting the MECO offices before visiting them. On another note, you may also renew your OWWA by registering in the OWWA Mobile App.
Workers in Kaohsiung may also renew their OWWA membership by having their family members in the Philippines submit the document requirements to the nearest OWWA Regional Welfare office.

Contact Information
OWWA Kaohsiung, Taiwan
Address: Manila Economic & Cultural Office, 9F-2, Grand 50 Tower No. 80, Min Tzu 1st Road Kaohsiung, Taiwan
Contact Numbers:
– Consular/Legal: 07 3985-935
– OWWA: 07 3982-475
– Labor Center: 07 3987-078
Fax Number: (886) 7-3985929
Email: owwa_polokhh@yahoo.com
Website: https://www.meco-labor.org.tw/, https://www.meco.org.tw/
Facebook Page: https://facebook.com/MECO.official
Google Map Location
The POLO-OWWA office in Kaohsiung City is managed by MECO as an extension office.  Please see the map guide to the location of this office in Kaohsiung: