The Department of Social Welfare and Development (DSWD) is a government department in the Philippines that is responsible for the administration of social welfare and development programs. The DSWD is headed by the Secretary of Social Welfare and Development, who is appointed by the President of the Philippines.
The Overseas Workers Welfare Administration (OWWA) is a government agency in the Philippines that provides social services to overseas Filipino workers and their families.
The Philippine government has several agencies that focus on different aspects of what they are tasked with. These government agencies house different programs, services, and benefits that are meant to cater to their individual mandates. These agencies are known to cater to varied demographics as each agency manages a different target group.
We will learn more about the two agencies that are known for providing services and support to the Filipino people, the Overseas Workers Welfare Administration (OWWA) and the Department of Social Welfare and Development (DSWD).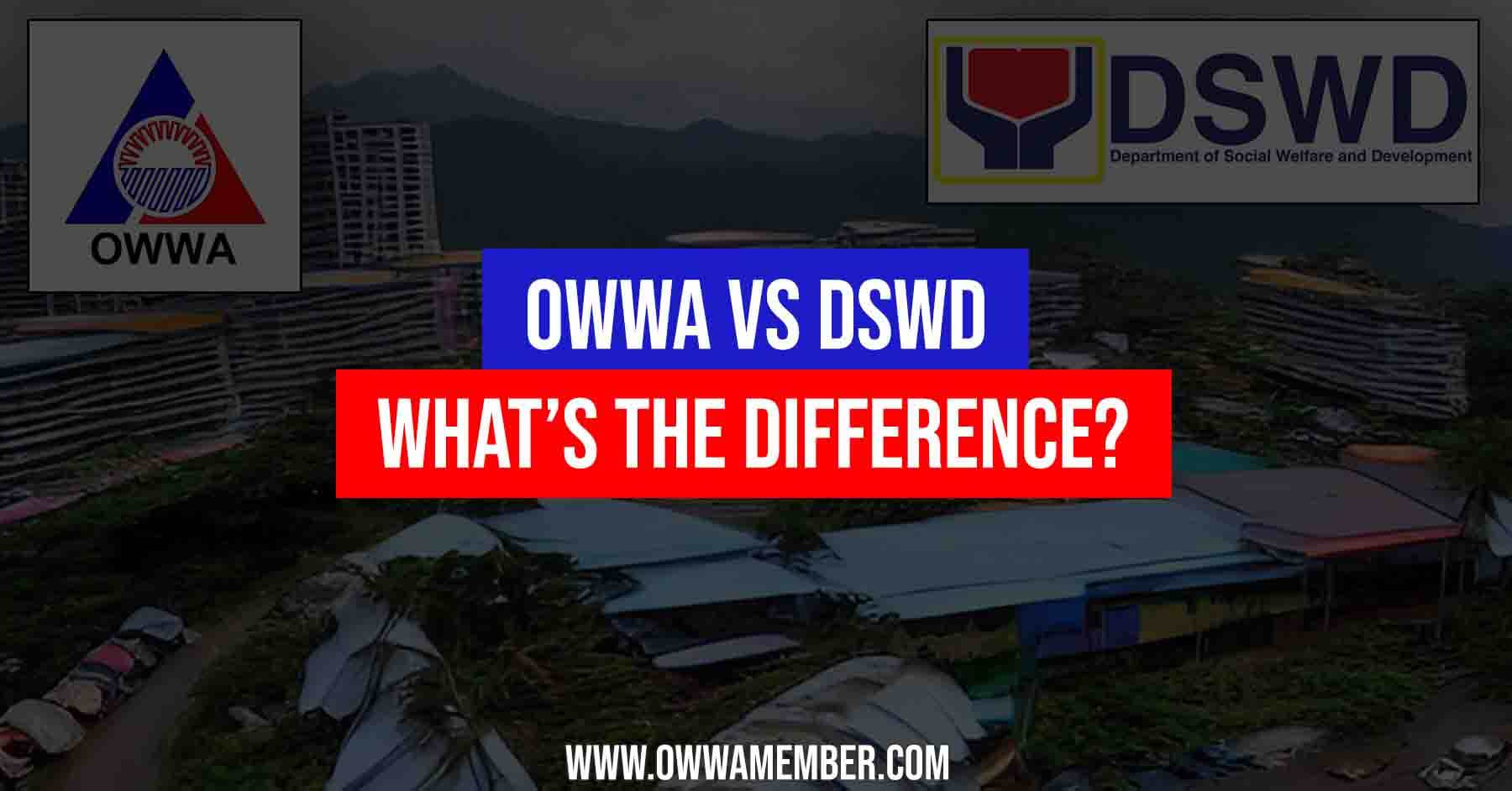 What is the Main Difference Between OWWA and DSWD?
OWWA or Overseas Workers Welfare Administration is an agency that is attached to the DOLE, or Department of Labor and Employment. Also, OWWA is a membership institution. The agency aims to help improve the well-being of Overseas Filipino Workers (OFWs) and their families back home. The agency, which was founded in 1977, used to be called Welfare and Training Fund for Overseas Workers.
On the other hand, The Department of Social Welfare and Development (DSWD) is the primary government agency responsible for developing, implementing, and coordinating poverty-reduction solutions and social protection for the vulnerable, poor, and disadvantaged.
OWWA pays close attention to the well-being of OFWs abroad and OFW families in the Philippines. The migration consists of three stages, prior to departure, on-site, and on upon arrival.
The DSWD strives to improve the lives of those in need by creating and implementing social welfare programs that provide assistance and empower individuals.
Again just to be clear, both agencies cater to the welfare of Pinoys, but:
OWWA helps Overseas Filipino Workers – Filipinos based overseas.
DSWD helps Filipinos based in the Philippines.
Benefits of OWWA Members
Benefits acquired of an OWWA Member
Supplemental Medical Assistance for OFWs
2. Education and Training Benefits
3. Welfare Programs
On-site Services and Assistance
OFWs and their families back home can get the help they need with in-country assistance.
4. Reintegration Program
Value Formation Training
Financial Literacy
Entrepreneurial Development Training
Techno-skills and Capacity Building
Job Referrals
Business Counselling
Community Organizing
Networks with Support Institutions
5. Repatriation Assistance Benefits
Airport Assistance
Psychosocial Counselling
Stress Debriefing
Temporary Shelter at the OWWA Halfway Home
Transport Services to their respective provinces
DSWD Benefits
Here are the benefits that you can acquire through DSWD:
Helping service providers enhancing their skills in managing individual, family, group, or community cases.
To ensure that social welfare and development programs are efficiently achieving their goal, performance measures need to be put in place & monitored. Furthermore, they should also be evaluated on how well they impact the cases being supervised.
Help service providers solve problems on-site and interactively (LGU, NGO, DSWD).
By providing or facilitating access to technical assistance for supervisory staff, you can improve worker/agency performance.
Qualifications for OWWA Membership
The following are eligible to be an OWWA member:
Filipino citizen
contract worker overseas
Eligibility for DSWD Programs
The following are eligible to be part of DSWD:
Filipino citizen
The individual shall exceed or meet the Prescribed Qualification Standards of CSC on any vacant position.
OWWA Requirements
These are the requirements needed to be an OWWA member:
OWWA OFW Information Sheet (OWWA Membership Form)
Copy of Passport
Employment Pass or Work Permit Card
Employment Contract
Membership Fee (it depends on the foreign currency that is equivalent to the destination country, it ranges from Php 1,000 to Php 1,500)
DSWD Requirements for Job Applicants
These are the requirements needed to be part of the DSWD:
Filled-up Job Application Form
Application Letter that states the desired position, salary grade, item number or code, and office/service/bureau/unit
Personal Data Sheet (PDS) duly signed and updated, with thumbmark and a recent passport-sized photo
Authenticated copy of Diploma and/or Transcript of Record
Duly completed Work Experience Sheet
If applicable, submit a copy of the Certificate of Grades for your Master's Degree
If applicable, a copy of relevant seminars and training
Copy of Service Record or Certificate of Employment that indicates the supervisorial/technical/managerial functions and the responsibilities certified by the Human Resource Management Officer
The latest copy of IPCR or the Individual Performance Contract Rating
Authenticated copy of PRC ID and/or Civil Service Eligibility
A CENOPAC or the Certificate of No Pending Administrative, Civil, and/or Criminal Case
Activating OWWA Membership On-Site
Here are the steps on how to activate OWWA membership on-site:
Step 1: Prepare the membership requirements for OWWA
Step 2: Present the required documents to OWWA Agency in your region. Make sure to follow all the guidance of the officer in applying.
The official receipt will be issued after paying the applicable fees. Take note that the membership will be effective after payment and it is active for 2 years.
How to apply for OWWA Membership Online?
Step 1: Prepare the membership requirements for OWWA
Step 2: Check the OWWA website that corresponds with your destination country.
Step 3: Search for the required email where you will send your requirements.
Step 4: Members can pay their OWWA membership fee through various payment methods provided.
Step 5: After you finish paying the membership fee, the official receipt will be emailed to you.
Applying for DSWD Job Opportunities Online
Here are the steps on how to apply for DSWD Job Openings
Step 1: Application will be held online. Walk-in applicants will not be entertained. Prepare your application requirements.
Step 2: The documents must be in PDF file format. Applicants must follow this format (Surname_Item Number or Code_Office Assignment)
Step 3: Submit your application with your complete documents jobs.dswd.gov.ph.
Step 4: Applicants will receive an invitation to take the Non-Verbal Exam (for the skilled positions) or Initial Qualifying Test (IQT) through text message or email. Non-passers and passers will be notified accordingly. Applicants will receive the invitation to their email address and registered contract details used in PDS.
Step 5: Endorsed applicants who meet the cut-off score will be evaluated by the Hiring Office and will proceed to the next recruitment procedure, which is either the Technical Examination or Panel Interview.
Step 6: DSWD Recruitment personnel will investigate the backgrounds of those who pass the character reference check.
Step 7: The successful applicant for the vacant position of DSWD will be notified of their appointment via text message, email, or phone call.
Video: List of OWWA Benefits, Programs & Services for OFWs and Dependents
Here is a video regarding OWWA. Indicated here are the benefits, programs, and services that can be acquired by the Overseas Filipino Worker (OFW) and dependents.
According to the video, the contributions of the members of OWWA were used for various programs and services that are intended to help OFWs as well as their families. Based on Republic Act No. 10801 or the OWWA Act, every Filipino will go abroad will have a contribution of 25 USD every 2 years.
The programs and services of OWWA were divided into four, the social benefits, education, and training assistance program, workers welfare assistance program, and lastly the social services and family welfare services. It is very important for the OFW and their dependents to be aware of the benefits and programs offered by OWWA so that they can get proper assistance whenever needed.
Video: DSWD Quality Policy Video
Here is the video of the DSWD Quality Policy that relates to the commitments of the DSWD and is consistent with their vision statement and core values.
In the video, it was stated that the DSWD has been continuing to fulfill its commitment to the nation. They have been providing services and programs for vulnerable, poor, and disadvantaged people amid challenges. They will continue to uphold quality in all of their services, focusing on the Filipino people and their welfare. The DSWD is also dedicated to improving its performance and operations through continuous improvement of policies and processes, implementing best practices, fostering teamwork and collaboration, upholding ethical standards, as well as providing better service delivery for the public.
Frequently Asked Questions
1. How can I apply for DSWD programs?
You can apply for DSWD programs by filling out an application form online or by visiting the nearest DSWD Field office in your area. Depending on the type of program available, you should be able to provide the necessary document requirements .
2. What are the requirements for the DSWD programs?
The requirements for each program offered by DSWD may vary, but generally, you will need to submit a valid ID, proof of income, and other supporting documents that may be required by the program.
3. What are the benefits of being a member of OWWA?
Some of the benefits of being a member of OWWA include financial assistance, medical assistance, death and burial assistance, as well as educational and training programs. For more information, you may visit their website or contact their office.
4. How can I become a member of OWWA?
You can become a member of OWWA by paying the required contribution fee, which is currently at 25 USD per 2 years. You may pay this at any OWWA office or accredited bank. For more information, you may visit their website or contact their office.
5. What is the difference between OWWA and DSWD?
The main difference between OWWA and DSWD is that OWWA is focused on assisting Overseas Filipino Workers (OFWs) and their families, while DSWD provides assistance to vulnerable, poor, and disadvantaged individuals and families in the Philippines. Both agencies offer different programs and services that cater to the needs of their beneficiaries.
6. Who is Considered to be Indigent in the Philippines?
Families whose monthly income is under P14,000.00 if they live in Metro Manila, and families earning less than P13,000.00 per month in other regions.
7. Is the OWWA membership valid lifetime?
No, all contributions are valid for two years, regardless of contract duration, job site, change of employer, or recruitment agency. Therefore, OWWA membership needs to be renewed with proof of active employment.
8. How much Financial Assistance does DSWD provide?
The cash assistance depends on the existing DSWD program and the benefits that are included in the budget for that program. So you have to know which DSWD project you are applying for.
9. How to check the Status of OWWA Membership?
To check your OWWA status, select the "Information" option after logging in to your OWWA App. As long as your membership status is "Active," your membership will remain valid until the date it expires. If your membership is inactive, you can renew it at any time.
Summary
The OWWA and DSWD are government agencies that support the welfare of Filipino workers and their families. In general, OWWA offers various social benefits, programs, and services to help OFWs and their dependents, while DSWD provides financial assistance, quality policy assurance, and training opportunities for people in need.
Both agencies are important in ensuring the well-being of Filipinos, both domestically and abroad.